Kärcher is bringing back automated car washs to our shores, with the official launch of its Klean!Star car wash gantry at Esso Lorong Chuan.
---
The automated car wash gantry is poised to alleviate existing labour shortages, and its state-of-the-art system offers consistent and thorough cleaning with efficient use of manpower. This new system is also big on sustainability, as it recycles up to 85% of all the water used for each vehicle.
Partnering with ExxonMobil, Kärcher plans to launch more automated gantries in the coming months. ExxonMobil has a network of service stations across Singapore under the Esso brand.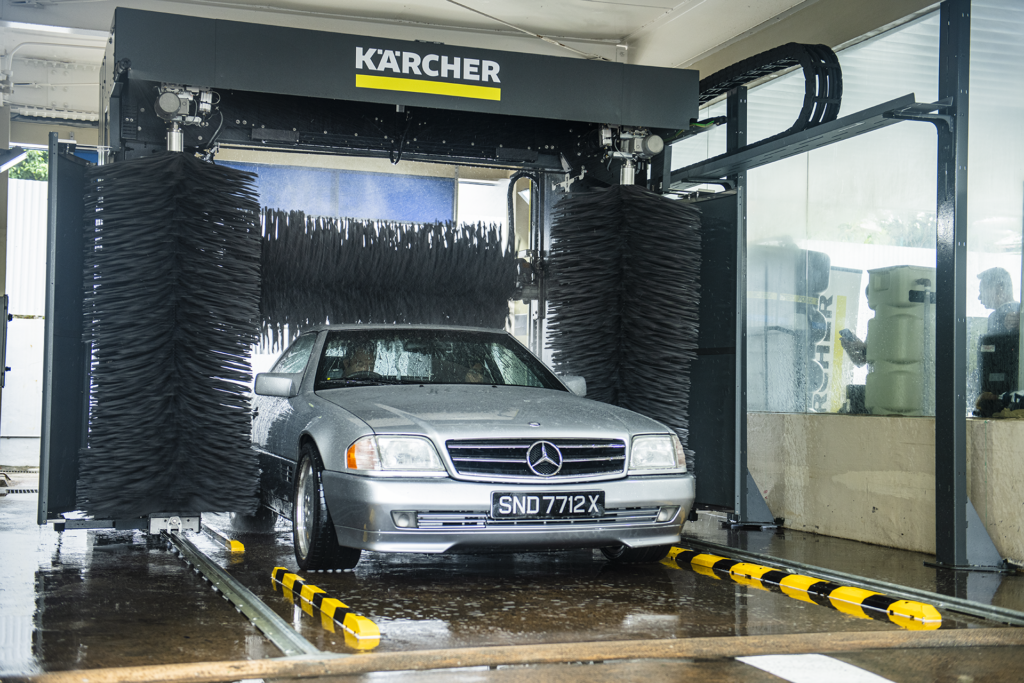 "We are proud to have this opportunity to bring the automated car wash back together with Esso Singapore. Kärcher's Klean!Star car wash gantry will help to tackle manpower shortage and reduce costs by recycling up to 85% of water used during each car wash." said Vincent Sim, Managing Director of Kärcher Singapore.
Lim Xu En, Retail Sales Manager of ExxonMobil Asia Pacific, added: "At Esso, we believe in continuously improving our offers for customers. By partnering with industry leaders like Kärcher on projects like this automated car wash, we hope to give our customers good value while doing our part for the environment."
The biggest game-changer Kärcher's new Klean!Star car wash brings to the table is its ability to save water by recycling up to 85% of all the water used during each wash. Wastewater is funnelled through a filtration system and stored in tanks underneath the car wash.
This water can later be deployed again, being used during the initial round of washing before freshwater is used to complete the wash. To further increase its sustainability efforts, the car wash can also obtain power from solar panels installed at the station.
The entire wash is timed to be just under five minutes, with simple drive-in instructions to help drivers navigate their car into the correct washing position. This means less manpower is required to continuously run the system, helping operators save on manpower costs.
An array of sensors is used together with specially foamed polyethylene brushes that contour to the shape of different vehicles, providing a thorough clean without scuffing the vehicle's exterior. As long as height limits are met, this car wash can take in a wide variety of vehicles, including large SUVs and vans.
Kärcher's Klean!Star car wash gantry was awarded the Green Good Design Award back in 2019. It is also the world's oldest design award that acknowledges products, services, programmes, ideas, and concepts, which contribute to a healthy and sustainable world.
The automated car wash is now available at Esso Lorong Chuan with two additional locations, one in Esso Toa Payoh Lorong 2 and the other in Esso Bedok North, debuting by the end of 2022.
---
If you're looking to service your car, try AutoApp today! Our mobile application connects you to a multitude of reputable workshops and specialists, providing you with the best car for your car.