Pay attention. This one's quite the show.
---
It seems like you cannot go a week now without news about a new electric vehicle (EV) that is going to hit the market soon in the near future. The market is flooded with all sorts of new-fangled EVs, so how would an automaker stand out amongst the crowd?
Well, you dial it up to eleven of course.
Here we have something that hails from the land of Kimchi and intoxicating K-pop music, and it's called the EV6. This is Kia's newest electric kid on the block, and it brings a lot to the table where luxury automakers dominate.
It's a large electric hatchback SUV with polarising styling, jam-packed with tons of useful gizmos and an excellent attitude.
6-xy proportions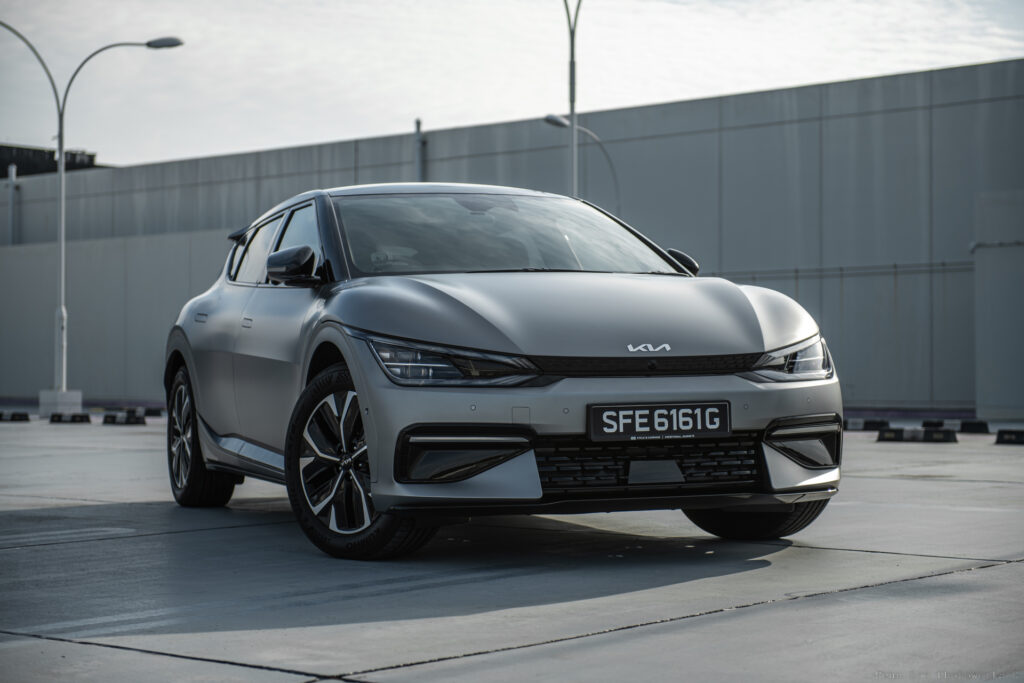 If you want to make a statement, the Kia EV6 is a good way to impress. A muscular stance, wide haunches and tapered roof ensure you have sufficient presence wherever you go. Passing by other road users will bestow them with a curved light bar that dominates the rear end of the car.
What you see here is the high-end dual-motor GT Line, and there are subtle differences between it and the Standard variant. Both models have different front-end designs, and the GT Line has a more chiselled front end, which gives it a bit more muscularity.
Gone are the days with "NPC" looking Kia cars. The Korean brand has really impressed over the years, and its new lineup has cars that are refreshing and exciting to look at.
Luxury begins with a K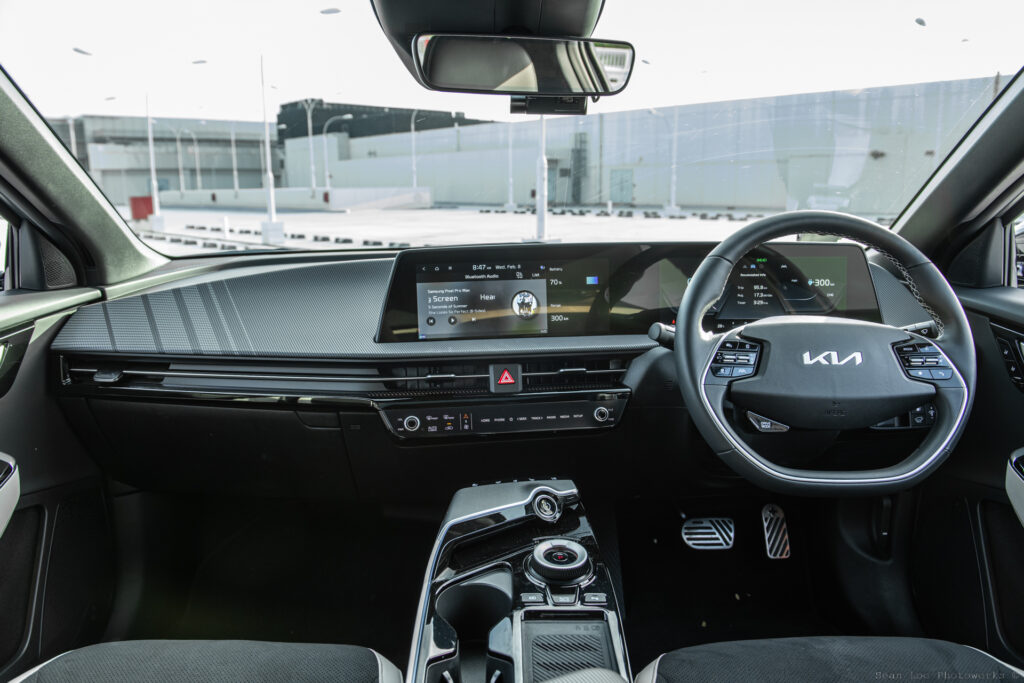 The interior of the Kia EV6 isn't quite as dramatic as the exterior, but it still has tons of neat little design cues. Overall quality is excellent, and you might be overwhelmed with just how much there is to do in the cabin.
Dual 12.3-inch screens dominate the driver's viewpoint, accompanied by nice textures and ambient lighting. The centre console is also neatly designed and gives the front of the cabin a more airy look while still maintaining practicality with multiple cubby storage holes.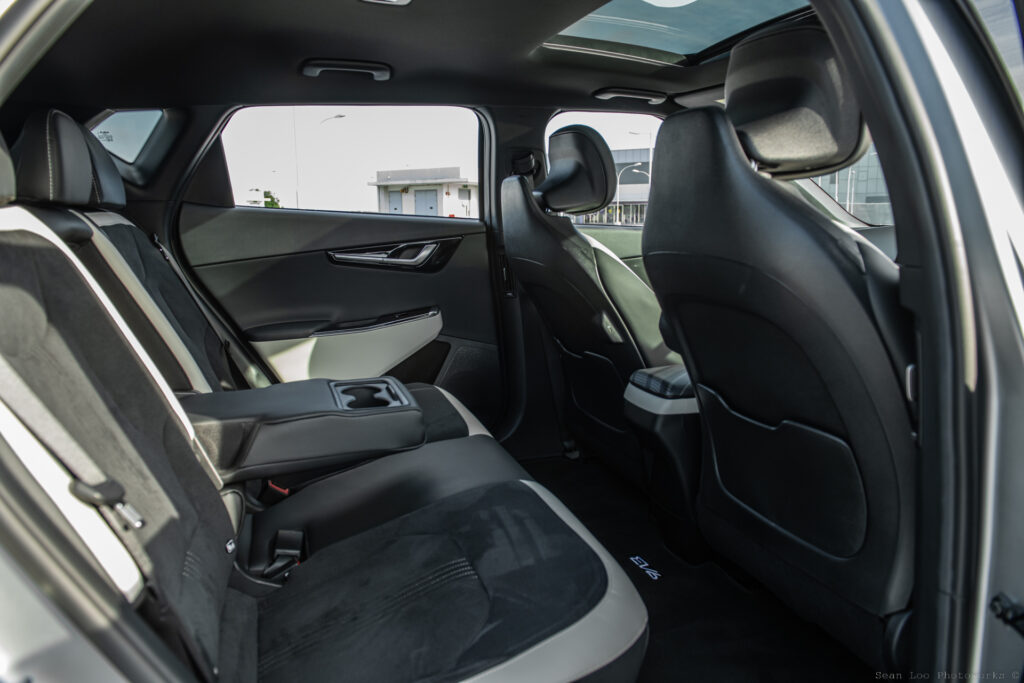 Rear passengers can kick back with plenty of legroom to boot, and the lack of a transmission provides a completely flat floor that prevents any complaints emanating from the middle occupant.
520 litres is a decent size for the boot, and the EV6 raises its tailgate along with the rear glass panel to offer ample load space for ingress and egress of cargo.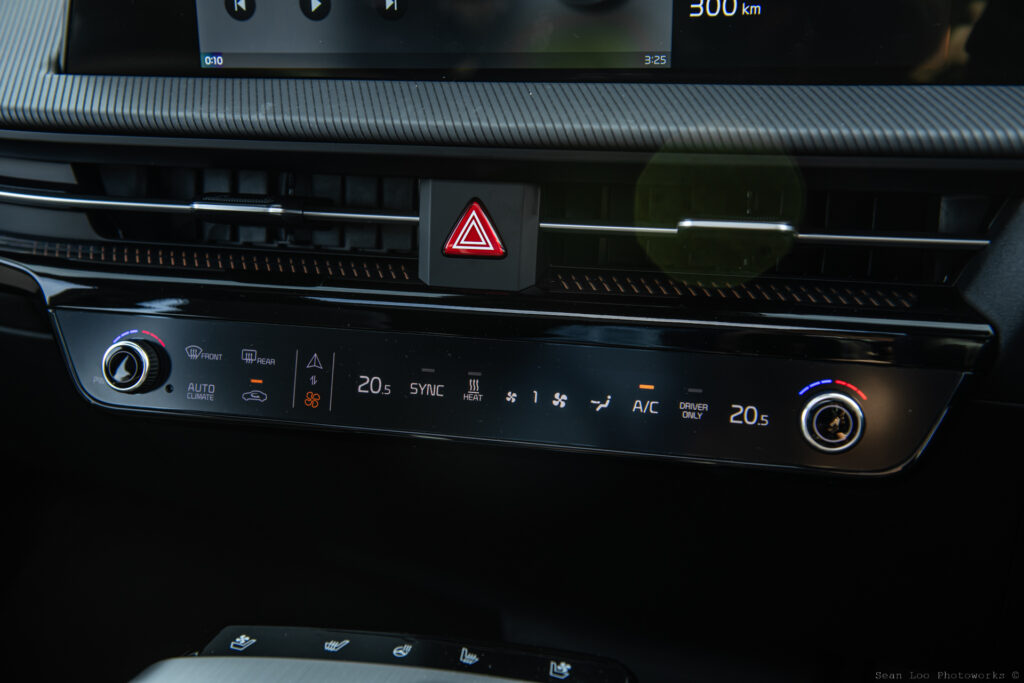 There are actual physical dials and a haptic bar to control either your entertainment or HVAC. It might take a hot minute to work out how to use it, but overall it works an absolute treat.
Thank you Kia, for not embedding these settings in the infotainment screen, and making it much, much easier to adjust. All I want to do is turn up the temperature nicely with a dial, and not repeatedly tap my finger in frustration on a screen whilst driving.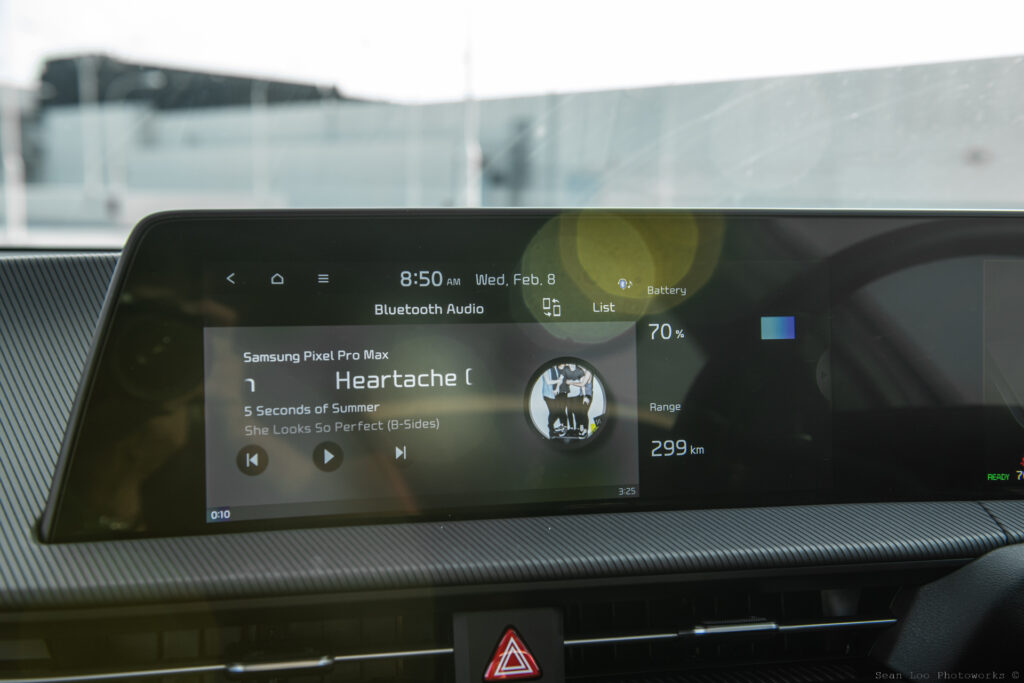 One gripe I have about the infotainment is that it isn't wireless, unlike other Kia models in the lineup like the Niro Hybrid. To use Apple CarPlay or Android Auto, you'll have to plug it with a regular ol' USB cable, which can be tricky in itself to connect thanks to the USB ports located below the main centre console stack. At least there is a big cubby hole where you can dump your smartphone in once you're all hooked up.
The EV6's UI is a little funky too, running a cropped version of CarPlay and Auto, instead of making use of the entire screen's real estate. I'm sure this can possibly be updated with some over-the-air updates, but for now, this is what you'll have to live with.
Power pack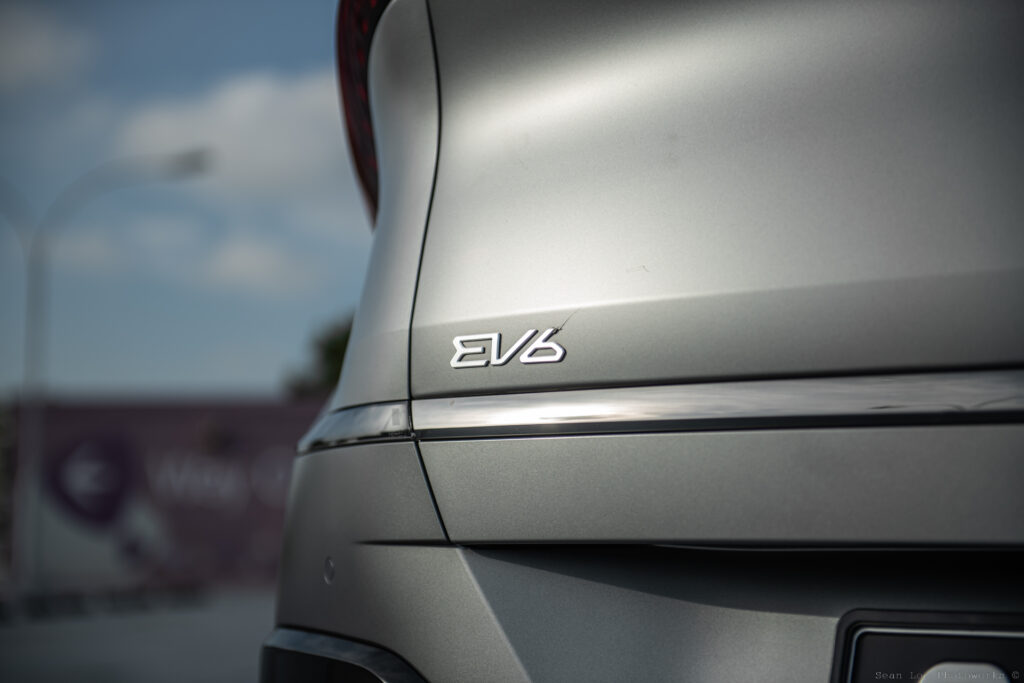 The Kia EV6's sleek looks aren't just for show, and the car can walk the talk any day of the week. With 239kW (321bhp) and 605Nm to propel you, this EV makes quick work of anyone else stopped at the same set of lights as you thanks to an all-wheel drive platform.
I did some enthusiastic pulls, and what I usually got in return were the bemused stares of other drivers. 100km/h comes fairly quickly at 5.2 seconds, and flat out the EV6 can cruise at a maximum of 188km/h.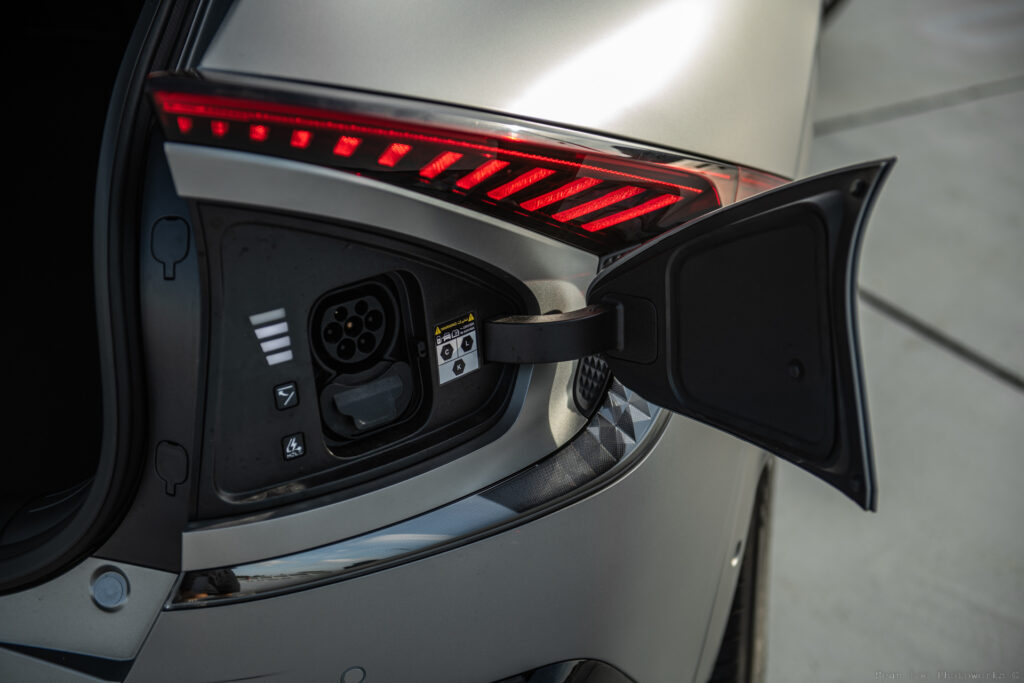 The chunky 77.4kWh battery is embedded under the floor of the EV6, and that greatly benefits the car's centre of gravity. The result is a car that feels tight and composed around corners, even with its suspension which is predominately set up for comfort. Sport mode, accessed from the convenient button located on the steering wheel, enacts faster throttle response and a weightier steering feel, and this makes the EV6 feel more rejuvenated and committed overall.
Even with its saloon-like proportions, manoeuvring through tight spaces was never really an issue thanks to a whole array of sensors and a 360 camera to boot. Although, checking your blind spots can be slightly more tricky due to the lack of visibility from the C-pillars. Thankfully, blindspot monitoring, among other safety features, is at hand to prevent you from accidentally binning it into another driver.
Cruising is what the Kia EV6 does best, and it handles it like a champ with adaptive cruise control and lane keep assist. As long as you keep the EV6 on civilised roads, it can eat up the kilometres with the same easy nonchalance that exists in other well-designed EVs. Kia's safety suite has seriously impressed me over the years, and the EV6 can even come to a complete stop if there is a traffic jam ahead, should you run into one.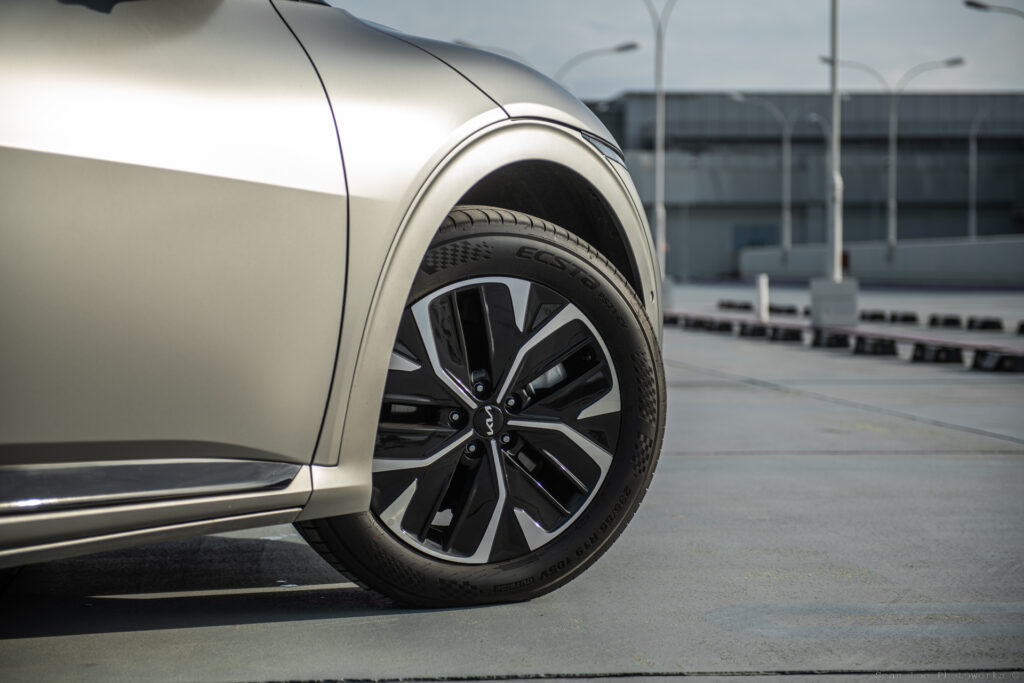 If you don't push the car at every available opportunity, the EV6 can achieve a range of around 500km thanks to its large battery capacity. Range anxiety was never a concern while driving, and even if it was, the EV6 has a maximum DC charging rate of 250kW, or in layman's terms, more than whatever is commercially available in Singapore at the time of writing. This means juicing up at a fast DC charger is a quick and fuss-free affair.
The Kia EV6 has another trick up its sleeve, and that's its vehicle-to-load (V2L) system. Basically, you can power household items, such as a kettle or microwave, or even charge another EV, directly from its charge port. Think of it like it's your very own portable electrical generator.
It's time to stop looking at just the badge
The Kia EV6 has a lot going for it, and it proves that the Koreans know a thing or two about how to make a car that impresses. However, this car does have one slight flaw, and it's a flaw that is of no fault to the car at all. What I'm referring to, is the badge that it wears.
Look, I know Kia is a good company, and I wholeheartedly support them. But, with its price dangling near to other "atas" automakers (atas is used sparingly here), most people, unfortunately, would gloss past this car entirely, and instead take a peek at brands that are more "upmarket". To me, that is a real shame.
If you're someone who can look past a plain old badge and see the bigger picture, then I'm confident you'll have a blast in the EV6. It's dressed to the nines with features and has enough power to scare the living daylights out of your family. Plus, it does all of that with plenty of practicality and style.
What more could you ask for?
Technical Specifications
Kia EV6 Electric GT-Line
Engine: Dual Electric Motors
Power: 239kW (321bhp)
Torque: 605Nm
Transmission: Single Speed (Automatic)
0-100km/h: 5.2 seconds
Top Speed: 188km/h
Battery Capacity: 77.4 kWh (GT-Line Variant)
Price: S$249,999 (Standard) / S$284,999 (GT-Line), both with COE (accurate at the time of this article)
Contact: Kia Singapore
---
Read more of the latest reviews right here on AutoApp!