The highly acclaimed family car gets a full-electric addition to its lineup.
---
The Kia Niro Hybrid launched in Singapore last year to much fanfare. It had all of the features you wanted, a comfortable ride, and it can do all of that whilst still giving you amazing fuel economy.
Building on that success, Kia has now deleted the Niro's exhaust pipes and given it an electric whirr instead. Welcome everyone, to the Kia Niro Electric.
Seeing double
Kia really hit a home run with the Niro Hybrid's design, with its sleek looks and future-focused features. So why change something that already looks great?
This was probably the decision the designers came to, and the Niro EV basically looks identical to its hybrid sister, albeit with a new flap right smack in the centre.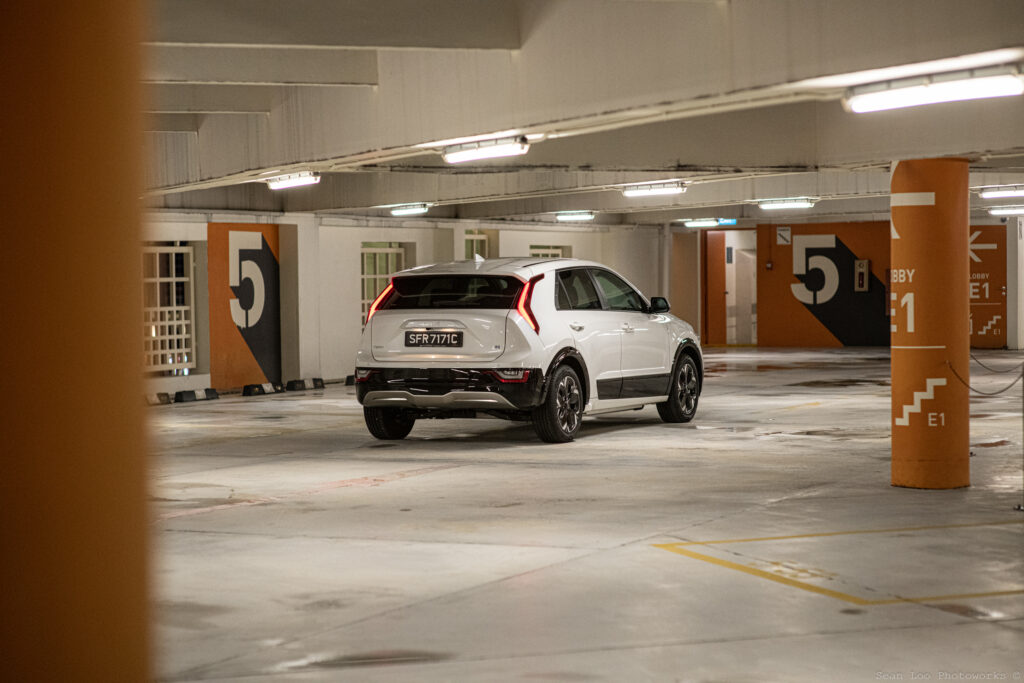 It's a good move too, as the design has started to become synonymous with Kia's latest and greatest. 
Interestingly, the Niro Electric doesn't even sport any 'electric' this or 'EV' that badging, so if you are behind one of these, the only way you can tell the two apart is by the aforementioned lack of tailpipes.
It's got all you need…
Similar to the exterior, the cabin of the Niro Electric is almost identical to the highest-spec Niro Hybrid's SX trim variant.
The insides are lined with premium materials and lavished with tons of the latest technology, really giving you a sense of prestige and class. I really like the upmarket direction Kia is heading towards, and you can really see it in their current range such as cars like the EV6.
A wide digital dashboard spans across the driver's viewpoint, loaded with two 10.25-inch screens. Most of the items are touch-sensitive, and my favourite feature of them all is the dual mode control panel which rotates between HVAC and media control settings.
This is a brilliant way to implement controls without relegating them to a sub-par touchscreen configuration. Should you wish to charge your devices via cable, there are a pair of USB ports on hand as well.
… with room to spare
Being the no-expense-spared top-of-the-line SX variant equivalent, the Kia Niro Electric has more than enough features to put even some luxury models to shame.
While driving, creature comforts such as auto headlights, rain-sensing wipers, and adaptive cruise control are always nice conveniences to own. Plus, the Niro Electric also comes with Kia's comprehensive safety suite, which includes features like blind spot monitoring, lane keep assist, and driver attention monitor. Parking is a breeze in the Niro, with front and rear sensors keeping any obstacles at bay and a crisp rear camera to visualise what you're backing into.
Front occupants are treated to heating and cooling seats, and there's even a heated steering wheel. Believe me, it does have its uses on cold rainy days. Customisable ambient cabin lighting adds a touch of uniqueness to the space, and a small sunroof floods a good amount of natural light into the cabin.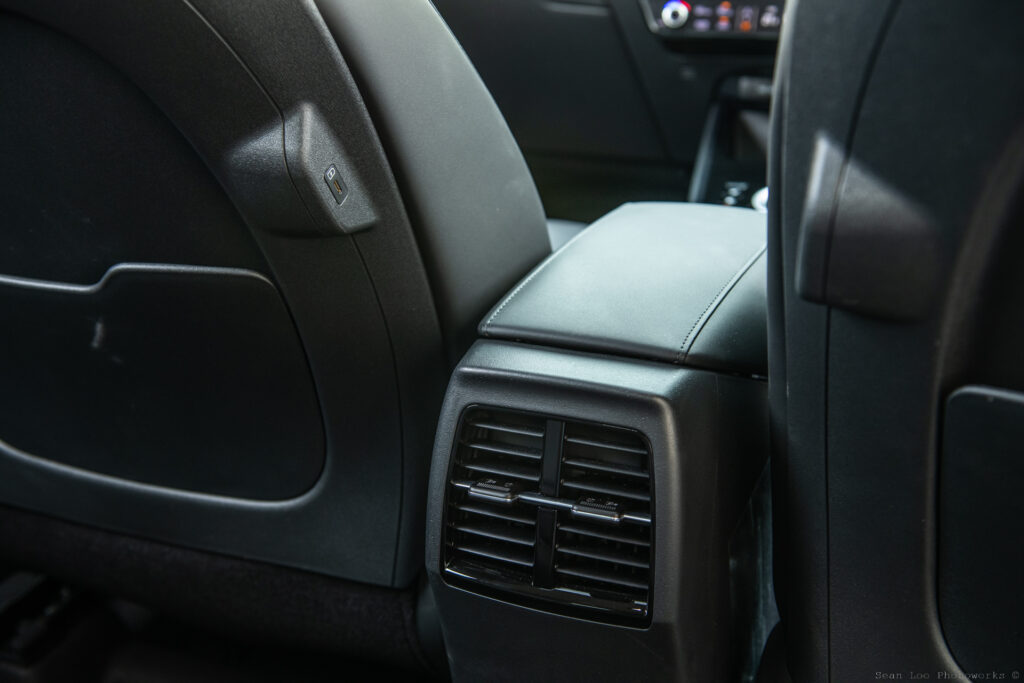 Rear passengers get treated to rear aircon vents and USB ports fitted into the front seats for charging devices on the go. All seats are wrapped in leather, and rear legroom and headroom are more than sufficient for even 3 tall adults.
An electric tailgate opens up 451 litres of cargo space, plenty for the weekly family shop. Fold the seats down in a 60:40 set-up, and you have a do-it-all machine that can pack it all in.
Silent efficiency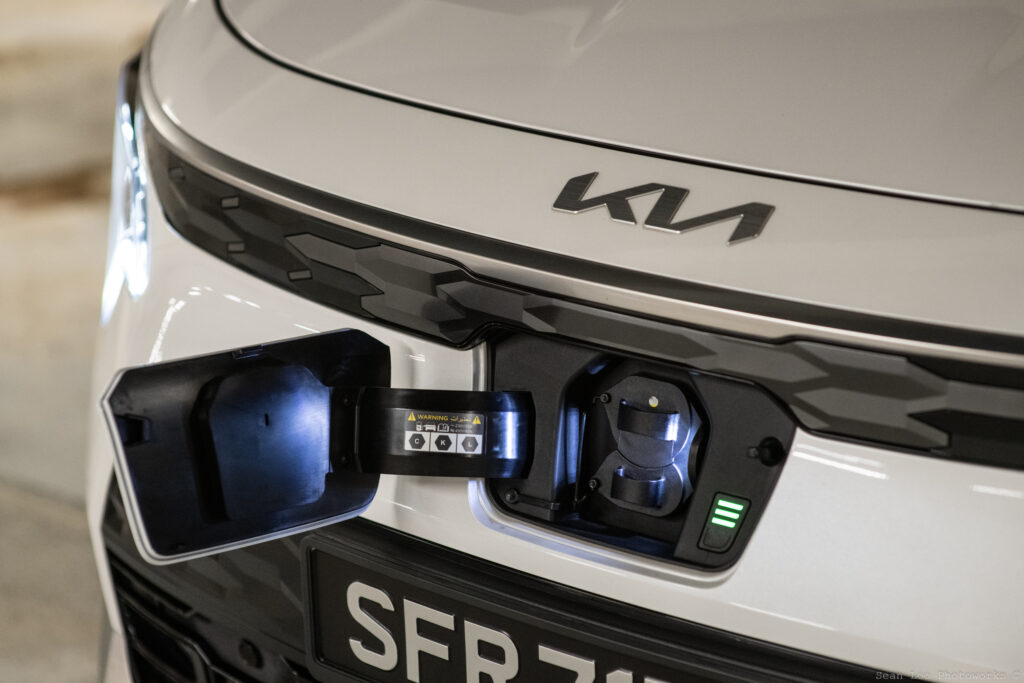 With a modest 108kW (145bhp) and 255Nm of torque sent to the front wheels via a single electric motor, the Kia Niro Electric isn't the quickest when it comes to the traffic light sprint, with a 0-100km/h time of 7.8 seconds. At full chat, it can do 167km/h, not exactly neck-breaking speeds up north either.
But, what the Niro Electric does well is give you a smooth and comfortable ride. Power delivery is well-regulated and linear, meaning you do not get large jolts of power each time you depress the accelerator more enthusiastically. Perfect for the heavy-footed driver that oscillates (nausea-inducing) their foot while on the go.
Get it up to speed, and the car cruises effortlessly whilst sipping tiny amounts of energy. This greatly helps energy consumption, giving you less range anxiety. Kia's official figure is 6.17km/kWh, but during my test, I could easily garner between 7.5 – 9 km/kWh, depending on traffic conditions. The Niro can do about 420km on a single charge, and I am confident you can easily achieve this range, if not beat it.
Should you wish to be more energetic with the car, the Niro Electric can perform too. Unlike other econoboxes, steering does feel responsive overall, and you do get responsiveness from the chassis. A flat battery pack under the floor keeps the centre of gravity low, and the Niro feels agile when performing manoeuvres.
Subtle when you want it, responsive should you want to try it.
An outstanding all-rounder
The Kia Niro Electric is a great car. No scratch that, it's a fantastic car. The only thing that's not so fantastic, is its price tag.
At $214,999 (accurate at the time of writing), the Niro Electric does command a little more than competitors in the same segment. For less, you could opt for cars like the Peugeot e-2008 or Hyundai Kona Electric, albeit with smaller proportions and less range. Even its Hybrid sibling is a standout choice, and it can save you a buck or two as well.
But, don't let this small hurdle discourage you from looking at the big picture. If you are in the market for an EV that has everything you could possibly want, and has the comfort and practicality that the whole family could love, then the Kia Niro Electric is a model that is leading the charge. 
Technical Specifications
Kia Niro Electric
Engine: Single Asynchronous Electric Motor
Power: 108kw (145bhp)
Torque: 255Nm
Gearbox: Single-Speed (A)
0-100km/h: 7.8 seconds (claimed)
Top Speed: 167km/h
Battery Capacity: 64.8 kWh
Drive Range: 460 km (claimed)
Energy Consumption: 6.17 km/kWh (claimed)
Price: S$214,999 with COE (accurate at the time of this article)
Contact: Cycle & Carriage Singapore
Photo Credits: Sean Loo (@auto.driven)
---
Read more automotive news at AutoApp, or check out our latest videos on Ignition Labs TV!