The glorious V12 engine Lamborghini is known for continues its legacy in the Revuelto, albeit with some hybridisation thrown into the mix.
---
In the heart of Singapore, under the shimmering lights and eager gazes of over 250 distinguished guests and media, the stage was set for something monumental.
It's not every day that you witness a storied marque like Automobili Lamborghini celebrate its 60th anniversary. And boy, did they make it count. Enter the Lamborghini Revuelto, a name that might roll off your tongue in a peculiar fashion, but this is a super sports car that commands attention at first glance.
The Revuelto isn't just a car; it's an amalgamation of groundbreaking engineering, impeccable design, and a dash of futuristic flair. Under its sculpted hood lies a 6.5-litre V12 engine, but this isn't your grandfather's V12.
It's lighter, more potent, and packs a punch like never before. A staggering 813hp at 9,250 rpm and 725Nm of torque – all without the need for turbochargers. Oh, and it's a hybrid as well; we've got two electric motors for the front wheels and a third nestled within the innovative 8-speed wet dual-clutch gearbox. That gearbox, by the way, is making its grand entrance into the world of 12-cylinder Lamborghinis for the very first time.
Now, let's talk batteries. The Revuelto's got a small but mighty lithium-ion battery pack that's capable of 10 kilometres of electric-only range. That might not sound like much, but it's enough to zip through city streets emission-free and access places where internal combustion engines dare not tread. The engine can also recharge that tiny battery in just six minutes.
Lamborghini's always been about pushing boundaries, and the Revuelto is no different. It's all-wheel drive, offering a combined whopping 1,001bhp to the tarmac. But, flick a switch, and you can tiptoe around town with a feather-light 180bhp in full electric mode, thanks to the front e-axle and transmission-mounted electric motor. Versatility, thy name is Revuelto.
Of course, carbon fibre takes centre stage here, handcrafted by artisans at the Sant'Agata Bolognese factory. It's everywhere – in the monofuselage, frame, and pretty much every nook and cranny of the bodywork, except for the doors and bumpers.
This extensive use of lightweight materials, combined with the ferocious engine power, results in a weight-to-power ratio that's the best in Lamborghini history: 1.72 kg/hp.
Performance, you ask? Well, a century sprint in a mere 2.5 seconds, 0-200 km/h in less than 7 seconds, and a top speed that exceeds 350 km/h. Now, Lamborghini is calling the Revuelto a "high-performance electrified vehicle" or HPEV, replacing the usual PHEV (plug-in hybrid electric vehicle) moniker. But no matter what you call it, one thing's for sure – it's got some serious hardware under the hood to make it not just fast in a straight line but nimble around corners.
The rear-axle steering system enhances turn-in and stability, and the whole chassis is lighter and stiffer. For the first time ever, Lamborghini has bestowed upon us electric torque vectoring, capable of sending precise power to each wheel. It's all about enhancing that natural driving experience.
And then there are the brakes. Carbon-ceramic stoppers at each corner, with ten-piston front callipers biting down on massive 16.1-inch discs. The rear gets four-piston calipers and 15.4-inch discs. It's a setup that means business, ensuring the Revuelto can stop as aggressively as it accelerates.
Might I add, it looks right at home on your bedroom wall? The Revuelto is a work of art on wheels, a symphony of lines and curves that captivates the eye. It's a Lamborghini through and through, with a design DNA that's unmistakable. But it's also a departure from the past, ushering in a new stylistic language. It pays homage to the legendary V12 cars of yesteryears, with a shape that's both nostalgic and futuristic.
The Y motif is used extensively both inside and out. The headlights and taillights sport a Y structure, the side air intakes resemble an arrow, and even the dash incorporates a striking Y shape. It's all about modern "aerospace elements," and when you see it, you'll understand. The Revuelto doesn't just look like a supercar; it looks like something that's descended from the future.
But it's not just about aesthetics; it's about aerodynamics too. The front splitter channels air away from the front wheels, while the rear boasts a wild diffuser that generates downforce while cooling the engine. The active rear wing adjusts as needed, ensuring optimal performance whether you're on the track or cruising on the streets.
Inside, the Y motif continues, with three digital screens. The driver gets a 12.3-inch digital readout, while the passenger enjoys a narrow 9.1-inch screen that also displays vital vehicle information.
It's not just about screens; it's about experience. The passenger, affectionately referred to as the co-pilot, takes charge of climate functions, navigation, and music selection, allowing the driver to focus on the road. With seven drive settings and various sub-functions, there are 13 different modes to choose from, ensuring that every drive is tailored to perfection.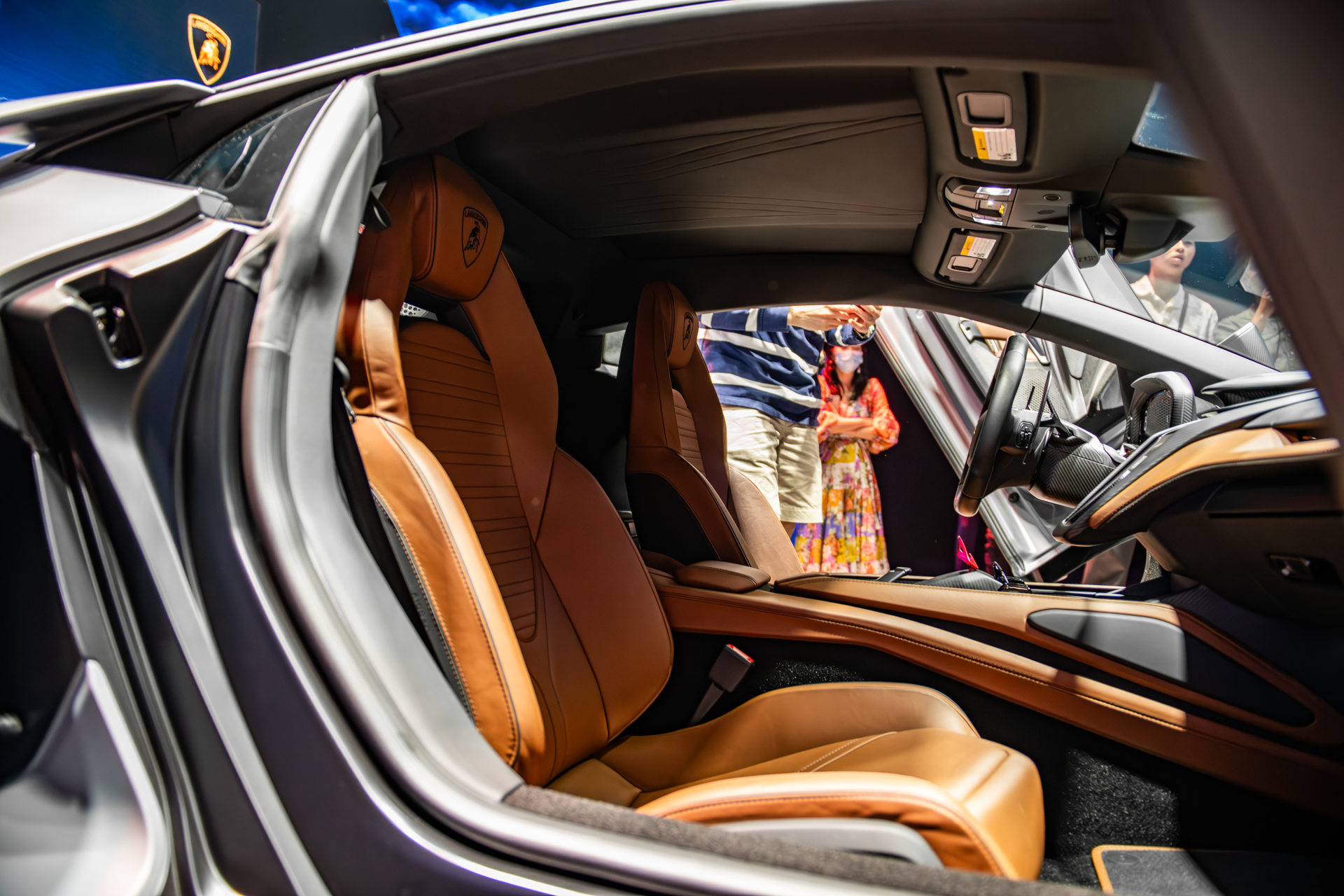 And let's not forget the environmentally-conscious side of the Revuelto. Lamborghini has embraced new processes for manufacturing materials, making them more efficient. The upholstery combines various leathers with microfiber made from recycled polyester. And with 70 different colour options for the cockpit, you can truly make it your own.
Tech-wise, the Revuelto might not be an S-Class, but it's no slouch either. Advanced navigation, Amazon Alexa integration, and over-the-air updates keep everything fresh and up-to-date. The Lamborghini Unica app lets owners remotely control door locks and preset driving parameters, ensuring that this beast is always ready for action.
A digital art piece named "Icons of a Tropical Future" was unveiled alongside the Revuelto, created by Singaporean visual artist Howie Kim. It seamlessly blends Lamborghini's forward-looking philosophy with iconic symbols of Singapore, depicting the 350GT,
Lamborghini's first-ever production car. It's a tribute to timelessness and the brand's journey of growth and innovation over the decades.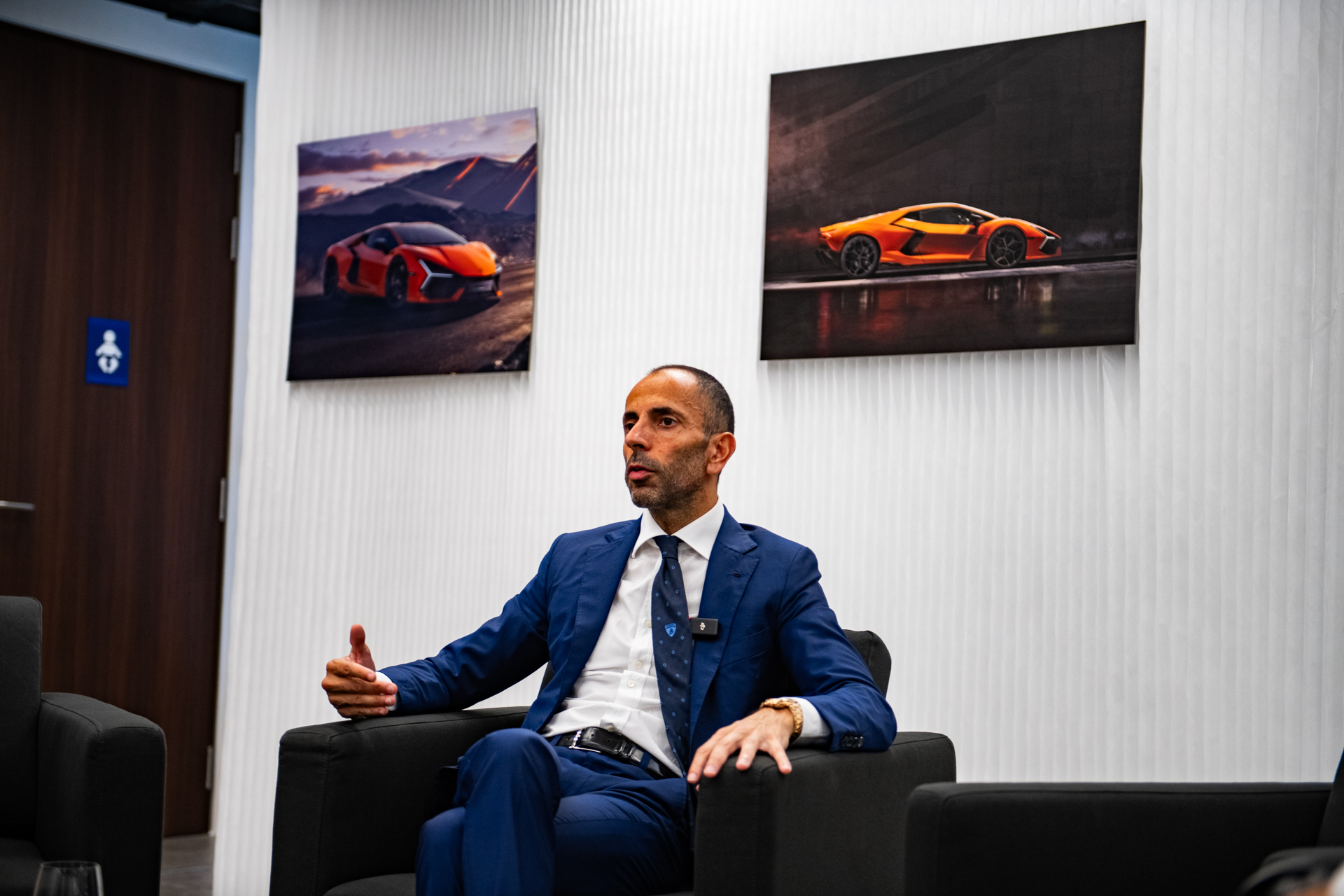 Francesco Scardaoni, the Region Director for the Asia Pacific at Automobili Lamborghini, put it best, "I believe that this car is an interpretation of the brand going beyond, and how we revolutionized the automotive world with our iconic V12." 
If you wanted to place an order for one, too bad. The Revuelto is sold out until 2025. But if you've got more than SGD$2.5 million to spare (not including the sky-high COE), you could have one of your own. It's not just a car; it's a statement, a piece of automotive history, and a glimpse into the electrified future.
Photo Credits: Sean Loo (@auto.driven)
---
Read more automotive news at AutoApp, or check out our latest videos on Ignition Labs TV!