The Land Rover Defender 90 is a compact two-door marvel that's ready to take on any adventure.
---
The Defender has been a byword of hardy reliability since it was first conscripted into the ranks of Land Rover. Its "go anywhere, do anything" approach made it a star in the world of unpaved routes and undulating terrains. Which is exactly why the Defender had to overcome a deafening roar of polarising opinions when it was relaunched back in 2020.
Support from people who loved the new modern design and up-to-date progressive engineering; pitchforks from those who said it became too posh to push, fatally busting the "rough & tough" blueprint of the original. And that was before anyone had even driven it. Such is the way of our modern interconnected online world.
But, Land Rover stuck to their guns and continued their push for the new Defender. Three years on, this is still one of the best off-roaders in the business.
Rough and Tough
Now, before we get into the nitty-gritty, let's clear up some Defender lingo. There are three flavours of the Defender – the 110, the 130, and this petite variant, the 90. The bigger the number, the more real estate you've got.
While compact in build, the 90 is the little guy with a big personality.
The design of the Defender 90 is nothing short of masterful. It's got that perfect Goldilocks balance of boxiness that you'd expect from a hardcore off-roader. The boxy design isn't just for show; it maximizes carrying space and gives you a clear sense of where the bodywork begins and ends, which is handy when you're traversing tricky terrain.
It's not flat and boring either. No, it's subtly curved, adding a touch of modernity while still paying homage to the old Defender that everyone adored. You know, the one that was as tough as nails but about as comfortable as a bed of nails.
It was a tool, plain and simple, and this modern facade does justice to its legacy.
Where Industrial Meets Luxury
Step inside, and you'll find a cabin that's unlike anything you've seen in your typical road car. It's got that honest industrial design that screams "I'm here to get things done." The rugged cross-dash beam, sturdy console, structural door liners, and washable floor all shout "fitness for purpose".
You won't be worrying about dirtying or scuffing up "luxury" materials here – it's all about practicality.
But don't think it's all about being bare-bones. The infotainment electronics, head-up display, and driver aids are top-notch, meeting modern premium-car standards. And the Defender 90 comes with Land Rover's Pivi Pro system too; Android Auto and Apple CarPlay compatibility.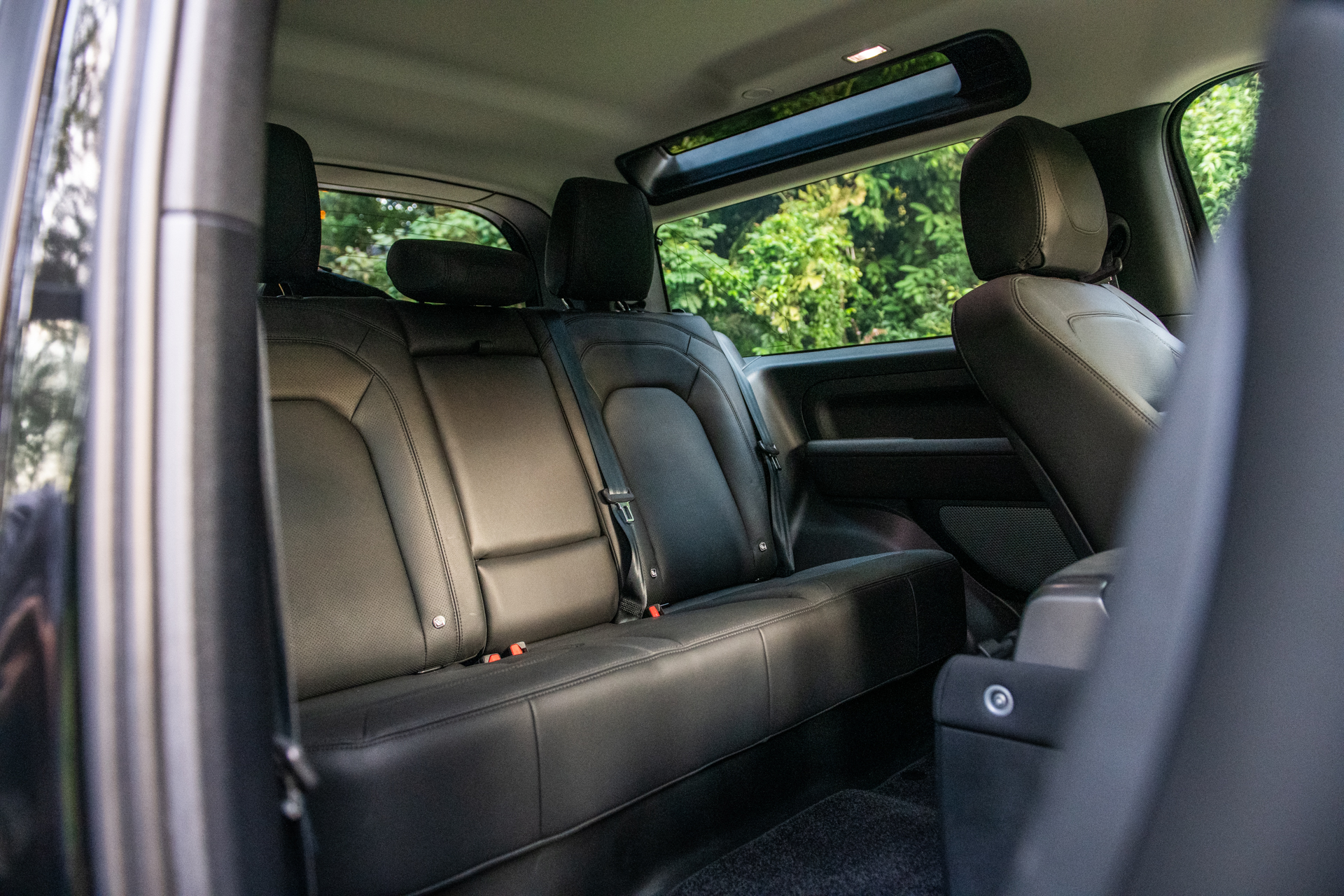 Now, when it comes to space, the rear bench of the 90 offers plenty of leg and headroom for adults, and those upper 'alpine' windows make it feel airy. But here's the rub – getting to those rear seats can be a bit of a hassle. Especially when you've got a car seat or gear in the back.
Aside from the space in the back, the cabin design is pretty much the same as the 110 – smart but tough.
And for all you outdoor aficionados, Land Rover offers a treasure trove of external carrying accessories – roof racks, ladders, panniers, you name it.
Heck, you can even tow a trailer if you want to go all out. Inside, there's ample storage space – huge door bins, a colossal centre console, and plenty of nooks and crannies for your odds and ends.
The boot, at just under 400 litres, isn't massive, which might disappoint the camping enthusiasts in the audience. Plus, the rear door opens horizontally, not upwards like a hatch, so you can't really stack things in there without causing an avalanche every time you open it. A bit of a conundrum.
Off-Roading Prowess
When you hit the road, you'll find that the Defender 90 isn't all that different from its bigger sibling, the 110. And that's a good thing. Unlike some of its off-roading rivals, it doesn't handle the road like a bull in a china shop. Everything just feels in sync.
Thanks to its long suspension travel, it's gentle and composed in its reactions. It's not about forced urgency like sporty SUVs; it's about real-world sensibility. It soaks up harsh shocks, and the wheels don't rattle over bumpy terrain.
What's truly remarkable is its control of pitch and roll. You can glide over a challenging road at a respectable pace with remarkable comfort – almost luxury-car comfort.
Under the hood, the P300 Ingenium engine is a 296bhp four-pot with 400Nm of torque. It's paired with a smooth gearbox, allowing the Defender to be generally quiet, with the engine humming softly when it's not working hard, and tyre and suspension noise staying in the background.
Of course, if you slap on a roof rack and off-road tyres, you might get a bit more noise, but that's the price of adventure. Plus, the high driving position and huge wing mirrors give you excellent visibility.
But here's where it gets interesting – when you leave the tarmac, the Defender transforms into a whole different beast. It takes on articulation, traction, ascents, descents, and everything in between with effortless grace.
Thanks to its shorter wheelbase compared to the 110, the 90 is particularly nimble when manoeuvring around obstacles. Even without air suspension, it's nothing short of amazing.
I recently had some time to play with the Defender when navigating some hilly terrain in Desaru, and the engine and gearbox provide sufficient torque with finesse when you need to cross slippery terrain and unleash power when tackling steep slopes.
Traction is phenomenal, clearance is colossal, and articulation is impressive. It's a true off-road champion, and its veins run the same blood of its predecessors.
Adventure Awaits
The Land Rover Defender 90 isn't just a car; it's a gateway to adventure. Sure, the three-door setup might be a tad impractical, but it comes with a rich history and a sense of wanderlust. When you do unleash its potential – whether it's off-roading, tackling snow, or towing – it's incredibly reassuring.
What's truly astounding is how well it handles on the road. It's dignified and stately, and compared to the 110, the 90 is more agile in town and has a bit more character in its looks. Of course, it won't fit as many people or as much stuff, but that's the trade-off for its compact charm.
It's a family car that makes you feel adventurous, even if you never use all of its off-roading capabilities.
Technical Specifications
Land Rover Defender 90
Engine: 1,997cc 4-cylinder 16-valve Turbocharged
Power: 296bhp
Torque: 400Nm
Gearbox: 8-Speed S-Tronic (A)
0-100km/h: 8 seconds (claimed)
Top Speed: 191km/h
Fuel Economy: 9.7km/L (claimed)
Price: S$408,999 with COE (accurate at the time of this article)
Contact: Wearnes Automotive
Photo Credits: Sean Loo (@auto.driven)
---
Read more automotive news at AutoApp, or check out our latest videos on Ignition Labs TV!