Model Year 2024 Impreza (US) looks sharp, but still utilitarian like any good Subaru should be.
---
You'd think that a Japanese manufacturer would first launch a new model in its home country, but stranger things have happened. And so it is with the latest Subaru Impreza. Unveiled on 17 November at the Los Angeles Auto Show, this Impreza is expected to go on sale in spring next year as a Model Year (MY) 2024 in the US, and as a MY2023 elsewhere.
First, the important stuff. Three variants of the Impreza will be offered in the US, namely Base, Sport and RS. Base and Sport get a natually-aspirated 2-litre boxer four-cylinder engine putting down 152hp and 145Nm of torque. The RS variant gets 500cc more, courtesy of a 2.5-litre boxer-four which bumps power to 182hp and torque to 178Nm. All variants get a continuously-variable transmission, or CVT, combined with Subaru's famous Symmetrical All-Wheel Drive, which sends power to all four wheels all the time – which is why Subarus are popular in places like Colorado where copious amounts of snow during winter is par for the course.
What's surprising is that there appears to be no hybrid technology incorporated into this Impreza. Subaru's engines, even those that are direct-injected, have not been known for really good fuel efficiency, and a hybrid system would certainly have helped make trips to the gas station more palatable. Oh well…
This new Impreza is decidedly sharp looking at the front, specifically the headlights, but the corporate grill makes it look like it has a rather large snout and the foglight surrounds look like upturned fangs. Like it or hate it, Subarus have never been good-looking, soooo….. decide for yourself if this is something you can live with.
Given the Impreza is automatic, EyeSight driver assist technology is a thing, this time as a new generation, bringing with it features such as adaptive cruise control and safety systems such as automatic emergency braking.
The interior is decidedly utilitarian, as any good Subaru should be, and features an 11.6-inch multimedia system depending on trim level, with wireless Apple CarPlay and wireless Android Auto. The climate control system too, has been smartened up to focus only on occupied seats for better fuel economy.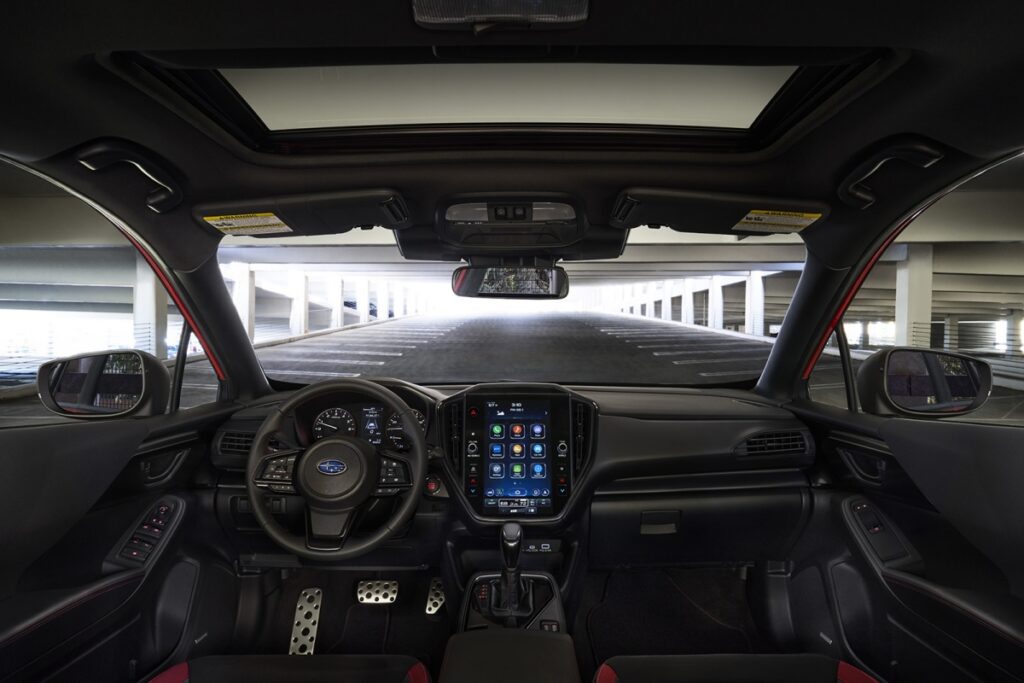 It will be interesting to see how the buying public takes to this new Impreza. Pretty sure it will still be a hit where Subarus have always been popular, despite that snout and upturned fangs.
---
Enjoyed that article? Get more of the latest in car news here!