A new set of leather seats is the most effective way to make your car look and feel new again from the inside, and it doesn't have to break the bank either.
Let AutoApp arrange this service for you. Click here to make an online booking, or download the app below.
---
Leather seats are one of the most popular options amongst car buyers. In just about every segment, cars are sold with them as standard fabric seats are generally shunned.
On the practical side, leather seats are easier to care for in the long term as they are inherently more resistant to spills and stains. Usually, they just need a wipe and won't soak in the mess like how fabric seats are apt to do.
The term 'leather seats' may be ubiquitously used by car dealers eager to close a sale, but the definitions can vary greatly and may not always be what they seem. Here is what you should know to ensure you get what you're paying for.
Factory-fitted vs locally-fitted
As a general rule, most Continental and luxury brands import their cars with leather seats already fitted. These are known as factory-fitted leather seats and are generally found in higher-end models.
The majority of mass market cars – usually made by Japanese or Korean brands, tend to be sold with locally-fitted leather. These cars roll out from their respective factories with fabric seats and are refitted with leather upholstery just before they are delivered to the customer.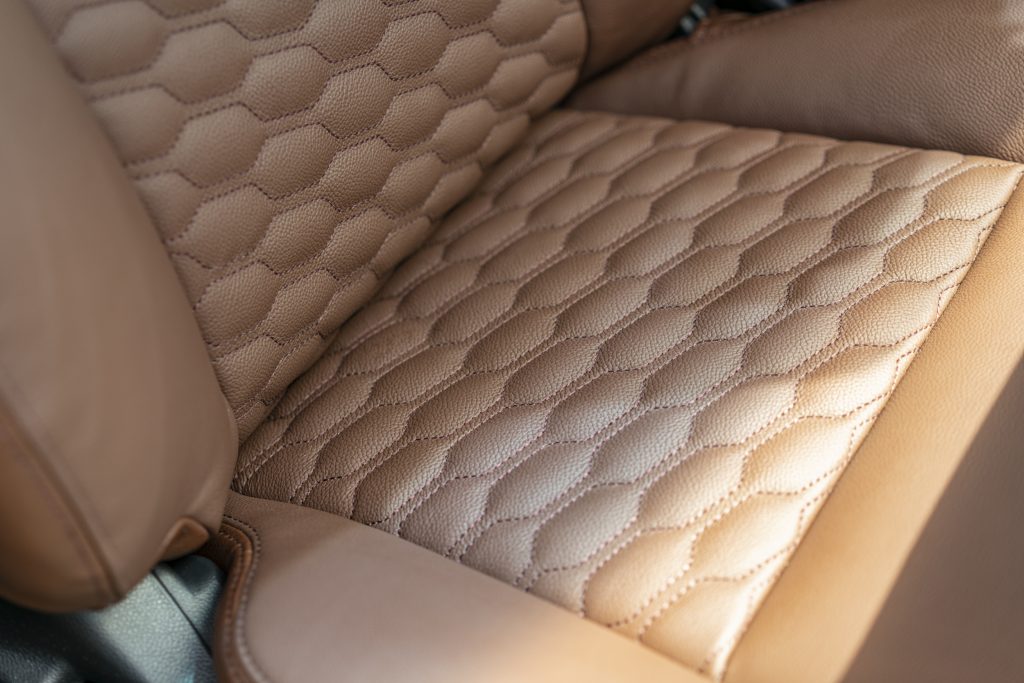 There are always exceptions of course, but in either case, the end result should matter most. Does the fit and finish of the seats look and feel good to you? If yes, what does it matter?
What actually matters is that the materials used – regardless of genuine or artificial leather – must be certified for automotive use. The type of materials used in a home sofa for example, is not suitable for automotive use. Materials for vehicular applications should be certified and tested for abrasion resistance, UV and heat resistance as well as fire retardation.
Use only automotive-certified installers
Finally, the installer should be a certified automotive Original Equipment (OE) supplier. Many seats and interior panels house airbags. If the material stitching or installation methods are not correctly done, the airbag may not be able to deploy and protect the occupants the way they were designed to.
For these reasons, AutoApp works with Gosford Leather Industries as its leather seat supplier and installer. Since 2012, the Malaysia-based company with an installation centre in Singapore has been an OE supplier for ASEAN-assembled Mazda and Hyundai models. Over the years, it has expanded its portfolio to include Proton and Subaru cars as well. To work with manufacturers, an OE supplier has to be IATF certified.
Full leather seats
To most, there is a natural expectation that seats are completely wrapped in leather – the front, back and sides – when told that their car comes with "leather seats". This however, is rarely true unless you are shopping at the highest echelons of the price spectrum.
Fortunately, it is possible have a full-leather interior fitted into any car. AutoApp, for example, works with leather manufacturer Gosford Leather Industries to supply and install custom leather seats and interiors.
Half leather seats
Half leather seats are in fact the most common type of car upholstery. This means that only the seat facings – the parts that come into contact with the occupant are made of genuine leather.
The sides and back of the car seats are typically made of PVC or synthetic leather that is colour matched to the genuine leather facing. It also common for the door interior panels to match the seats as well. These panels are usually wrapped in PVC or synthetic material as well.
Quarter leather seats
In the more competitive or price-sensitive segments of the car market, dealers may resort to 'creative' ways of selling cars while keeping margins viable. One of the methods is to fit quarter leather seats and passing them off as simply 'leather seats'.
As the name implies, this is less than half leather seats. With quarter leather seats, only the centre sections of the seat and backrest are genuine leather while the rest of the seat panels are PVC or synthetic leather.
Grades of leather
Leather is not created equal. They come in many grades that differ in how they look and feel as well their durability.
Regular automotive grade leather is the most common type used for cars. It has to fulfil several criteria such as durability against rubbing, stain resistance and even fire retardation performance.
As a result, automotive grade leather tends to have a coarser grain and is thicker than fine aniline or Napa leather that generally feels softer and smoother with with finer grain patterns.
Napa leather is a premium grade of leather that is typically fitted to high-end car models. It is generally not as stain or wrinkle resistant and is less durable than automotive grade leather. Owners who clock higher mileages in their cars are advised to use automotive leather. Some customers however, feel that a little more care is well worth the effort for seats that feel more comfortable and luxurious.
Napa v Nappa leather
Depending on who you're dealing with, 'napa' and 'nappa' are used interchangeably. However, they can mean very different things. Napa with a single 'p' refers general name for soft smooth leather. It also referred to as full grain smooth leather that usually comes from cows or calfs. Very rarely are the hides from sheep, goats, pigs or exotic animals used for automotive interiors.
Nappa with a double 'p' is sometimes used for soft imitation leather. There are some exceptions apparently. In Portugal for example, 'Napa' is the word for artificial leather while in Germany, 'Nappa' means the same as genuine napa leather. To be sure, it is always best to clarify with a reputable supplier such as Gosford Leather Industries.
---
Artificial advantage
To be fair, artificial leather is not always a bad thing. On certain areas, such as door interior panels, or areas that require a tight or complex surfacing, artificial leather can be stretched and heated more effectively in places to achieve a better fit and finish. For this reason, most car interiors will have a small percentage of PVC or artificial leather on certain door panels and surfaces even if the seats are covered in full leather.
Replace or renew your leather seats?
Although leather can be cleaned and even restored to a point. The cost of replacing the leather seats with genuine leather has become more accessible in recent years. You may find it worth to replace the leather coverings altogether. A new set of leather seats for a Honda HR-V / Vezel for example can be had for as low as $688 inclusive of AutoApp's insured pick-up and deliver service (worth $68) for the ultimate door-to-door convenience. Obviously, prices will vary from one make and model to another because of the quantity of leather needed and the scope of the job. Does the owner want the door panels, steering wheel and dashboard done as well?
While you're at it, why not give your car interior a new look? Instead of the usual black or beige leather, a car's interior can be completely transformed. From a dark, sombre cabin to one that's bright and airy. All just by choosing some lighter of brighter colours. You can also get creative with contrasting panels or stitching for a two-tone effect to make your car truly unique.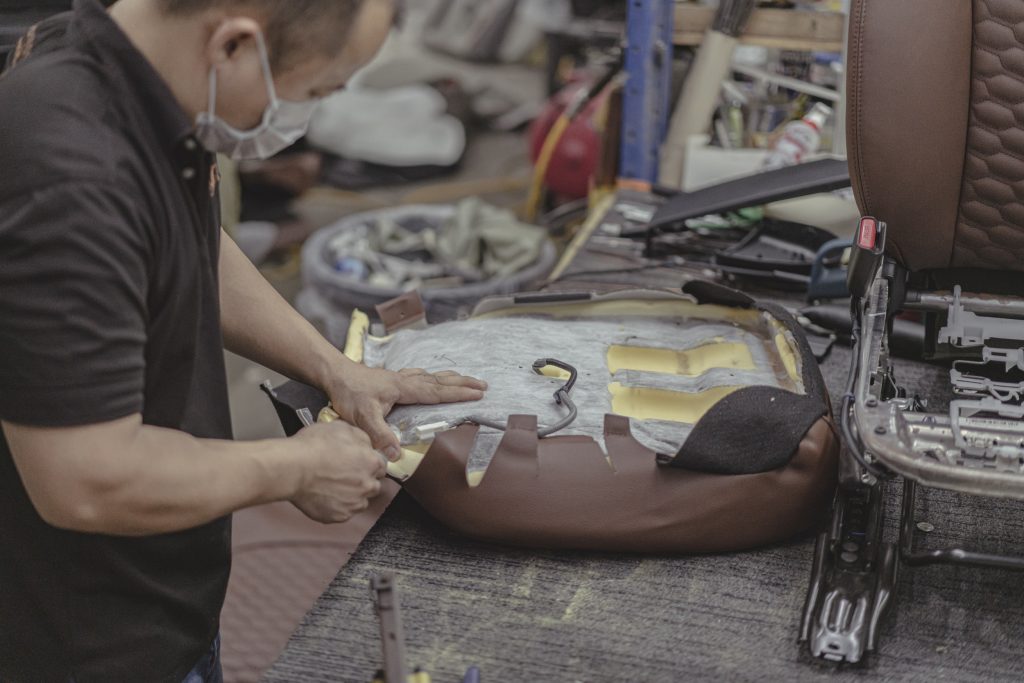 The owner of the Honda Vezel shown here went from plain black to saddle brown automotive leather. He took it a step further by also getting the seats and backrests quilted for additional texture. This pattern also makes long drive more comfortable. The gaps between the raised pattern allow air to channel through and improve ventilation to your back and lower body.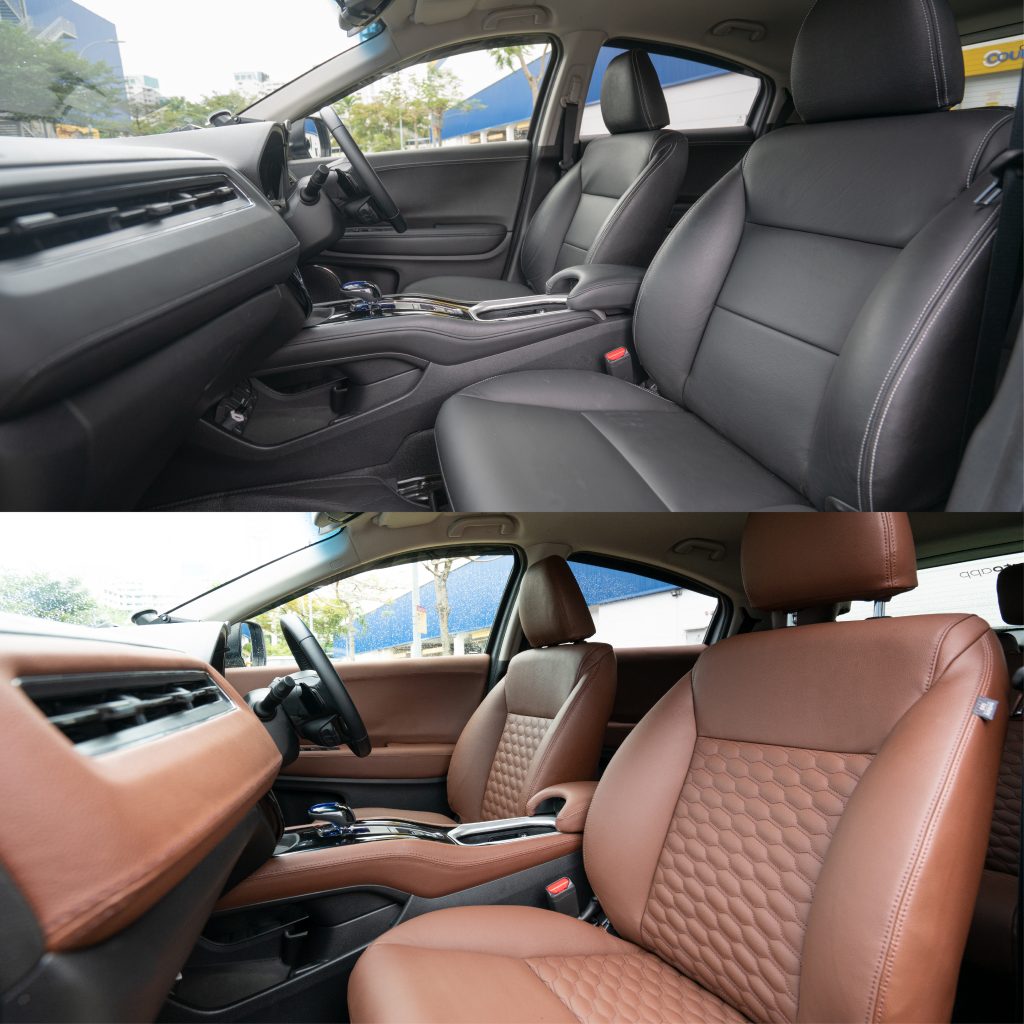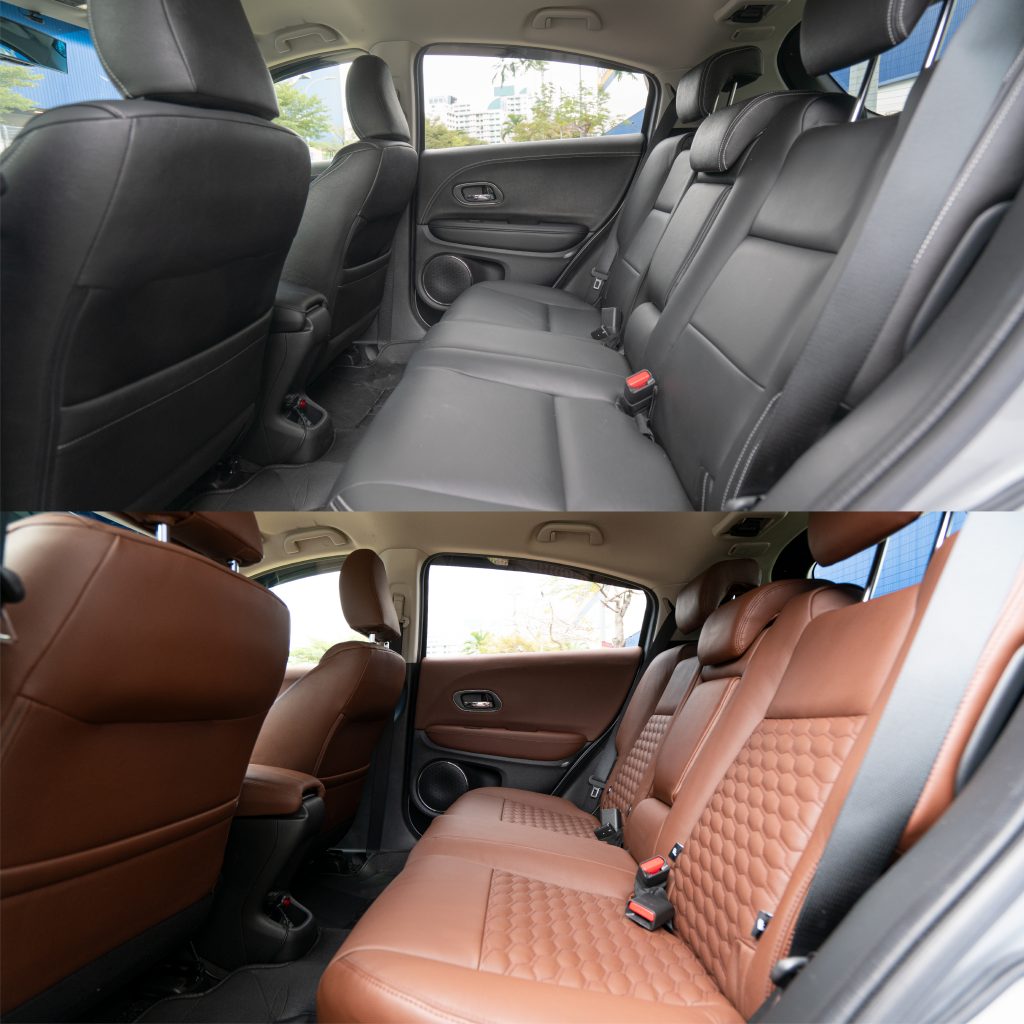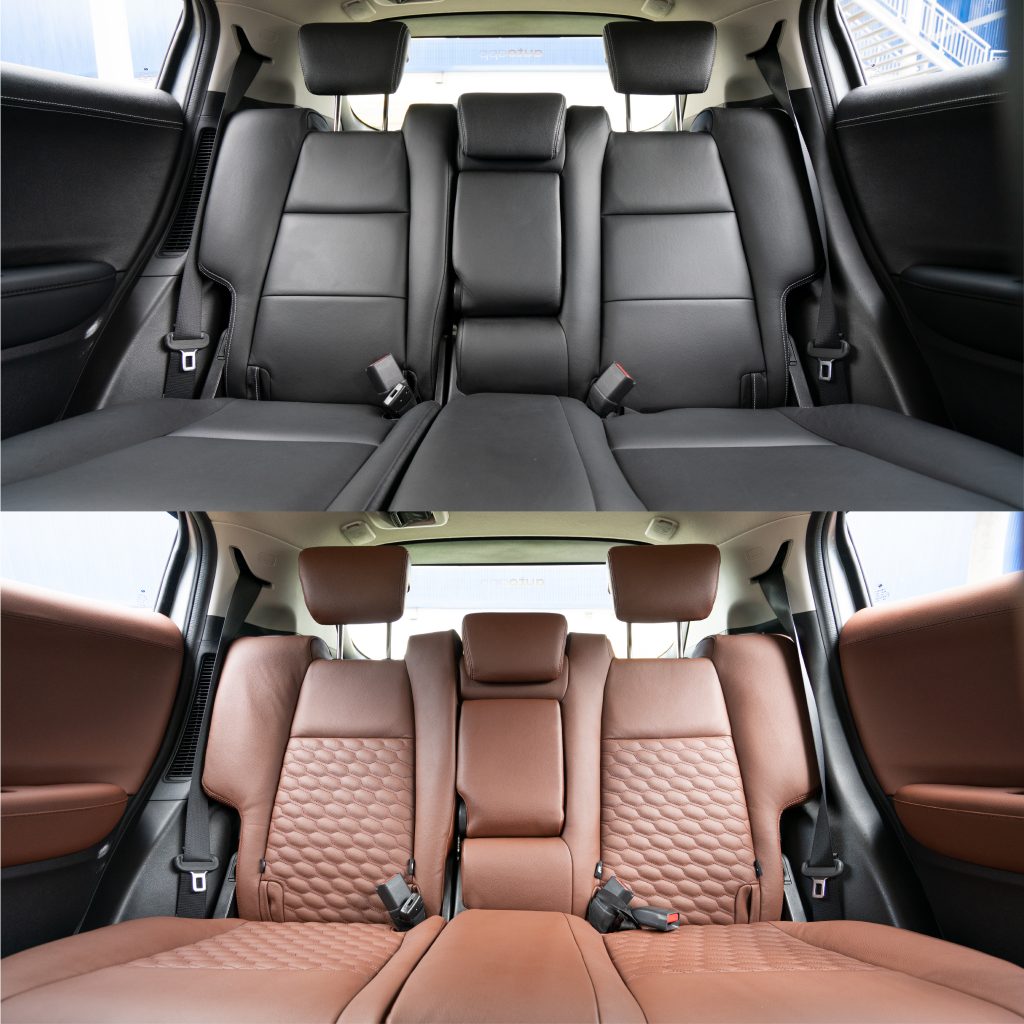 Now, you can get full leather interior for your car and take heart in knowing that you're getting the real thing!
---
AutoApp works with manufacturer Gosford Leather Industries for leather seat replacements. Try out our FREE no-obligation doorstep consultation.
Let AutoApp arrange this service for you. Click here to make an online booking, or download the app below.