The Lexus UX300e, the Japanese automaker's first full-electric model, is all you'd expect from a proper Lexus. Unfortunately, it does come with some little foibles…
---
Toyota CEO Akio Toyoda has long made his stance clear on electric vehicles (EVs). A strong proponent of hybrids and plug-in hybrids, he's candidly spoken out against the shift toward full electric transportation.
In a Japan Automobile Manufacturers Association press conference, he's gone as far as to say that EVs would kill businesses, demand huge investments, and emit more carbon dioxide. Naturally, that's garnered some backlash from the pro-EV crowd, who staunchly rebut Toyoda's claims.
Toyota can ignore — and has ignored, for the past few years — the boos coming from the pro-EV camp. But what it can't ignore, though, are the various governments around the world pledging to phase out petrol cars within the next decade or two.
In response, it's accelerated its push into EVs with the bZ range of full-electric vehicles. For now though, this Lexus UX300e is Toyota Motor Corp's dip into full electrification.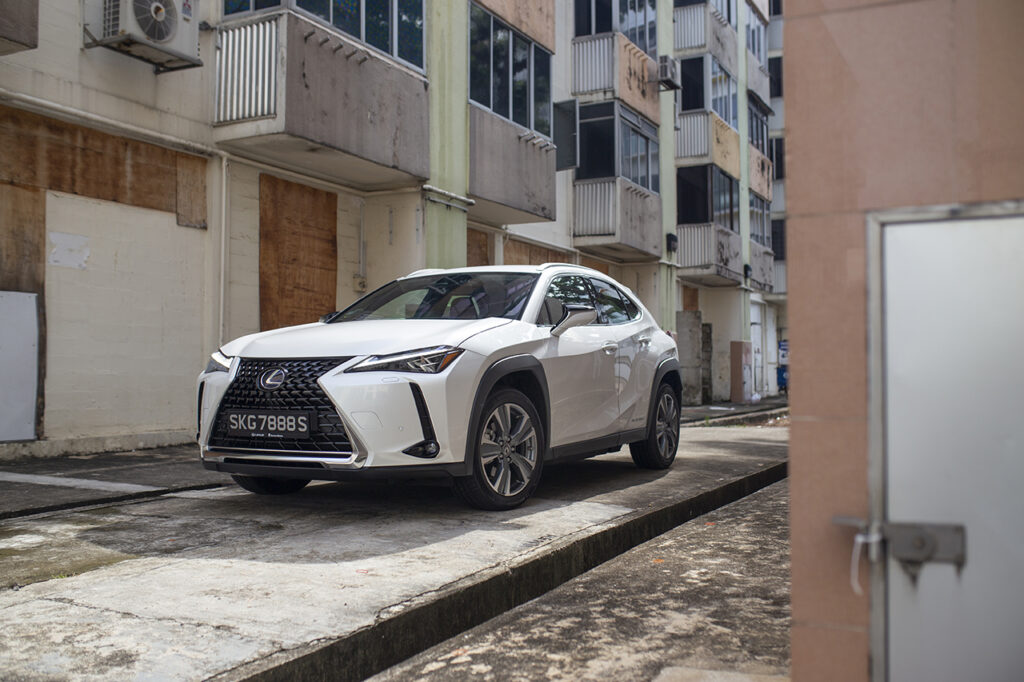 Does it feel like a proper Lexus inside?
In short… yes. Get in to the drivers' seat and it feels all Lexus-like, with pleasantly soft materials and excellent build quality. You get a combination of leather and soft plastic on all key touchpoints, such as the steering wheel, shift knob, and climate controls.
The cabin doesn't betray that the UX is Lexus' smallest model. There's a washi-inspired textured and stitched dashboard, sashiko-inspired quilted seats, and the quintessential Lexus analogue clock. Enjoy crisp audio from the Mark Levinson sound system, controlled by the 10.5-inch infotainment system. Unfortunately, this isn't a touchscreen like on the new IS, thus you'll need to control it with the clunky touchpad system.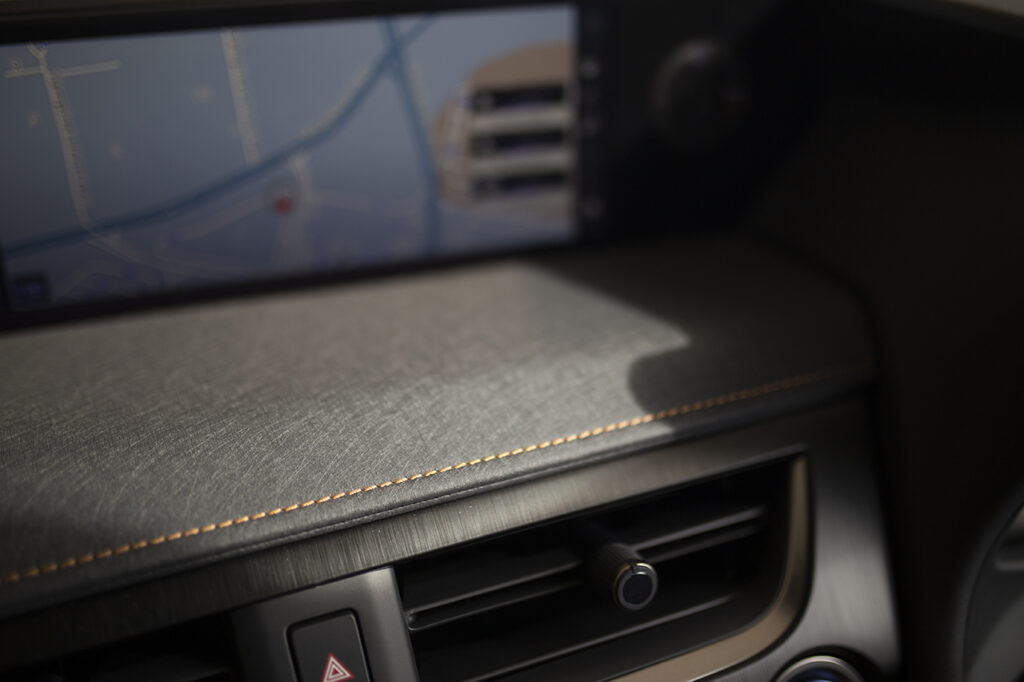 Glance around, and you'll notice an unusually large number of buttons in the cabin for a modern vehicle. Some might say it makes the interior look dated, but Lexus has done a good enough job of integrating them so they look quite appropriate. Besides, it's nice to not have to fiddle through a menu just to adjust the cabin temperature…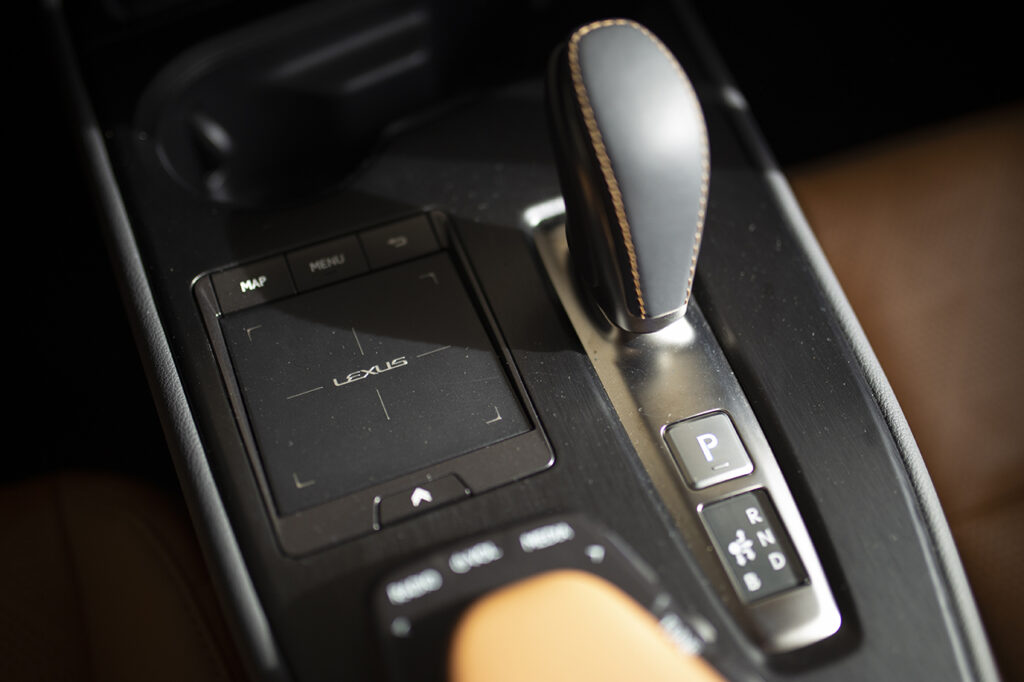 While it's fine and dandy up front, the rear passengers don't get quite as much a treat. Rear legroom, while sufficient for smaller adults, might be a bit lacking if your passengers are tall, large, or both. Rear door trim also isn't quite as plush as the front, losing the soft plastic for harder textured plastic.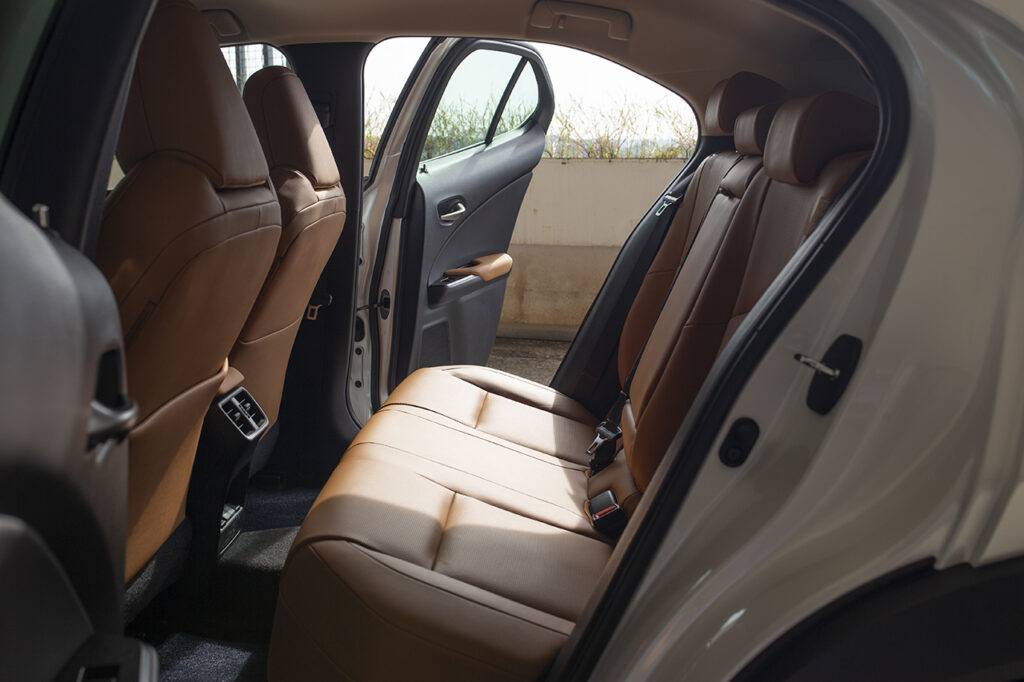 Does it drive like a Lexus?
First, the good. In the city where most UXes will spend their time, there's the responsive throttle and instantaneous torque of an EV. Even in the 'Normal' driving mode, the go-pedal is responsive enough, that enthusiastic drivers won't see the need to pop it into 'Sport'.
Mash the throttle pedal to the floor, and all 201 bhp and 300 Nm relentlessly pins you to your seat. So smooth is the power delivery that initially, this might catch you out. It certainly upset the car's traction control system — which angrily flashed whenever I tried to launch it at the lights.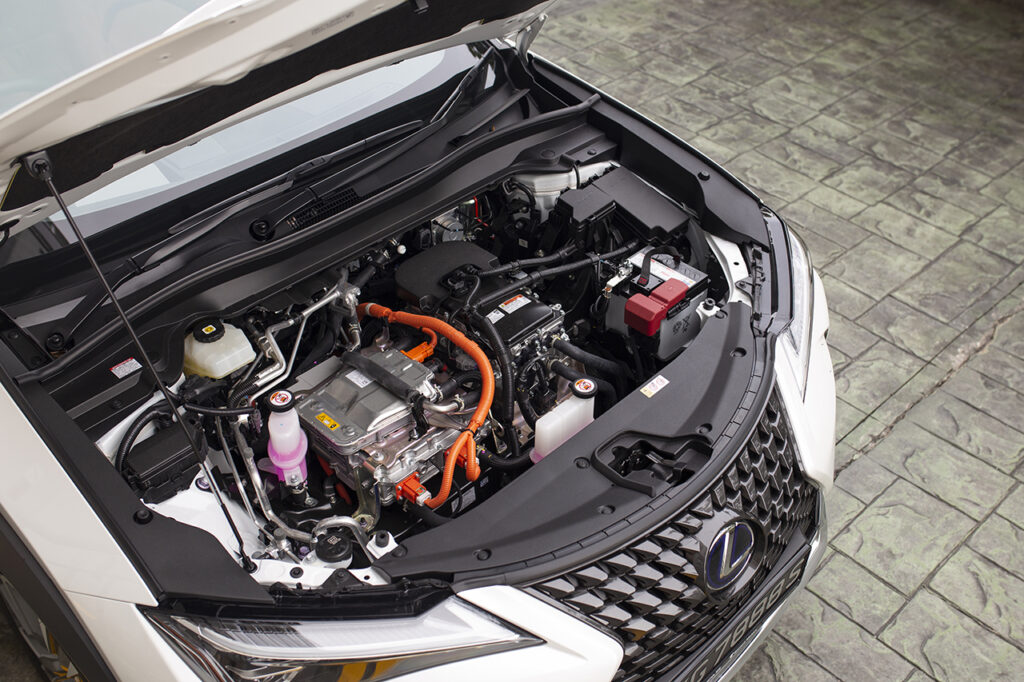 Interestingly, this EV comes fitted with paddle shifters, but not quite paddle shifters in the true sense of the word. What they do, is allow you to switch between four levels of regen-braking on the fly, like an ICE vehicle. Two quick tugs on the left-side paddle as you're entering most expressway off-ramps lets you exit without touching the brake pedal.
The UX300e isn't quite the perfect car for bombing down twisty roads, however. Steering is sharp, but it's paired with an overly helpful electric power steering system that numbs any feedback through the wheel. As a concrete jungle warrior though, the light and quick steering is perfect to navigate tight streets and carparks.
Ride comfort in the front is as plush as you'd expect from any Lexus. Large bumps can be comfortably taken on at speed, with no harsh impacts transmitted to the cabin. Unfortunately, the suspension has Jekyll and Hyde tendencies which might elicit complaints from the rear seat passengers.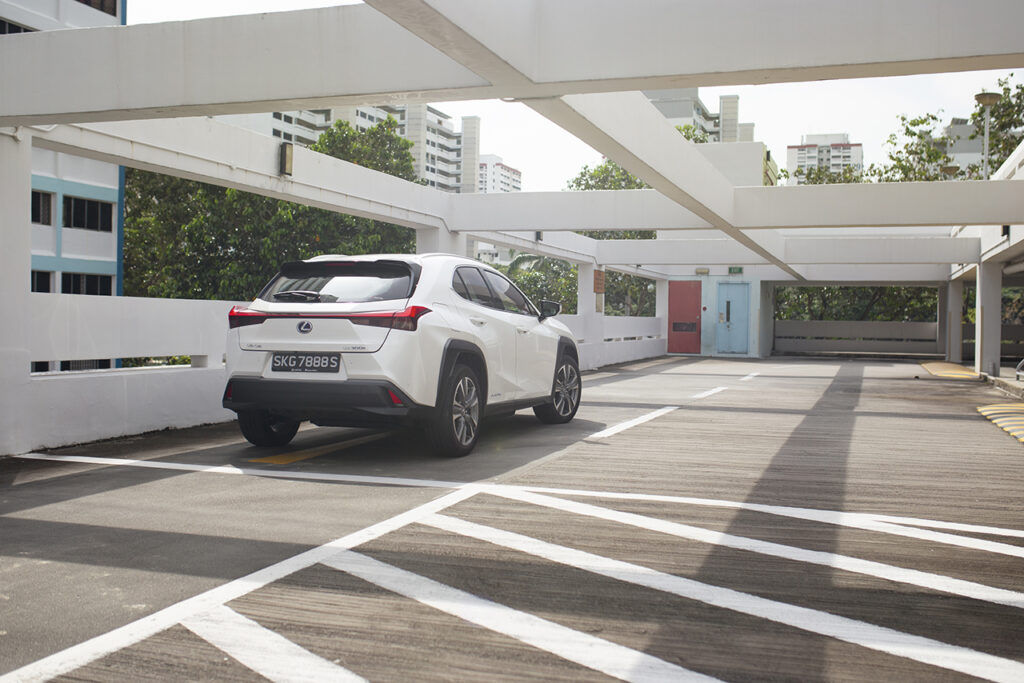 My rather large rear passenger complained not only about a lack of leg room, but also a crashy ride that wasn't immediately apparent up front. Going from the front seats to the back, it's immediately apparent that it's stiffer with a bit less damping. Rather un-Lexuslike behaviour it might be, but this might be due to the significant amount of battery cells in close proximity to the rear suspension. This is, after all, one of their first EVs…
How's it like to own?
Now, here's where it gets a bit tricky. The UX300e's 54.3 kWh battery, while isn't particularly lacking in terms of capacity, offers a rather modest 267km in range. Compared to similar EVs such as the Kia Niro EV with its 455km of range, the UX300e does begin to lag behind the competition a bit.
Then, there's the issue of charging. The UX300e offers two charging ports, a 6.6kW Type2 AC port, and a 50kW CHAdeMO DC port. There's just one little problem – charging infrastructure. None of the EV fast-charging points in Singapore utilise the CHAdeMO standard, but instead use the Type2 CCS standard.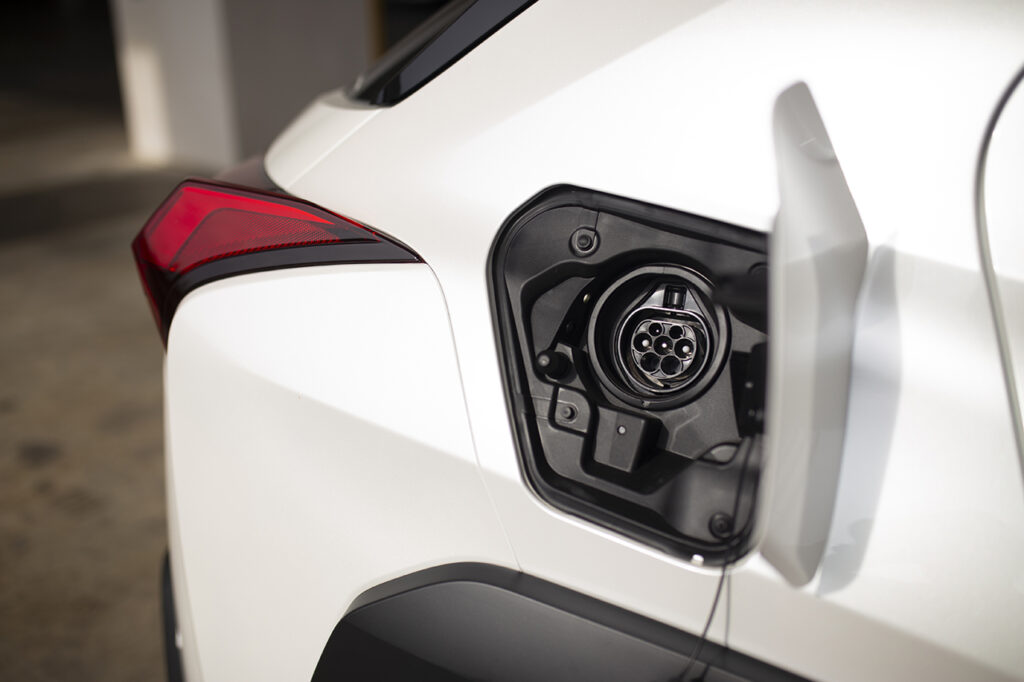 This means that at present, UX300e owners in Singapore are only able to slow-charge their cars using the AC port. Juicing up a completely flat battery will thus take close to 8 hours, compared to 1 hour if a fast-charge port was available. It is, admittedly, a minor issue if you have access to your own EV charging point. But for most of Singapore's apartment-dwelling population, spending 8 hours charging your car might be somewhat of a deal-breaker.
Finally, there's the price. At S$251,800 (as of June 2021), this represents a premium of nearly S$79,000 over the Tesla Model 3 Standard, one of its main competitors in the segment. But, if what you're after is a zero-emission rendition of the traditional Lexus experience of thoughtful luxury and a whisper-quiet ride, the Lexus UX300e ticks all the boxes.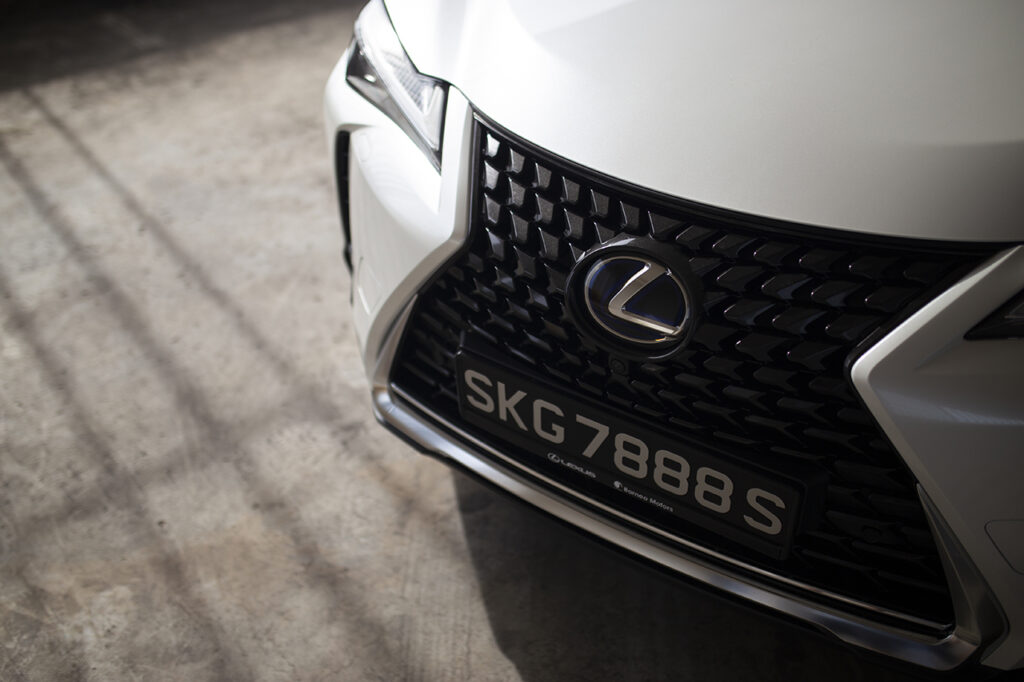 ---
Enjoyed this article? Read more car reviews here.