Although the Maserati Ghibli GT has a downsized heart, it doesn't compromise on fun and enjoyment.
---
It seems like the days of petrol are truly numbered. With pressure from government entities and eco-conscious institutions, we have started to see a massive shift within the car industry. A shift that abolishes fuel burners in favour of efficient alternative means.
No matter what option we pick, the outcome will eventually be the same. The internal combustion engine as we know it will cease to exist, being relegated to the pages of history as automakers make way for new, futuristic, and crucially more sustainable, electrified means of propulsion.
But, this doesn't mean some automakers won't go down without a fight. Maserati is one such automaker, and it is trying to keep internal combustion alive, albeit by downsizing. This would keep its cars within the acceptable 'eco range' of environmentalists, whilst maintaining its quintessential fuel-burning heart for the budding enthusiast.
One of these new recipes has made its way into the Ghibli GT, now rocking a 2-litre heartbeat. But, does the downsize in displacement compromise its Maserati roots?
Muscolare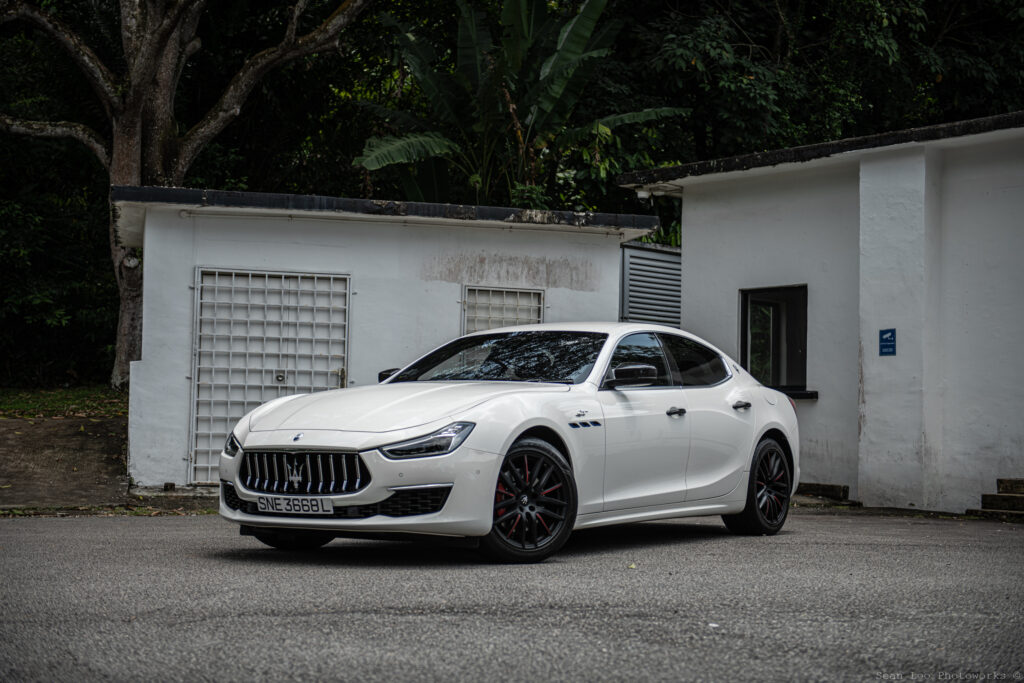 While the Maserati Ghibli GT is arguably the blandest-looking option one could currently pick from the Maserati range, it still has eccentric attributes that let others know it's part of the Trident monarch.
A hunkered-down stance and wide arches give it added aggressiveness, flanked by sharp headlights and a wide grille bearing the famous trident stamp.
Sharp lines flow throughout the body, and highlight the distinctive side vents and GT badging present on each side. The trident marks make yet another appearance on the C-pillars, a tradition that Maserati cars continue to carry. 
The rear tames the design down a notch, with a smooth rounded bumper juxtaposing against a stack of tailpipes and a carbon diffuser. A set of blacked-out 19-inch multi-spoke alloy wheels finishes the look, with sticky P-Zero tyres giving away hints that this car can party in the corners.
Bellissimo
If you thought the outside was nice, the inside is where the designers really flexed their muscles. All corners of the Ghibli's cabin are upholstered in premium fine-grain leather, which is both pretty to look at and plush to the touch. Oh, and if that wasn't flashy enough, this one's in a deep maroon shade. I don't know about you, but I do like my cows in this shade of red.
While the plush leather seats do not offer plentiful bolster support in the corners while cruising you practically sink into them. It feels like a handsome Italian chap who warmly invites you into his house, whilst offering you a glass of vino rosso.
A 10.1-inch infotainment touchscreen provides occupants with entertainment options, although it isn't the most refined UI on the market. Hooking up your devices can be a challenge in itself, but once that is conquered you can blast tunes on the Harman Kardon sound system.
Maserati has also kept physical radio and HVAC controls, which are a welcome sight in the cabin, albeit old-school looking.
The steering wheel features a set of multifunction buttons as well, though in practice they are cumbersome to use. What is a treat to use though, are the metal paddle shifters. These are cool to the touch, and offer a visceral sensation each time you click another gear into place.
Your centre console houses the gear selector alongside a row of drive modes. I.C.E., contrary to popular belief, isn't for the frozen water variety but rather aptly stands for "Internal Combustion Engine" only. Seems like someone didn't want that mild-hybrid system budging into the fun.
Apart from that, you get Sport, which increases throttle response, more urgent gear shifts, and opens up the exhaust valves for that sweet Maserati roar.
However, once you start to explore the cabin in greater detail, you start to realise that parts of it can feel lacklustre. It's an interesting toss-up, with premium leather juxtaposition against cheap plastics.
The phone holder is only applicable for phones of the smaller variety, and the covers on things like the cup holders feel cheap to the touch. It's a big shame considering some of the plus points you otherwise get in the cabin.
Molto Spazio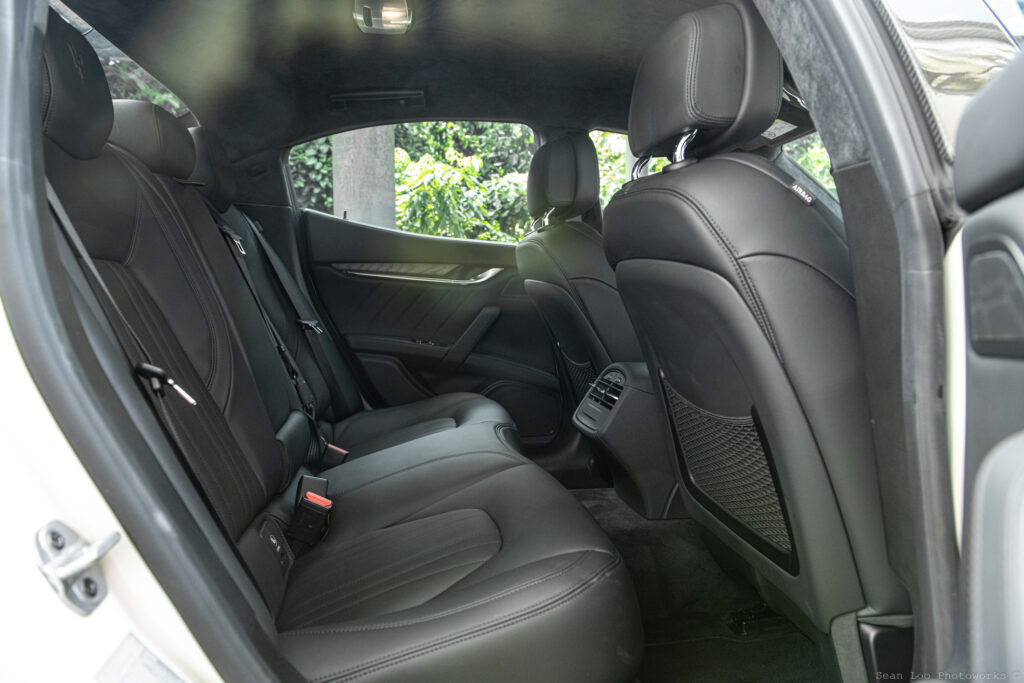 The Ghibli won't trump the Quattroporte or Levante in the practicality department, but for what it's worth the cabin is still decently practical for daily errands. Rear visibility is great for the driver, and rear adult occupants get sufficient wiggle room for the journey ahead. Add a third rear adult, however, and you might incite awkward knee brushing due to the raised transmission tunnel.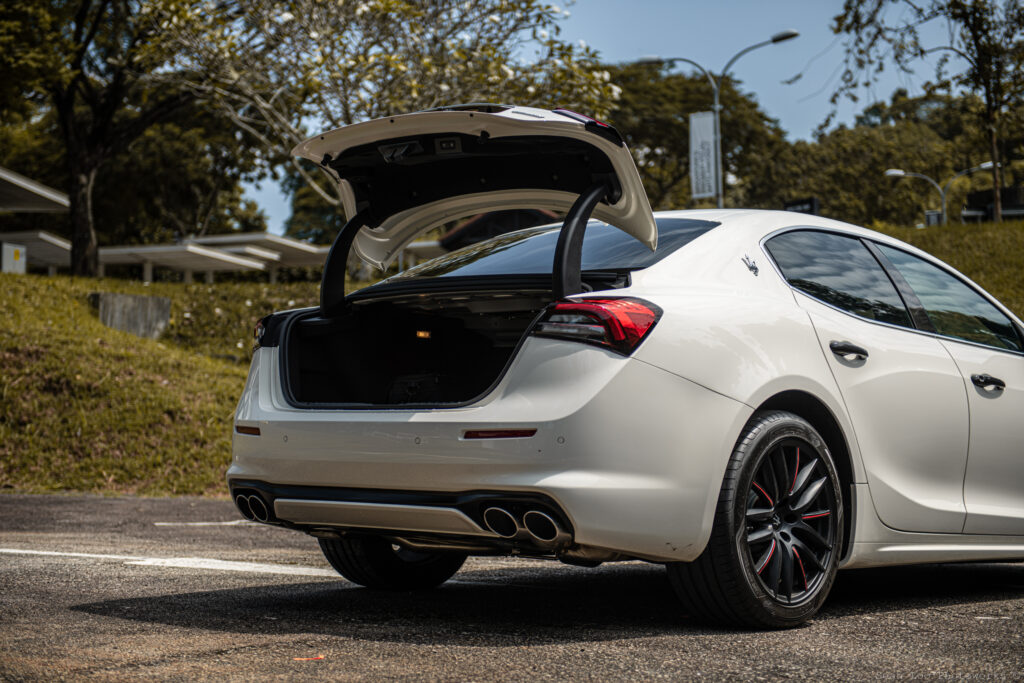 Pop the automated trunk lid, and 500 litres worth of carpeted boot space is ready for you to use. Perfect for those trips to the golf course, or a weekly shopping spree.
Passione
Being the new "baby" option on the block, the Maserati Ghibli GT has to make do with its smaller 2-litre 4-cylinder heart. Despite the downsize, at full chat this puppy can still churn out a respectable 326bhp and 450Nm of torque. Step on the gas and the century sprint can be done and dusted in just 5.7 seconds, and the Ghibli will continue to rocket to 255km/h if you give it enough asphalt. Mind you, that is all done in a 4-door saloon.
Of course, this being a Maserati, one would surely be enticed to pop into town making as much of a ruckus as possible. The designers, probably of a similar breed, have thought that through, and have prepared a 'parading around button' just for you.
It's disguised as the Sport button. Press it, and open exhaust values sing loud and far, much to the annoyance of passersby. But hey, as long as it's fun for you isn't it?
That's not all that Sport does too. The Ghibli's adaptive suspension system will stiffen up, and throttle response is also charged with greater urgency. The 8-speed ZF automatic gearbox maintains RPM at higher echelons, resulting in a rear-wheel drive vessel that can excite in the corners with minimal body roll. This is the tried and true Maserati driving formula, and the Ghibli delivers it to a tee.
Just make sure you've got a good lawyer on speed dial – those noise complaints from frustrated neighbours are going to add up fast.
It's all pretty exciting, but what if you just wanted to cruise down Shenton Way in a leisurely manner while huffing a cigar? Well, I'm happy to report that in its default state, the Ghibli GT glides around town effortlessly. Excellent sound insulation filters out the worries of the outside world, and the pliant suspension takes up a softer role instead, soaking up most irregularities of the road.
If you are a prospective Ghibli customer, fuel economy numbers are probably not a high priority on your shopping list. Maserati claims the car can achieve 10.5 km/litre, but on the roads, I managed to average about 8.8km/litre. Mind you, that is with some enthusiastic exhaust notes. Come on, who wouldn't want to turn petrol into aural pleasure?
If you value driving sensation as a key consideration and want something that can excite you whilst making you look good at the same time, then the Ghibli should be a serious contender on your list. Its soul is something that a lot of other sports saloons lack, and that unique trait alone gives it an edge over the competition.
Al dente
Overall, you don't buy a Maserati for its fuel efficiency, or its reliability. If you were, you'll be looking up the models from a German manufacturer instead.
If the Italians are great at one thing, it's bestowing cars with soul and passion. Traits you do not get from most other country automakers. You don't drive a Maserati just to get from point A to B. You drive a Maserati, to enjoy the journey.
While the Ghibli GT lost its thumping big heart, it hasn't lost any of its soul. There's a unique charm that beckons you to get going each time you get behind the wheel, and it's presence on the roads makes you feel rather special.
If it's fun you're after, but you don't wanna compromise on the family, this could be the next thing on your radar.
Tattoos in a tailored suit. That's what the Maserati Ghibli accentuates.
Technical Specifications
Maserati Ghibli GT Mild-Hybrid
Engine: 1,995cc 4-cylinder Turbocharged
Power: 342kw (326bhp)
Torque: 450Nm
Gearbox: 8-Speed ZF (A)
0-100km/h: 5.7 seconds (claimed)
Top Speed: 255km/h
Fuel Tank Capacity: 80 litres
Fuel Consumption: 10.5km/litre (claimed)
Price: S$368,800 without COE (accurate at the time of this article)
Contact: Tridente Automobili
Photo Credits: Sean Loo (@auto.driven)
---
Read more automotive news at AutoApp, or check out our latest videos on Ignition Labs TV!