The Maserati Grecale is living proof that Italian flair and strict emissions can co-exist in a future-focused harmonious symphony.
---
It's beginning to feel like the world has forgotten how to make anything but SUVs these days, and Maserati is actually fairly late to the game with its contender.
Yes, they did launch the Levante back in 2016, but lacklustre sales didn't make it a case-closed preposition. So back to the drawing board they went, and out came the Grecale – a mid-sized, luxury SUV that sits a tier below the larger Levante. Think Porsche Macan, Alfa Romeo Stelvio kinda frequency.
The Grecale, as Maserati calls it, is intended to be a 'global' car that's designed to excel in lots of different markets without significant over-engineering. So, have they nailed this one out of the gate?
Stealth wealth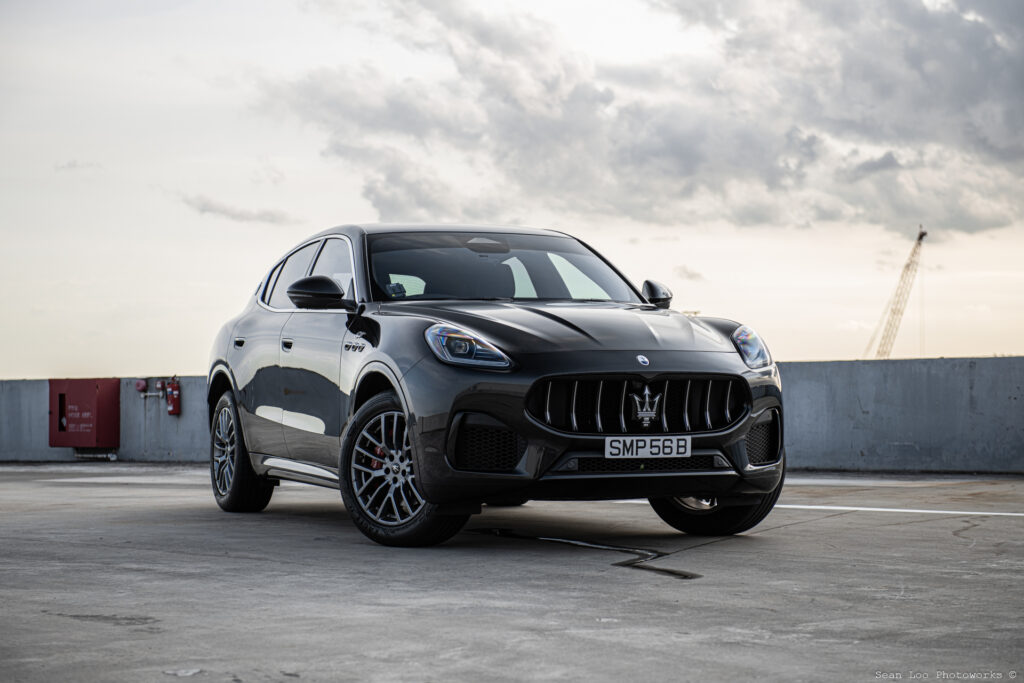 The Maserati Grecale isn't as loud or boisterous on the outside as some of its Trident brethren, but it still has elements that make it quintessentially Maserati.
Typical Maserati flourishes like the tri-shaped vents and trident logos are still omnipresent on the car, and even this entry-level GT model gets four large exhaust pipes, hinting at its shouty aural melody.
On the other hand, flushed door handles, bulbous headlights, and non-pervasive 19-inch rims give it an almost grown-up persona, toning down its juvenile Maserati facade.
I actually like this design a lot. The subtle design enables the Grecale to fly under the radar, allowing you to slip by would-be naysayers. Stealth wealth is a trait that the Grecale rocks to a tee.
Big step up on the inside
Cabins are usually where Maserati models shine, and the Grecale brings it home yet again. There's a louche hedonistic warmth to the lush materials found within – a stark contrast to the colder and more sterile atmosphere of German counterparts.
The Maserati Intelligent Assistant (MIA) multimedia system is one of the best implementations of Android Auto software to date. Most fiddling is done on the larger 12.3-inch screen, with a supplementary 8.8-inch panel situated beneath it for extra controls.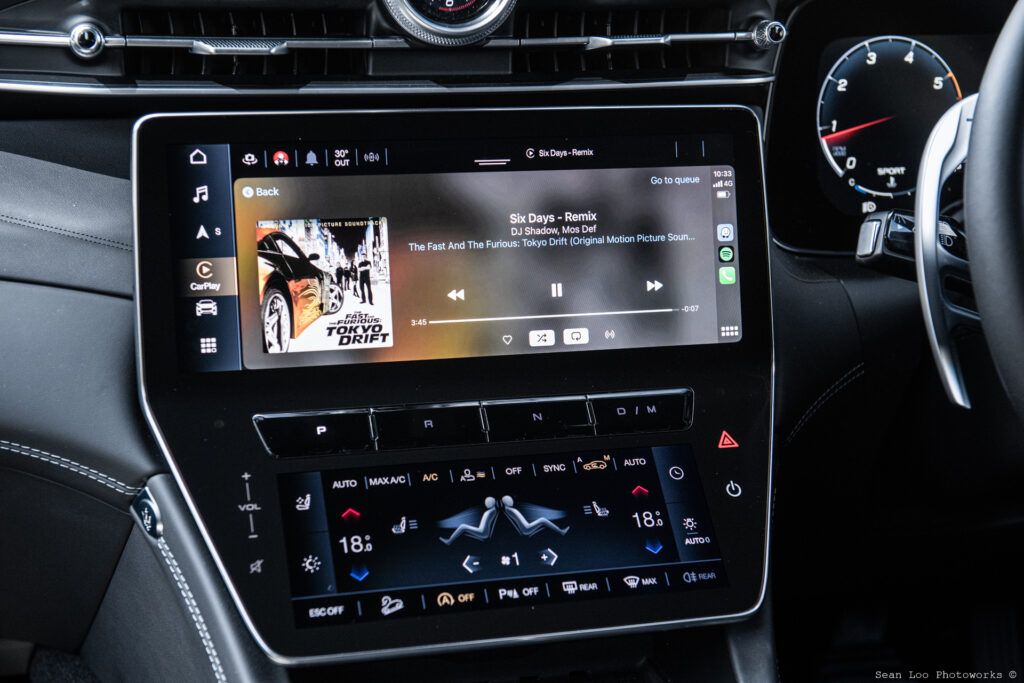 No buttons though, and the lower screen that handles ancillaries does look a bit congested, but get past that steep learning curve and it's an attractive and comprehensive OS to use.
Crucially, it's a huge improvement over previous Maserati models, and the inclusion of your usual advanced driver assistance systems (ADAS) and wireless Apple CarPlay and Android Auto means tech is well catered for in the Grecale.
That said, it is Italian after all, meaning that the Grecale will bear some flaws.
To give the centre console a sleek and flushed look, designers have bestowed the car with P/R/N/D buttons located on the centre console. These aren't the most ergonomic to use, and I often found myself reaching for a non-existent gear shifter.
Maserati does it make it slightly easier for you while parking, allowing you to rock between Reverse and Drive via the large paddle shifters, but this still requires some getting used to.
The Grecale's doors are also accessed via electric buttons, which looks futuristic but feel erroneous in practice.
Still, you buy an Italian car to embrace its flaws, and these little niggles shouldn't detract from the otherwise refined experience.
Space for the whole family
The Maserati Grecale scores pretty well on the practicality front. Rear legroom is deceptively generous, and the ever-so-slightly tapered roof does not impede on cabin headroom.
All occupants get the same lush leather seat treatment, and even though the front seats do feel a little firm, they are still comfortable over extended sitting periods. It's a happy antithesis to the otherwise clinical crop of cars most German brands are expected to come with.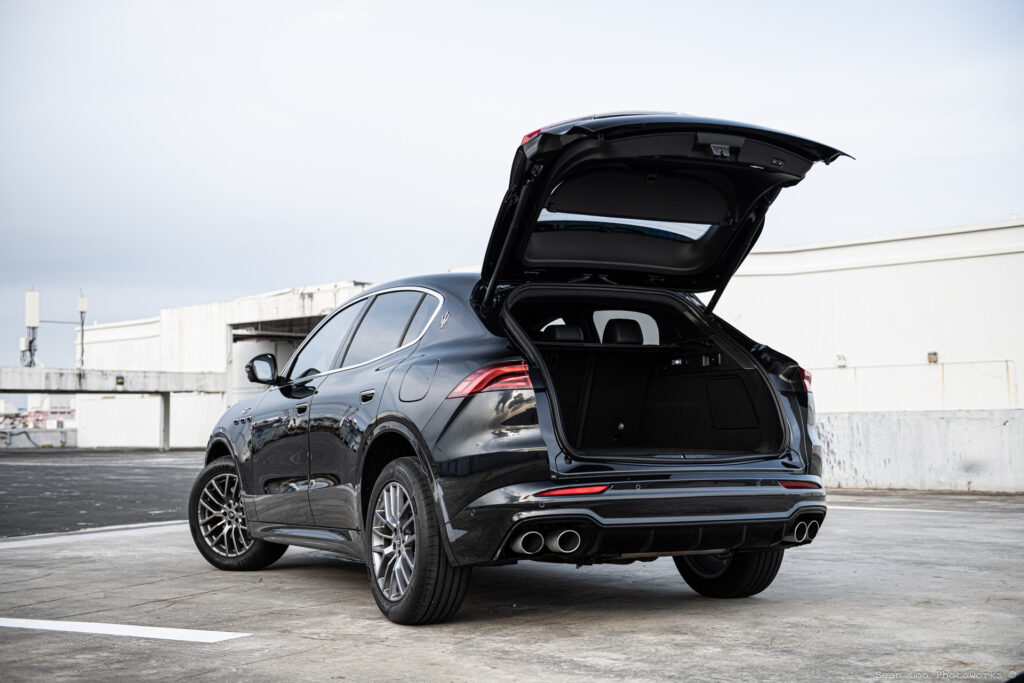 Boot size for this mid-size SUV stands at a pretty generous 535-litres, although a small amount of space is compromised due to the mild-hybrid system.
Brisk trident
What's that I hear, you want a driver's SUV?
Well then, the Grecale is a surprisingly good option. It feels light on its wheels and drives with a verve that's not often found in tall-riding SUVs. Maserati's driving mojo seems to have been reignited in the Grecale, and it is a car that actually wants to go at roads with determination.
The chassis feels composed and capable through bends, arresting any would-be body roll that tends to act up with cars of this build. Steering feel is accurate and well-weighted, and the brakes bite well no matter how much abuse they receive. Mind you, this all applies to the base model GT without the added upgrades found in its Trofeo sibling.
The mild-hybrid assisted engine is responsive at medium to high revs and the 8-speed transmission is pretty good at second guessing you each time your foot gives it the beans.
296hp and 450Nm of torque are healthy numbers, and a 5.6 second century sprint time cements its credentials. Especially for the GT spec, it feels like it has the right amount of performance for the chassis.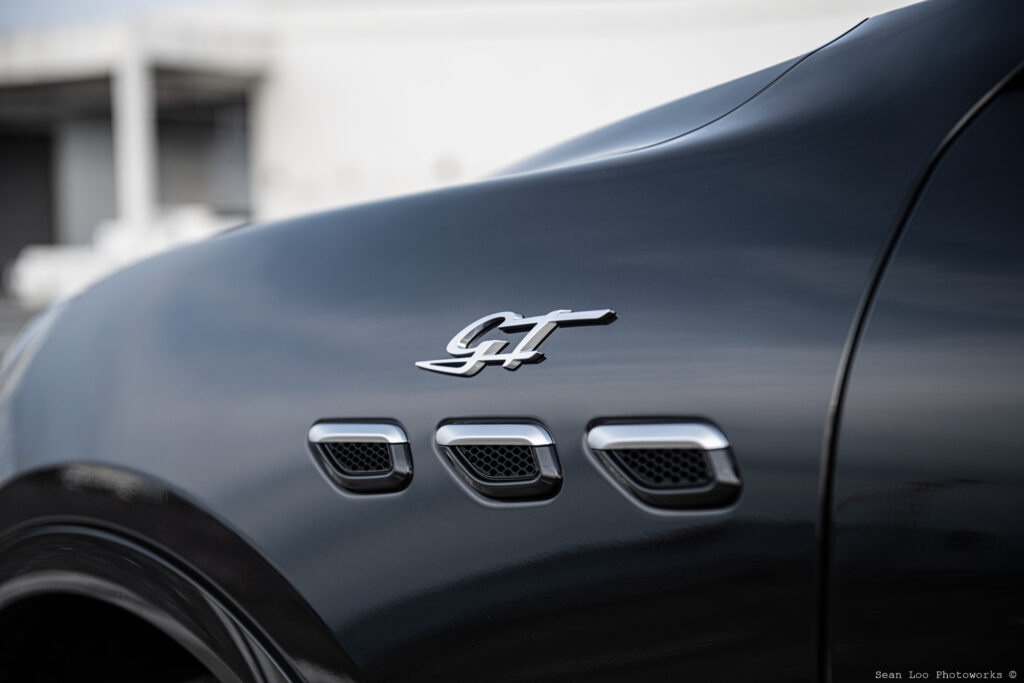 But, this also insinuates some issues. It's simply not at its best when doing everyday chores. The absence of a V6 or V8 heart inadvertently means you do not get the same quintessential Maserati bellow most people are accustomed to, with the 4-pot engine sounding limp and reedy low down.
The gearbox, while crisp when going fast, feels like it loses all decisiveness at lower NPC speeds, becoming sluggish to operate. Ride comfort and NVH (noise, vibration and harshness) isn't the best either, with undulations in the roads knocking the Grecale off tempo.
If you're a spirited driver, the Grecale's flamboyance is an attractive trait that shouldn't be overlooked.
It has that cool factor going for it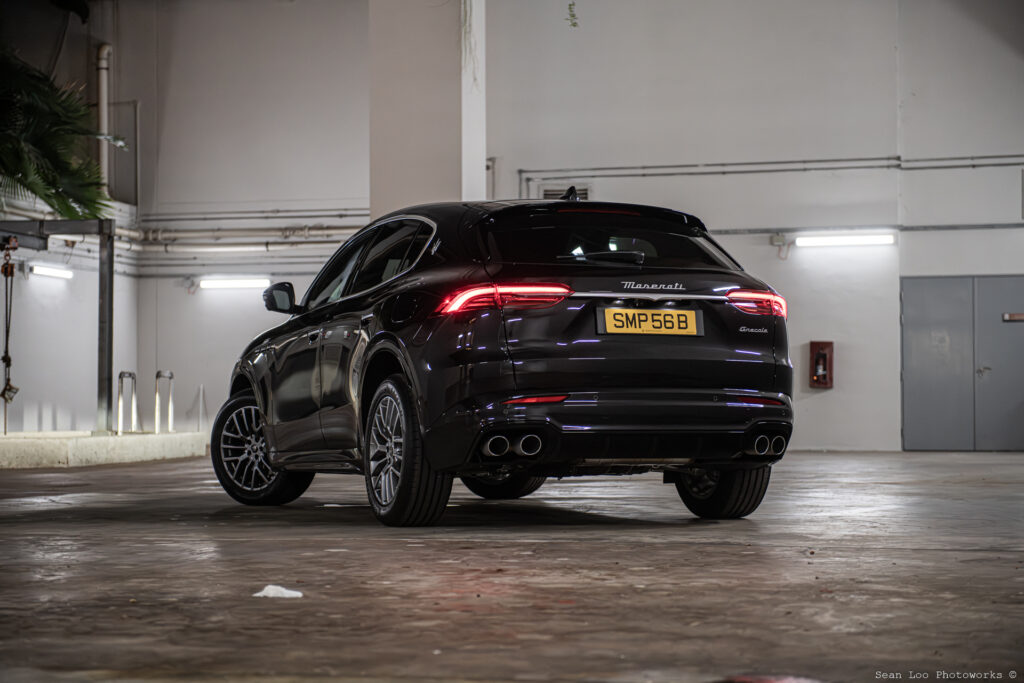 For anyone looking for a characterful alternative to your typical crop of German performance SUVs, the Maserati Grecale presents a strong case for itself. Not only does it embody Maserati's Italian charm on the outside, it's also pleasingly upmarket and spacious for its occupants.
An impressive step forward from Maserati's mangled SUV roots.
Technical Specifications
Maserati Grecale Mild Hybrid (GT)
Engine: 1,995cc in-line 4, mild hybrid
Power: 291hp
Torque: 450Nm
Gearbox: 8-Speed (A)
0-100km/h: 5.6 seconds (claimed)
Top Speed: 240km/h
Fuel Economy: 10.7km/L (claimed)
Price: S$279,800 (GT) / S$328,800 (Modena) / S$341,800 (Primaserie), all trims without COE (accurate at the time of this article)
Contact: Maserati Singapore
Photo Credits: Sean Loo (@auto.driven)
---
Read more automotive news at AutoApp, or check out our latest videos on Ignition Labs TV!