The Mazda CX-60 is an interesting specimen, going against the grain in a world where electrical assistance now reigns supreme.
---
Yep, it's Mazda's new flagship, and the vehicle it hopes will revive its fortunes after a tough business period during the COVID-19 pandemic.
So, what's the buzz about? This SUV, grand and illustrious, steps onto the stage as Mazda's current largest offering (a bigger CX-80 is still in the pipeline) and brings with it a host of new upgrades.
This bold contender is set to tango with the likes of the Toyota RAV4 and Nissan X-Trail. Yet, Mazda's aiming high, envisioning the CX-60 as a semi-premium alternative, a poised rival to the more opulent badges in the automotive realm.
So then, does it have the mojo to do so?
Sculpted to stand out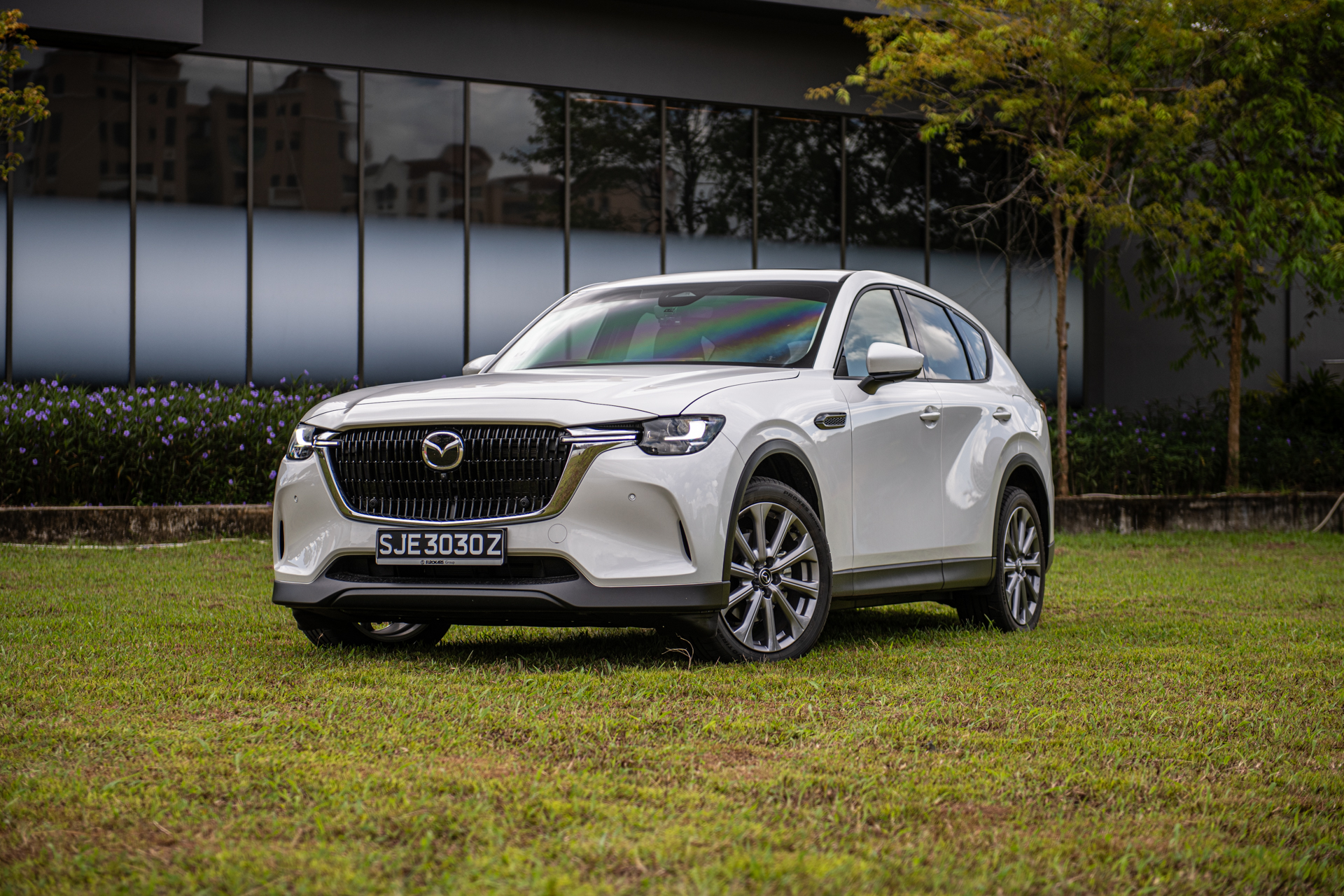 Let's take a gander at the CX-60's visage, shall we? It's akin to a charismatic relative of the CX-5, embodying Mazda's hallmark clean design language that gracefully sidesteps the realm of overwrought aesthetics.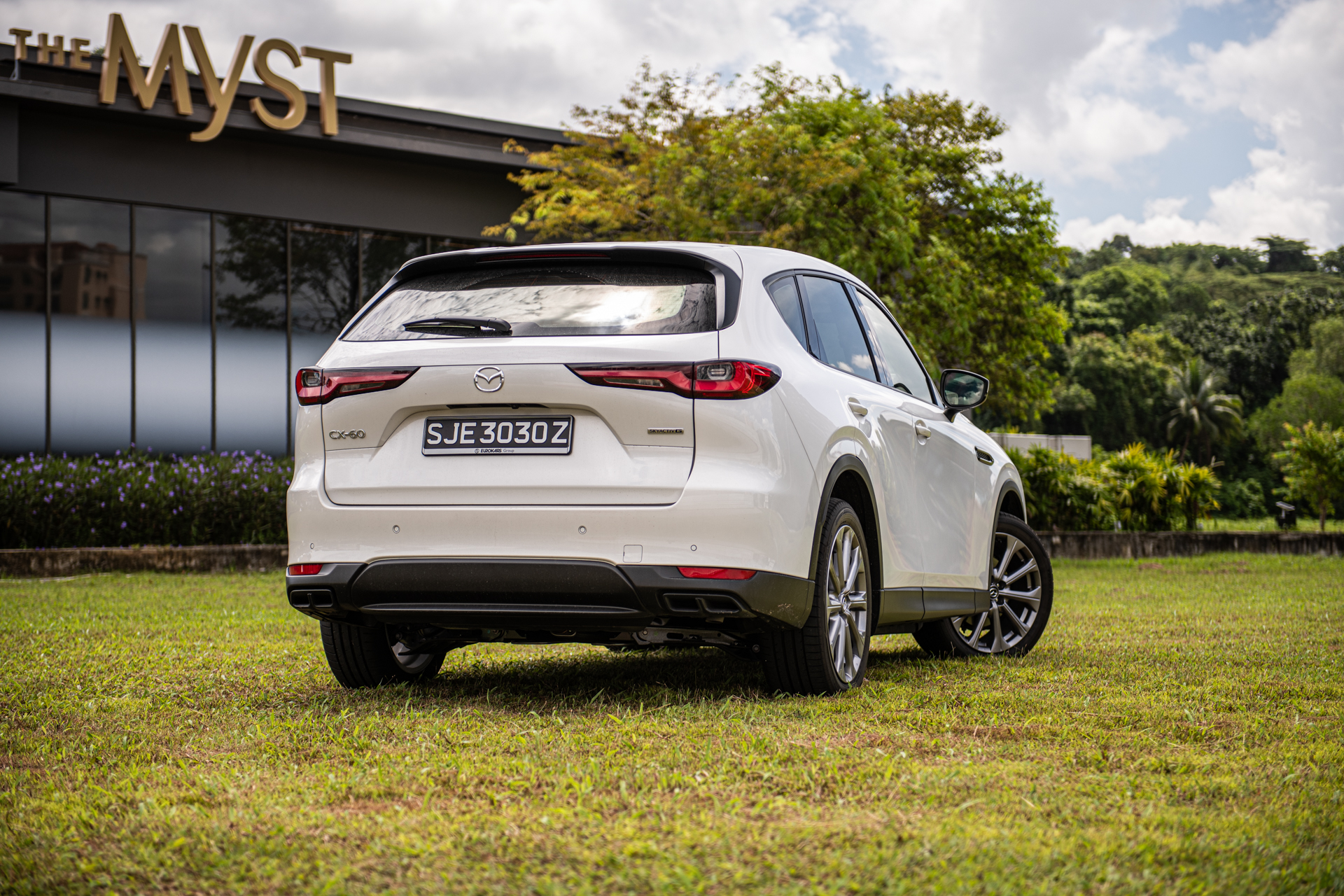 The black plastic wheel arches are a nice touch too and help to accentuate the car's more muscular stature. When these are painted to match the body (like in some press images), the CX-60 might appear a tad too monolithic.
The car looks great from all angles. Mazda models have always been relatively good-looking, but this one knocks it out of the park.
Old school charm with modern twists
Venture inside and you're greeted with a snug haven for five. No seven-seater option here – I suspect that's reserved for the forthcoming CX-80.
Settle into the driver's seat, and you'll find a world that's easy to conquer. The windshield pillars stand narrow and the dashboard low, gifting you an unobstructed and clear view of where the bonnet ends.
However, rear visibility isn't quite as promising, with a narrow rear window aperture and the view over your shoulder hampered by thick rear pillars. At least Mazda made parking relatively easy with the help of standard-fit front and rear parking sensors and a crisp rear-view camera.
The great thing about the CX-60 is that a lot of amenities come as standard; which were traditionally only offered on higher-end trims of previous Mazda models. The leather used for the seats are of prime quality, and a panoramic sunroof floods additional light into the cabin, giving it an elevated airy atmosphere.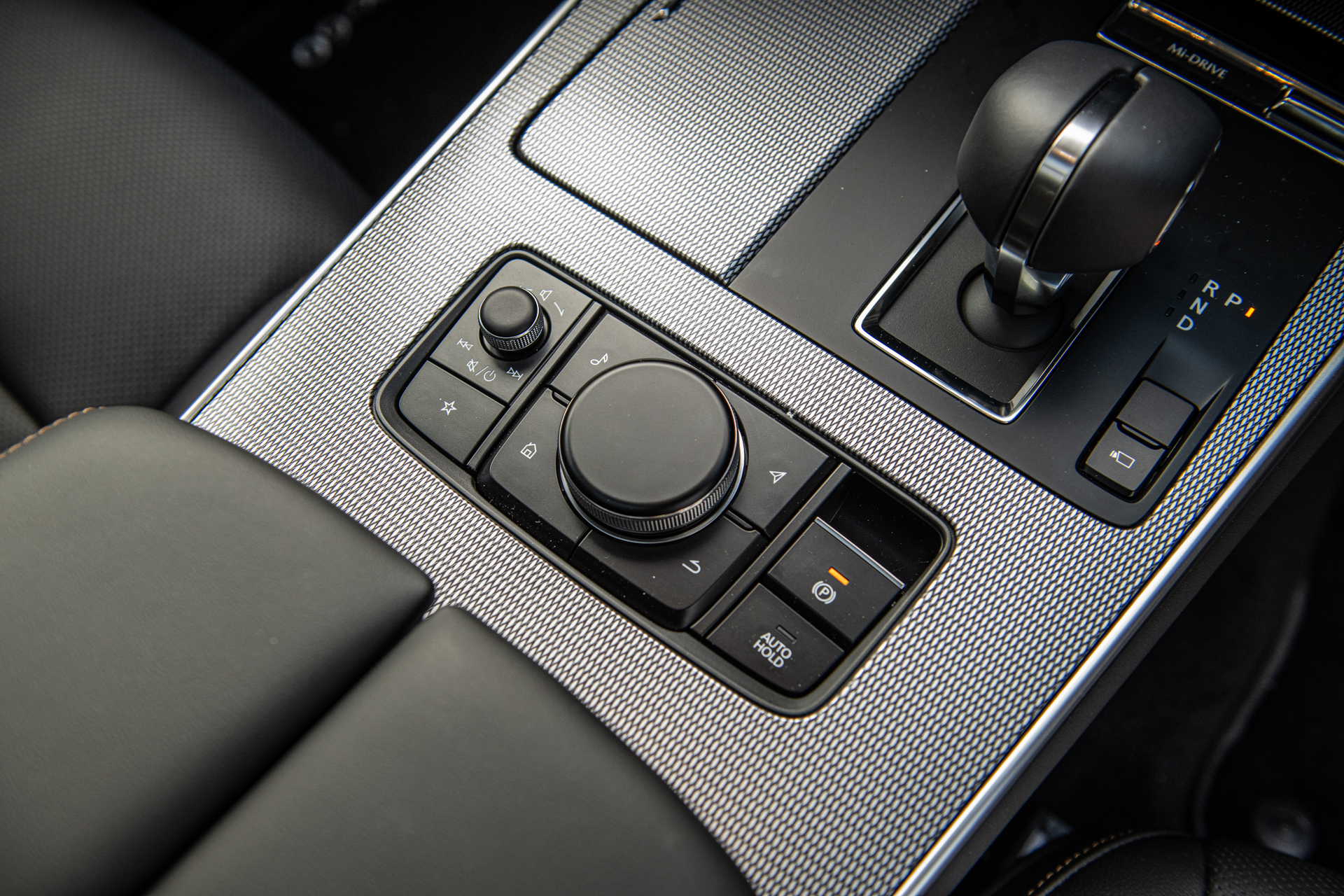 Physical controls have always been more intuitive to use, and the CX-60 has physical switches for most features in the cabin including the climate control system; a clear win and a boon for those who prefer tactile interactions over digital capers.
All of the buttons and switches are built to a high standard as well, making you feel like a pilot in a cockpit, eagerly pressing all of your desired settings before setting off.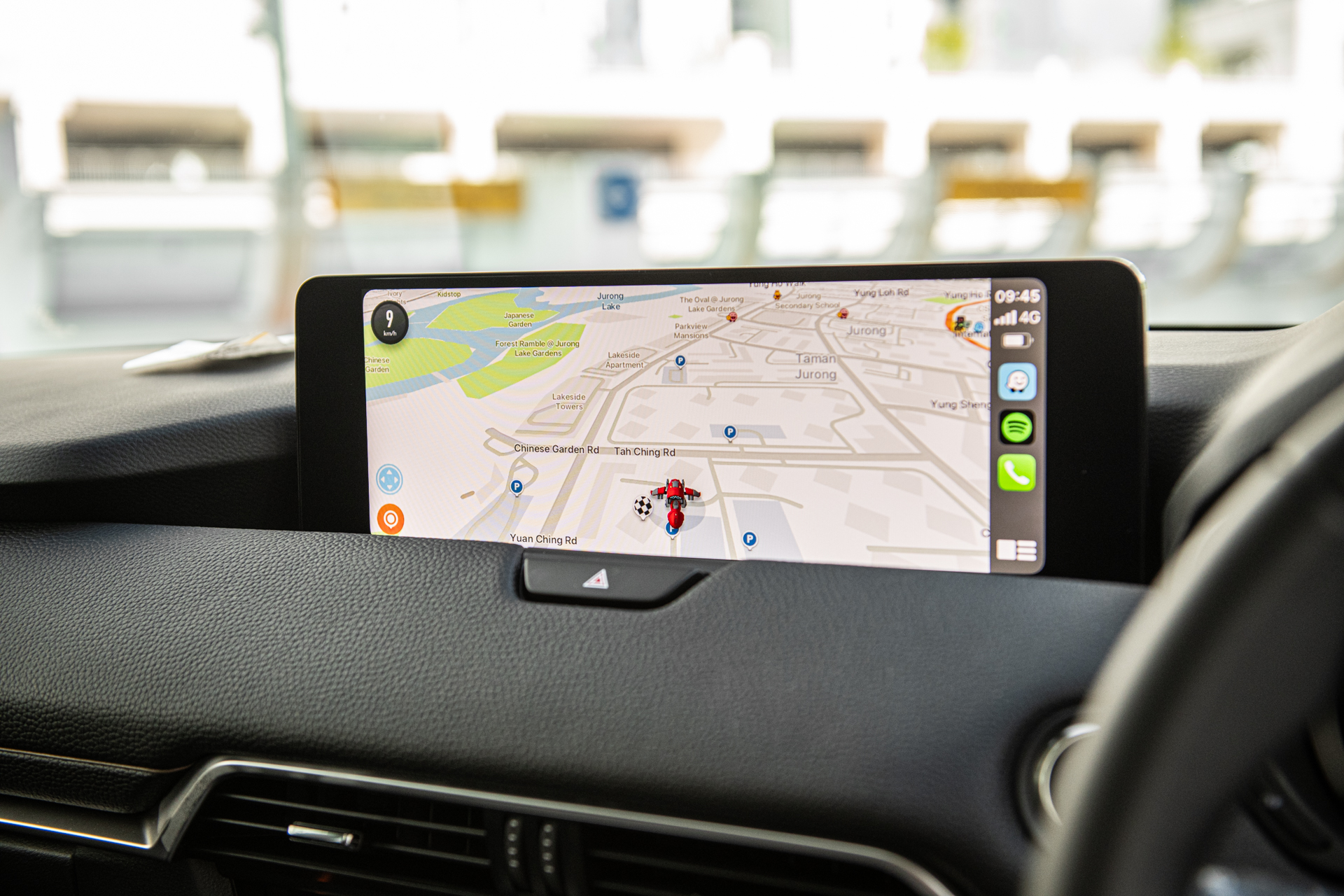 The digital 12.3-inch instrument display is clear with sharp and easy-to-read graphics, but it's not all that configurable. The sentiments continue with the equally-sized 12.3-inch infotainment system, where like other models from the brand, the CX-60 employs a physical rotary controller that makes it simple to cycle through all the menus while on the move.
While the controller is great for proprietary menus, the large screen isn't a touchscreen, which can make it a challenge to navigate other items like the built-in wireless Apple CarPlay, which has a UI more suited to fingers.
A wireless charger up front and USB-C ports are aplenty, so everyone gets their fair share of device charging. The CX-60 also does a decent job of suppressing wind and road noise at speed. But, should that become an issue, a 12-speaker BOSE audio array is on hand to distract you from the harshness of the outside world.
Cargo room is decent too, with 477 litres to spare with all of the seats folded up. Knock them all down, and the space swells to 1,148 litres. Ingress and egress of items is an easy affair too, thanks to a hands-free kick sensor and wide boot aperture.
Overall, the interior feels suitably plush for a flagship large SUV. The upper sections of the dashboard are draped with soft, squishy materials lifted by chrome highlights and silver trim finishers.
On the Open Road
Akin to a seasoned performer, the Mazda CX-60 shines, yet it doesn't command the stage with the same fervour we're accustomed to. That's because it's packing a 2.5-litre naturally aspirated powerplant under the hood, a stark contrast to the hybrid-this and electric-that powertrains that are dominating the automotive space today.
I do like this engine but, whilst diligent, the engine could use a touch more vigour. It channels 188hp and 261Nm of torque to the rear wheels through a new 8-speed gearbox, a partnership that promises a 9.6-second dash to the century mark. Impressive, no doubt, but here's the twist – the CX-60's weight nudges past 1.75 tonnes, demanding a bit more throttle oomph when the gradient turns steep. 
The gearbox is also a tad rough especially at low speeds, when it has a tendency to flick between gears, sacrificing smoothness in favour of overall fuel economy.
But, understand the quirks of its gearbox and work in tandem with it, and the CX-60 is a surprisingly good contender in the corners, remaining composed whether you're heading down an undulating road or set of bends, dealing with mid-corner bumps with ease.
The steering is not that sharp, but its well-judged weight makes it engaging enough to encourage a keen driver in the bends, and it remains remarkably level in corners compared with most competitor SUVs. Not bad for a car that weighs almost two tonnes.
Mazda is also generous with its suite of safety features, dubbed i-Activsense, and it boasts a fresh five-star ANCAP safety rating, so rest assured you'll be fine in the event of an incident. The car's start/stop system (tagged as i-Stop) is pretty unnoticeable most of the time too, but can also be disabled easily with a dedicated button on the dashboard.
Conclusion
Let's ponder the ultimate question – is the Mazda CX-60 your automotive opus? It's a question of personal desires. And frankly, options abound in the five-seater SUV market.
While most may feel that the badge appeal of certain brands in this class will draw them away from the CX-60, you should keep it on your radar. It's smart, well-appointed and comes with a sensible setup.
Is it enough to drag buyers away from the beloved brands in the premium segment? History tells us that it's going to be a challenging task, but one's thing is for certain: the CX-60 can give these upmarket brands a run for their money.
Technical Specifications
Mazda CX-60
Engine: 2,488cc in-line 4, DOHC SKYACTIV-G
Power: 189bhp
Torque: 261Nm
Gearbox: 8-Speed Automatic
0-100km/h: 9.6 seconds (claimed)
Top Speed: 203km/h
Fuel Economy: 13.3km/L (claimed)
Price: S$278,888 with COE (accurate at the time of this article)
Contact: Mazda Singapore
Photo Credits: Sean Loo (@auto.driven)
---
Read more automotive news at AutoApp, or check out our latest videos on Ignition Labs TV!