Mazda has finally decided to take part in the EV race, and what better way to join the fight than with something that is truly unique? Welcome to the Mazda MX-30.
---
Based on the CX-30, the Mazda MX-30 is the Hiroshima-based automaker's first foray into the EV battleground, and it's a smorgasbord of Mazda quirks and ingenuity. I really like it.
Sleek compactness
Right off the bat, the Mazda MX-30 dresses up to impress with its sleek roofline, two-tone colour scheme and macho stature. Even though it's a crossover, Mazda designers have done away with a traditional boxy shape, and instead sculpted the car out of curvy lines and contours.
With a clever rear seat design, the tapered roofline does not inhibit headspace in the cabin as well, whilst also providing ample amounts of boot space.
The MX-30 also brought back a design trait we so dearly missed in the older RX-8, which are freestyle doors. Okay maybe not everyone likes them, but I'm someone who drives around often with no one else in tow, so the lack of rear doors doesn't detract from the overall experience. However, this can prove to be a challenge for families with kids in tow.
A lush shade of red is decked out for the car too, Soul Red Crystal Metallic, and it complements the MX-30 really well.
The MX-30 feels reminiscent of Mazda's petrol driven CX-30, albeit with different rear doors and a tighter but sleeker design overall. Refinements, that even your strict mother-in-law will approve of.
Quirks and features
A simple but fairly spacious interior greets you upon entry into the Mazda MX-30. Even though it can feel dated at times, everything in the interior is easy to comprehend, making it easy for new drivers to get in and go. I'm not a fan of overly-complicated cabins, so this is a welcome sight.
Mazda incorporated a blend of eco-centric materials dotted around the cabin, to fit in with the vehicle's sustainability theme. These materials are alright, but I'm not sure if the synthetic fabric material can hold up against adverse weather and moisture, seeing as it's found on the doors.
The biggest area of the MX-30 you'll find dated is its instrument cluster and infotainment console. While other companies are revolutionising with new digital displays and impressive graphics, the MX-30 has to make do with analogue dials and a centre TFT display harking back to the 2010s.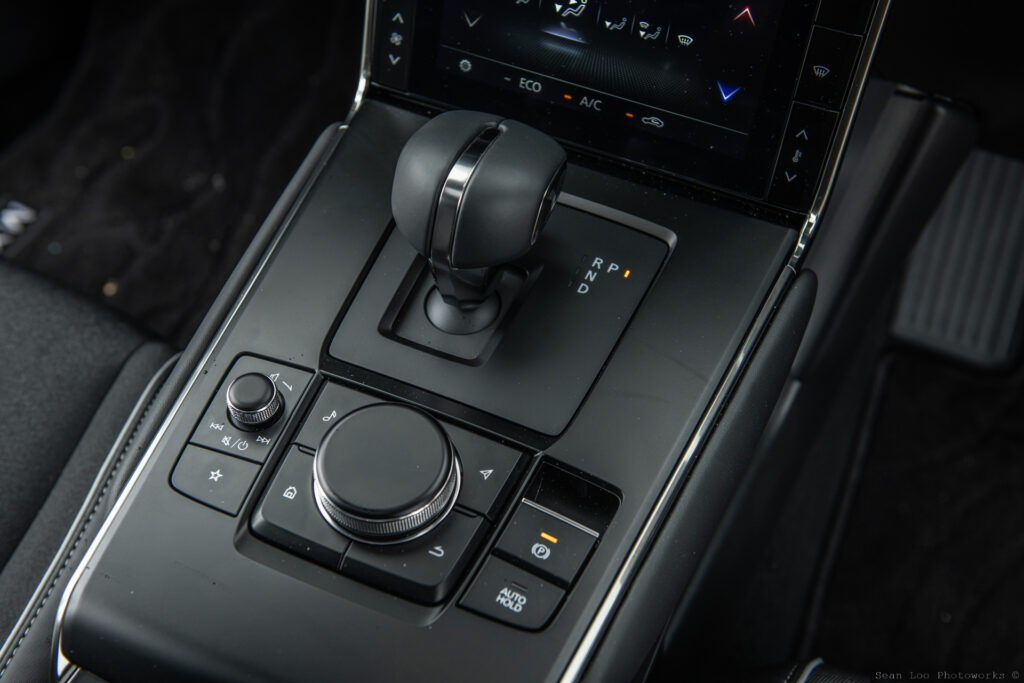 The infotainment screen is also pretty old and looks like something taken out of older Mazda models which were new in 2010. Plus, the lack of touchscreen functionality makes it slightly more frustrating to navigate through Apple CarPlay and Android Auto, both of which are wired connections. It's not an easy task to get everything plugged in too, with USB-A ports tucked underneath the gear selector assembly.
If you can mind the dated aspects, the cabin does have some redeeming features too. The gear selector is robust and has a premium feel, as do the HVAC controls which are housed in a separate display, enabling easy access.
The rear seats are fitted with ISOfix points, so it is child-ready. Plus, you do not need to pull the front seats forward each time someone in the back wishes to get out.
Not the latest or greatest interior, but for the discerning individual that has everything set up and ready to rock, the MX-30 is a fuss-free affair.
Composed camaraderie
Even with its crossover stature, the car is pretty poignant round corners, and it keeps its composure fairly well. However, due to the front-wheel drive layout, there are times when I just couldn't put the power down when exiting a corner.
Even though this is a true-blue EV, it delivers power in a linear and leisurely amount, unlike other EVs where one enthusiastic press of the pedal will give you whiplash that'll hurt for the next week. Don't get me wrong, this isn't slow by today's standards, just not the usual brattiness and urgency that comes with an EV.
This might sound like a bad thing, but it can be an ideal platform for first-time EV owners to ease into the EV space, and not be intimidated by EVs with extreme acceleration. 107kW (143bhp) and 271Nm of torque is plenty manageable for most applications, especially since it's delivered instantly.
Battery consumption is pretty good too, and I managed to garner approximately 16.8kWh/100km with some gentle driving. What isn't so amazing though, is the size of the battery. A tiny 35.5 kW battery resides in the MX-30, and during my media drive,
I did wish it was bigger for just that little more range. Most of the MX-30's competitors are touting 50kW batteries, and are able to trump it in terms of outright range.
Playful power bank
Minus the slightly minuscule battery capacity, I actually love the Mazda MX-30. It's quirky in the right places and has sensibleness in just the right amounts. Sure, its design might feel slightly dated, but all in all, it's a vehicle that can tout ease of use as one of its strong points.
Mazda (and by extension older cars) owners will feel right at home in the interior, due to its simple layout. Everything is where you want it to be, and everything works as intended. If you can close your eyes and by touch alone, know where everything is located roughly, then the designers did a good job.
The MX-30 to me feels like a pet. Sure, it misbehaves occasionally, wrecks your furniture, and isn't the most sensible when compared to your friends' pets. But, there's a special feeling that makes you love your pet, and that feeling overlooks every distinguishable flaw that it has. Owning a pet like this is an experience and an experience that you will never forget.
See what I mean?
Technical Specifications
Mazda MX-30
Battery Capacity: 35.5kW
Drive: Front wheels
Power: 143hp
Torque: 271Nm
Energy Economy: 6.3km/kWh or 15.87kWh/100km (claimed)
Price: S$184,888 with COE (accurate at the time of this article)
Contact: Mazda Singapore
---
Catch the latest news right here on AutoApp!