With a range of over 420km and 408hp on tap, Mercedes-Benz gives us an idea of what to expect from its forthcoming EV models with the Mercedes-Benz EQC.
---
Mercedes-Benz has (at last), thrown its hat into the Electric Vehicle (EV) arena with the launch of the EQC. Like its compatriots, Audi with e-tron, and BMW with i, Mercedes-Benz's EV sub-brand is EQ, hence the moniker of the car driven here.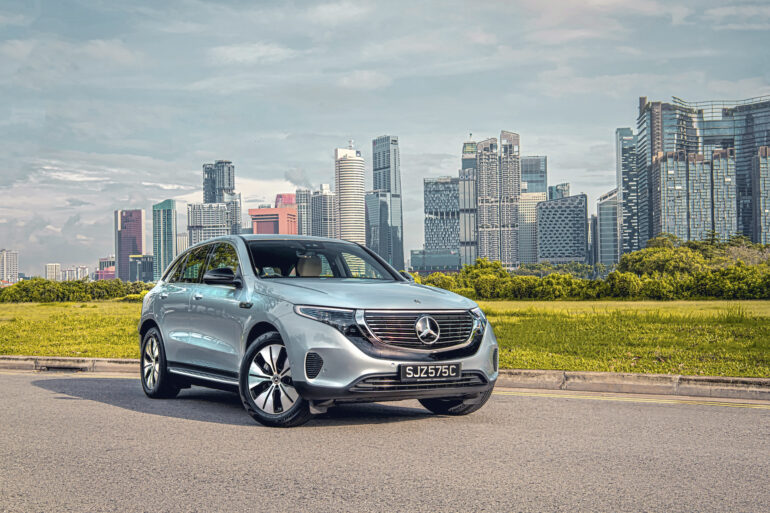 Given that Mercedes-Benz has made a fashionably late entrance to the EV party, we're curious if the extra time it has taken has actually helped to develop a better car than its competitors. Or has the decade long head start given Audi and BMW a bigger advantage?
Tesla connection
Speaking of Tesla, here's a fun fact. Daimler, the parent company of Mercedes-Benz, was actually an early investor in Elon Musk's outfit (although he didn't actually start the company… but, that's another story for another time). In addition to a healthy dose of moolah, the US$50million buy-in for 9 percent in 2010 also resulted in a fair bit technology and expertise exchange between both sides. This is why car nerds like this writer can point out bits of Mercedes-Benz in earlier Tesla models such as the Model S and Model X.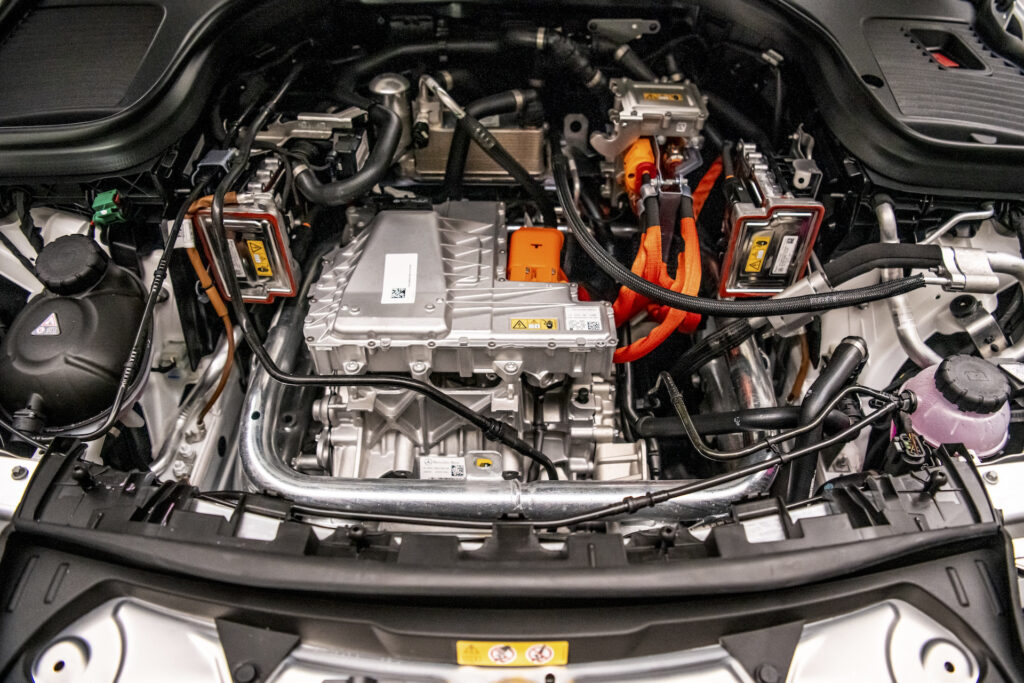 To make a long story short, Daimler's stake in Tesla got diluted to 4 percent when Tesla raised capital and the German automaker sold off its share for $780 million in 2014. Then, the two went their separate ways.
So in fact, Mercedes-Benz isn't exactly new to the EV game but certainly took its time bringing its first purpose-built EV to market.
EQ identity
Which brings us back to the Mercedes-Benz EQC driven here. Although clearly a Sport Utility Vehicle (SUV) in terms of body style, there doesn't seem to be differentiation at least where the EV models are concerned; models soon to follow are the EQA that is styled like a crossover, and the EQS which is a luxury sedan.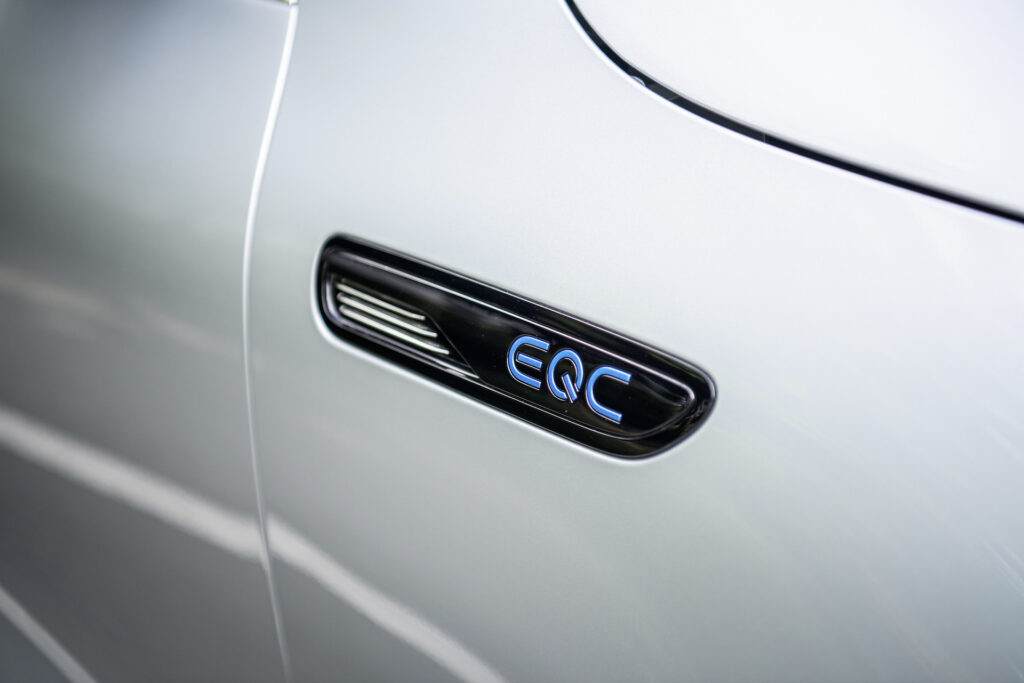 As an SUV, the EQC looks the part of a futuristic car, especially when the driver walks up to it and it flashes a little light show with blue and white lights seemingly to greet the occupants. Its front end is framed by a strip of light that changes white blue at startup to white as a Daytime Running Light (DRL), and then to amber when the indicators are engaged.
On the whole, Mercedes-Benz designers seems to have played it safe with the EQC which looks a tad conservative when compared to the latest offerings from Audi, BMW and Lexus for example. Lest I be accused of trying too hard, I would choose the EQC out of this group.
Inside, the EQC exudes a sense of quality that we haven't seen in a Mercedes-Benz for a long time. Every surface feels like glass, leather or metal. The slim air vents and the customisable accent lighting all add up to make the interior feel appropriately futuristic.
I expected the MBUX infotainment system to be more advanced than in the other Mercedes-Benz models but in reality, it still doesn't seem to understand me much more beyond setting the air-conditioning.
Behind the wheel
Driving off in the EQC feels somewhat surreal as it's eerily quiet inside. Yet, the car is moving, so it can feel a bit strange at first. The brain is probably used to some aural stimuli to match the motion and so it takes a few moments to recalibrate.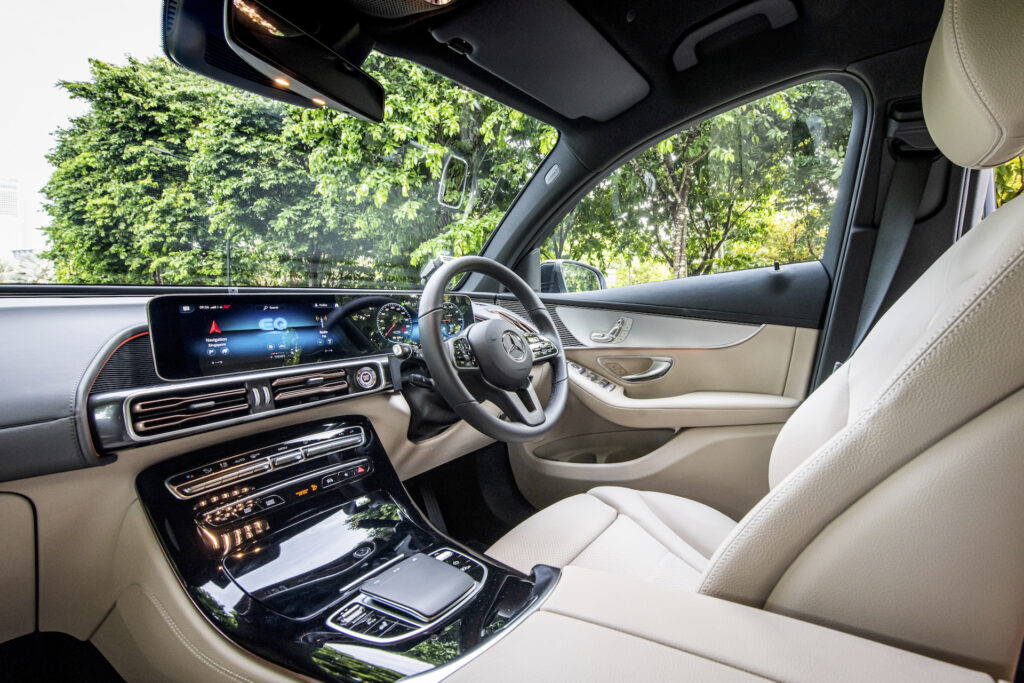 Otherwise, the EQC drives like most of us expect a Mercedes-Benz to; as smooth and comfortable as you like. At 2,495kg this is a heavy car, but at least it seems to put that weight to good use with a suspension setup that seems to smother bumps in the road. 
As a driver, I had no complaints about the ride quality, however my wife and son, separately told me that they started to feel a little queasy after riding in the car for 30 minutes or so. Switching to the firmer Sport suspension setting only seemed to make the ride feel busier but did nothing else to make my passengers more comfortable.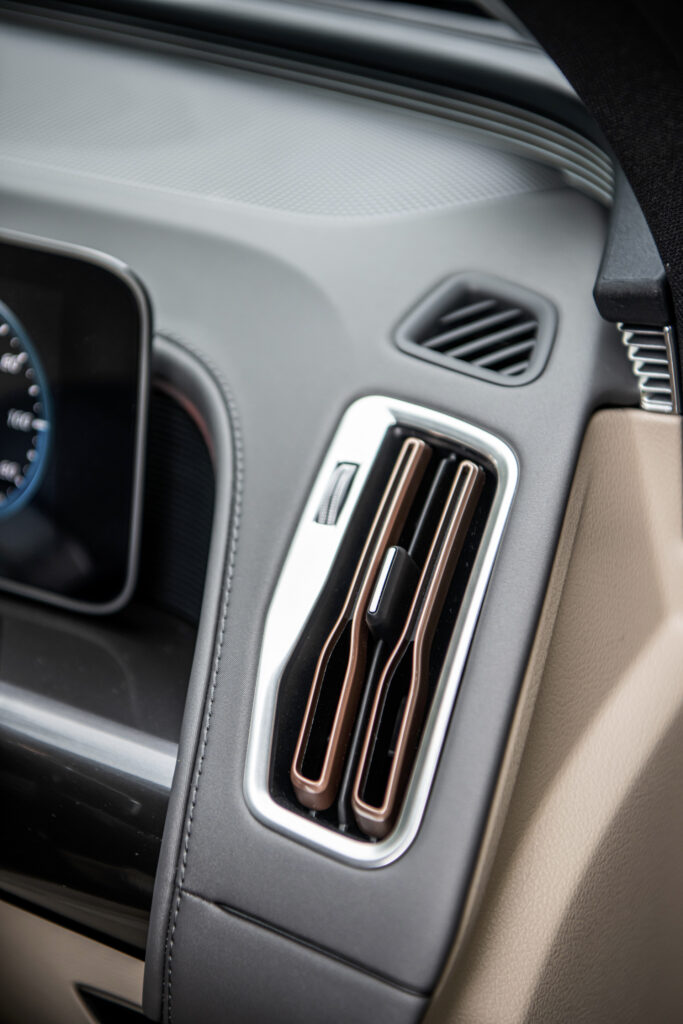 I suspected the energy recuperation settings were causing the EQC to lurch ever-so-slightly whenever I let off the accelerator pedal. I discovered that the degree of deceleration can be adjusted by toggling the flappy paddles behind the steering wheel. If I do get another chance to drive this car again, I'll likely try different settings.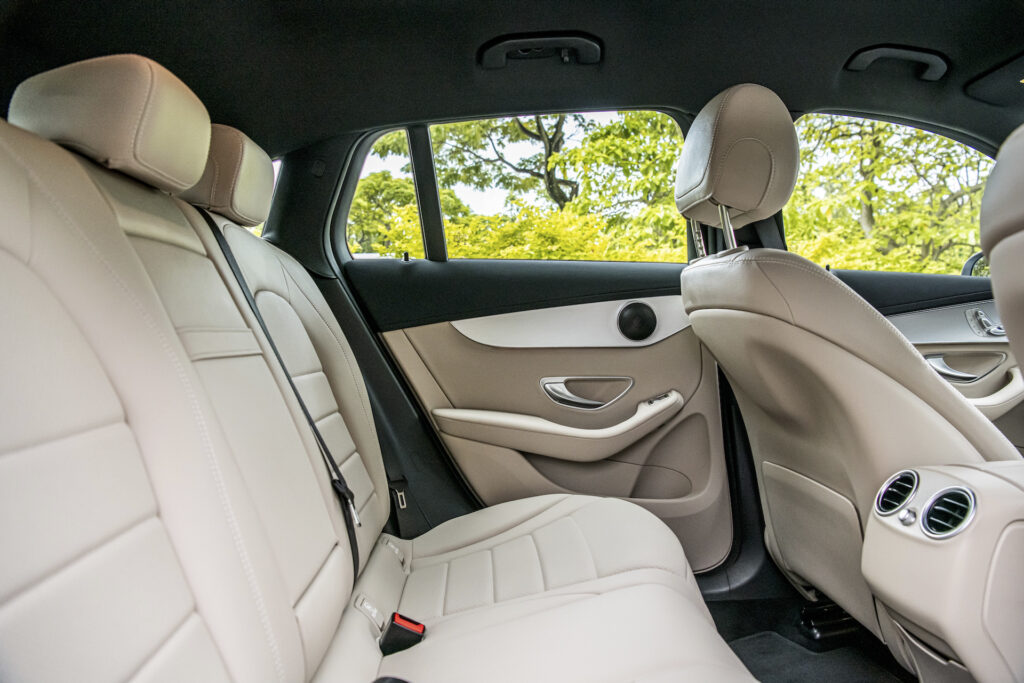 Close, but…
The Mercedes EQC had all the makings of a winner. An impressive range of over 420km, understated yet stylish design, and an interior that I enjoyed spending time in. Plus, there was the obligatory strong surge of instantaneous torque that EVs are known for. As a family car however, it's difficult to ignore my passengers' comments.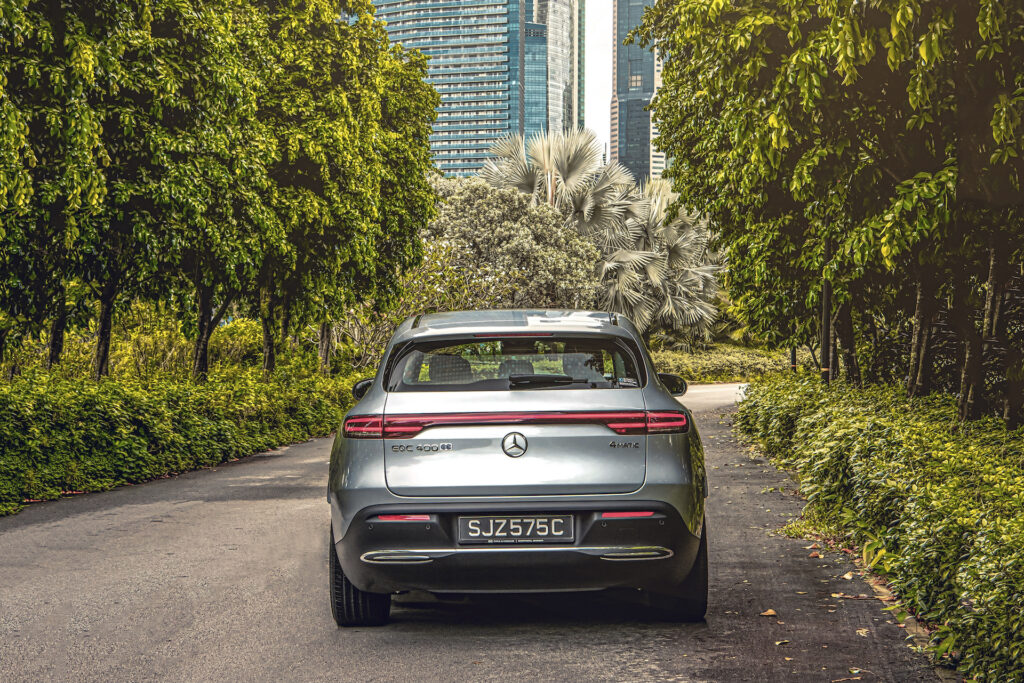 If I were to actually buy an EQC, it wouldn't be a great experience if the rest of my family doesn't enjoy it as much as I would.
But maybe another weekend with the car would help change their minds. Or, they may perhaps just take to the soon-to-be launched BMW iX3 instead.
Rating: 3 out of 5 stars
Understated styling and lovely interior
Underwhelming in some areas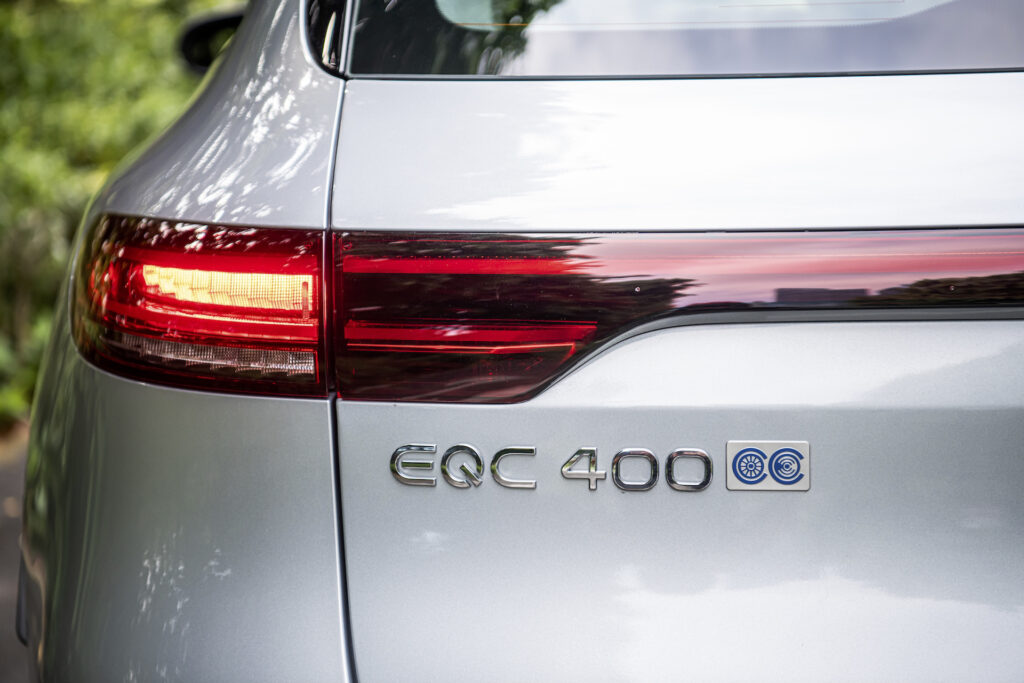 Need to know:
Mercedes-Benz EQC 400 4MATIC
Drive system: 2 asynchronous motors, all-wheel drive
Power: 300kW (408hp)
Torque: 760Nm
0-100km/h: 5.1 seconds
Top speed: 180km/h (limited)
Battery: 80kWh, Lithium-ion
Range: 423km (NEDC)
Max charging rate: 110kW (DC), 11kW (AC)
DC charge time: 40 min (10% – 80%)
AC charge time: 7.5hrs (10%-100%)
Efficiency: 21.5kWh/100km
VES band: A1
Base price: $299,888 with COE
Book a test drive here.
---
This article was first published on futr.sg. Read more of the latest car reviews here.