The Mercedes-Benz EQV takes the tried and true V-class formula and gives it an electric twist.
---
Electric offerings are all the rage these days, with more EVs popping up on the market with each new year. Mercedes-Benz doesn't want to lose out on a slice of this new electric pie, and has gone all out to introduce a new suite of EV products. This is their latest one in Singapore yet. It's dubbed the EQV, and it's an electric version of the V-Class MPV that was itself derived from the Vito van.
The EV sibling might be a new addition, but the V-Class has been on sale for a few years, so it's not what you would call "groundbreaking". The EQV joins Mercedes-Benz's new shadow range of EQ vehicles, in a bid to create EV variants of its 'normal' cars, offering customers the full spectrum of choice when it comes to making the big switch.
It's the biggest one to date yet, but does it have the pedigree to be crowned with the coveted tri-pointed star?
Airport Express
The Mercedes-Benz EQV is unique in its own right, given that it is essentially the first EV offering in its market segment.
Granted, this is a pretty niche segment, competing against internal combustion folks like the Kia Carnival and Hyundai Staria. But, the EQV does stand out due to its imposing stature and macintosh-esque design language.
The entire van looks like one smoothed-out block, and there are hardly any protrusions anywhere on the vehicle at all. The sleek exterior gives other road users the impression that someone important is nestled comfortably inside, being shuttled away to an important appointment with silent efficiency.
Inside is where it counts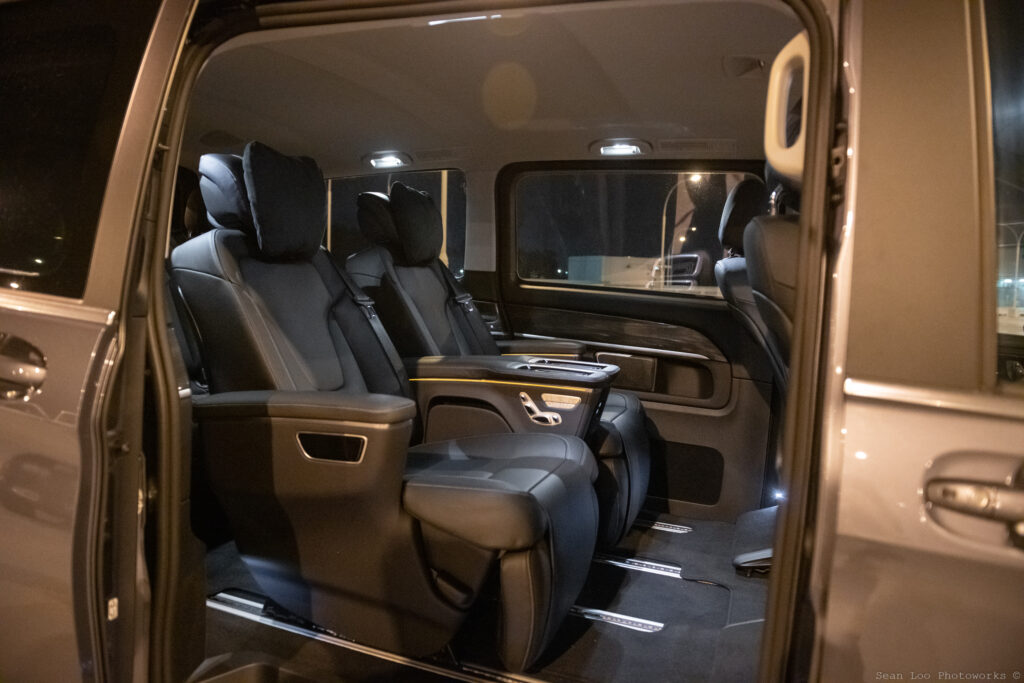 Of course, if you are in the market for one of these, what you will prioritise is the interior. And boy is it absolutely cavernous.
The Mercedes-Benz EQV will transport seven adults – and their luggage – comfortably with wiggle room to spare. Second-row occupants are especially pampered, with fully decked-out captain chairs at their disposal. How many other vehicles can you have a massage in while being warmed or cooled, lying down, while on the go?
Up on the flight deck, the driver's seat is set quite high and offers excellent views of the road ahead. Large side windows and mirrors provide ample visibility on what's coming up alongside, but look past the C-pillars and the view starts to get obscured quite a bit. The third row of seats also hinders your vision through the rear glass, even without passengers in tow.
There is no centre console, but the front runners get a folding armrest each. The leather seats feel comfortable, although they do not provide much side support when cornering.
Despite the humble commercial ancestry of the V-Class, the EQV's cabin feels more like a limo than a delivery van, albeit with some dated elements.
Standard leather seat trim with lashings of chrome dotted around, alongside faux leather that lines the dashboard make it look and feel pleasingly smart inside. However, the 10.25-inch infotainment system feels old by today's hyper-accelerated standards, and MBUX does not hold up well in the ease of use department.
Still, you do get physical buttons for HVAC and media controls, something which is always a plus point in my books. Apple CarPlay and Android Auto are available, but they only exist in wired form.
Plus sized practicality
Despite its size, parking is actually a relatively uneventful task. With a crisp 360-degree camera and an array of highly-sensitive sensors (which are a little too sensitive if you ask me), manoeuvring the EQV into a lot just takes a bit of practice. Its short overhangs help with overall visibility too, as all you need to imagine is a literal box in a parking space.
Parking isn't the main problem, getting out of it is. As the EQV is pretty wide at almost 2 metres, trying to wiggle your way out of the front can prove to be a challenge, especially if the lot you've parked in is more suited to the smaller vehicle variety. One trick I've employed is just climbing into the back and using the sliding doors instead.
Unlocking the Mercedes-Benz EQV is also a hassle as even though it comes with a "hands-free" key, you would still need to press on the fob to unlock the doors, due to the lack of any lock sensors on the doors. Key in hand as you climb in, you would then have to insert it into the dashboard as well in order to kick it into life.
On the roads, the EQV is an incredibly easy car to get along with – driving it amounts to point and squirt while making sure not to crash into anything. The dimensions might take a bit of getting used to, but it's all nice and square.
The charging port is located in the front left corner and the 90kWh battery can be topped off from 10–80 per cent in approximately 45 minutes with a fast DC charger. Plug into something slower and you can still benefit from up to 11kW thanks to the onboard charger.
With its battery bursting with charge, the EQV offers a claimed range of 'up to' 426km, and an official consumption rate of 29.8kWh/100km. It is a bit on the high side, but given the van's size, it is somewhat warranted. Over my three-day test drive, I managed to achieve about 24kWh/100km, bearing in mind that the figure reflects quite a bit of enthusiastic pedal pressing in order to get the EQV going.
Brisk for its class
With its internal combustion means of propulsion gone, the Mercedes-Benz EQV is powered by a single front electric motor delivering 150 kW (201 bhp) and 366 Nm of torque.
Power isn't plentiful for something with so much heft, but it's just enough grunt for the EQV to power on through without any performance deficits. Overtaking other vehicles on the road in Sport is a reasonably easy affair once you build up momentum, to the bemused reactions of other drivers. But, this rather undoes the solid work of the comfort-oriented suspension.
On the downside, I wouldn't want to push the EQV either. The brakes are inelegant, and the best way to stop this giant is by using the regenerative system for most of the braking work, with the brakes feeling oddly inconsistent. There are also a few unseemly van-like squeaks and wind noise issues that come to the fore with silent electric power.
Likewise, the EQV is not really a vehicle you want to be too vigorous with in the corners, with its large size and massive weight making it somewhat cumbersome to pilot. The steering is suitably vague with a lot of free play.
The ride quality is mostly fine over most roads thanks to the air suspension, but the car tends to bump heavily when traversing over larger road undulations. It's not particularly surprising though, given its intended design and purpose, but if you're looking for driving enjoyment, the EQV is very much not it.
Alas, should you want to give it the beans, the century sprint comes up in a leisurely 12.1 seconds. While you get some brisk initial acceleration, the EQV's sweet spot is really just cruising comfortably around our national posted speed limit.
Mercedes' Driving Assistance Package comes as standard, including features such as Active Brake Assist, Lane Keeping Assist and Blind Spot Assist. The latter two in particular are especially useful given the EQV's bulk, helping you to avoid inadvertently side-swiping some poor motorcyclist who might be unsighted in your massive blind spots.
You buy this to make a statement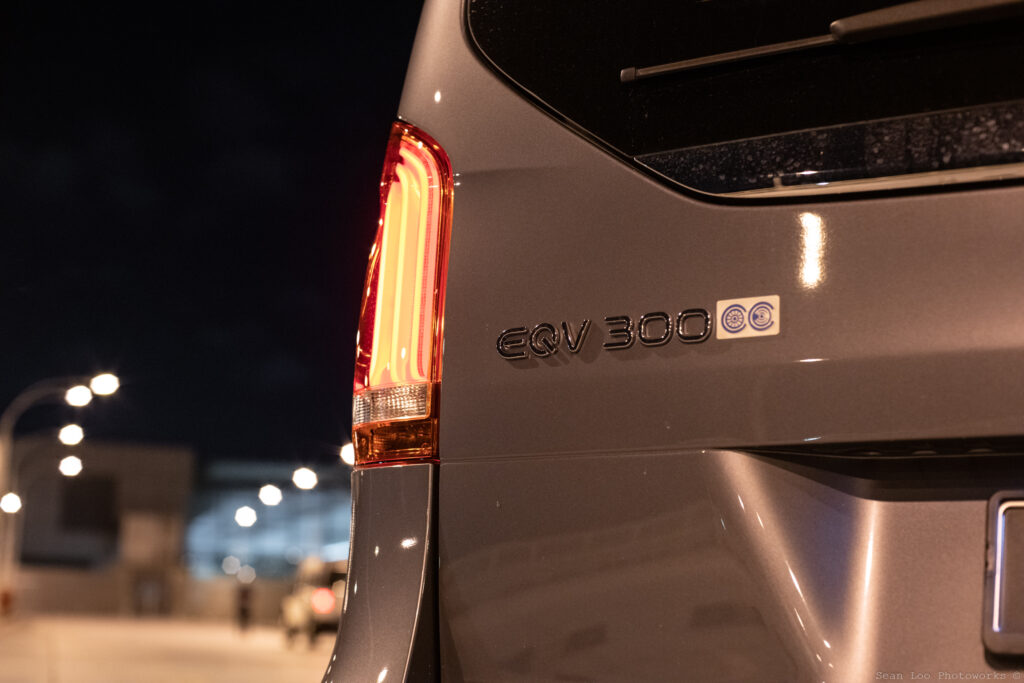 The Mercedes-Benz EQV is probably the best of the seven-seat electric options currently available – it's well-specced, comfortable enough for everyone onboard and doesn't compromise on practicality. That said, it would be a lot cheaper to buy two smaller electric vehicles and some walkie-talkies, but who am I to dictate anyone's lifestyle choices?
There are some compromises that have endured in the van-to-MPV-to-electric conversion, and the EQV's age can't be disguised that easily. Still, its virtues are more than enough to seal the deal if an expensive seven-seat EV cruiser is what you're really after.
Ultimately though, the EQV's biggest stumbling block is probably its price. At S$482,888 with COE, it's not exactly affordable, and considering what you're getting, it does feel a bit of a tough ask.
That said, if you want a fully-electric offering that can ferry up to seven passengers in luxury and comfort, then the EQV is, for now at least, one of the only options available.
Technical Specifications

Mercedes-Benz EQV 300 Electric
Engine: Single Asynchronous Motor
Power: 150kw (201bhp)
Torque: 366Nm
Gearbox: Single-Speed (A)
0-100km/h: 12.1 seconds (claimed)
Top Speed: 160km/h
Battery Capacity: 90 kWh
Drive Range: 426 km
Energy Consumption: 3.4 km/kWh (claimed)
Price: S$482,888 with COE (accurate at the time of this article)
Contact: Cycle & Carriage Singapore
Photo Credits: Sean Loo (@auto.driven)
---
Read more automotive news at AutoApp, or check out our latest videos on Ignition Labs TV!