The all-new Mercedes GLC300e is a petrol-electric fusion that can ease prospective owners into adopting an EV lifestyle.
---
With tightening government laws and the never-ending pursuit of greener technologies, going electric seems to be the foreseeable way forwards. There are lots of reasons to like EVs – they are generally quieter, more responsive off the line and are less pollutive to thy neighbour.
But there are still teething troubles in the quest for mass EV adoption. Charging points are still relatively scarce, and even if you find one it may still be an hour's wait for a decent top-up. Not to mention the multitude of charging apps you have to own in order to utilise most of the stations available islandwide. You would probably remember your credit card details by the end of it.
But, you're the kind that still wishes to try something new. You want to take up an EV lifestyle, without incurring the niggles that come with everyday usability. Well, I may have just the solution for you.
Best of both worlds
And it's called the Mercedes-Benz GLC300e. The all-new mid-size SUV is now a plug-in hybrid (PHEV), giving you benefits from both sides of the propulsion pond.
Compared to your run-of-the-mill hybrids, a PHEV has the added benefit of a larger battery and a more robust electrical motor, enabling it to travel longer distances on electric power alone. Specifically in the GLC, it has a claimed electric range of 138km (WLTP), achieved with a 134bhp and 440Nm electrical motor fed by a 31.2kWh lithium-ion battery.
That's more range than the MINI electric and the Mazda MX-30 which I've tested previously, plus it isn't even a full EV.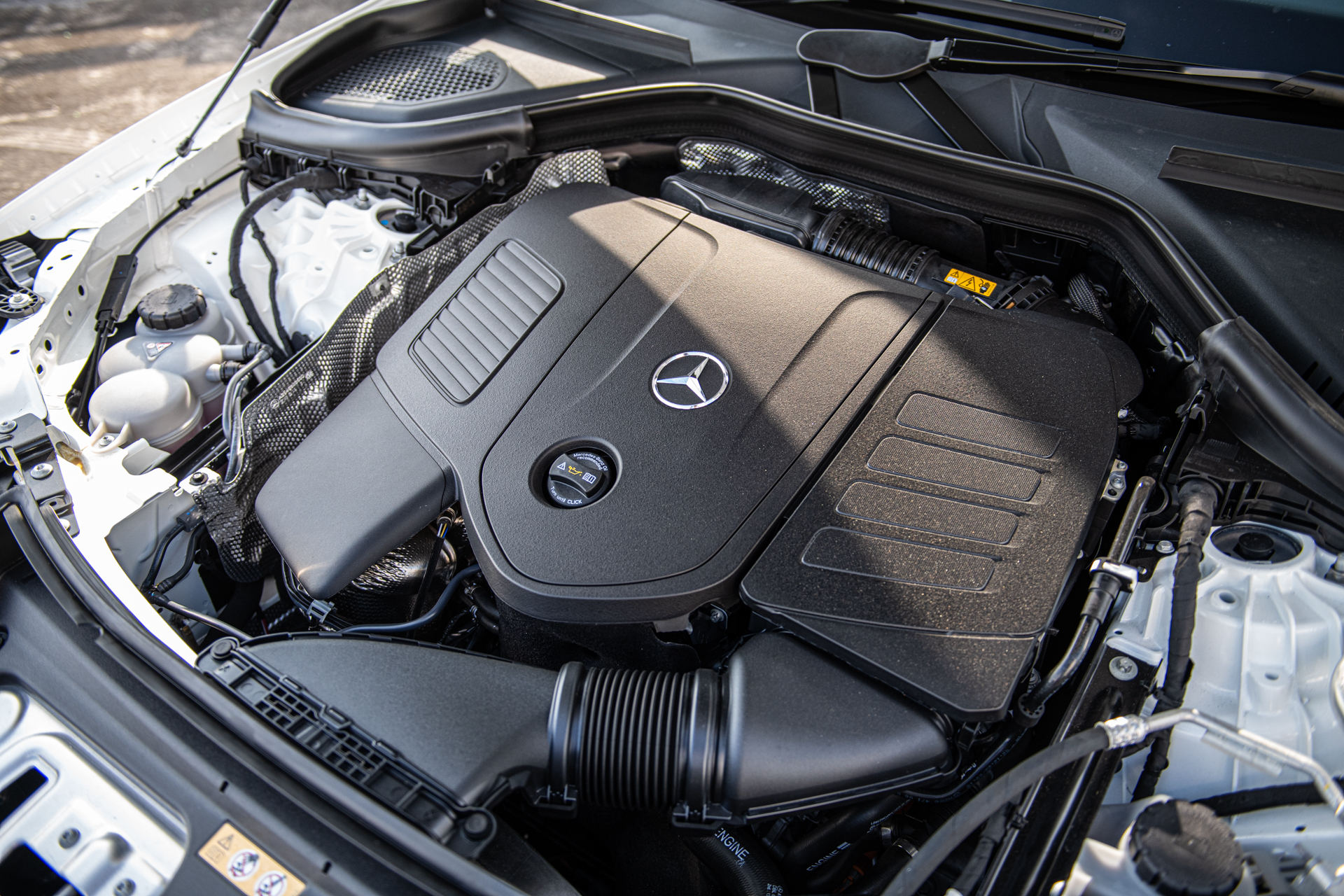 Even if you do run out of charge, a turbocharged 2-litre 4-pot is on standby to take the reins. You don't even have to scrimp for a charging station, as the GLC is pretty content running solely on petrol power. Most of the time, the petrol engine is in hibernation mode, with the GLC300e's defaulting to E or Electric. But, mash the accelerator and the engine roars into life, providing the car with some added muscle. 
The 4-cylinder heart is much more refined than previous Mercedes 4-cylinder engines, and the 201bhp and 320Nm of torque on tap is sufficient for most driving applications. Combined, total output stands at 308bhp and 550Nm, enough to rock the century sprint in a cool 6.7 seconds.
Power comes on smoothly, but the engine does sound a little rowdy when pushed to its limit. Keep it under control with revs at a minimum, and the engine becomes a much more docile package.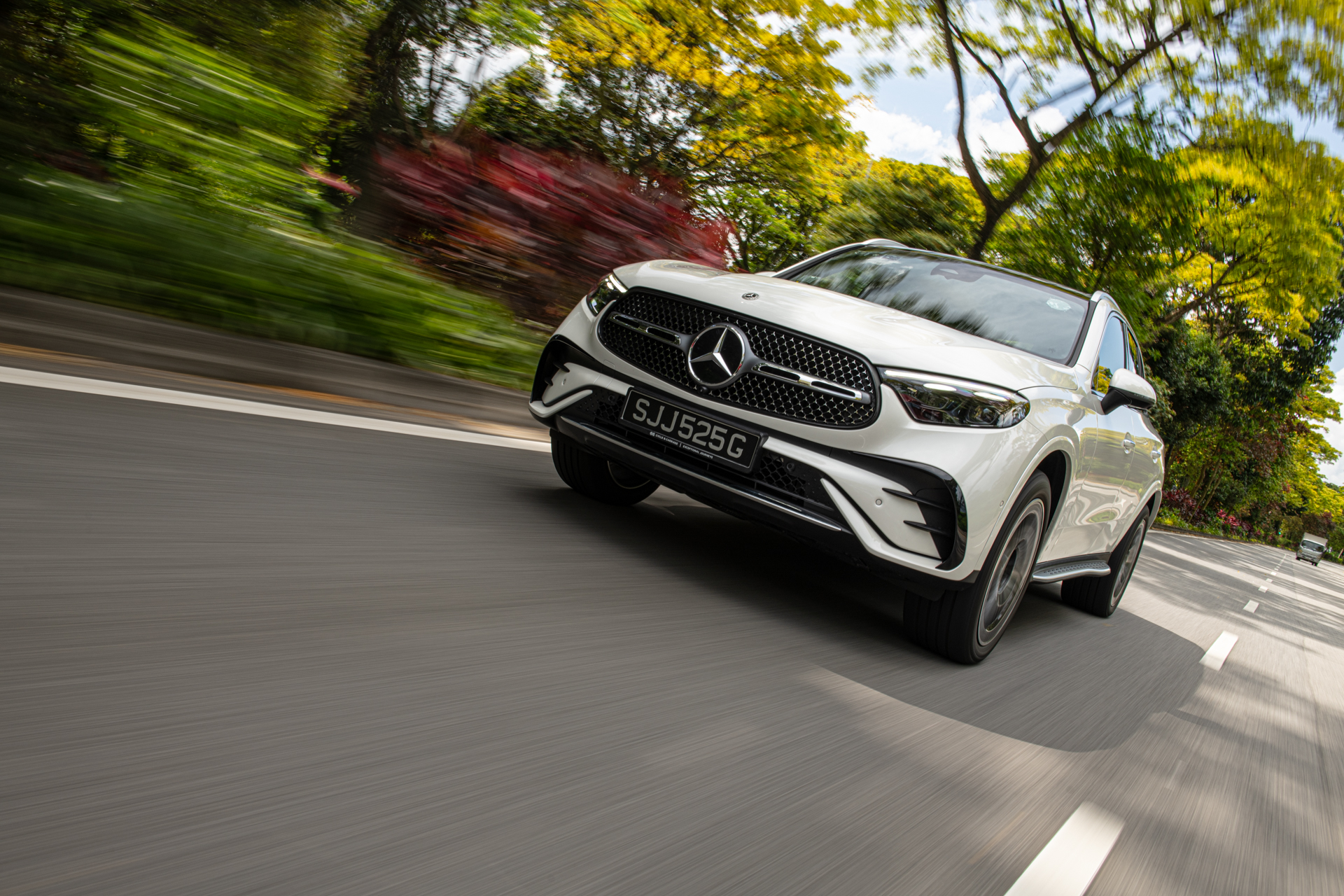 The biggest gripe I have about the PHEV setup is when it transitions from electric to petrol mode. When the battery is flat, it rotates between the two modes quite frequently, and it makes for a less-than-ideal driving experience.
My suggestion would be to keep it either charged up and run it in EV mode, or it would be nice if Mercedes-Benz is able to tweak it such that when battery juice is exhausted, it runs solely on petrol power only.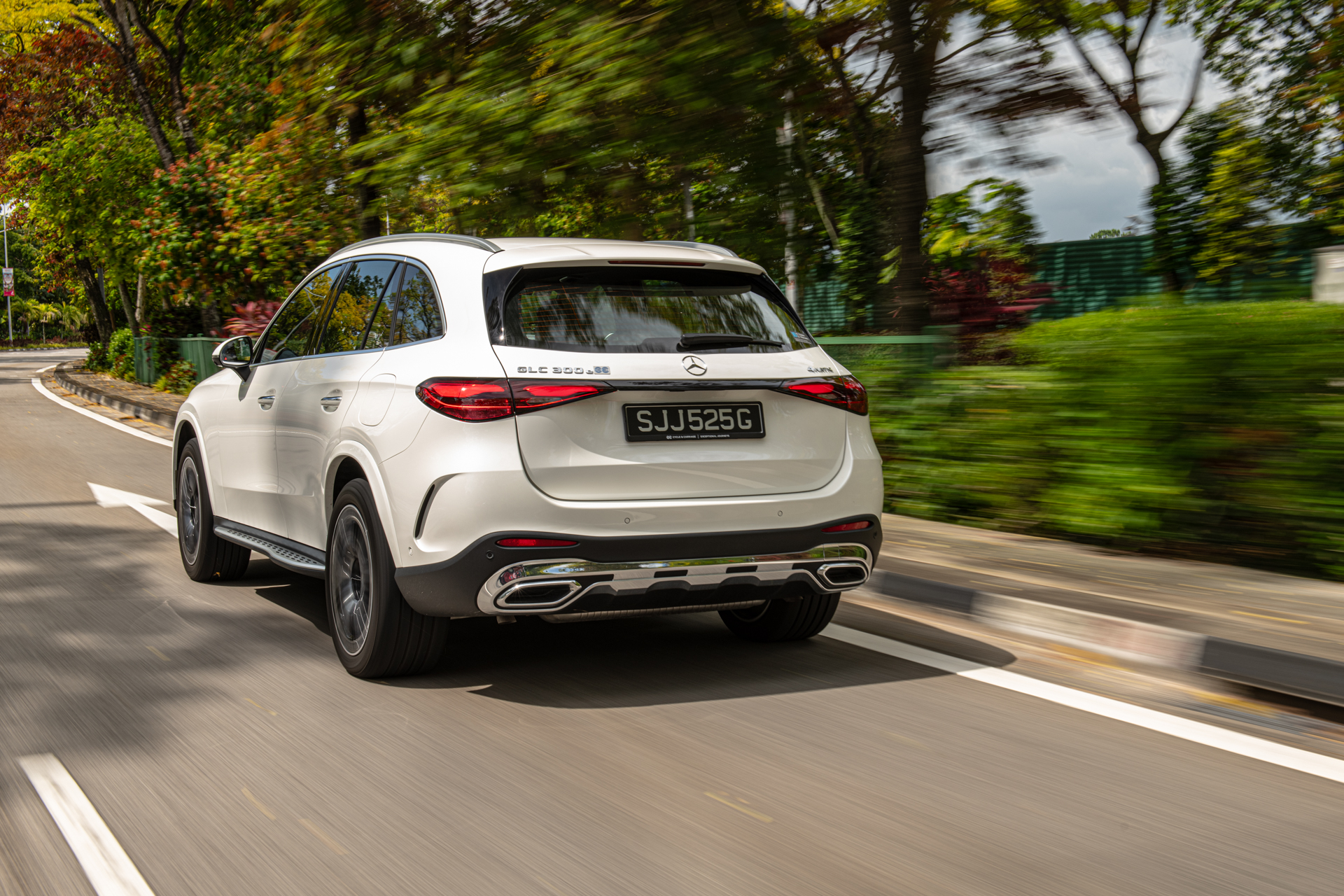 Over the course of my test drive, I managed to clock an average of 30.3km/litre, which is mighty impressive for an SUV of this stature. Although, that is with the battery and motor tanking most of the load. With the battery depleted, fuel consumption dropped to a more modest 24.6km/litre. 
The GLC300e sure can dart into traffic, but its soft suspension setup does tend to lead to some tricky situations, where the car wallows around amidst quick manoeuvres. Plus, because of the way the battery is stored (in the boot), each time the car decelerates harshly it feels like it's oscillating due to the engine weight up front. Weight transfer and balance is not ideal, and that translates to jerky braking.
The heavy battery setup is also the reason why it is half a second slower than its regular GLC300 sibling, costing the car a hefty 430kg bulk.
Is the battery pack worth considering? That's up to you to decide.
Upmarket chic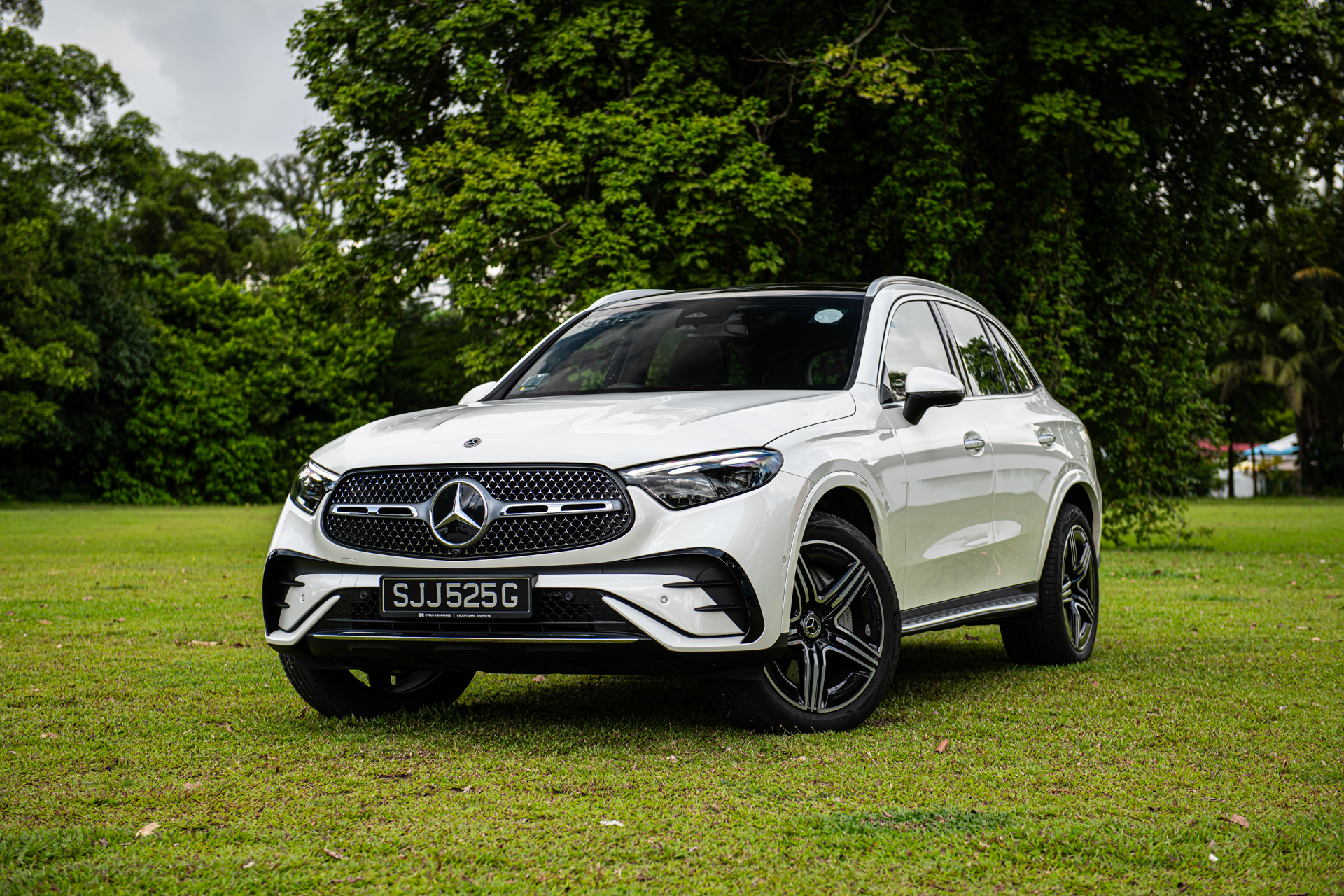 Plus, you get all of that new engine innovation with the same tried and true Mercedes-Benz formula. The GLC family has always been a good-looking SUV, and this new generation accentuates its good features more.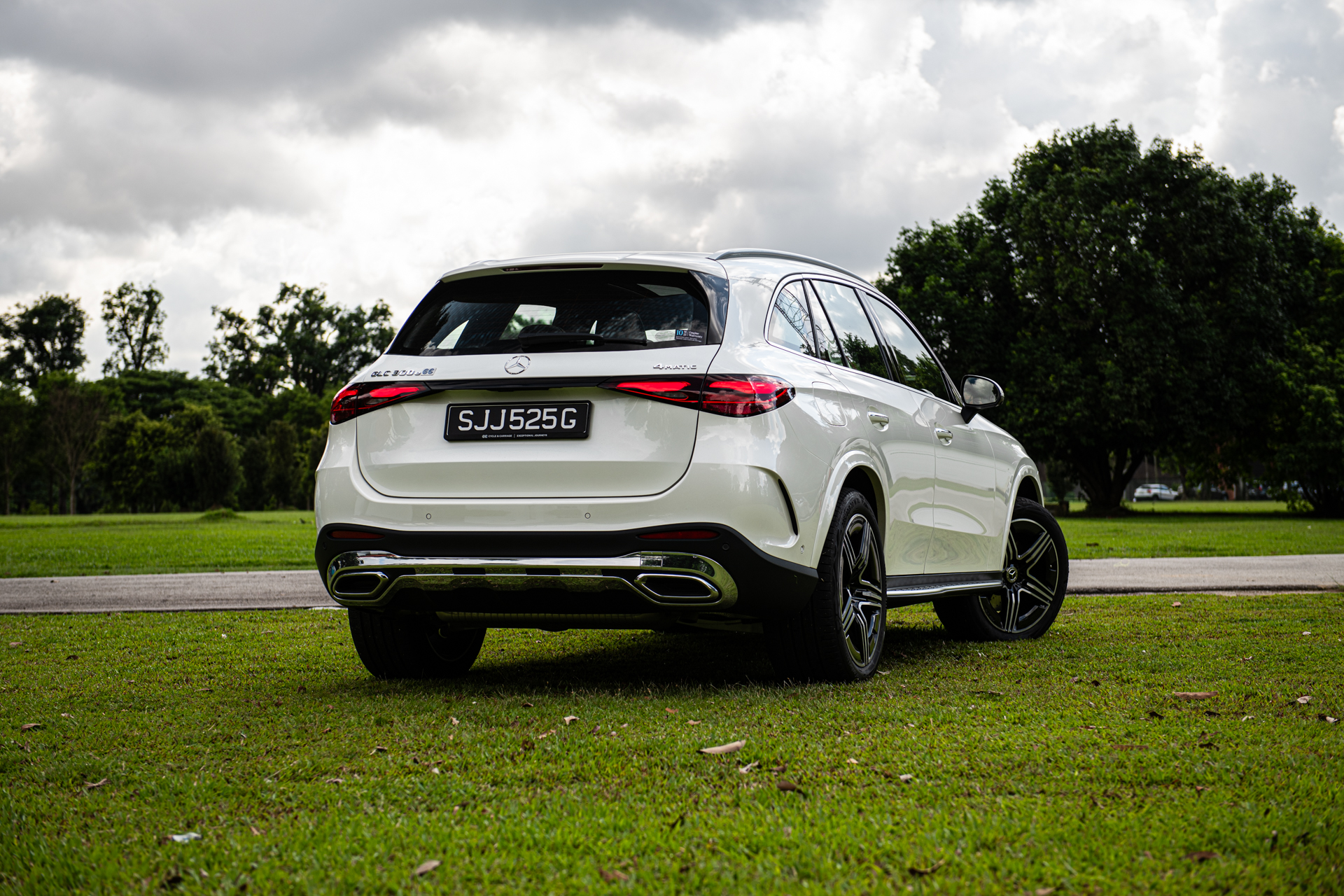 High-riding proportions give the car some muscular appeal, and this AMG-line variant ups the facade with a tri-pointed tessellated grille and fancy chrome trim.
Despites its PHEV powertrain, exterior styling is virtually identical to its ICE brethren, save for a subtle 'e' badge on the back.
Cocoon of luxury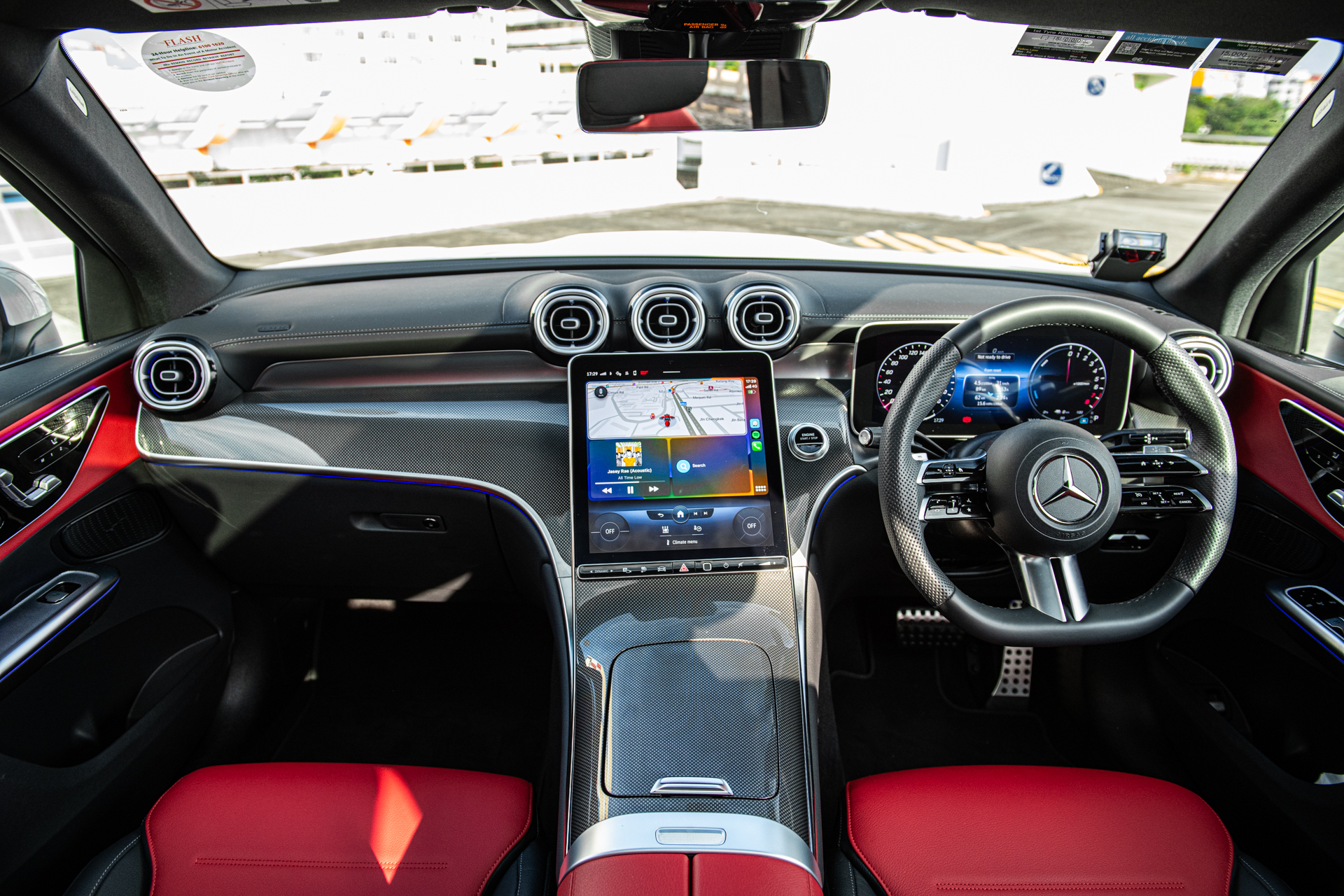 The cabin in the Mercedes-Benz GLC 300e will be familiar to most Mercedes fans. Updated cabin materials are of a distinctly higher quality, and there are abundant soft touch surfaces.
Mercedes-Benz is probably the global leader now in terms of ambient lighting, and the GLC doesn't disappoint in this department.
However, what is slightly off the mark is the MBUX 2.0 (Mercedes-Benz User Experience) infotainment system. Mercedes claims it is more user-friendly than its predecessor, and while that is true, the system can still be disorientating to individuals who are unfamiliar with the UI. 
Wireless Apple CarPlay and Android Auto are at least available, so you don't have to worry about sticking to the proprietary system should you wish to use your favourite smartphone apps. Plus, you can pop your phone into the included wireless charging pad.
Practicality
Spanning 15mm longer than its predecessor, there's a bit more space for rear occupants in the new GLC 300e. The taller backrests are especially helpful to lengthier folks, but the middle guy will have to jostle for legroom due to the raised transmission tunnel.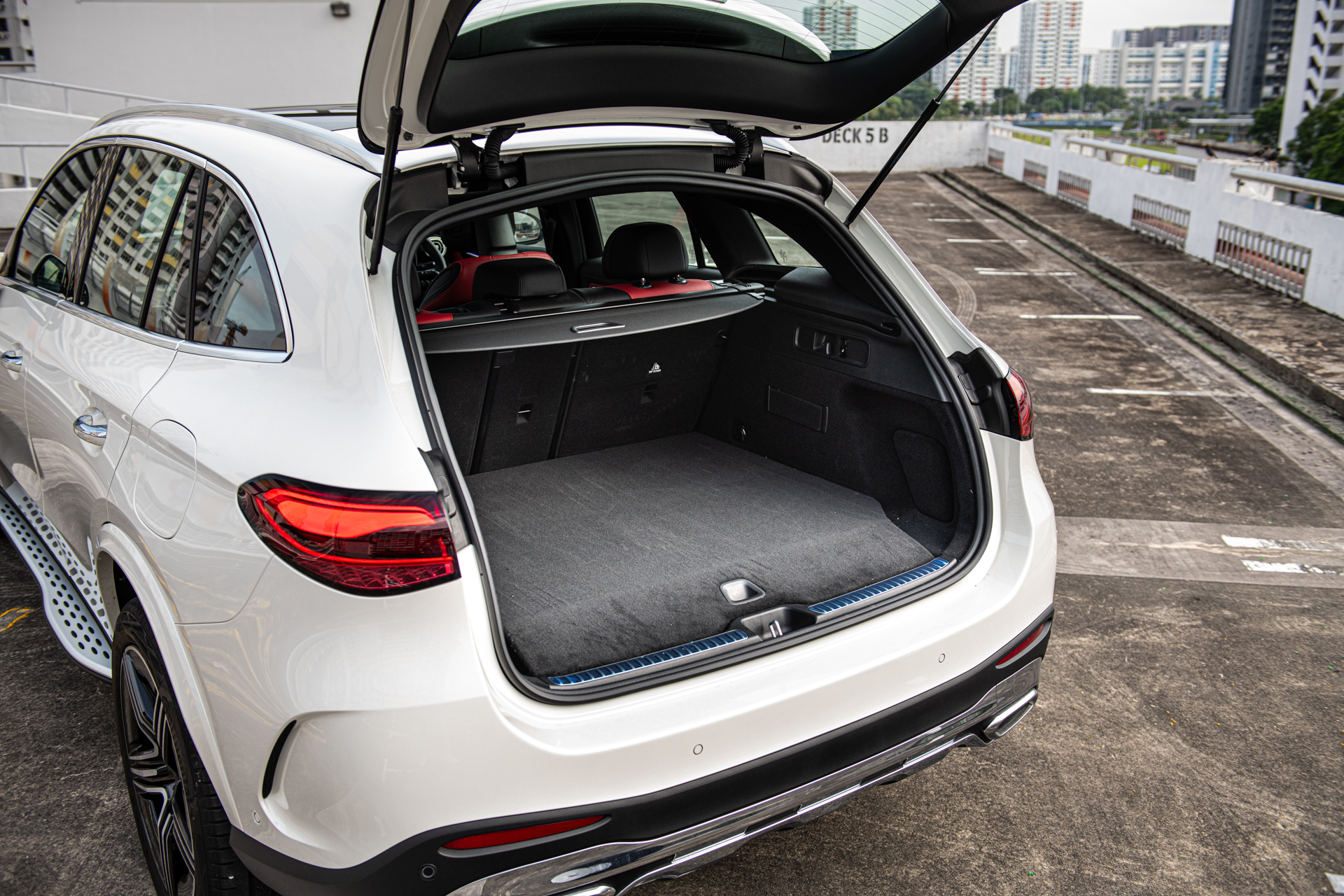 The added bulk has also improved the GLC's practicality, with a new cargo capacity of 620 litres. The wide aperture also makes cargo ingress much easier. However, those who opt for the GLC300e like this one will have reduced cargo volume, down to 470 litres thanks to the added battery pack.
An interesting transition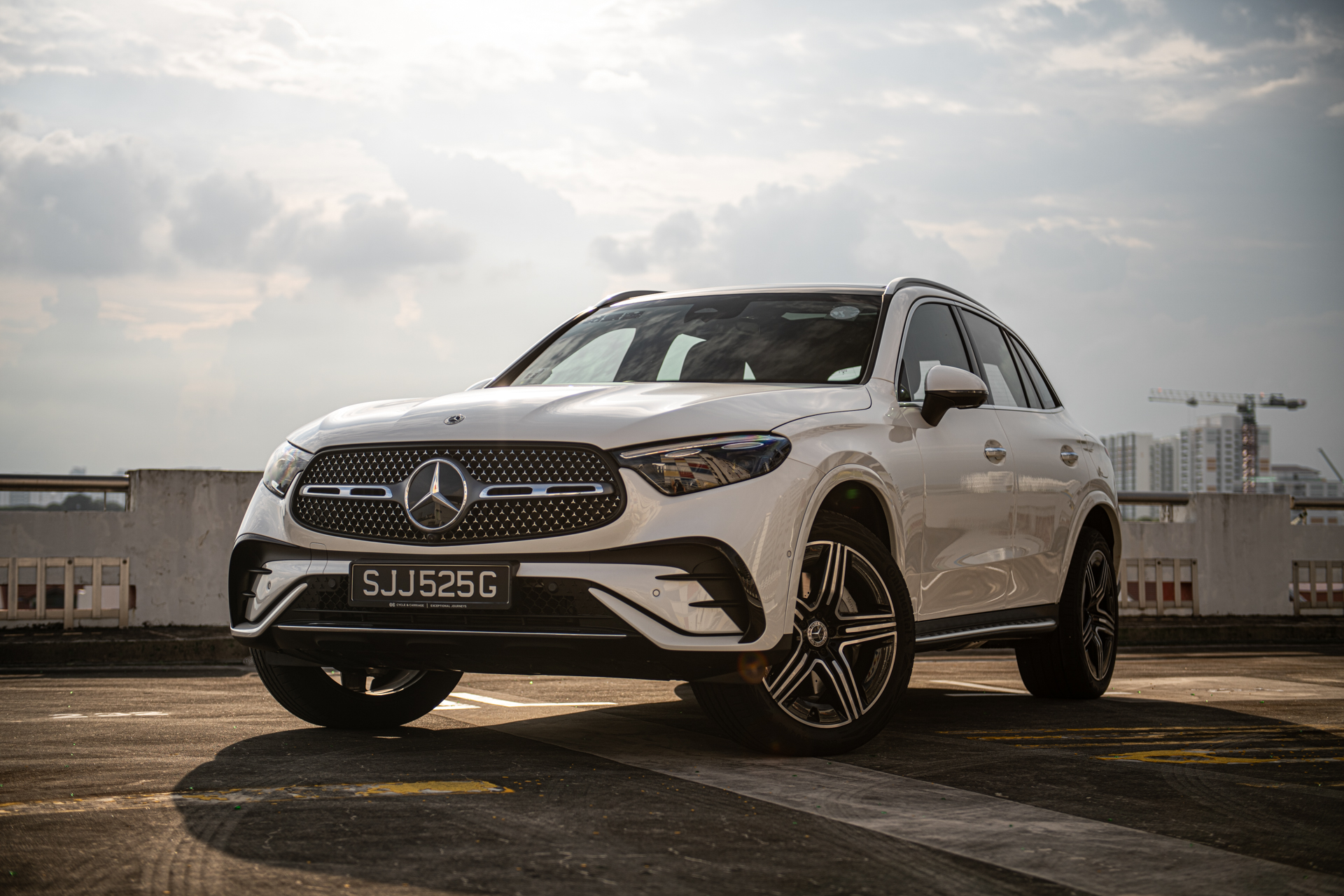 The Mercedes-Benz GLC300e presents itself as an interesting proposition. It offers enough EV charge to make fully-electric trips viable for the daily commute, greater efficiency than a typical hybrid, and more oomph than a regular ICE powerplant thanks to electrical assistance.
Think of it this way – you will never have to worry about range anxiety while driving this, and still have the added benefit of plugging in whenever you do conveniently find a charger.
In an age where convenience rules and ease-of-use is of paramount importance in a daily car, what more could you ask for?
Technical Specifications
Mercedes-Benz GLC300e 4MATIC
Engine: 1,999cc in-line 4 turbocharged, plug-in hybrid (PHEV)
Power: 230kw (308bhp)
Torque: 550Nm
Gearbox: 9-speed G-Tronic (A)
0-100km/h: 6.7 seconds (claimed)
Top Speed: 218km/h
Fuel Economy: 17.3km/L (claimed)
Price: S$397,888 (Avantgarde) / S$439,888 (AMG Line), both with COE (accurate at the time of this article)
Contact: Mercedes-Benz Singapore
Photo Credits: Sean Loo (@auto.driven)
---
Read more automotive news at AutoApp, or check out our latest videos on Ignition Labs TV!