The Mercedes-Benz SL55 is brutal when you want it to, and docile when you need it to. And it does all of that with the wind in your face.
---
Even for a brand as venerable as Mercedes-Benz, the SL nameplate still holds its own even to this day. Its bloodline started with the original 300SL in 1952, a post-war dogfighter that captivated eyes the world over with its signature gullwing doors and radical engineering. 
Its original ethos was being 'sporty' and 'light', two desirable traits that have in part been largely forgotten in the 21st-century technological arms race. Can't hoon a car without Apple Carplay and a large touchscreen, right?
This new model, now in its seventh iteration, aims to readdress this delicate sportscar balance. So how has it gotten on?
Pantomime appeal
The Mercedes-Benz designers have gone to great lengths to tame the new SL55 both ways, giving it some welcome belligerence whilst maintaining its waft-like cruiser appeal.
There's much to absorb here, and the lumbering V8 out front on initial impressions beckons you to mash the throttle and savour its immense power. The brutish, egocentric exhaust burble even incentives you to do it again and again.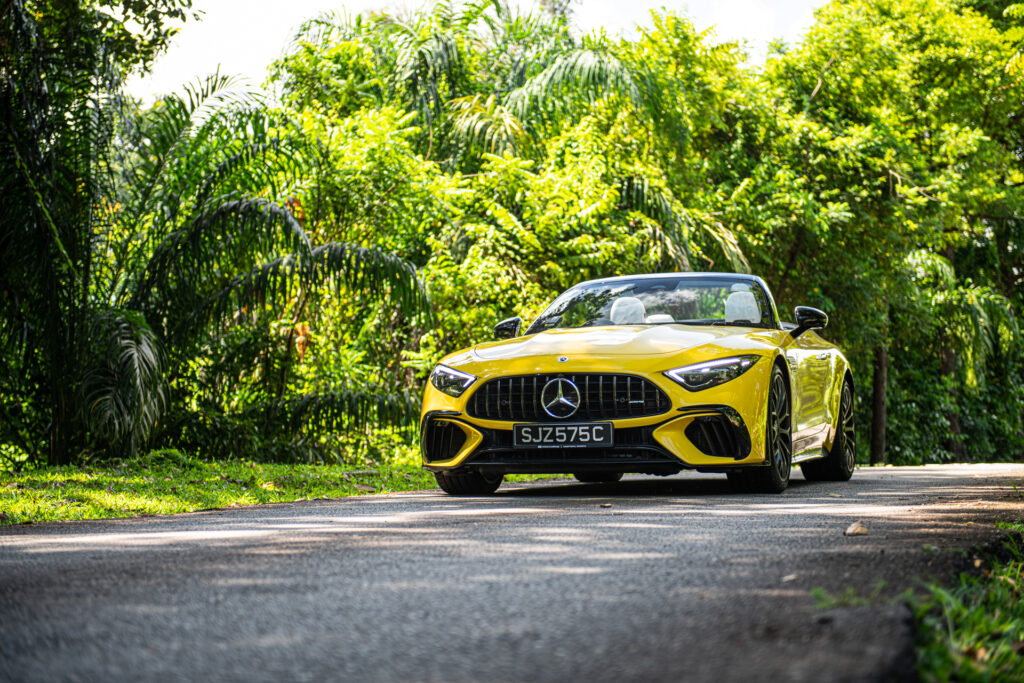 But, turn it down a notch and pretty soon it's apparent that the SL is not all chest hair and swollen muscles, but a much less frenetic car. It's rather docile at 'civilian' speeds, cruising into Sunday brunch with shades on and a wide-beamed hat.
The SL55 even comes with a revised version of AMG's 'ride control' suspension featuring adaptive damping and lightweight coils, giving occupants competent ride comfort. After all, it was made to be a GT car.
But, should you want to feel the wind in your hair at great speeds, there's a handy drive mode dial on the steering wheel to turn up the heat.
The car's Dynamic Select has 5 different modes – Slippery, Comfort, Sport, Sport+, and Individual. Mercedes even lets you choose how much traction control you wish to have via the AMG Dynamics menu. An electronic limited-slip rear differential is also available as part of the AMG Dynamic Plus Package.
Regardless of what mode you are in, the SL55's 9-speed MCT gearbox is as seamless as ever, now with a wet clutch rather than a torque converter, reducing weight and delivering overall faster shift times.
The lack of large aero bits shouldn't drop your confidence in the corners either. Hidden around the SL are various aero widgets that improve stability, reduce drag, and optimise cooling. Plus, an active rear spoiler provides additional downforce or showoff appeal. Whichever you prefer.
What this translates to is impressive turn-in ability. The SL can't match the poise and eagerness of a Porsche 911, but it does a great job of keeping itself composed round bends. Stopping quickly isn't an issue either, with massive steel composite discs (390mm six-piston front, 360mm single-piston rear) keeping everything in check. 
Similar to most high-end Mercs, you are bestowed with a vast suite of driver assistance programmes. Although Mercedes is progressively rolling out autonomy throughout its range, the SL is something you won't want to relinquish control of to a bunch of algorithms.
Unmistakable AMG
As with all modern cars, the Mercedes-Benz SL has put on some bulk compared to its predecessor. But, in doing so it has gained some added aggression.
Borrowing traits from its bigger AMG GT sibling, the SL now has a more commanding facade, dominated by clean lines that accentuate a sleek silhouette. Ferocious enough to intimidate anyone at a set of lights, yet discreet enough that it can sit pretty in a parking space without attracting too much attention.
It isn't a showy-off car either. Badges at its flank are kept to a minimum, and most wouldn't even know a thumping V8 beast lurks underneath until the owner lets the quad tailpipes sing in tenor. 
Dressed to impress
With the roof down, you will attract quite a bit of attention. The Mercedes designers know this and have dressed the cabin up to look as stylish as the outside. Aviation influence is strong here, with a wing-like central appendage bolstered by 4 galvanised turbine air vents. 
An 11.9-inch infotainment touchscreen running MBUX 2.0 sits tall and pretty in the middle of the cabin, and it even tilts a little in order to reduce glare with the roof down. It's responsive but jammed packed with loads of menus, and can get a little confusing to navigate at times.
A wireless charger, 4 type-C ports and a 12V outlet all come in handy to charge smart devices. However, you'll soon find that there's little to no room to put anything anywhere.
To make matters worse, as the gearbox assembly is jammed into the small 'crevice' of a transmission tunnel, it actually radiates heat into the cabin. This is the first car that has successfully caused my iPhone to overheat whilst it sat in a cubby hole.
But the real kicker is the AMG steering wheel. This isn't a problem exclusive to the SL, but the steering wheel is a claustrophobic piece of real estate. Yes, you do get an array of haptic buttons that enable you to configure loads of settings without taking your hands off the wheel, but everything feels too bunched up and I often found myself activating random items due to the occasional brushing of fingers.
It's a shame though, because the wheel does feel great in the hands, alongside the beautiful brushed metal paddle shifters.
2 + 2 = 4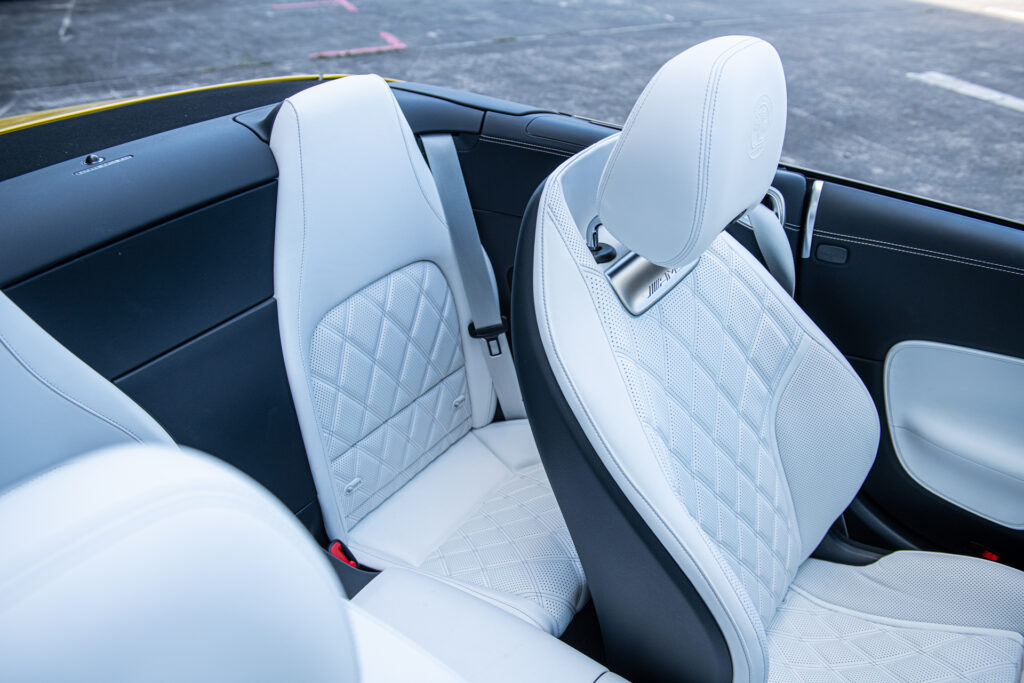 The SL55 is surprisingly practical for the most part. I mean, there aren't many things on the roads that can seat 4, have the roof down, and still have some cargo space.
Yes, the new SL returns the car to a 2+2 seating configuration, a trait previously borne by the 4th-generation R129 model. But, while the SL can, on paper, sit up to 4 occupants, the rear should only be reserved for cushions, your weekly shopping or someone you detest.
That said, the guys up on the flight deck do get tons of space, and it isn't hard to find a nice comfortable position for those long journeys. They're incredibly comfortable, and airscarfs come as standard, keeping turbulent air out of your face.
Even with the roof down, you get a 240-litre boot. While Mercedes claim it can 'swallow' two sets of golf clubs, its narrow aperture does make it a challenge for cargo ingress.
A stylish brute that you'll love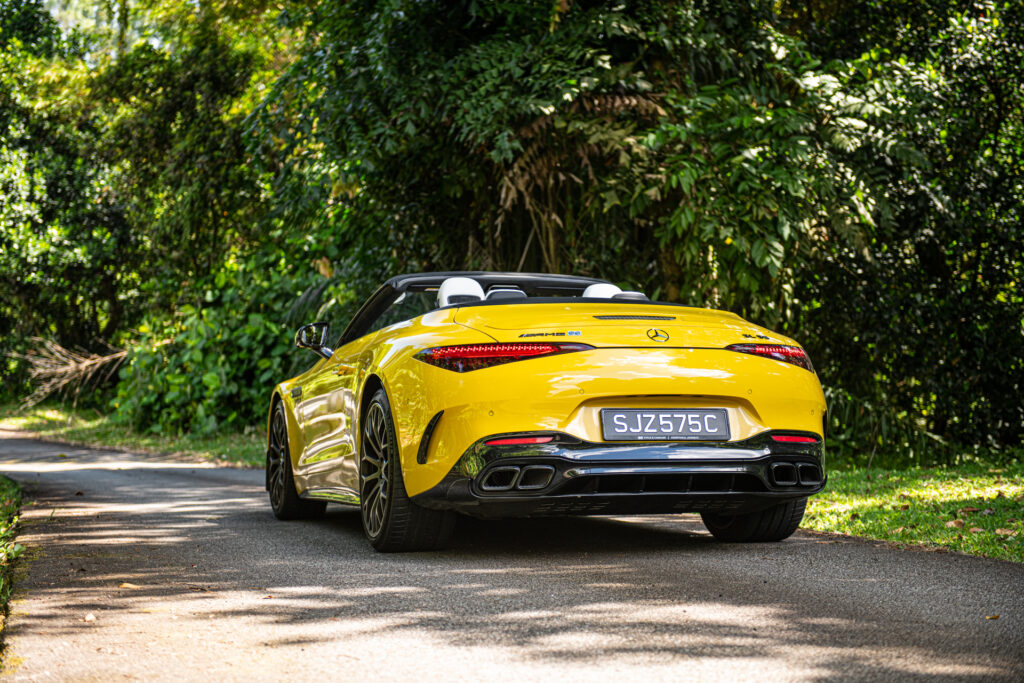 The Mercedes-Benz SL55 is a visceral pill that you'll be quickly addicted to, inciting a sensation that shocks the mind but warms the heart at the same time. It's arguably the most engaging SL since its 300SL forebear, and promptly qualms the lineup's seemingly unreciprocated drift into gentle opiated cruisers.
This may very well be the last V8-engined SL we'll ever see, but at least for one last hurrah, I am free from the unapologetic march of sustainability when I'm in this. A brute in ballet shoes, singing a tune that beckons you for more. 
A spiritual return to form for the German Sport-Leicht.
Technical Specifications
Mercedes-Benz SL55 AMG 4MATIC+
Engine: 3,982cc V8 dual twin-scroll, turbocharged
Power: 355kW (476bhp)
Torque: 700Nm
Gearbox: 9G AMG Speedshift MCT
0-100km/h: 3.9 seconds (claimed)
Top Speed: 295km/h
Fuel Economy: 7.4km/L (claimed)
Price: S$1,004,888 with COE (accurate at the time of this article)
Contact: Mercedes-Benz Singapore
Photo Credits: Sean Loo (@auto.driven)
---
Read more automotive news at AutoApp, or check out our latest videos on Ignition Labs TV!