It was only a matter of time before Mercedes turned their attention to electrifying the GLB, and sure enough, the EQB was born.
---
It seems like only yesterday when electric vehicles (EVs) first hit the market. Now, with more countries and individuals touting electrification as "the future", automotive manufacturers are pushing out new EVs by the dozen. Not wanting to miss out on a big share of the EV pie, Mercedes has also ramped up development and is going all in on their new electric EQ lineup.
With the EQA and EQC already on the market, effectively electric copies of their popular ICE counterparts, it was only a matter of time before Mercedes turned their attention to the GLB. Sure enough, the EQB was born.
Does it live up to the perceived high standards of the German three-pointed star? Let's find out.
Electrifying silent drive
While its GLB sibling has to make do with a 1.3-litre petrol engine shared with Renault and Nissan, which was known to be quite boisterous and unrefined, the EQB leaves it in the dust with its newfound electric powers.
Even in its EQB250 guise with just a single front-mounted motor, 140kW (188bhp) and 385 Nm of torque is still plenty to get it briskly off the line. At full chat, the EQB can complete the century sprint in 8.9 seconds. Not too shabby for a single-motor 7-seater. Parking is a simple affair in this thing too, with good all-around visibility and a myriad of sensors to detect any speck of dust you would run into.
One thing I will commend the EQB for is its ride quality. Being a family-centric car, the EQB has pretty soft suspension, MacPhersons in the front and multi-link out back, which cushion out bumps and kinks in the road well. Plus, having the advantage of being an EV meant the ride was virtually silent, and without unnecessary vibrations.
Like most EVs on the market, the EQB is fuss-free when you're going about your daily chores. It's a relaxing car to cover long distances in (as long as it stays in Singapore), and a fully juiced battery should provide you with about 350km of range. In my time with the car, I averaged about 19.3kWh/100km, and that's without eco-friendly pedal discipline.
Of course, this isn't a car you would want to tear up B-roads in. But, being a little more enthusiastic in the corners, the EQB still held its composure well unlike other Mercedes EQ models such as the EQC. This is partially thanks to all that battery weight being low down under the floor, resulting in a lower centre of gravity.
As long as you're not hyping yourself up to be the next Micheal Schumacher on the roads, the EQB does well in delivering a dignified and relaxing drive.
Shockingly comfortable on the inside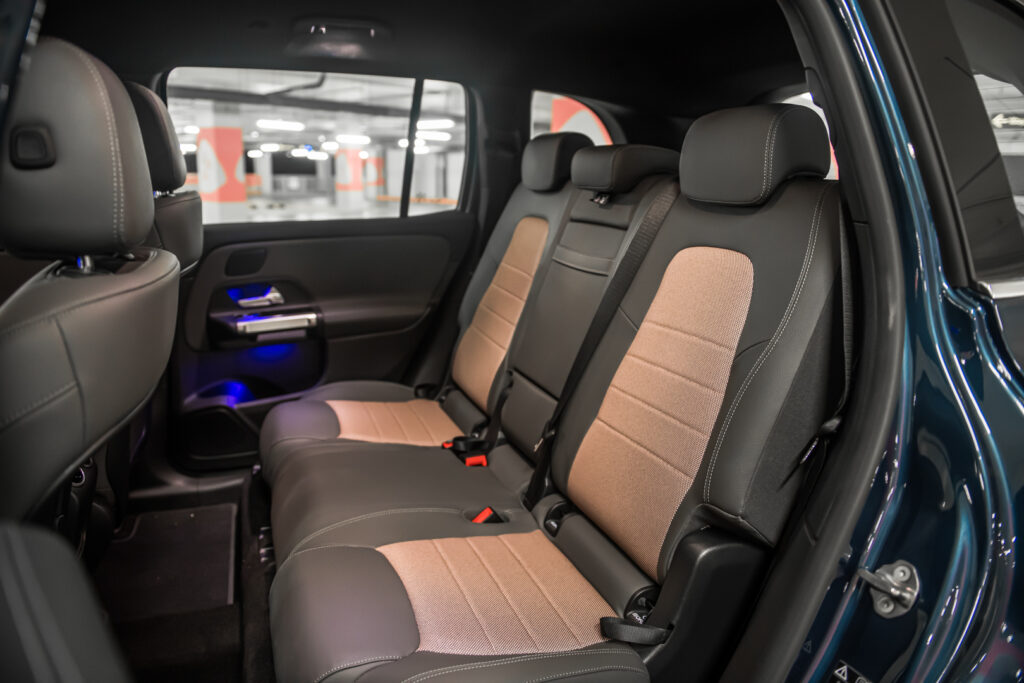 While it is tamer in performance compared to other EVs on the market, the EQB has two major advantages going for it, and that is comfort and space. This is the first EV in Singapore with room for 7 in the cabin. So not only is the EQB able to carry your entire family nucleus around, but it also does so in silent comfort, with a ride quality befitting of the three-pointed star badge.
Young ones will be sufficiently entertained for long journeys, thanks to the abundance of charging ports located throughout the cabin. Even 3rd-row passengers get their own ports and small cubby holes to store hand-held items, a big upgrade in in-flight amenities compared to other 7-seater models where last-row occupants are essentially exiled from the rest of the cabin.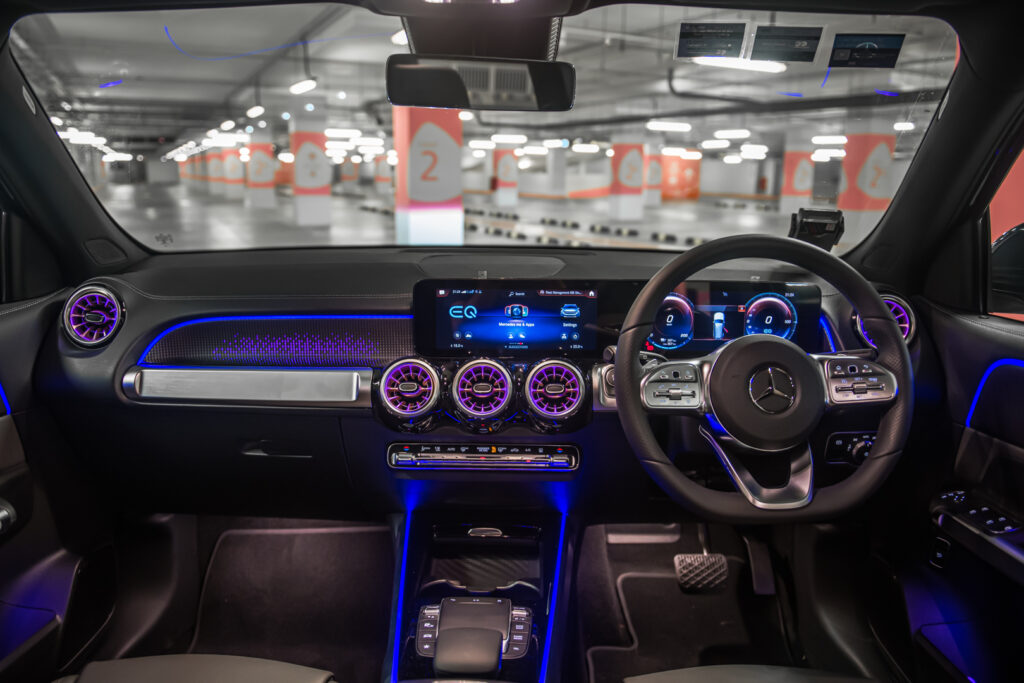 Up front, most of the creature comforts are similar to what you get in the GLB. Twin digital displays dominate the dashboard, both 10.25-inches in size.
Mercedes' infotainment system is decent enough to use, but the scroll menus may be quite a hassle to navigate whilst driving, especially if you rely on the haptic buttons on the steering wheel. Those things are just cumbersome to use.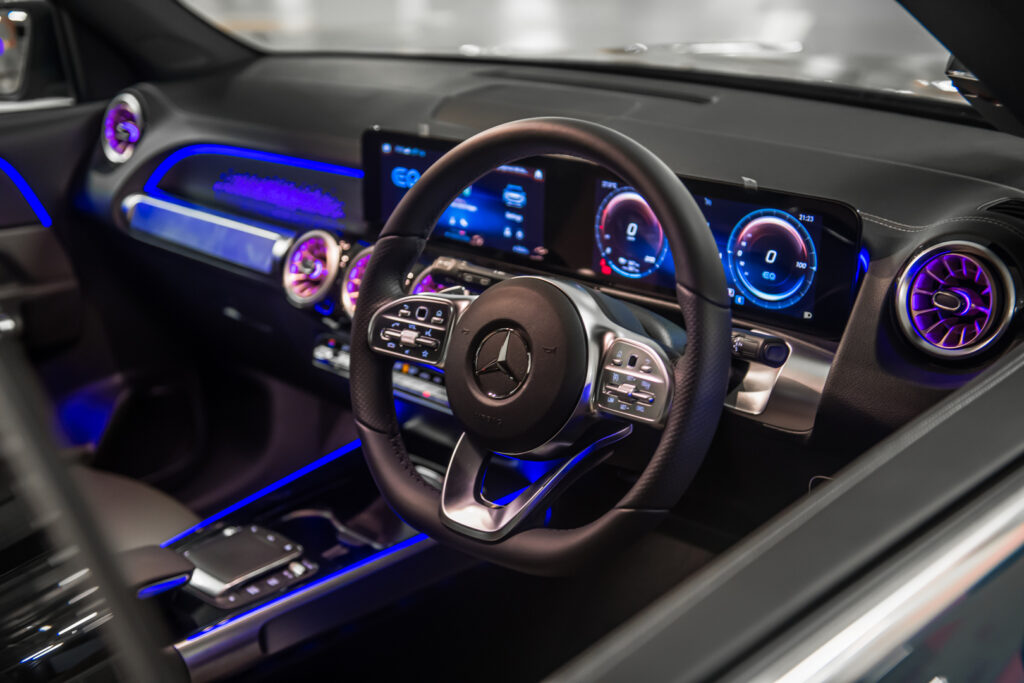 Turn the car on at night, and a smorgasbord of LEDs light up to greet you. While it can entertain your passengers, my hot take is that these LEDs actually make the car look less premium, looking like the aftermath of a modding trip with our Malaysian neighbours.
Aside from the flashy LEDs, there's really not much to complain about in the interior of the EQB. It's practical enough for the family, and the posh blend of materials will impress your co-workers at the office.
Sleek, ae-static styling
Following the rest of the Mercedes EQ lineup, the EQB's exterior resembles a GLB which dressed up with way too much hair wax. The entire body looks very slippery with no indentations, probably to give the car as low of a drag coefficient as possible.
Up front, the traditional radiator grille has been replaced with a posh black panel with chrome details. The head and taillamps of the car are also new, with EQ-specific LED light strips. 18-inch alloys are standard on the car, but you can always spring for the AMG-line option to spec your EQB out with fancier body panels and AMG-specific 18-inch rims. However, with the EQB 250 you wouldn't be able to get the 20-inch big boy tyres, as those are only reserved for the more powerful 350 4Matic. Talk about jealousy.
Unlike the rest of the EQ SUV range, the EQB has a tall and squarish roofline, much like the GLB. It isn't the best looking, but it provides passengers with tons of headroom in the cabin.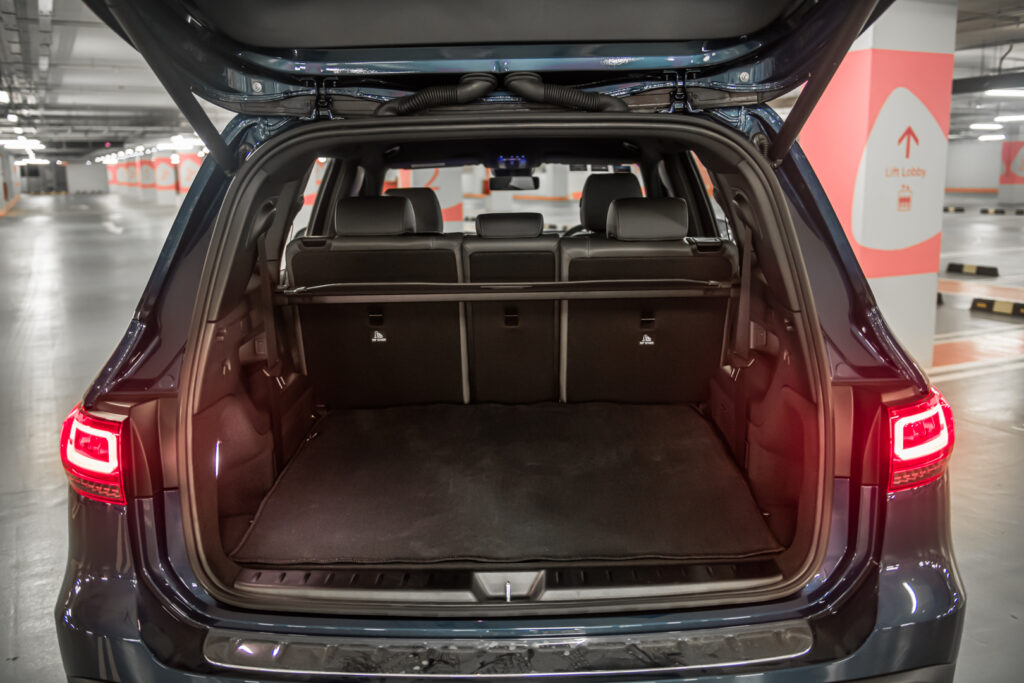 Don't get me wrong, I don't hate the look of the EQB. But I'm also not someone who would take a second glance at the car. There's really not much going on. Granted, its design is functional, but I would have loved to see at least some distinguishing features between it and the GLB. Unless they're put side by side, most people wouldn't be able to tell one from the other.
Sparking a new segment for the EV market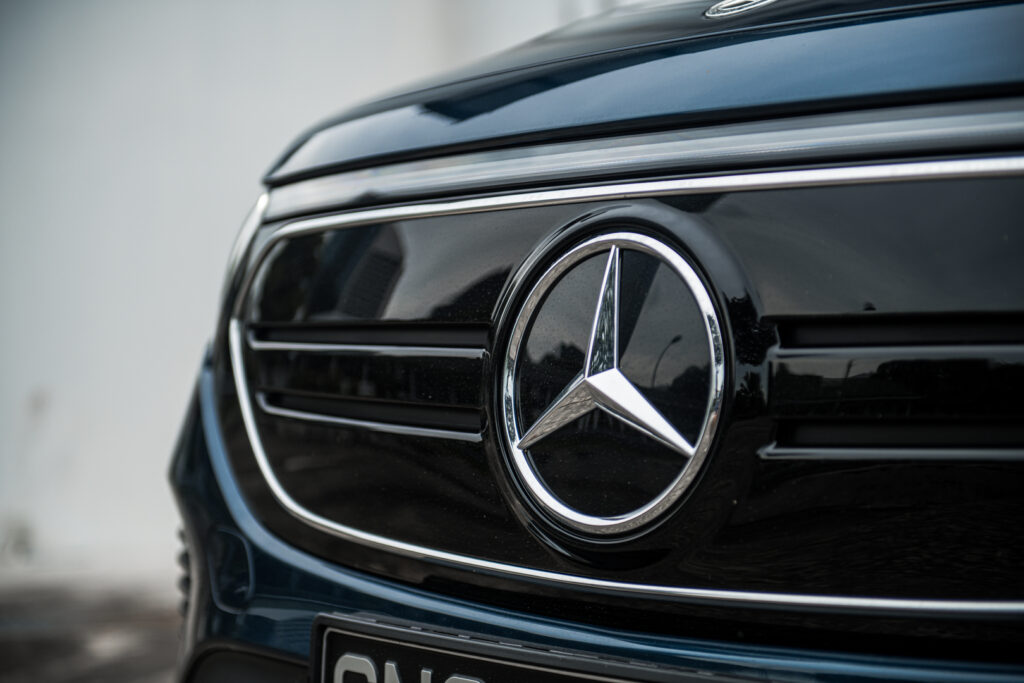 The EQB does tick a lot of boxes. It's the first relatively attainable EV 7-seater in the mainstream market that doesn't come in the shape of a van. It has relatively brisk performance, drives tidily and has loads of space to boot.
If you just can't wait to ferry your kids around in smug, efficient silence, it's a safe bet. But before you rush down and place a deposit, it might be worth considering what your needs are in a car. If your family nucleus is small and you want something a bit more punchy, then the smaller EQA may be a more enticing prospect, and you save some cash doing so too.
But, if you're someone who wants a practical boot, comfortable drive, and the added benefit of ferrying 7 passengers when the need arises, then the EQB may be a compelling EV option.
Technical Specifications
Mercedes-Benz EQB
Battery Capacity: 66.5kWh
Drive: Front wheels
Power: 188hp
Torque: 385Nm
0-100km/h: 8.9 seconds (claimed)
Fuel Economy: 16.4kWh/100km or 6.1km/kWh (claimed)
Price: $320,888 (Progressive), $328,888 (Electric Art), both with COE (accurate at the time of this article)
Contact: Mercedes-Benz Singapore
---
If you like EVs, why not check out the Mercedes-Benz EQV here!