If you wanted a compact, hip, and enjoyable car to hoon around town with, chances are you'll think of a MINI.
---
Indeed, these British puppies are purpose-built to provide drivers with endless fun on the roads with their can-do attitudes and funky demeanours. The recipe was simple – take a compact car, throw a reasonably powerful engine in it, add good handling characteristics, and you get a shopping cart of fun. But, what if you decided to swap out its beating heart?
As the world shifts into electric overdrive, MINI has also pledged to electrify its entire range by 2030, and joined the fray with its Electric hatch in 2020, and since its debut, it has met with huge fanfare.
With the launch of their new Resolute lineup, the MINI Electric has also been bestowed these trim upgrades. But, is it worth springing for the visual eye candy? Or is this just a cosmetic façade?
So what's different?
Visually, the MINI Electric Resolute looks almost identical to its regular counterpart. The only differences on the outside are trim pieces finished in a unique Resolute bronze colour, badging draped in a matte piano black, and bronze Resolute striping lining the bonnet. Oh, and you also get this Rebel Green paint scheme, a colour traditionally only available on the top-spec John Cooper Works (JCW) models.
Even the wheels are visually identical, with the same questionable-looking three-pin plug design which divided audiences.
The Resolute theme continues on the inside, where gold-coloured pinstripes are used to outline black trim pieces. The seats are also finished in carbon black leather with equally contrasting stitching, and if you look closely you'll spot two union jacks blended into the design. Perforated Union Jack motifs are etched into the headrests, and small colour Union Jack buttons are affixed on the sides of the seats.
Other than that though, you're essentially getting a regular MINI electric, albeit with swanky new clothing.
Familiar Funkiness
Still, it isn't all bare bones in the interior. With the Electric, you're essentially getting the Cooper S treatment package, bestowing you with creature comforts like a Harman Kardon sound system and a Nappa leather steering wheel.
MINI has cleverly disguised its instrument TFT cluster to make it look like a fully digital display. If that doesn't fancy you, A Heads-up display is also available, providing easy visibility whilst driving.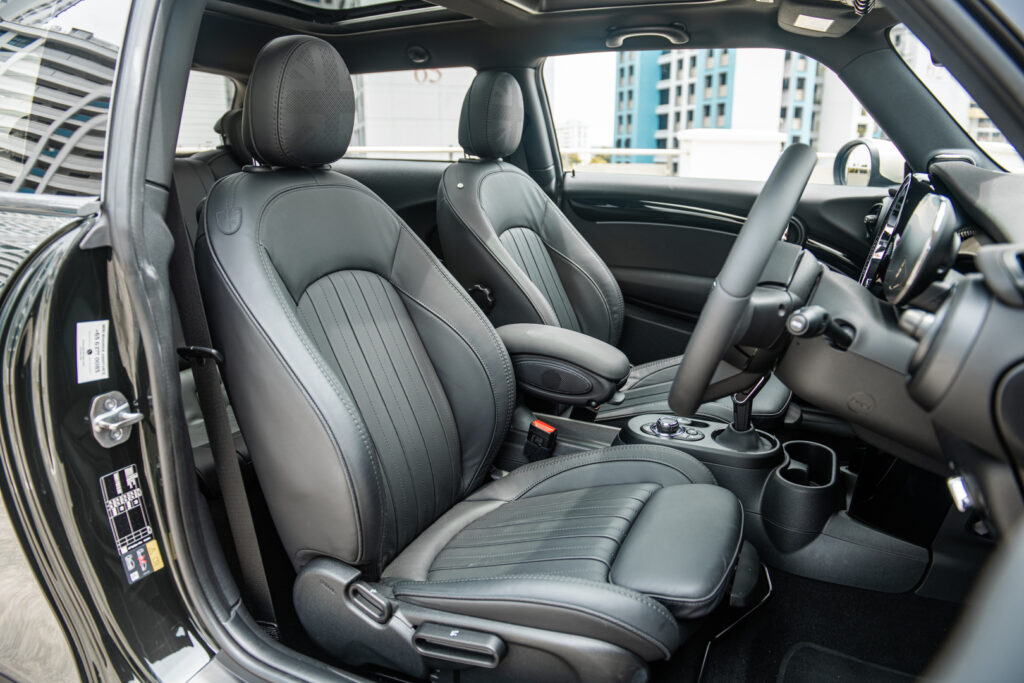 While I applaud MINI for thinking of an innovative way of integrating a wireless charging pad into their already squeezy interior, the charging pad in question doesn't work all too well. It is innovative… if it worked.
Specifically, since I use larger smartphones (Something something Note Ultra, something something Pro Max), my phones just aren't able to fit in the tight compartment. Granted, I do own large phones. But, with each smartphone outdoing the last in terms of size, I'm sure I'm not the only one who would face such a struggle.
Worse still, because the charging pad is embedded in the centre glove box, there isn't a glove box anymore so to speak, so you're left with just an armrest.
I will give credit to the cruise control and speed limiter design on the steering wheel. It is flawless in operation, and honestly one of the best designs I've seen on the market. Want to cruise at a set speed? Push the button. Increase or decrease with a few taps, and press again to cancel. It's simple, it works, and it's extremely intuitive to use.
What's not intuitive to use, however, is the MINI entertainment system. MINI had to squeeze its touchscreen into the dimensions of its round centre cluster. This resulted in the UI looking rather compact, and some menu icons can feel cumbersome to press. The saving grace is that you do get physical buttons to take over operations, but I just wished the screen is easier to work with in execution.
MINIs aren't known for cavernous interiors, but the MINI electric is decent in this department. I even took my friends out for dinner and male occupants can fit in the back just fine, albeit with slightly restrictive headroom.
Electrified go-kart
Even with an electric heart, the MINI Electric Resolute is still able to pounce. As with most MINIs, the suspension is set up on the stiffer side. You will feel jolts should you try and go over speed bumps with a bit more speed, but overall the MINI electric is still reasonably comfortable for long journeys. As long as you remain in the front, not the back, where there's actual legroom.
135 kW (181 bhp) and 270 Nm of torque are more than sufficient for your needs since the car is still fairly light and nimble even with a battery pack underneath. The century sprint is done and dusted in just 7.3 seconds, although you quickly learn to not do this repeatedly (even if it's good fun) because your remaining range just plummets.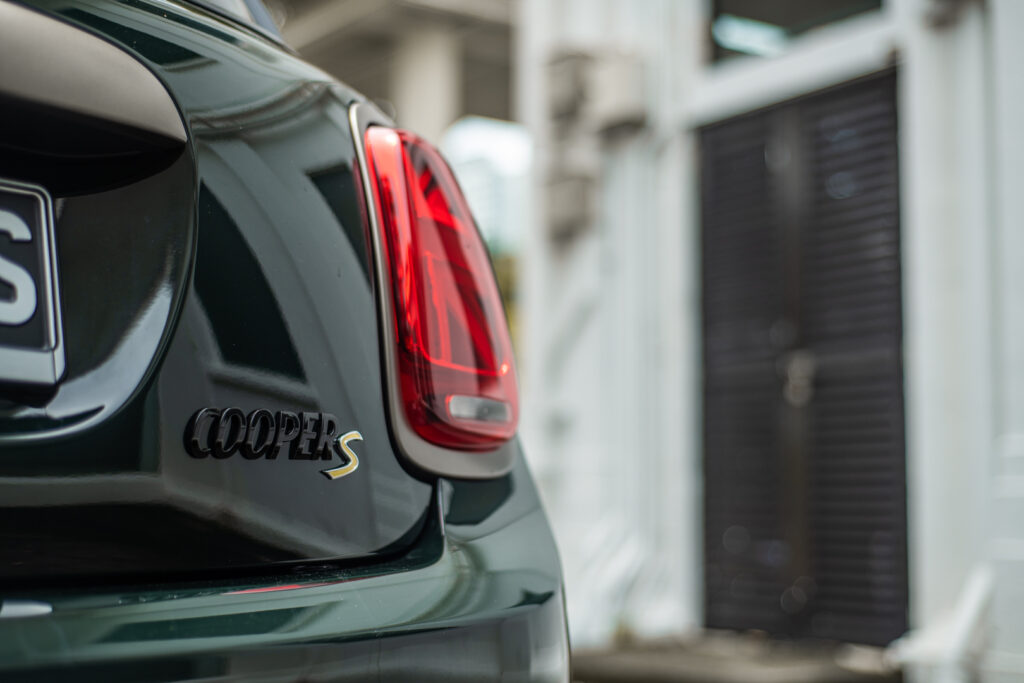 Of course, because of its electrified drivetrain, overtaking becomes an absolute breeze. Want the lane? Just take it. You also get a few driving modes tailored to different occasions. Sport stiffens up the steering, and gives you better throttle response. Perfect when you want to impress that significant other in the corners.
Once all your showboating is done, you would probably pop the MINI electric into Normal or Green modes, in order to conserve range. In more dire situations, Green+ mode shuts off everything, including the AC to maximise as much range as possible. I call this the 'Hail Mary' mode, where you start feverishly praying the car has enough juice to make it to that elusive charging station.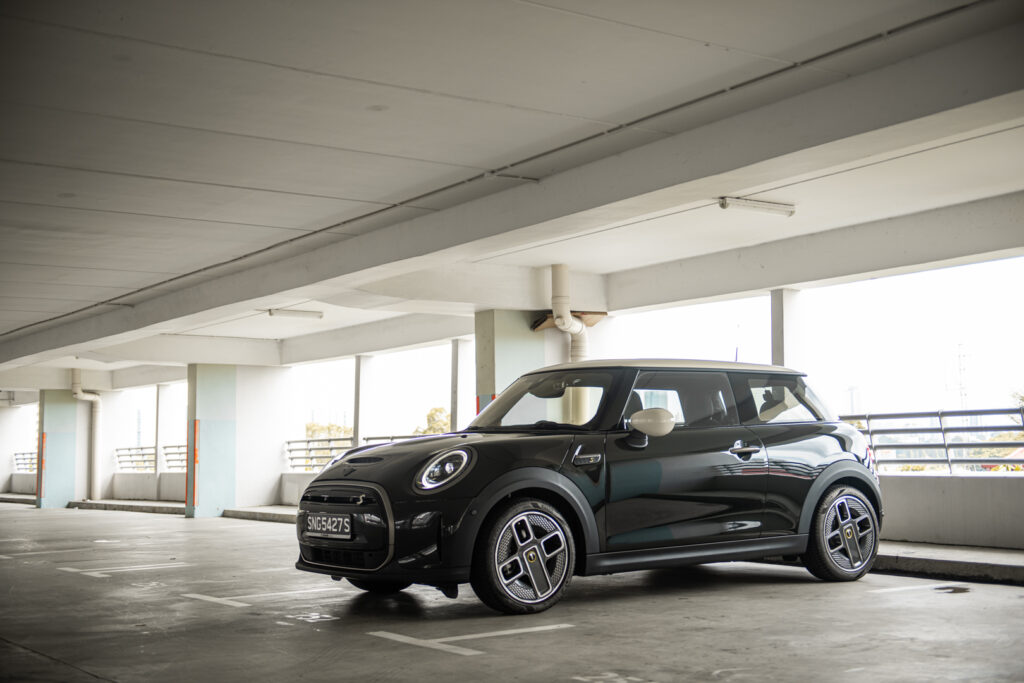 As with most MINIs, parking is also a simple affair due to the tiny proportions and short overhangs. MINI also provides a whole host of sensors to prevent you from hitting even the smallest speck of dust.
Overall, its fast, and extremely fun to chuck around. Even though it has an electric heart, it still retains that MINI essence to it, being a small attack dog that can turn on a dime.
What's it like to deal with
In order to preserve range, a common quirk of EVs is that each time you open the driver door to get out, the car shuts off if it senses the driver's seat belt isn't fastened. The MINI Electric has this too, and it's just horrible to work with. Each time I jump out to snap a picture, the car resets itself. It is extremely annoying.
With its compact battery, wherever you go you would need to always be on the lookout for charging ports unless you have ready access to one at home. After a whole day of driving, I am crawling to find the nearest fast charger for my depleted car.
But, being a MINI, you do get lots of stares on the roads due to its quirky looks. It's even amplified in this due to the special Resolute colour and unique trim tones. Owning and driving a MINI really gives you a unique feeling that no other brand can replicate. You feel special driving it, especially when plugged up alongside other EVs, which tends to happen a lot.
It's a ball of fun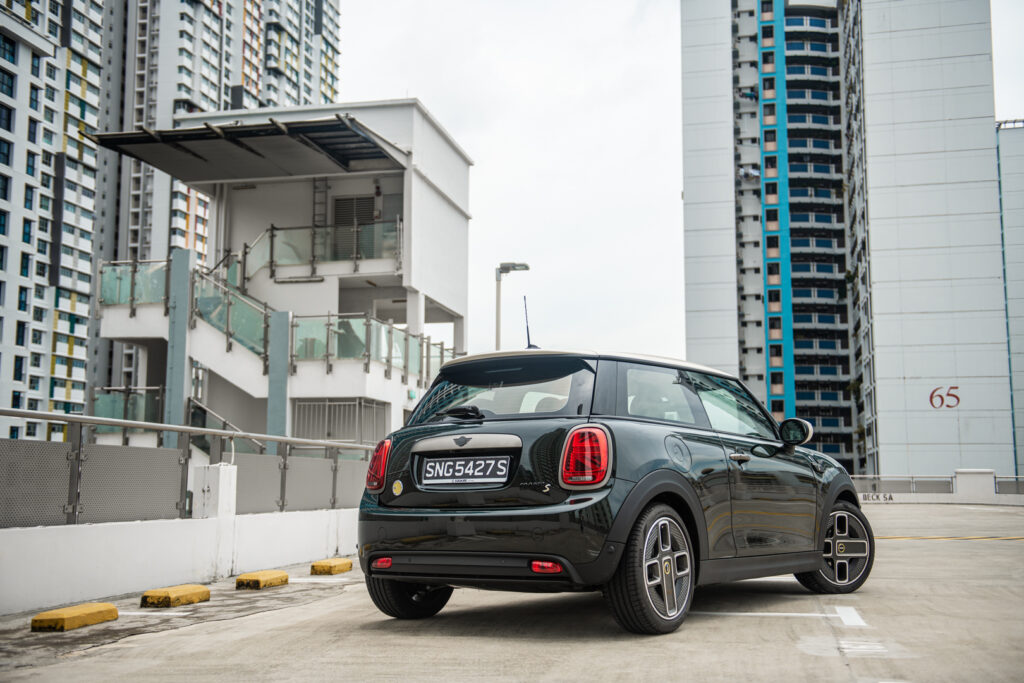 Like its regular counterpart, the MINI Electric shows that fun can come in large doses even though you're in a small car. With its petite battery, it's not a long-distance cruiser by any means, but getting around the city with this has never been easier. Look past its short range, and it's a really engaging city car that delivers on all fronts.
Quintessentially, it doesn't lose its MINI attitude, and that do-it-all happy-go-lucky spirit is something most modern crop of cars nowadays seem to lack. Like an excited toy poodle, its all rearing to go at the nearest available opportunity.
If you are looking for a fun EV, and ideally have a charger readily available, this should be right up your alley.
---
Catch up on the latest AutoApp news here!