The Mercedes-Benz E-Class has been thoroughly facelifted with a new design and suite of leading edge tech to reclaim its place as a benchmark.
You can be sure that when BMW launched the new 5 Series recently, Mercedes-Benz wouldn't be far behind with their updated E-Class. And sure enough, it's now just gone on sale in Singapore, after a virtual premiere on Facebook.
For the moment, only the E 200 is available, in the usual Elegance, Avantgarde, and AMG Line trims, with prices ranging from S$266,888 to S$285,888, inclusive of COE.
In the coming months however, expect minimally the E 300, E 300e plug-in hybrid and AMG E 63 to join the range, and potentially also the E 180 and E 450.
Meanwhile, although the looks of the new E-Class are a noticeable yet gentle evolution, there are plenty of differences under the skin, mostly aimed at making the car smarter and more connected. Here are some of the big changes:
1. Look sharp
This time, the Swabian carmaker has responded with a shapely new car with softer edges and re-proportioned head and tail lights. Altogether, these changes result in a more athletic stance, a bit like a friend who has been working out, lost some weight and is dressed in a new, slim-cut suit. Familiar, yet improved in the looks department.
Telling the new E-Class apart from its predecessor is easy, especially if you're following one on the road. The tail lamps now have a horizontal emphasis, visually aligning itself with the newest models in the Mercedes-Benz line-up.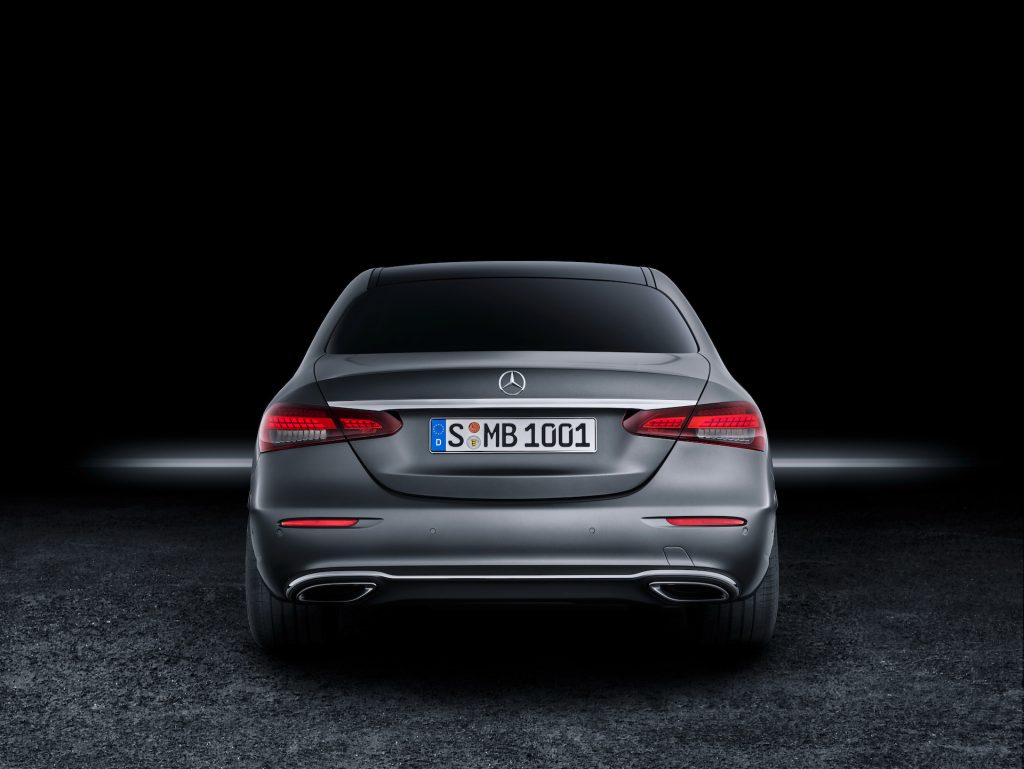 This executive sedan however, hasn't only been spending more time at the gym, but has gotten much smarter as well.
2. What3words navigation
When it comes to navigation for example, Mercedes-Benz has collaborated with what3words (w3w), a navigation platform that uses a combination of three words to map the world with an accuracy of within 1-metre (as opposed to, say, a generic postcode). If you're sent a w3w combination on where to pick someone up for example, simply input those words into the voice command and the navigation system will take you to literally their exact spot.
3. Energizing Coach
The new Mercedes-Benz E-Class can also assess the physical condition of its driver. The ENERGISING COACH [sic] feature is compatible with the Garmin vivoactive 3 smartwatch. As the watch tracks the user's sleep patterns, heart rate, exercise and other activities, the device syncs with the car's ENERGISING COACH system and can make recommendations and adjustments based on the driver's stress levels.
With this data, the algorithm curates a combination of music, massage seat options (where fitted) and even releases aromatherapy scents into the climate control stream to set the driver at ease or energising the driver if needed.
The new E-Class is also able to find you an optimal seating position just by entering your height into the infotainment system. On long drives, the ENERGIZING seat kinetics automatically makes minute seat adjustments to help avoid the occupants suffering from stiff backs and necks.
4. Closing in on autonomy
We may still be some years away from driverless cars but the new E-Class takes us closer than ever. For starters, Active Park Assist with PARKTRONIC offers fully-automated parking for both parallel and perpendicular parking spaces. Unlike most systems in other cars that require the driver to control the braking and select Drive or Reverse gears as needed, Active Park Assist with PARKTRONIC in the new E-class does it all by itself without the need for driver intervention.
A range of further intelligent drive functions can be optionally added to the Driving Assistance Package. These include Active Distance Assist DISTRONIC with route-based speed adjustment. In addition to sensing the distance of the vehicle in front, the system even interprets Live Traffic data and adjusts the car's speed when a tailback is detected.
Similarly, another feature, Active Steering Assist uses something called "swarm intelligence" to keep the car in its lane by taking its bearings from surrounding vehicles.
Also, Active Stop-and-Go Assist is capable of following traffic to a standstill and resuming automatically after stopping for up to 1 minute. This is as opposed to systems from other manufacturers that require the driver to accelerate manually or nudge the cruise control toggle switch to get going again.
5. E is for Efficiency
The new E-Class promises to be highly fuel efficient thanks to the ability to coast with the engine switched off under the right conditions. Initially, the new E-Class is launched in E 200 guise in AVANTGARDE, EXCLUSIVE and AMG Line trim levels.
Mercedes-Benz E-Class at a glance
Engine: In-line 4-cylinder turbocharged, 1,991cc
Power: 197hp @ 5,500-6,100rpm
Torque: 320Nm @ 1,650-4,000rpm
Transmission: 9-speed automatic, RWD
0-100km/h: 7.5 seconds (claimed)
Top speed: 240km/h (claimed)
VES Band: C1
Prices:
E 200 AVANTGARDE – $266,888 w/COE
E 200 EXCLUSIVE – $275,888 w/COE
E 200 AMG Line – $285,888 w/COE
---
For the latest cars launched in Singapore, check out our other stories here.