The Goodwood Festival of Speed is a conglomerate of fast cars, smoky tyres, and the burning passions of motorsport fans worldwide.
---
Since I was a wee kid, I've always dreamt of visiting the Goodwood Festival of Speed. The live stream broadcasts kept me up for hours at a time, and I wanted to feel those cars rocketing up the hill in real life. 
And this year, my dream came true.
A Symphony of Speed and Style
Now, here's the thing about Goodwood – it's like a magical alchemy of horsepower and history. Think of it as a massive playground for the world's most revered and rare automobiles. No restrictions, no rules.
Imagine strolling through a sprawling estate in Chichester, West Sussex, rubbing shoulders with countless legends on wheels spanning human history. That's the Festival of Speed for you. And this year, it was all about the dance between tradition and innovation.
For Porsche lovers, this one's for you. The iconic marque celebrated a massive milestone – the 75th anniversary of its very first sports car – the iconic Porsche 356. And trust me, they didn't just bring a cake to the party. No, they went all out with a jaw-dropping lawn sculpture that was nothing short of art. Six Porsches suspended in mid-air, each perched on the tips of beams like elegant ballerinas frozen in time. A gravity-defying ballet of horsepower.
And hey, I know the 911 is Porsche's poster child, but take a stroll to Porsche Avenue and you'll find a class that's all about 'Anything but the 911.' It's like Porsche saying, "Hey, we've got more in our garage than you think!"
Models from their history, each with its own tale to tell, stood proudly as a testament to Porsche's legacy of excellence.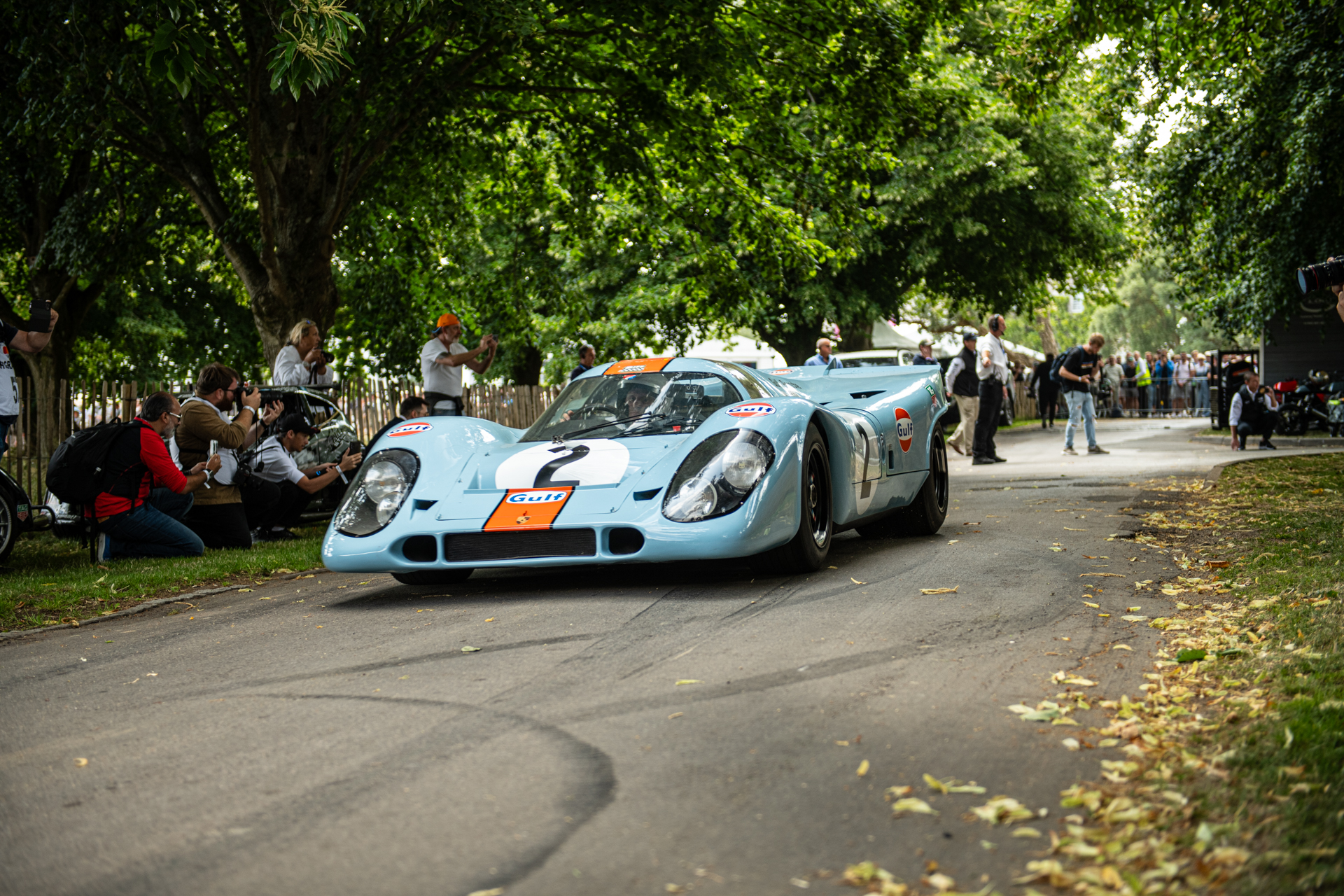 I don't usually pick favourites, but the 917 has always been an eye candy of mine.
From Roaring Engines to Sky-High Dreams
Now, hold on to your driving gloves because we had a taste of the wild side too. Ever seen a NASCAR twist and turn its way through endurance racing? Well, Garage 56 made it happen. Fresh from the legendary 24 Hours of Le Mans race, these converted speed demons hit the hill in a symphony of tyre smoke and flaming exhausts. The roar of those engines could awaken sleeping giants – it was pure automotive poetry in motion.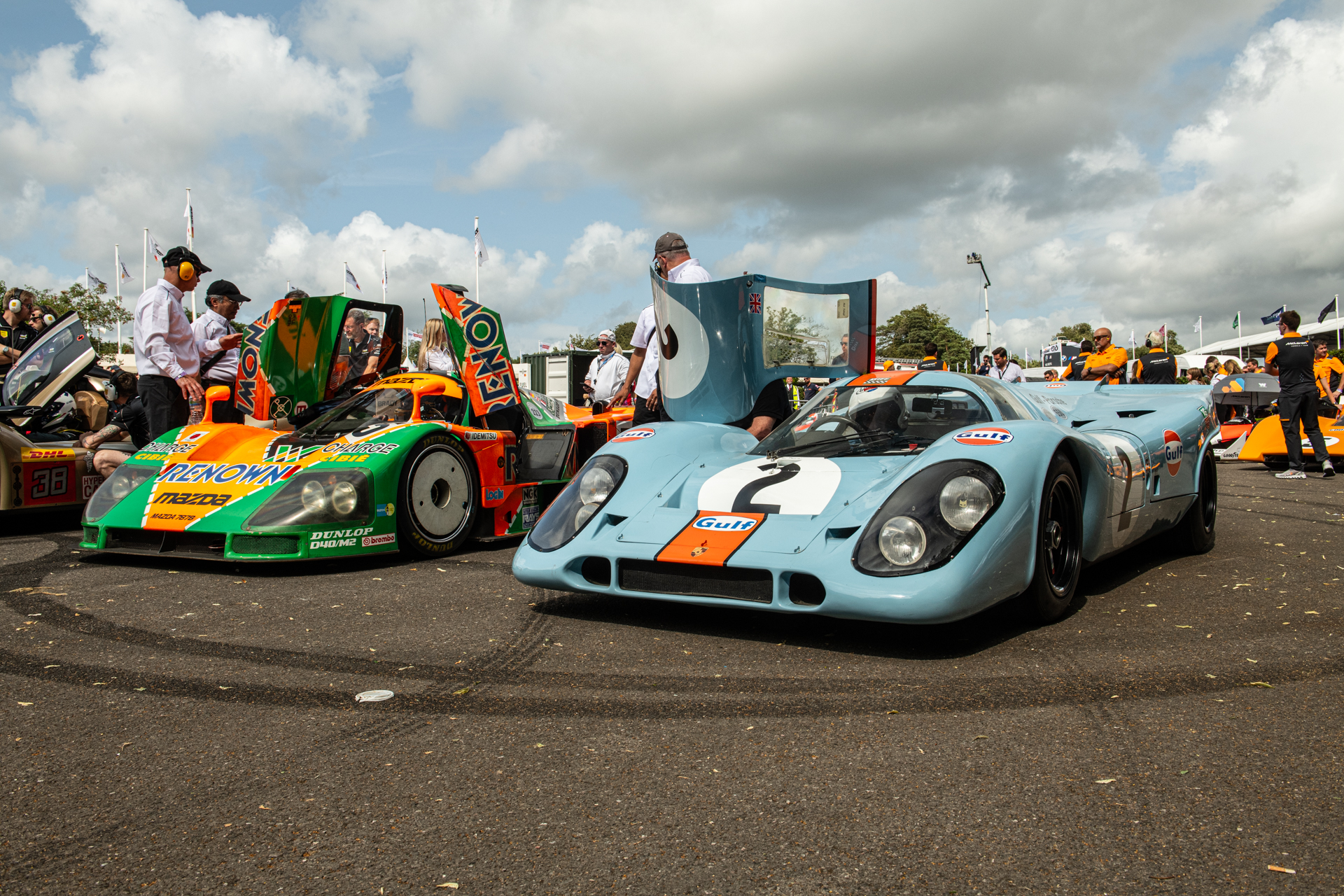 And then there was that symphony of sound that only a Mazda 787B can deliver. If the hair on your arms didn't stand on end at the sound of its four-rotor motor, you might want to check if you're a robot. I stood behind the 787B when it was leaving the holding area, and I'm pretty sure I've gone rather deaf. Worth it? Of course.
Let's not forget the wealth of specialised cars which were modified for different disciplines of racing. All-time legends such as Travis Pastrana and Mike Whiddett showcased their balls-to-the-wall machines, and put up an entertaining spectacle for the crowds as well!
Rain, Roar, and the Unstoppable Spirit of Speed
The weather? Let's just say it was moody, as is the norm in the United Kingdom. A bit of sun-kissed Thursday goodness, followed by a Friday that seemed to bring every drop of rain from the heavens.
But. rain is no match for the resilience of true enthusiasts. Drivers revved their engines and hurled themselves up the hill, tyres biting into the wet tarmac, leaving trails of liquid adrenaline behind. And then, the winds – oh, those winds.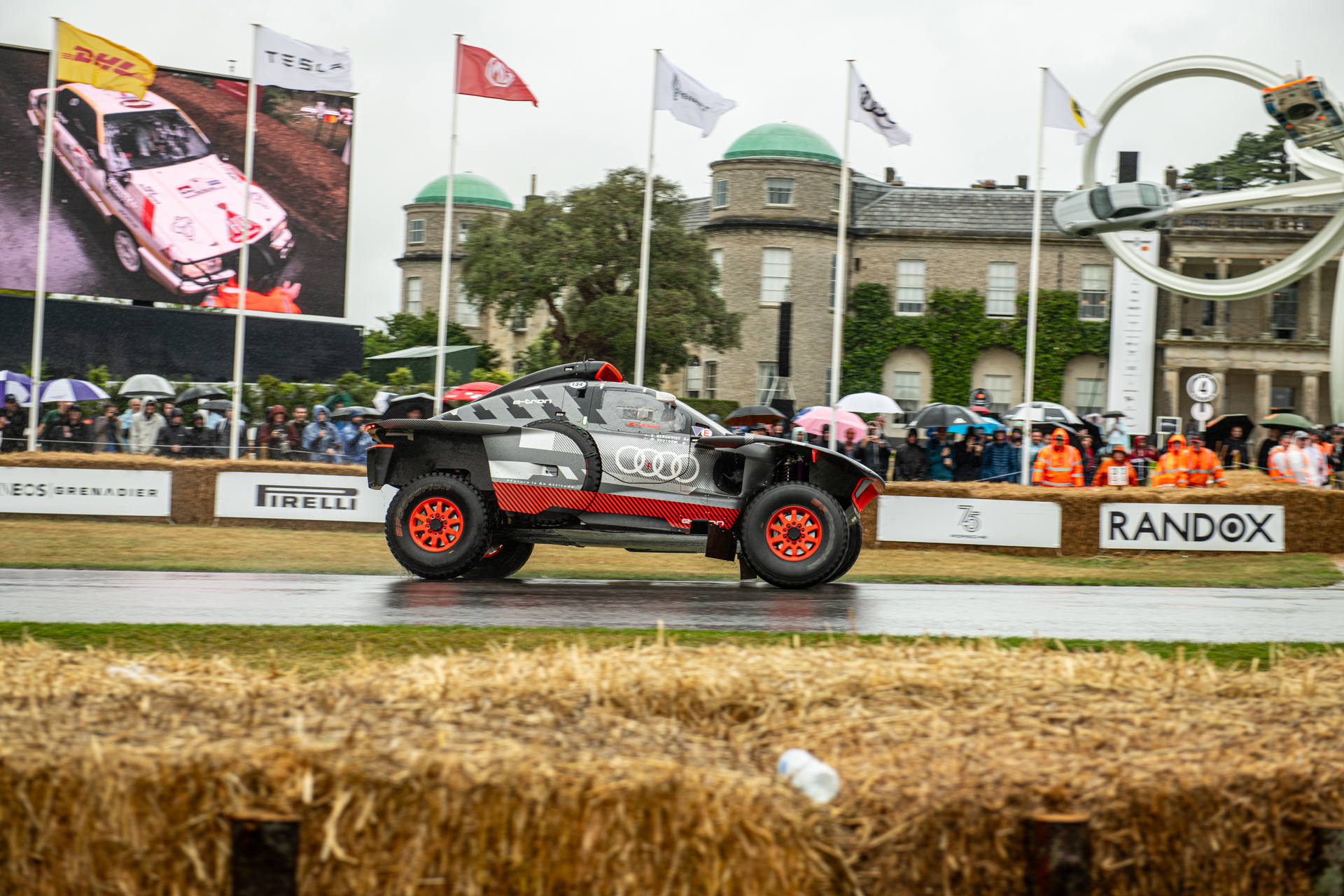 Mother Nature must've been feeling a bit mischievous because she decided to throw a real curveball at us. Those wild winds that could've blown your cap, and even caravans for that matter, straight into another county.
All these ingredients stirred up quite a storm, leading to something that hasn't happened in Goodwood's accredited history – the cancellation of Saturday's action. Yeah, you heard me right. Everyone was bummed out, but it was a necessary step in ensuring the safety of everyone at the festival. Also, I'm selling my limited unused Saturday media pass. Any takers?
But you know what they say – after every storm, there's a rainbow. Sunday rolled in, and with it, the festival came back to life. Adrenaline junkies and car aficionados revelled in the symphony of engines and the aroma of burning rubber. Sure, we missed out on some Sunday morning rally action, but a stroll through the Supercar Paddock more than made up for it.
Rain or shine, this festival had an aura of chaos and charm that was hard to resist. If you're wondering whether this year's turnout was bigger than a blockbuster movie premiere, you're absolutely right.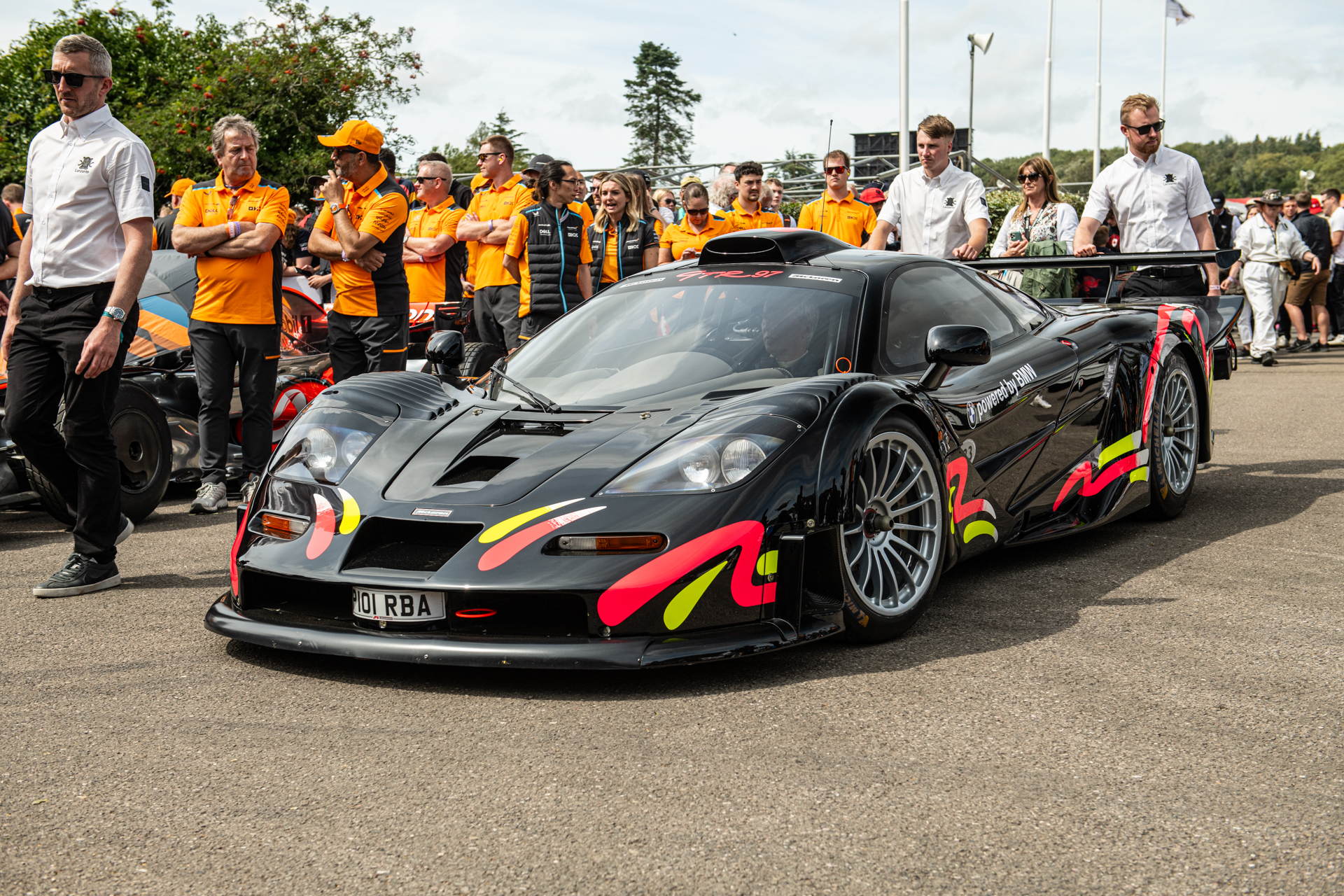 Whether it was more tickets sold or just folks flocking to specific hotspots, I can't say for sure. But let me tell you, getting a spot anywhere that wasn't media-specific was like squeezing into a Tokyo subway at rush hour. 
The Unforgettable Goodwood Experience
The Goodwood Festival of Speed is like stepping into a dream. It's akin to a candy store for car enthusiasts, a sensory overload that leaves you gasping for more. With every corner turned, you're met with a new automotive masterpiece, a piece of history or a glimpse of the future.
Now, if you're lucky enough to find yourself heading to this horsepower extravaganza in the future, here's my advice: plan your journey, but leave room for surprises.
Timetables, maps, and all those fancy guides are there to help, but sometimes, the best moments are the ones you stumble upon. So, gear up, embrace the chaos, and let the symphony of speed sweep you off your feet.
Because rain or shine, cancellation or full-throttle action, the Goodwood Festival of Speed is one of the best days out you can have.
Photo Credits: Sean Loo (@auto.driven)
---
Read more automotive news at AutoApp, or check out our latest videos on Ignition Labs TV!