The Opel Combo-e is a compelling choice for prospective business owners who wish to make the transition to greener cargo cruising.
---
If you want to do your bit for the environment while also keeping running costs low, an electric van seems like an obvious choice. This is where vans like the Opel Combo-e come into play. It is ready to serve alongside its siblings – the Citroën e-Berlingo, Peugeot e-Partner and Toyota Proace City Electric.
Why do I say siblings? Well, all four vans were engineered together as part of a deal between Toyota and the Stellantis Group, which owns Citroën, Peugeot and Opel. That means the Combo-e shares many of its oily components with the EV vans from those brands.
So what's it like zipping around town in this small EV van?
Form meets function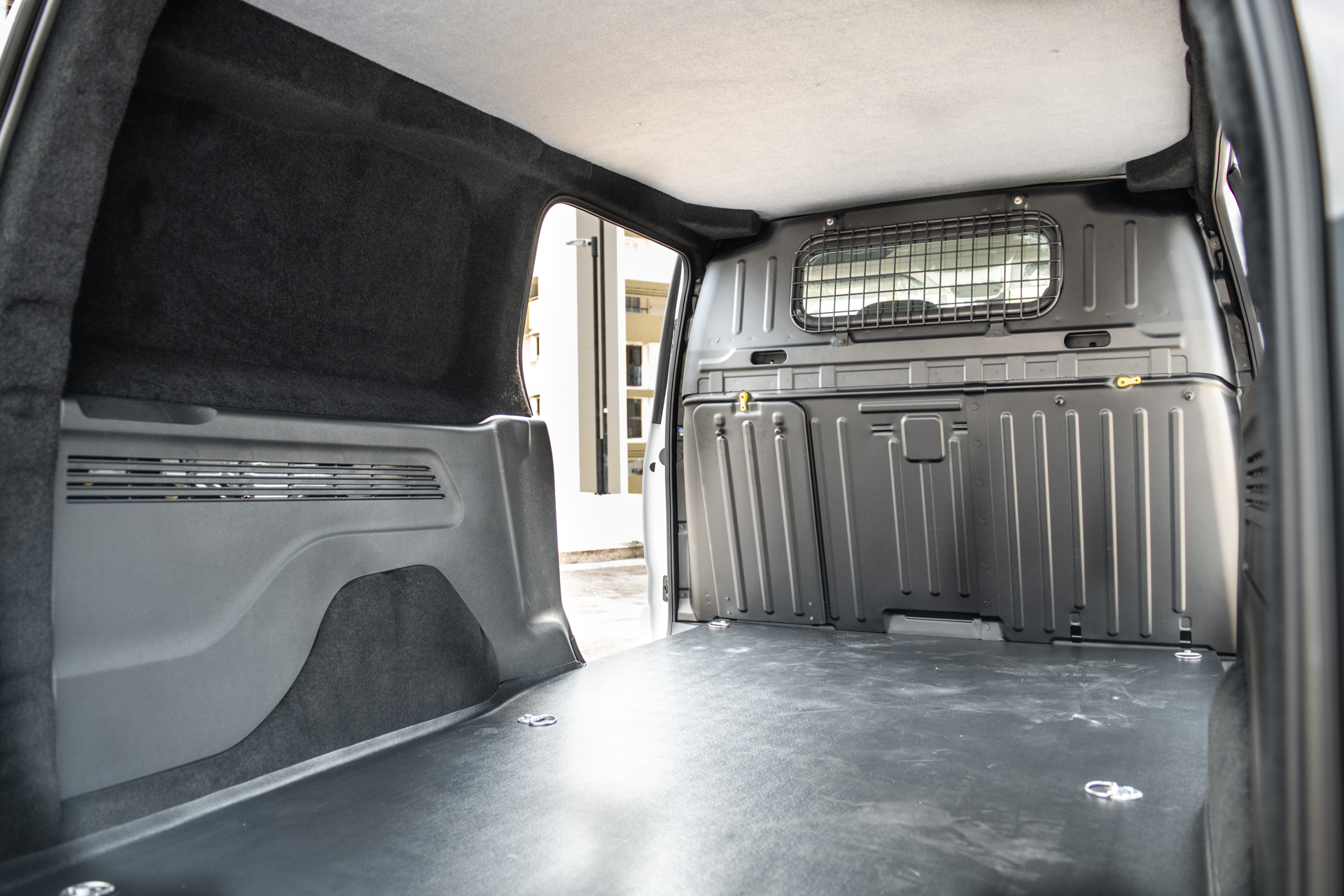 The Opel Combo-e may be classified as small on paper, but its 2,975mm wheelbase is still decently large for our roads. It has a maximum load length of 1817mm, the width across the body is 1229mm between the wheel arches, and internal height stands at 1243mm.
This translates to up to 4,400 litres of cargo space, and there's even a small ski hatch that can open up, enabling long and thin cargo to fit snugly.
Up front, the Combo-e doesn't disappoint. Storage abounds in the front, a thoughtful embrace for a small van. For most businesses, making an electric van practical will come down to as little downtime as possible, which is where charge times are crucial.
In that regard, the Combo-e's capacity to take a 100kW charge from a rapid charging station is crucial in making this a usable van in the real world. A suitable DC charging station will give up to 80% of battery capacity in just 30 minutes, compared with a 7.4kW AC wall box charger which will see the entire battery charged up in 7.5 hours.
There aren't many places in Singapore where DC chargers can reach 100kW, but charging infrastructure is slowly catching up to the vehicles.
The range is the same too, with official figures suggesting the Combo-e can take you up to 293km between charges. In practice, I managed to garner around 240km of range, which is respectable in our hot and humid climate, meaning the AC and battery cooling systems have to work overtime in order to keep everything nice and optimal.
Thoughtful design language
As we step inside the Opel Combo-e, it's as if comfort and technology converge in a symphony of thoughtful design. The interior mirrors its regular Opel Combo sibling, with an 8.0-inch touchscreen infotainment system as standard, complete with Apple CarPlay and Android Auto smartphone mirroring.
Adjusting to your ideal driving position is a breeze, thanks to the six-way adjustable driver's seat and a telescopic steering wheel that adjusts freely.
Ample creature comforts come as part of the package. The Combo-e pampers you with great air conditioning, Bluetooth DAB radio, cruise control with speed limiter, and keyless entry and start. It doesn't stop there – parking sensors, automatic headlights, and a multi-function steering wheel come together to create an enticing ensemble of features.
The cabin itself exudes a sense of durability and elegance, with high-quality materials and a play of colours that adds a touch of vibrancy and keeps things interesting.
Brisk on the streets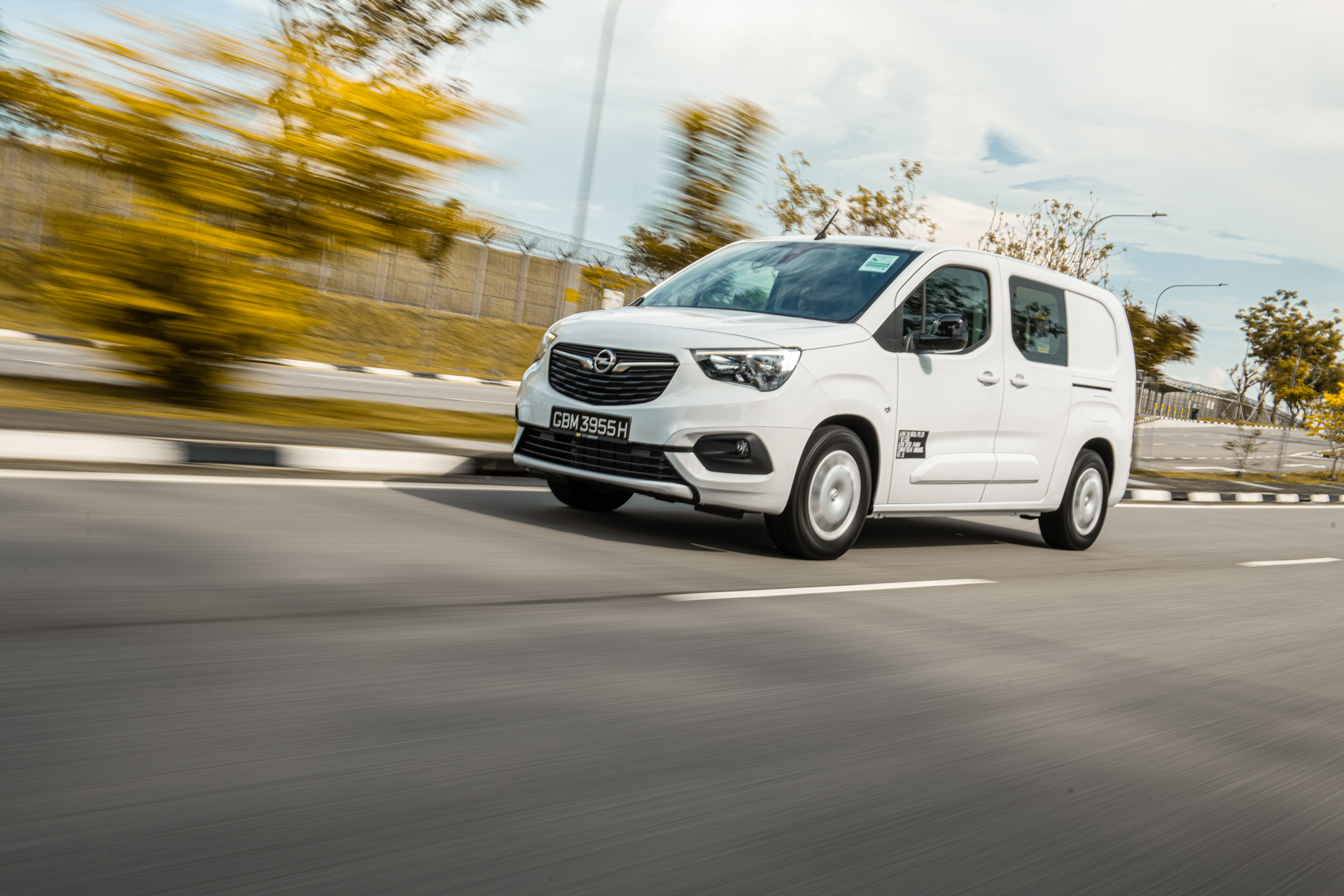 Silence isn't just golden; it's electric. While some electric vans struggle with wind noise due to their boxy bodies and oversized mirrors, the Combo-e reigns supreme in delivering a quiet, serene ride, thanks to sound-deadening materials and modestly sized door mirrors.
A hint of whirring from the electric motor adds to the symphony, a whisper compared to the diesel engines of its counterparts. Yet, beneath this tranquillity lies a fierce force of power. With 134bhp and a hearty 260Nm of torque available at the mere touch of the accelerator, the Combo-e proves its mettle when going off the line. With no cargo in tow, the van can rock the century sprint in 9.2 seconds. Although, you will hear that old familiar speed limit beeping noise trodding away while you do so.
But it's not just about speed; it's about control. Handling is a masterpiece of its own, thanks to the clever placement of the battery beneath the floor. This lowers the centre of gravity, resulting in a rather planted driving experience. The Combo-e dances with accurate steering, robust grip, and a harmonious balance that can even give some cars a run for their money.
Setting the stage
Let's take a moment to reflect on the Opel Combo-e's landscape of competition. In the world of electric vans, it stands rather on its own. Rivals for the Combo-e are few and far between, despite the small electric van segment being the most mature in terms of products available and market size. Aside from its siblings, the Renault Kangoo E-Tech is its only direct competitor, while slightly larger alternatives can be found in the Maxus E Deliver 3.
From practical dimensions to thoughtful design, the Combo-e is poised as a great entry figure to the world of commercial EVs.
Technical Specifications
Opel Combo-e Electric (With Sliding Door Window)
Engine: Two Current-excited Synchronous Motors
Power: 100kW (134bhp)
Torque: 260Nm
Gearbox: Single-Speed (A)
0-100km/h: 9.2 seconds (claimed)
Top Speed: 150km/h
Battery Capacity: 50 kWh
Drive Range: 293 km (claimed)
Energy Consumption: 5.52 km/kWh (claimed)
Price: S$50,000 without COE (accurate at the time of this article)
Contact: Opel Singapore 
Photo Credits: Sean Loo (@auto.driven)
---
Read more automotive news at AutoApp, or check out our latest videos on Ignition Labs TV!