The Ora Good Cat is interesting to look at and to explain to your friends, while coming with a sizeable bit of kit on board.
---
"What is it?" That's a question you'll find yourself being asked on a regular basis if you drive the Ora Good Cat, and once you've informed the person of the full name it's usually followed up by another. Although the second question is often along the lines of-
"Is it really called the Good Cat?"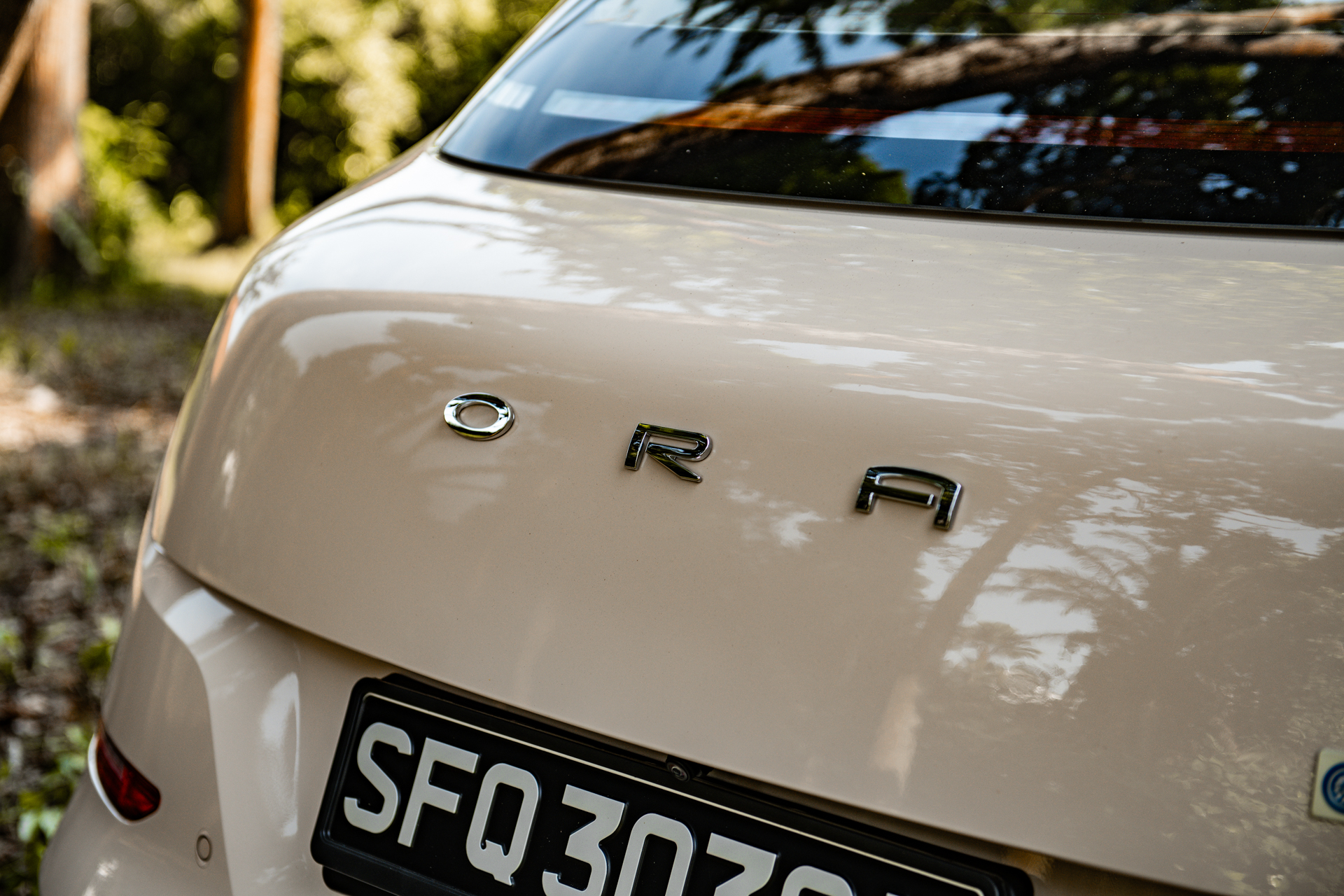 It really is. The brand in question is of course Ora (which stands for 'open, reliable and alternative', just so you know). It's new to Singapore, having just arrived on our shores to much fanfare. But, the brand has been building electric cars in China since 2018, under its parent company; the Great Wall Motor group.
Ora sits alongside brands like Haval, Wey, GWM and Tank, and it also signed a joint venture agreement with BMW to allow for the "development and production of electric vehicles in China". This could be a bit of good news, and it means that much of the Good Cat's underpinnings could make their way into future electric MINIs.
It looks cute, and has a funky name, but can the Good Cat handle well on our roads?
Purr-fectly Cute
This car is a bit like a mix-tape of automotive design – a pinch of MINI here, a dash of Nissan Micra there, and if you squint hard enough, you might even catch a whiff of Porsche 911. It's an intriguing blend, to say the least.
Let's start with the fun stuff because this car is meant to be whimsical. When you unlock it, a headlight and taillight extravaganza plays. And if that's not enough, there are some fish that swim across the screens when you open the door. It's cute, quirky, and a tad unconventional – in a good way.
Now, as you cast your eyes over the Good Cat's exterior, you'll notice mostly clean shapes with a few eccentric touches. There are these hexagons on the car's 'cheeks,' alloy wheels that throwback to the '90s, and rear lights that are rather discreet.
In fact, the main clusters are quite petite and mounted low, but they're backed up by a higher light bar for that extra illumination.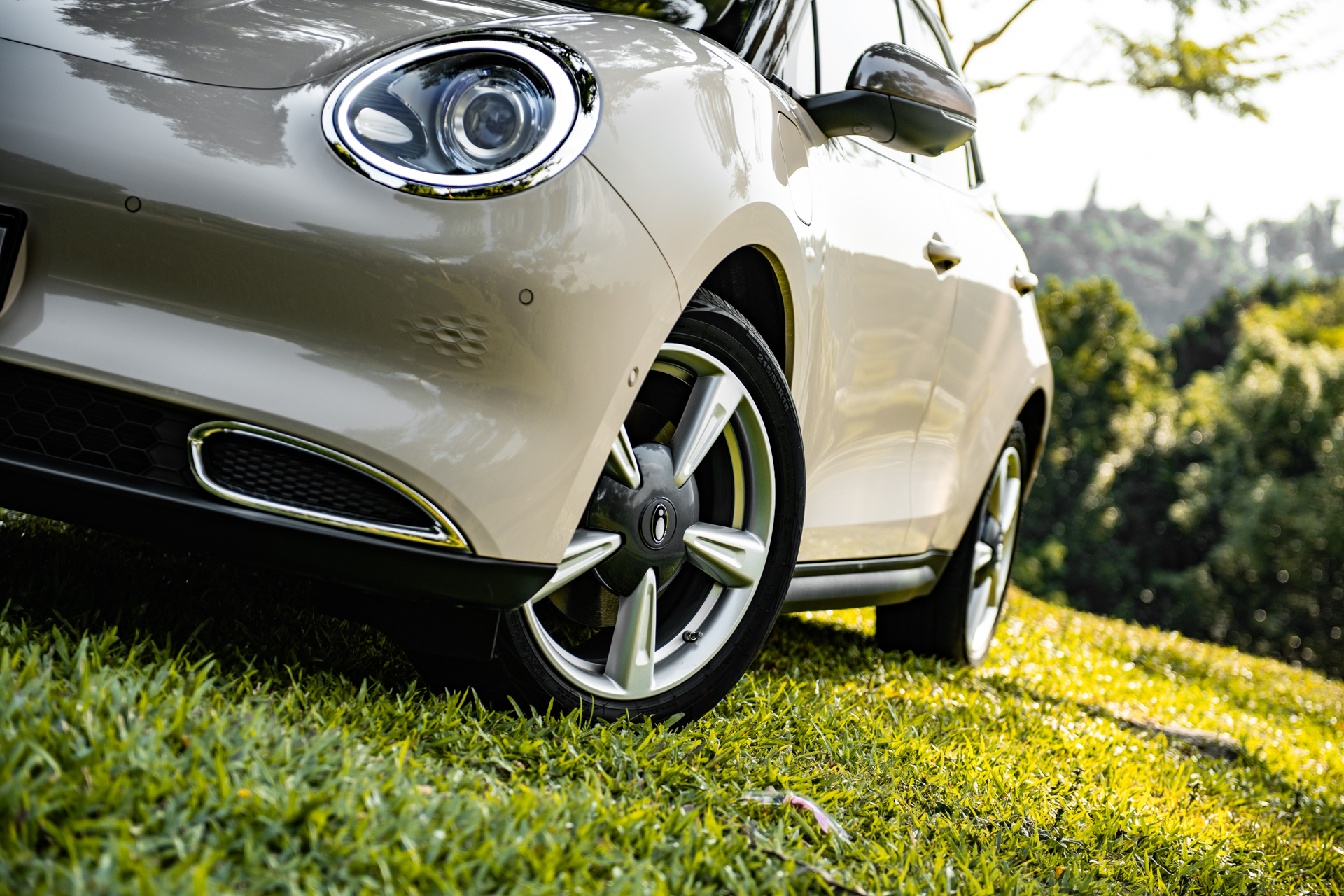 You might be fooled into thinking this car is Mini-sized with its classic rounded shapes, but it's surprisingly spacious. At 4235mm long, it's only a smidge shorter than a Volkswagen Golf and considerably longer than an Opel Corsa.
So, don't let those cute looks deceive you; it's got room to spare.
Feline Spacious
And inside is where it's all about making the most of the available space. The flat, clutter-free floor and ample glass give it an airy feel.
Ora chose to prioritise rear seat legroom over luggage space, so three adults can comfortably squeeze into the back.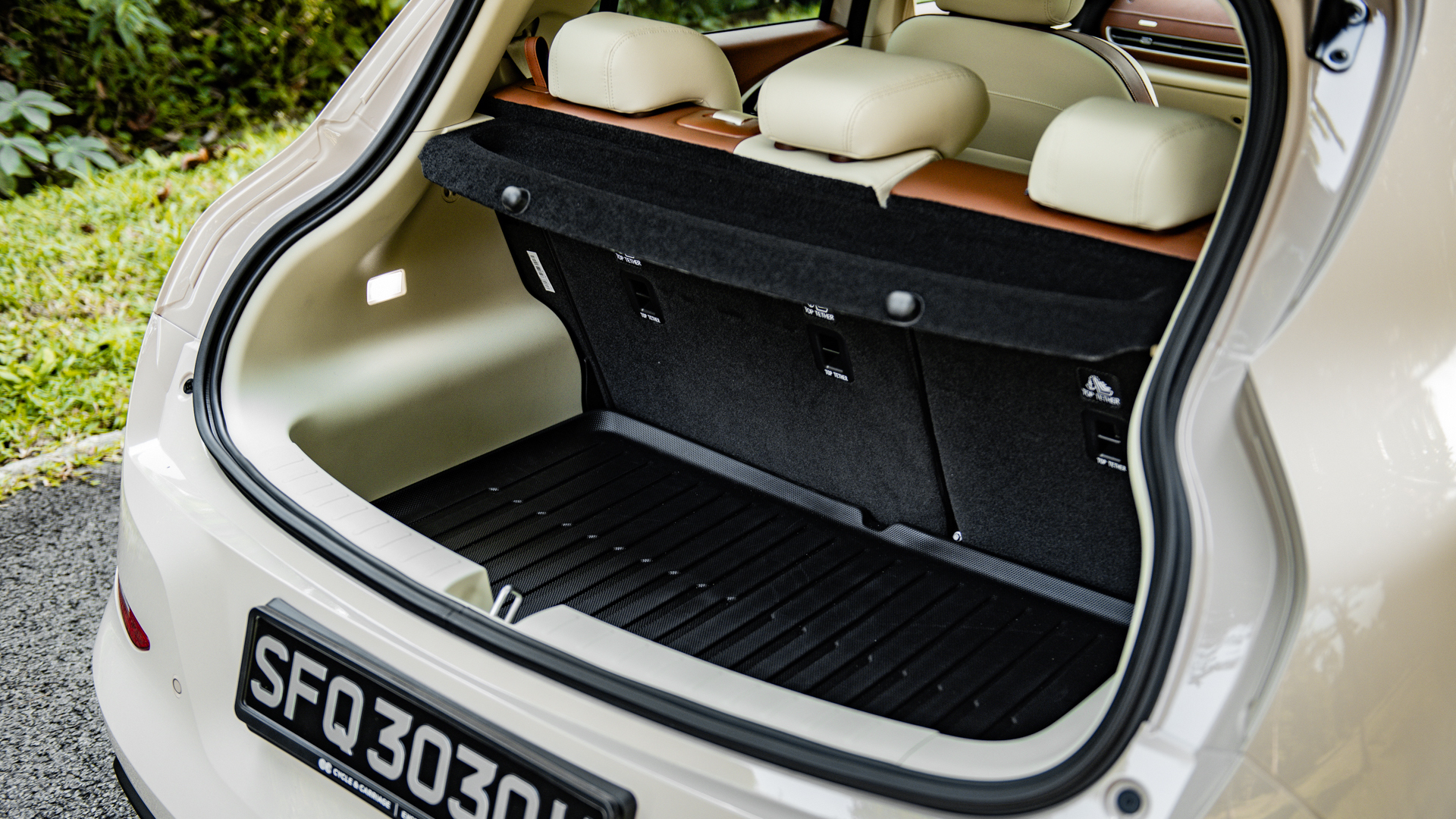 The boot is teeny-tiny at just 228 litres, but that didn't stop me from attempting to put a golf bag and clubs in. It doesn't fit that nicely, but at least you can head to the golf course without the tailgate hanging open.
Now, let's talk materials. The Good Cat doesn't disappoint in this department. The seats are decked out in faux leather, and there's even an option for a vibrant two-tone trim that adds a splash of retro flair. My personal favourite is the red velvet-flavored two-tone option.
Although, someone from MINI's legal team might raise an eyebrow at those climate control toggles.
When it comes to tech, the Good Cat is packing some good specs. Wireless phone charging? Check. Twin 10.25-inch screens for the dial display and infotainment? Double check.
The centrally-mounted touchscreen is responsive, but the menus can get a tad clunky and confusing. However, it does offer Apple CarPlay and Android Auto connectivity, though the wireless connections can glitch out when you're cycling between various menus. A quick vehicle restart usually solved the issue for me.
But here's the thing that's left me slightly frustrated – the indicators. Canceling them is not intuitive; a stalk that stays in position while indicating would be much nicer to use.
Otherwise though, it is a quirky interior that will definitely wow your passengers.
City Prowler
The Ora Good Cat is in its element within city limits. Thanks to the battery tucked under the floor, you sit up high, and those big windows provide excellent visibility. While it's not a speed demon with a 141bhp motor, the instant torque gives it a sprightly feel; you won't be trailing behind in city traffic.
The steering offers three settings for varying levels of weight, all of which are on the light side, making manoeuvring a breeze. There are also regenerative braking settings and a one-pedal mode, so you can drive some stretches without ever needing to touch the brake pedal.
But, let the cat out of the bag, or rather expressway, and this feline isn't too keen. Range and efficiency do take a sizeable hit, and the active safety systems can be a bit overbearing. They earn the Good Cat a five-star Euro NCAP score, but I found them a tad intrusive.
Lane assist can tug the car back into the previous lane when you're trying to indicate and exit down a slip road. And turning off these systems requires a deep dive into the touchscreen each time you start the car.
As for the noise, well, there's quite a bit of wind and road chatter at highway speeds, especially from those large and bulbous wing mirrors.
While the Good Cat might not be the sharpest tool in a corner, it's perfectly suited for leisurely city cruising. However, cornering at high speeds reveals a lack of body control, and there's not much feedback through the steering wheel.
When it comes to braking, I wasn't exactly smitten with the brake pedal's feel, but let's cut this cat some slack – it's a city car, not a race car.
Onto the all-important topic of range. With a 63kWh battery, I managed to squeeze out about 350km on a single charge – not too shabby considering GWM's claims are rated at 420km (WLTP).
My average was 14.4kWh/100km, and that included a mix of city traffic and enthusiastic pedal pressing.
Is It A Good Cat?
It's an intriguing proposition, the Ora Good Cat. Its cutesy retro aesthetic will no doubt be a hit with some fans, but it is slightly crippled by its glitchy technology and detached steering feel.
You won't get the same driver-focused sensation as you do in a MINI, but those who love the pumped-up MINI aesthetic and a more laid-back driving style will appreciate the Good Cat.
It's a decent, tech-filled first attempt from a young carmaker, and a refreshing change of pace from the exceedingly futuristic-styled and tech-driven EV bandwagon some of the other manufacturers have tried to hop on.
Technical Specifications
ORA Good Cat
Engine: Single Permanent Magnet Synchronous Electrical Motor
Power: 105kW (141bhp)
Torque: 210Nm
Gearbox: Single-Speed (A)
0-100km/h: 11 seconds (claimed)
Top Speed: 150 km/h
Battery Capacity: 63 kWh
Drive Range: 420 km (claimed)
Energy Consumption: 6 km/kWh (claimed)
Price: S$169,999 with COE (accurate at the time of this article)
Contact: Cycle & Carriage Singapore
Photo Credits: Sean Loo (@auto.driven)
---
Read more automotive news at AutoApp, or check out our latest videos on Ignition Labs TV!