The Peugeot 408 is a tempting fastback that drives more engagingly than most crossovers, whilst maintaining the status quo of a sedan.
---
So, what exactly is this?
It's a good question really – and no one is entirely sure. It's like the automotive equivalent of mixing all your favourite snacks into one bowl – a hatchback, a coupe, and a crossover SUV. Are we witnessing the apex of the crossover trend, or have we entered a bewildering maze of automotive evolution? Who's to say, but kudos to Peugeot for daring to be different.
Direct rivals are a bit sparse too due to its unique shape. I can only think of other coupe-inspired crossovers like the BMW X2, Citroen C4, or Renault Arkana. Other than that though, you are really a niche piece of moving architecture on the roads.
But, what good is this shape if it cannot perform, right? Thankfully, the 408 delivers on that front as well.
Quite The Looker, Isn't She?
I wholeheartedly agree. There's hardly a flat surface to be found anywhere on this car, and it's a breath of fresh air amidst a sea of predictability from other automakers. The Peugeot 408 carries itself with a dash of panache that's hard to ignore. Oh, and it's the first Peugeot to hold the honour of wearing its new badge.
Sure, there are some nifty details to appreciate, like the integrated spoiler at the rear and those flashy 3D lights. My only gripe is the chunky lower bumper doesn't quite match the overall sleekness.
It starts with 18-inch alloy wheels in the Allure trim, but let's be honest, those would look a tad lost in the large wheel arches. Our test car, sporting 20-inch wheels, strikes a better balance.
Upfront, that big grille looks fantastic, especially with those body-coloured inserts. And let's not forget the headlights and those fang-like running lights – quite the style statement.
The GT-trim 'cat ears' even claim to reduce drag. It's a looker from most angles, I'd say, and it definitely picks up curious comments from the odd passerby.
Impresses On The Inside Too
Get in position, and the new Peugeot 3D i-cockpit greets you front and centre. It's like having a second transparent screen a tad closer to your eyes than the main one, creating a visual depth that enhances the graphics.
They're reasonably clear and quite a spectacle to watch as you drive along, but most of your attention will be on the digital readouts. The circular graphics that surround them don't provide a precise sense of how quickly your speed is changing.
The main centre screen comes with the usual reconfigurable tiles. But Peugeot has another trick up its sleeve – a shallow, wide touch bar dubbed i-Toggles where you can add shortcuts to your most-used menus. Automakers, take notes; this is brilliant.
Mine had Apple CarPlay, Auto Start/Stop, and the massage seats toggle (yes, this car has massage functions) within arm's reach, and it was joyous being able to set them up quickly instead of diving into yet another smorgasbord of menus.
For the Allure trim, you get physical HVAC and audio controls instead of this screen. Arguably better ergonomically, but I have to give the customisability factor a big shout in the GT.
And the screen gives the cabin a little more upmarket value too. The 408 strikes a balance between style and substance. It doesn't feel cheap, but it doesn't scream premium either. It's a style-conscious compromise that doesn't leave you feeling short-changed.
They've used high-quality materials in the right places – seats, door pulls, and the top of the dash – creating a sophisticated cabin that cleverly conceals some of the cheaper plastic elements. The buttons, including those on the steering wheel, have a satisfying click to them.
While the 408 might be positioned below the 508, it certainly doesn't skimp on space. The front seats are well-bolstered and offer ample adjustment. Now, the rear bench is designed for two. The unfortunate fifth adult gets the short end of the stick, wedged between a raised hump and the descending roofline. The outer passengers might find themselves bumping their heads on the window apertures. However, legroom at the back is generous.
In terms of cargo space, the 408 offers 536 litres with the seats up and 1,611 litres with them down. The fastback rear tailgate aperture also makes cargo loading a breeze. Not bad Peugeot, not bad at all.
French Panache
Now, let's address the elephant in the room – Peugeot's unique steering and control concept. You're greeted by a flat-topped steering wheel and high-mounted instruments that you peer at over the wheel rather than through it. It's a divisive setup, with some loving it and others not so much. Opinion is split even among fellow journalists, and your mileage may vary.
Sit upright and adjust the steering column downward, like any 'sensible' driver would, and the dials are perfectly visible. But, if you're like me, who adopts a more relaxed driving position, it was a toss-up between driving comfortably or seeing how fast I was going.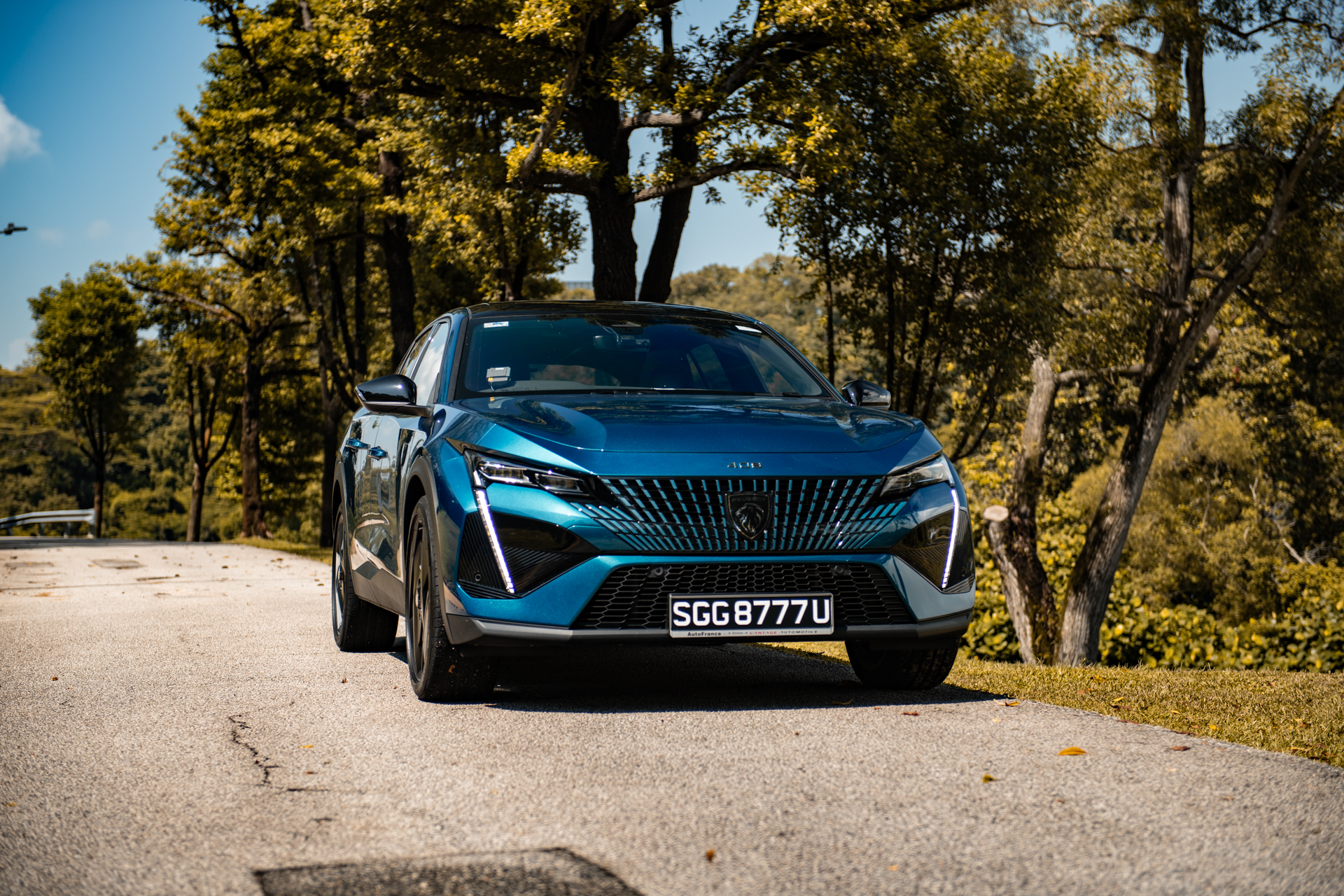 The small steering wheel, despite its vision-inhibiting nature, makes steering feel direct. Peugeot hasn't gone for a low-geared steering rack to compensate, so the small wheel ensures that minor rim movements result in rapid turning, giving the car a nimble feel when tackling corners.
You need to be precise with your movements and gently feed in the initial steering lock to manage the gradual build-up of roll angles. Once you're in the corner, it's grippy and eager, resisting understeer admirably.
As for the ride, it's not floaty like a Citroen, but the springing and damping allow the body to breathe, giving it a relaxed, long-legged feel. It maintains control even over big undulations and dips. The car feels light and offers a firmer ride, making it surprisingly fun to drive.
With the spirited 1.2-litre 3-cylinder engine up front (which, by the way, sounds fantastic under load), acceleration is perfectly respectable. The car feels lively off the line. However, at higher speeds, slamming the throttle to overtake isn't advisable; the car tends to drop gears rather clumsily, making you wait for the performance to reach the road. Ease into it, and you'll enjoy a refined ride.
Now, there are steering wheel paddles to override the 8-speed transmission's decisions, but they're not the best to use in practice. The override only lasts a couple of seconds before it reverts back to auto mode, so you can't effectively hold a gear through a series of bends.
In order to keep up with traffic, you'll tend to notice the RPM gauge read out between 3000 – 4500 RPM, due to the 1.2-litre engine having to lug all of that weight. Hence, fuel consumption can be a bit on the high side. Peugeot claims an average of 17.2km/litre, but I only managed to pull out a maximum of 13.5km/litre during my test.
One last thing worth mentioning is the less-than-ideal visibility. Thick A-pillars and wing mirrors obstruct a portion of your front view, and the rear window is narrow due to the stylish coupe-style roof. Thankfully, rear parking sensors and a camera come standard, so parking isn't a huge issue.
So what's the verdict?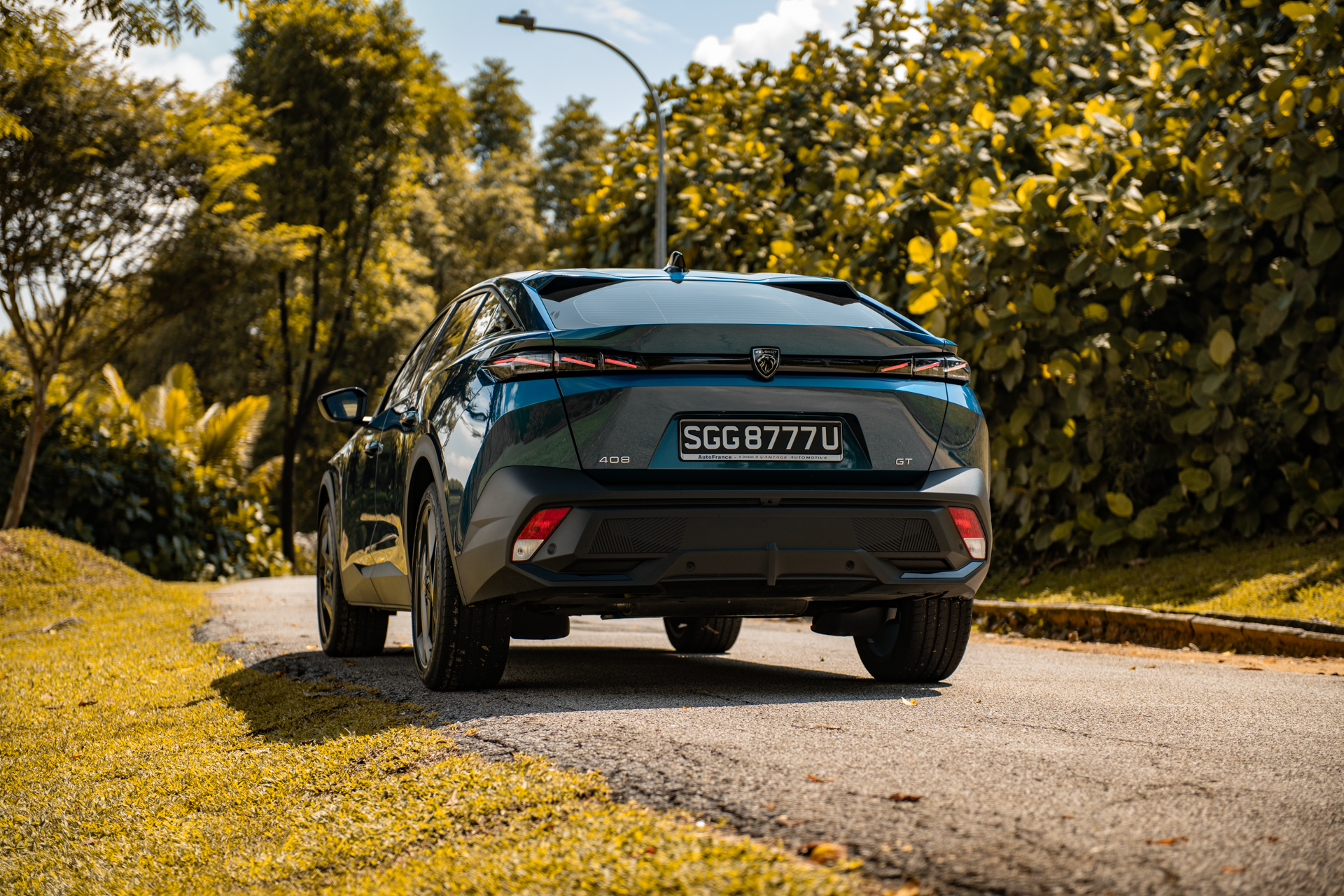 Peugeot took a bold swing with the 408, casting a wide net into the unknown. And you know what? It just works. It offers good cabin space, practicality, and a design that makes your neighbours look on in admiration (or jealousy). It's also more engaging to drive than most crossovers whilst offering equal levels of practicality.
In the end, it all boils down to looks and image. How badly do you want something that's not what you had before or what everyone else seems to be driving? If you're in the market for something like this, the Peugeot 408 certainly deserves a spot on your shortlist.
We have a soft spot for daring design, and this one, at the very least, earns its place.
Technical Specifications
Peugeot 408 Fastback GT
Engine: 1,199cc 3-cylinder, Turbocharged
Power: 129 hp
Torque: 230 Nm
Gearbox: 8-Speed Automatic
0-100km/h: 11.5 seconds (claimed)
Top Speed: 210 km/h
Fuel Economy: 17.2 km/L (claimed)
Price: S$199,888 with COE (accurate at the time of this article)
Contact: Peugeot Singapore
Photo Credits: Sean Loo (@auto.driven)
---
Read more automotive news at AutoApp, or check out our latest videos on Ignition Labs TV!