the e-2008 reminds us why French cars can be charming in their own inimitable way
---
First, an admission to kick things off. Most friends would characterize me as a hardcore Saab (rest in peace) fan and an Alfa Romeo apologist, but what most of them DON'T know is that I've always had a soft spot for French cars as well. Rather than this article becoming the length of a doctoral dissertation, check out this humorous, entertaining but sometimes factual video for some backstory on why French cars can be really charming. Which then brings us on to the Peugeot (affectionately referred to as Pug hereon out) e-2008 GT, and in its segment and price-wise in Singapore, its main competitors are the Opel Mokka-e and Hyundai Kona Electric.
With-out
There's no denying that this Pug stands out in the way it looks from up front.
Those daytime running lights (DRLs) are arranged to mimic a lion's claws in the headlights, and to me, fangs in the bumper section. This likely caused many cars in front to get out of the way when the e-2008 looms in their rear-view mirrors. Add to that the luscious Elixir Red paintwork that pops hard under sunlight, as well as street lights at night, and you have a truly memorable-looking compact Sports Utility Vehicle (SUV) from the word go.
The e-2008 is also memorable from the rear, thanks to its unique taillight arrangement that includes thin slivers within for the turn signals and reverse lights. The black bar bearing the company name, which comes together with the design elements below offers a sharp-looking rump that's also sufficiently curvaceous.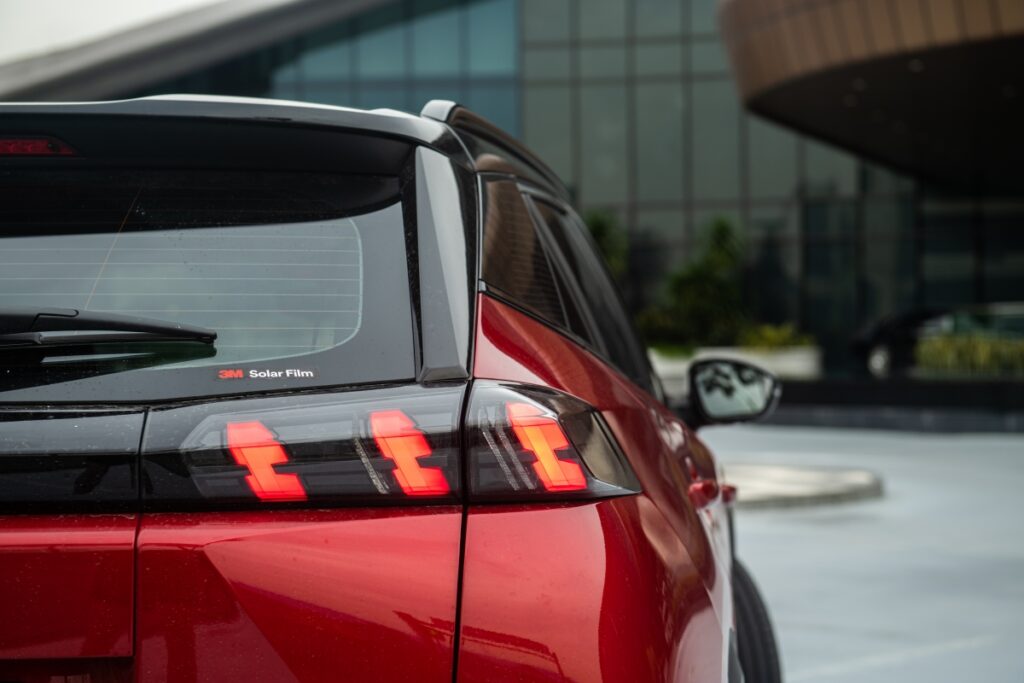 With-in
Let's address the baby elephant in the room first: the steering wheel sits UNDER the dash.
This posed two problems for 1.82-metre shorter-of-torso and longer-of-limbs yours-truly. With the column adjusted high enough, the upper rim of the steering wheel obscured the digital instrument cluster. With it adjusted to where the instrument cluster could be seen properly, I had to contort my legs to get in and out of the e-2008. While this cause-for-pause made me want to take a bludgeoning baguette to a French poodle, rest assured that neither comestible nor canine were harmed in the making of this review.
Why couldn't Peugeot have just raised the instrument cluster by a couple or three centimetres in height?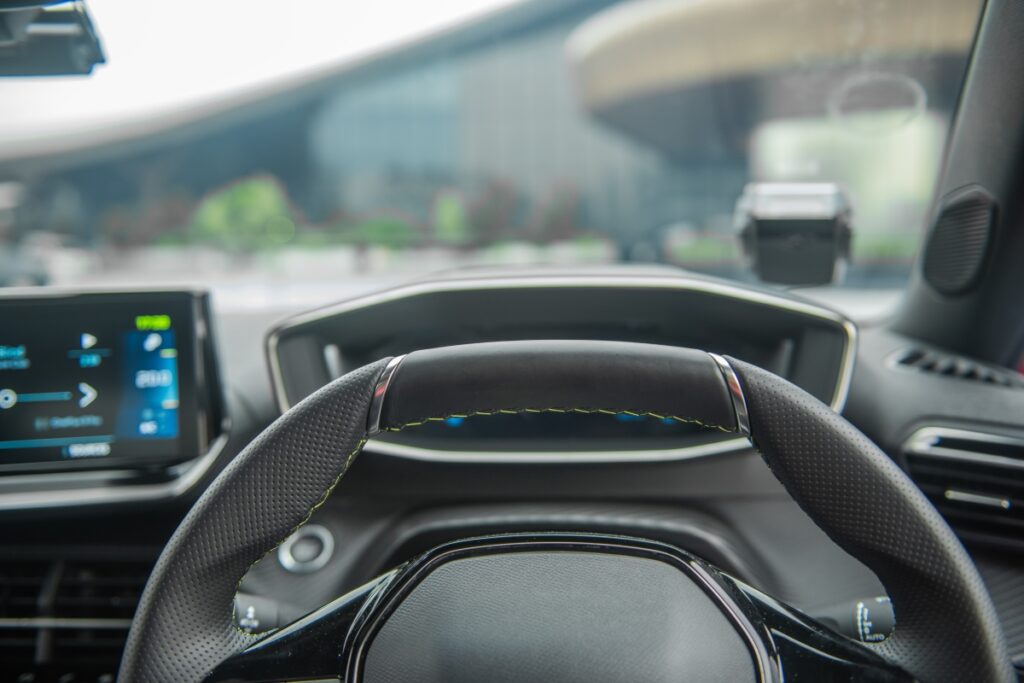 The seats themselves are comfortable and sufficiently supportive. Though manual, they can be easily adjusted fore and aft and for height, but the backrest pitch adjustment is courtesy of a rotary knob on the side, that's more difficult to access courtesy of the B-pillar and seatbelt that get in the way of one's hand. Once adjusted, though, it needn't be touched, so after scraping some skin off the knuckles, that little niggle can be overlooked.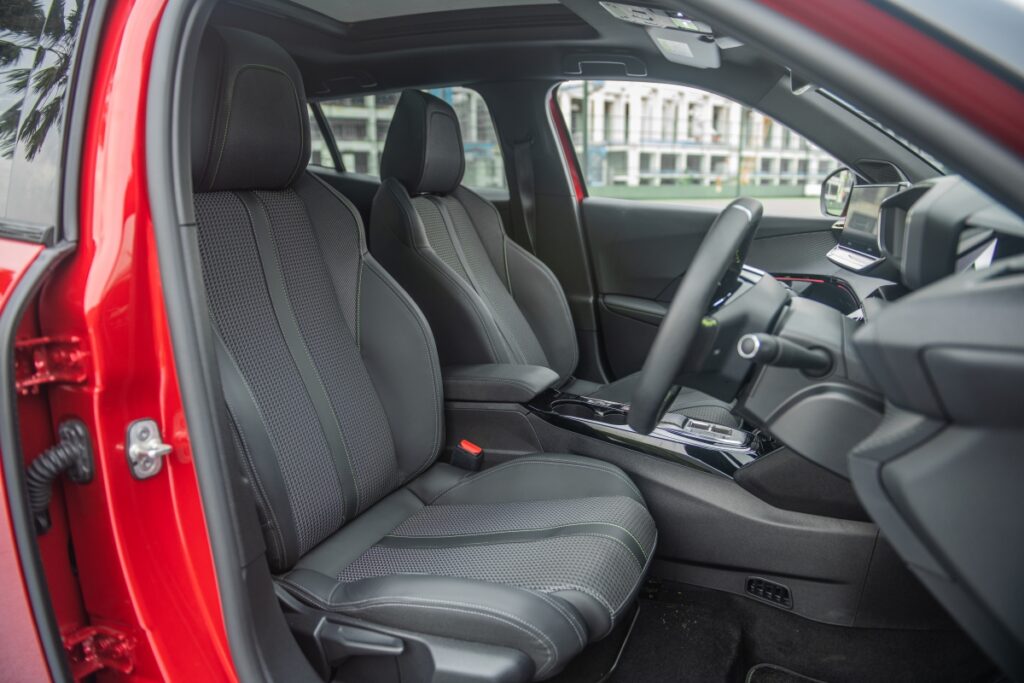 The rather-minimalist instrument cluster is pretty easy to read, although getting to the trip information (Personal 2 mode), as well as resetting Trip 1 and then Trip 2 (short-press button on the end of wiper-stalk to toggle through Trip 1 and Trip 2, then long-press the button to reset each trip) can be a bit tricky to figure out at first. The gauges also have a nifty 3D effect, which is visually uplifting.
Speaking of the wiper stalk, there is a bottle holder in the door pocket which held my 710ml water bottle well. Very convenient. However, the way it is placed AND the length of the stalk means that one WILL inadvertently activate the wipers when removing said bottle for a refreshing drink. After a few "AARGHH!" incidents, I finally figured how to finesse the bottle out without touching the wiper stalk, but even then, it was always a close call. There you go, an example of French quirkiness.
The infotainment is of a touchscreen variety, although to best use it, one would first utilise the touch-sensitive preset selections on the panel just below the unit. Apple CarPlay and Android Auto, both wired, are available for smartphone integration. Air-con controls are also via the touchscreen, although confusingly, recirculation function is via the toggle switch just fore of the touchscreen panel. More French quirkiness. It's not difficult, just that it takes some getting used to, which I was by the second day of the test drive.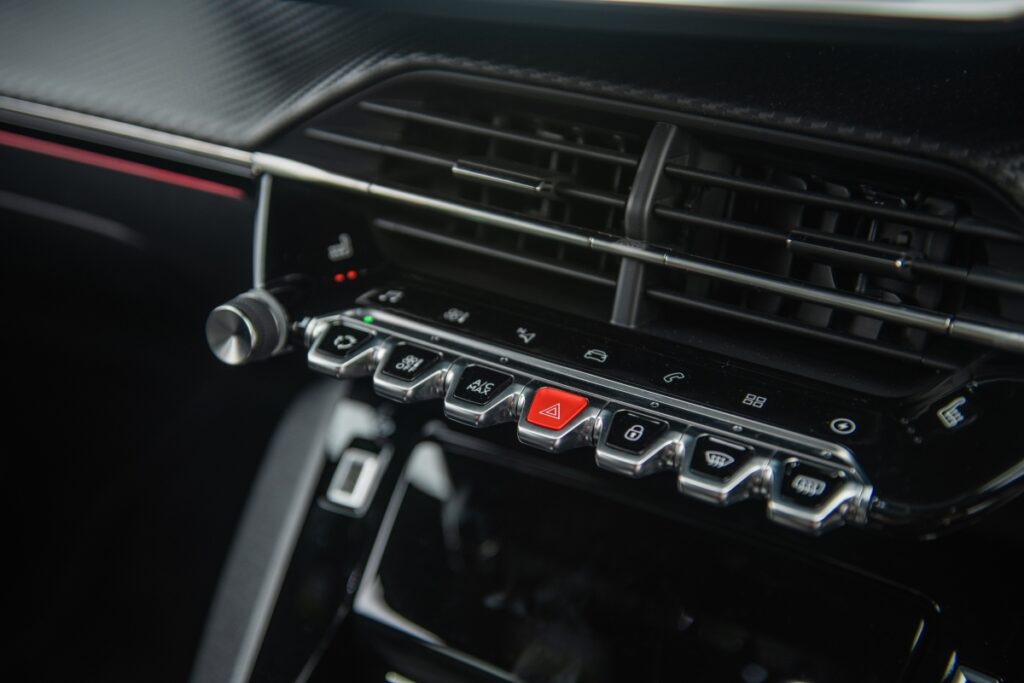 The 10-speaker Focal audio system is a pleasure to listen to. It has presets for soundstage, meaning one can transmit music to be heard by everyone in the compact-SUV, focused forward just for the front occupants or solely for the driver. It can also play loud and clear, but is a little lacking in terms of subwoofer-base. The audio tests were done using a thumb drive with a selection of 'DDD' CD-ripped FLAC files, and the same via Bluetooth streaming. No discernible difference in audio quality was noted between the two. However, the system could not detect an m3u playlist file.
Rear-seat legroom is sufficient for most purposes, but the seat squabs are a little stiffer than those up front. A large panoramic sunroof allows natural light to bathe the black-trimmed and upholstered cabin and lift the feelings of airiness and spaciousness a fair amount. With the driver's seat in my preferred position, I was able to sit in the back with snug legroom, although this would only be sustainable for shorter journeys. Two USB Type-A sockets in the centre console allow rear passengers to charge their smart devices on the move.
Boot space is a decent 434-litres. The rear-seat backrests can fold down in a 60:40 split, and with them down, luggage capacity grows to above 1,400-litres. The aperture of the boot is large and the boot floor is flat, making loading and unloading items a cinch. However, there don't appear to be any luggage nets or tie-down points to secure items from falling over or rolling around while on the move.
On The Road
The e-2008 shares the same platform as its petrol-powered 2008 sibling. This means that electrifying this SUV will naturally face limits as compared to a platform bespoke-developed for an electric vehicle (EV). Battery capacity is 50kWh, and powers an electric motor putting down 130hp and 260Nm of torque to the tarmac through its front wheels, which also means that this compact SUV falls under COE Category A, which is nice (relatively-speaking).
The e-2008 is capable of being charged at 100kW DC from 0-80% in 30 minutes. From my own experience, that number is indeed in the ballpark, although the actual rate of charging was seen to hover around 80kW at a 100kW DC charger with 40km of indicated range on the battery. Beyond 80%, the charge-rate falls off a cliff and crawls at a snail's pace up to 99% capacity, where an indicated 320km of range is seen on the instrument cluster. However, that number starts to drop sharply once on the move.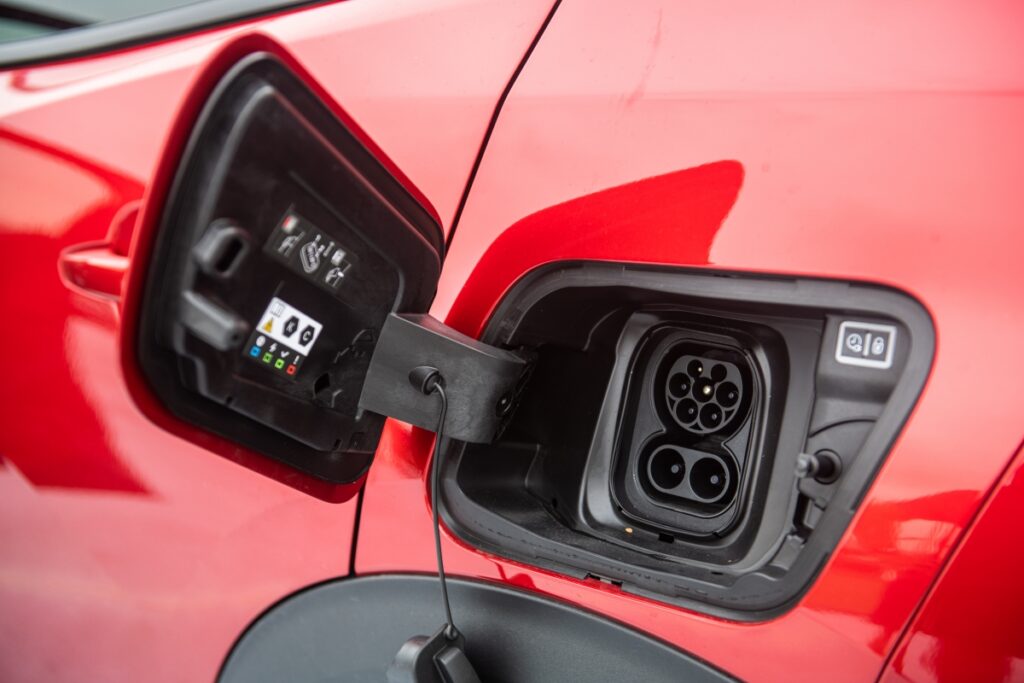 With just me aboard, the e-2008 managed 18kWh/100km or 5.55km/kWh on a pure street drive of 79km. With biker-buddy and fellow automotive-enthusiast Alex in the passenger seat during the mostly-highway 226km route, the consumption was 15.6kWh/100km or 6.41km/kWh, meaning the e-2008 appears to behave more like an internal combustion engine (ICE) vehicle rather than an EV, preferring highway cruising to stop-and-go city traffic. Moreover, these are actually relatively decent energy-consumption numbers for an EV.
The overall test-drive average was 17kWh/100km or 5.88km/kWh. Peugeot claims a WLTP-average consumption of 14.5kWh/100km or 6.90km/kWh, and I have no idea how they managed to achieve those numbers.
Given the 50kWh battery capacity, we're talking real-world range of between 270-320km, which made me wish that a slightly larger 64kW battery pack had been fitted instead. This would have taken real-world range closer to 350-400km, meaning longer intervals between charges. The aforementioned limitation is probably why that couldn't be done.
Oh, and why couldn't Peugeot have included a decimal place in the mileage readings?
If there's something the French are experts at (most of the time), it is excellent suspension tuning, due in no small part to cobbled streets and badly-paved roads found all over France. And so it is here with the e-2008, which is set up to ride down streets and highways softly and comfortably. Part of it is likely down to the high-profile Michelin Primacy 4 215/55R18 tyres, and this Pug absorbed and cushioned out bumps well, even on a currently badly-rutted unlit gravel track, with the LED headlights casting a powerful beam of light wide and far, and further widened by the standard-fit LED foglights.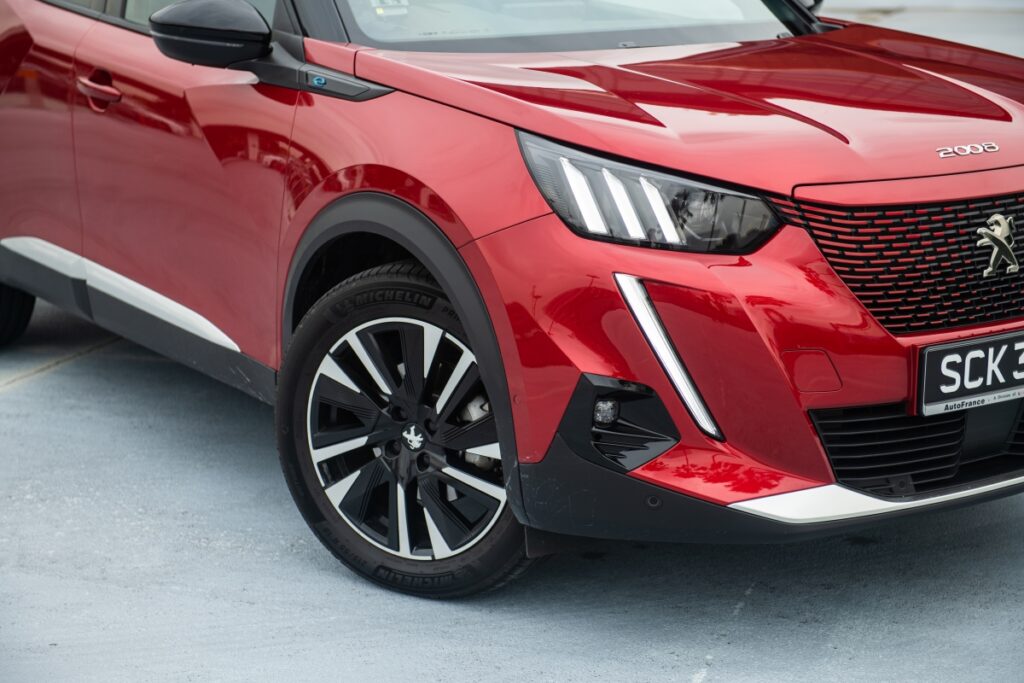 On the move, road and wind noises are well insulated… a little too well, to be frank.
The upshot is arriving at the end of a journey feeling fresh and not fatigued by external noises. The downside is not being able to feel the sensation of speed at all. One can be cruising at 80km/h one moment, only to look down at the speedometer the next and discover to their horror that they'd inadvertently strayed to naughty km/h without realising it. Keep a close eye on the speedo.
At the end of the weekend's test-drive…
…and despite its quirks and niggles, the more I drove the e-2008, the more I found this compact Pug subtly getting under my skin in a good way.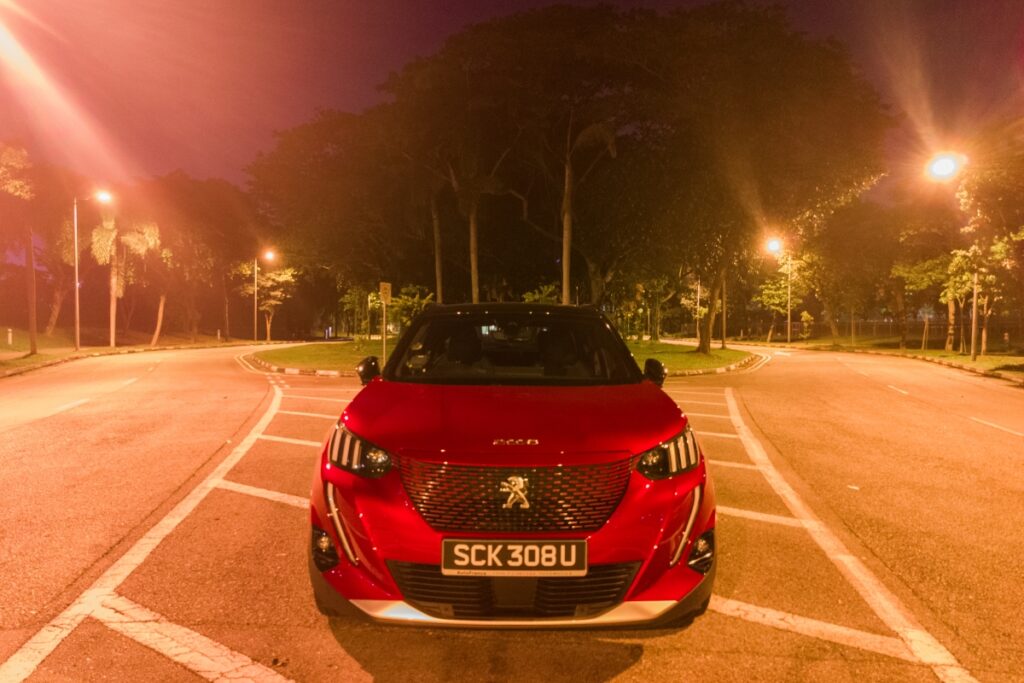 Though there are comfort-related features like auto-locking doors when one walks away with the keyfob in pocket, it's not festooned with distracting cutting-edge technology. There's just enough in here to get one through the day, and though certain functions can take some getting used to, they work in a straightforward-enough manner.
This Pug is set up for everyday comfort, and getting from A to B. Despite having 'GT' in its name, which is the only trim level available in Singapore, its performance is not going whet any enthusiast's appetite. The e-2008 is distinctly French, quite simple, down-to-earth, unique-looking and honest-to-goodness in the way it goes about the daily commute.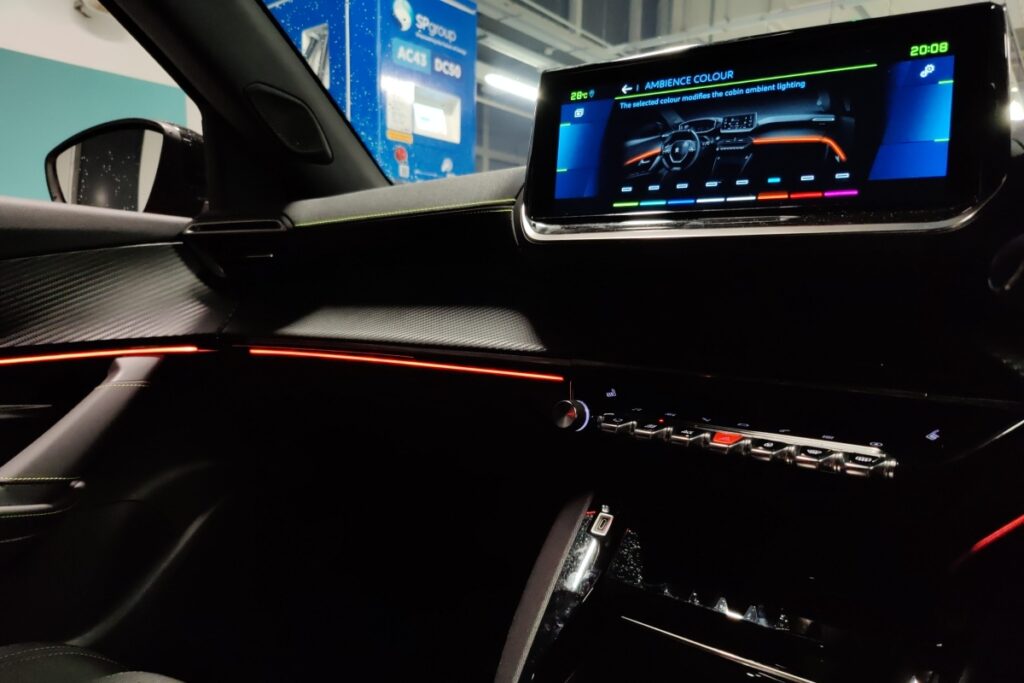 And… there's something else there that I can't quite put into words. Something that one will neither feel nor comprehend until one has driven this Pug for some time.
Putting Alfa Romeo aside, to date there has only been one car, the plucky little Audi Q2, that has caused teary-eyed frog-in-throat syndrome when returning the car after a weekend's drive. On that fateful Monday when the e-2008 was given back, I couldn't help but feel choked up once again, looking wistfully at the parked Pug while awaiting a Grab car to take me home.
That can only be the result of je ne sais quoi, which the Peugeot e-2008 GT certainly has. Au revoir mon ami, I miss you.
Technical Specifications
Peugeot e-2008 GT
Battery Capacity: 50kWh
Power: 130hp
Torque: 260Nm
Energy Consumption: 14.5kWh/100km (claimed)
Range: 345km (claimed)
0-100km/h: 10.1 seconds (claimed)
Top Speed: 150km/h (claimed)
Kerb Weight: 1,548kg (claimed)
Price: S$78,888 excluding COE (accurate at the time of this article)
Contact: Peugeot Singapore
---
Enjoyed this review? Check out more of them here!