Have you always dreamt of making a road trip to Malaysia, but just not in your EV? Thanks to Porsche's and Shell's crossborder charging network, you can soon drive your EV from Singapore to Malaysia.
---
SINGAPORE / KUALA LUMPUR. A common worry for EV owners is, how far can I drive my car before it runs out of juice? With insufficient charging points along the way, it's no surprise that EV owners might be reluctant to drive their EV on a road trip to Malaysia in the past. However, all that is set to change.
With Singapore abuzz following talks of travel bubbles, many are anticipating their first getaway in a long time. It's also no wonder that there are also whispers that road trips to Malaysia might soon be a reality again. And, for EV owners especially, Porsche Asia Pacific and Shell are making it happen.
Six new high performance charging networks
On 31 March 2021, the companies announced the implementation of an EV charging network that will span Singapore and Malaysia. Six Shell stations along Malaysia's North-South highway will house 12 charging points for EV drivers travelling between Singapore, Kuala Lumpur and Penang. The services will be first available at four stations from the later half of 2021.
As global efforts to right climate change continue to gain steam, Porsche and Shell pave the way into the future of electric mobility with their efforts. The first of its kind, this cross-border charging network will serve as "lighthouse project for other countries to follow", says Matthias Becker, Vice President Region Overseas and Emerging Markets of Porsche AG.
A comprehensive network
Each charging station will be equipped with 180 kW direct-current (DC) chargers and two CCS Type 2 charging connectors. Each station can charge a single EV at up to 180kW, or two vehicles simultaneously at up to 90kW each. Along with Porsche Centres in Malaysia and existing charging stations in Singapore, the network boasts a total of 13 high performance charging stations. The chargers will be available to EVs that utilise the CCS Type 2 charging connector, while Porsche customers enjoy special rates at Shell Recharge — Shell's existing charging network.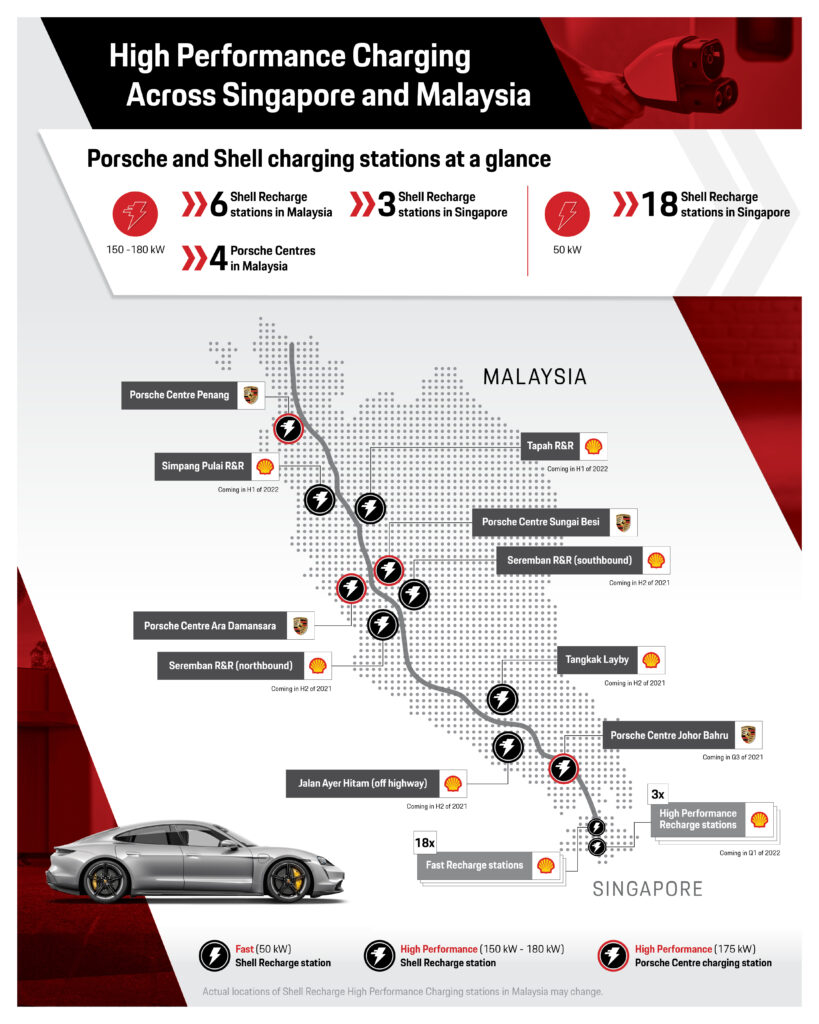 While actual travel to Malaysia remains only a vague possibility, EV owners no longer need to shy away from Malaysia road trip ideas. We don't want to jump the gun, but we definitely look forward to the borders reopening too! And, being able to travel sustainably is definitely a big dream for this writer.
---
Let us keep your EV charged up with our EV charging service. Book now via the app, so you can spend the time dreaming up your next EV road trip!