The order books for the fastest production electric car you can buy are now open – prices start from S$485k without COE
---
The poster children for the electric car world right now might be top-tier hypercars like the Rimac C_Two and Lotus Evija thanks to their incredible two thousand horsepower outputs, but they're not exactly something you could walk into a showroom tomorrow and buy.
The Porsche Taycan, on the other hand, is, because it's a full series-production car instead of a limited-edition collector's piece. It's also just been officially launched in Singapore (virtually on Facebook, naturally) by Porsche agent Stuttgart Auto.
Should you have the requisite number of zeroes in your bank account, the entire Taycan lineup is available to choose from, with varying levels of range and performance: Taycan 4S (S$485,988), Taycan Turbo (S$623,988), and Taycan Turbo S (S$767,988). All prices are non inclusive of COE.
In addition, the Taycan 4S can be optioned with the Performance Battery Plus (S$26,536), increasing its battery capacity to match that of the two Turbo models, and bumping up its range and power in the process. This is how the Taycan range stacks up:
| | | | | | | | |
| --- | --- | --- | --- | --- | --- | --- | --- |
| | Battery capacity | Max. power | Torque | 0-100k/h | 0-200km/h | Top Speed | Range |
| Taycan 4S | 71.0kWh | 530hp | 640Nm | 4.0sec | 13.3s | 250km/h | 365km |
| Taycan 4S (Perf. Battery Plus) | 83.7kWh | 571hp | 650Nm | 4.0sec | 12.9s | 250km/h | 414km |
| Taycan Turbo | 83.7kWh | 680hp | 850Nm | 3.2sec | 10.6s | 260km/h | 420km |
| Taycan Turbo S | 83.7kWh | 761hp | 1,050Nm | 2.8sec | 9.8s | 260km/h | 405km |
According to Porsche e-Performance manager Sam Bontoft, who spoke during the Facebook launch, the prices are inclusive of a 5-year comprehensive warranty and maintenance package that covers even wear and tear items, and the battery pack is covered by an 8-year warranty. Buyers also have the option of extending the vehicle warranty to 10 years.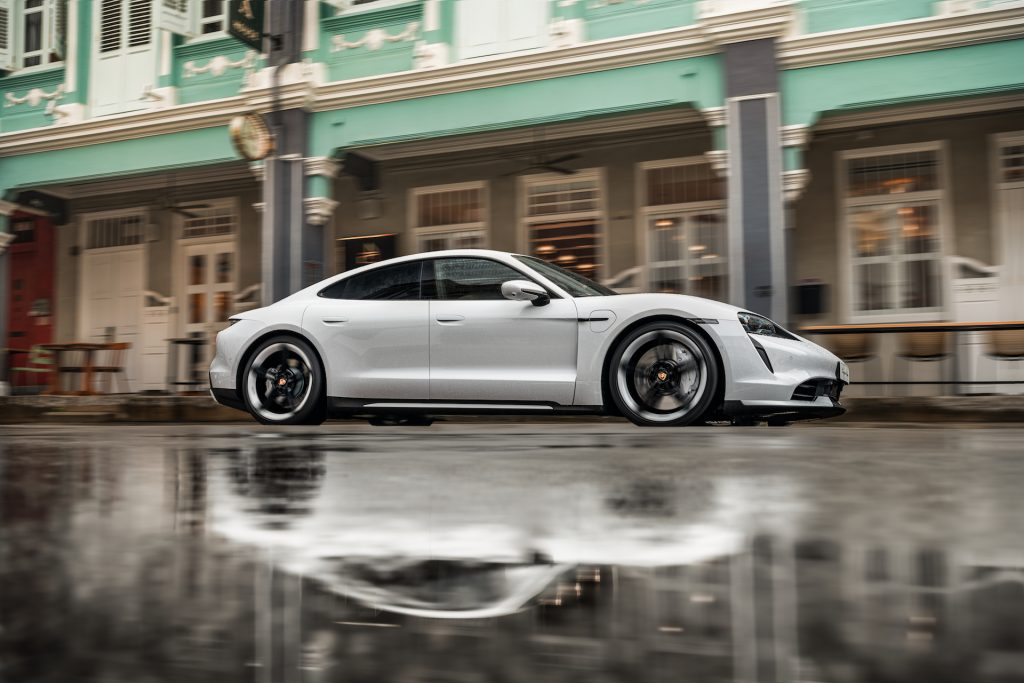 As a first attempt at making a zero emissions electric vehicle (EV), the Taycan is a pretty laudable effort. It's the fastest EV you can buy right now, both in a straight line, as well as around a race track:
Inside the Taycan there are up to four large screens, including a curved 16.8-inch display for the driver's instrument cluster, a portrait-oriented 8.4-inch screen in the centre console that doubles as a trackpad, and even an optional 10.9-inch in front of the passenger for them to fiddle with the infotainment without distracting the driver. In the back, cutouts in the battery pack mounted beneath the car give a little more footroom to rear passengers.
The Taycan stands out from other EVs in a couple of ways. The first is in its use of an 800V system voltage for the car instead of the 400V one more commonly employed, which helps cut down on the size and weight of the wiring and cabling throughout the car. It also makes for incredibly fast charging, as little as 23 minutes to get from 5 to 80 percent – if you can find a power outlet powerful enough (270kW to be exact, but that doesn't exist in Singapore yet).
Based on the 50kW chargers on the publicly available SP Group charging network, juicing up a Taycan to the same level would take 93 minutes. If even that is too long a time to wait, then AutoApp can help, with our on-demand EV charging service.
The other unique aspect of the Taycan lies in its drivetrain. Where other EVs have transmissions with just a single fixed gear, the Taycan has a 2-speed automatic gearbox mated to the rear axle. This allows for far more efficient cruising at high speeds, and contributes to the Turbo models' high (for an EV) top speed of 260km/h.
There are still many unanswered questions and no small amount of skepticism regarding EV ownership, but with the Taycan at least, performance isn't one of them.