Want to feel like a king on the roads? Take a seat.
---
Land Rover is known for two kinds of cars. The first which you can depend on when scaling even the most treacherous terrain, wading through knee-deep water, or traversing the Sahara by land.
The other kind, denoted as Range Rovers are, well, commonly bought by football players and have heaps of luxury that flaunt to other road users that you made it in life. That's not to say all Range Rovers are bad. They just do not have the same tough-as-nails, unshaved demeanour that traditional Land Rovers are famed for. Is that really a problem?
Well, I took the new Range Rover First Edition out for a spin to find out.
Party in the back
With such a pricey sales tag (almost a million!), one would expect the Range Rover to deliver luxury. And it does, in spades. You can opt for a classic 7-seater arrangement, or go ultra-premium with this 4-seater variant. There are technically 5 seats, but the middle seat is effectively sanctioned off as a centre console for rear passengers.
You really feel like travelling in first class in the back, with each seat bestowed with a wide variety of features. Seat heating, massage functions, full captain chair adjustments, the lot. Not surprisingly, rear legroom allowance is copious, and even full-sized adults have tons of wiggle room.
To get your daily dose of Vitamin D, a large sunroof floods ample amounts of sunlight into the cabin. Although, you cannot open it fully, which is a shame.
There's just so much to do in the back, and it can be overwhelming for first-time passengers. Push a button, something pops open, or something mechanical whirrs to life.
Each rear passenger gets their own display screen too, which can be hooked up via HDMI. Ever had that urge to play Gran Turismo on your Playstation while on the go? Well, now you can.
But, how would one power the aforementioned Playstation console? The Range Rover has you covered on that, as it even comes with a centrally located 3-pin plug for charging. Even if you only needed type-C, the rear type-C ports are rated for 60W. These are the highest-rated USB-C ports I have ever encountered in any car.
All 4 seats also receive full massage capabilities. 6 massage functions are available, and you can pair it with either heating or cooling options. I found the hot stones function to be amazing on a cold rainy night.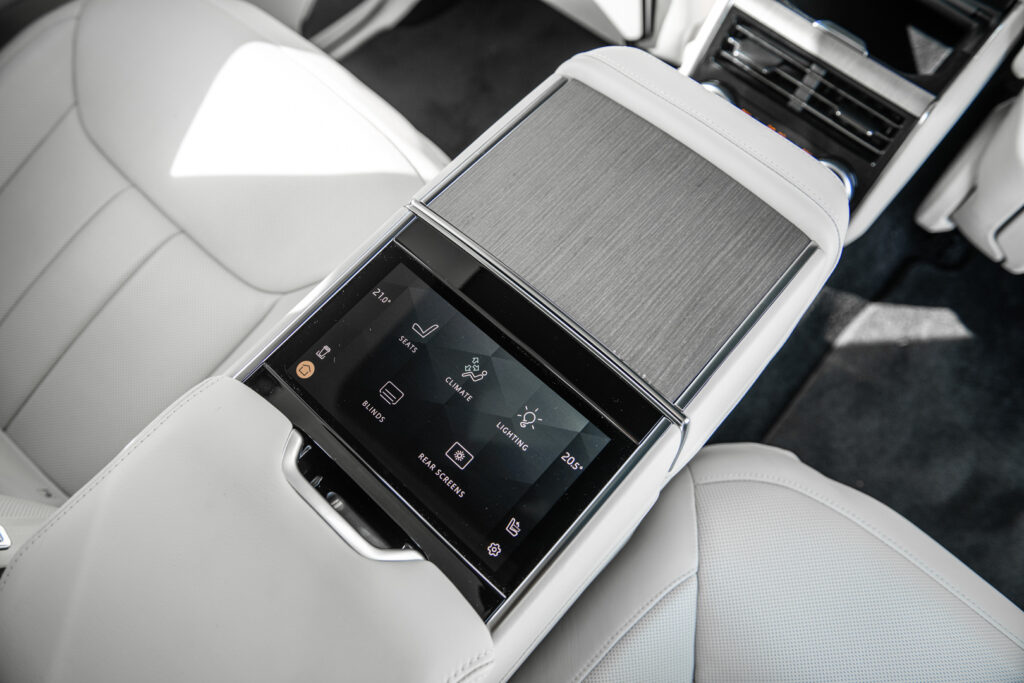 With the 4-seater variant, boot space is slightly compromised thanks to the reclining rear seats. However, you still get tons of cargo space to cater to your needs. The boot floor comes with dividers too that help partition cargo, so nothing gets sloshed around while you drive.
Business in the front
The front centre console features a refrigerated component that chills your drinks as you drive. Especially useful in Singapore, so you can crack a cold one (PSA: Do not drink and drive) whenever you are thirsty.
A giant touchscreen sits front and centre, integrated with wireless Apple CarPlay and Android Auto, and it works a treat. The touchscreen and UI work with minimal lag, although under bright sunlight, the screen can be pretty dim, and it can be hard to read the information on-screen.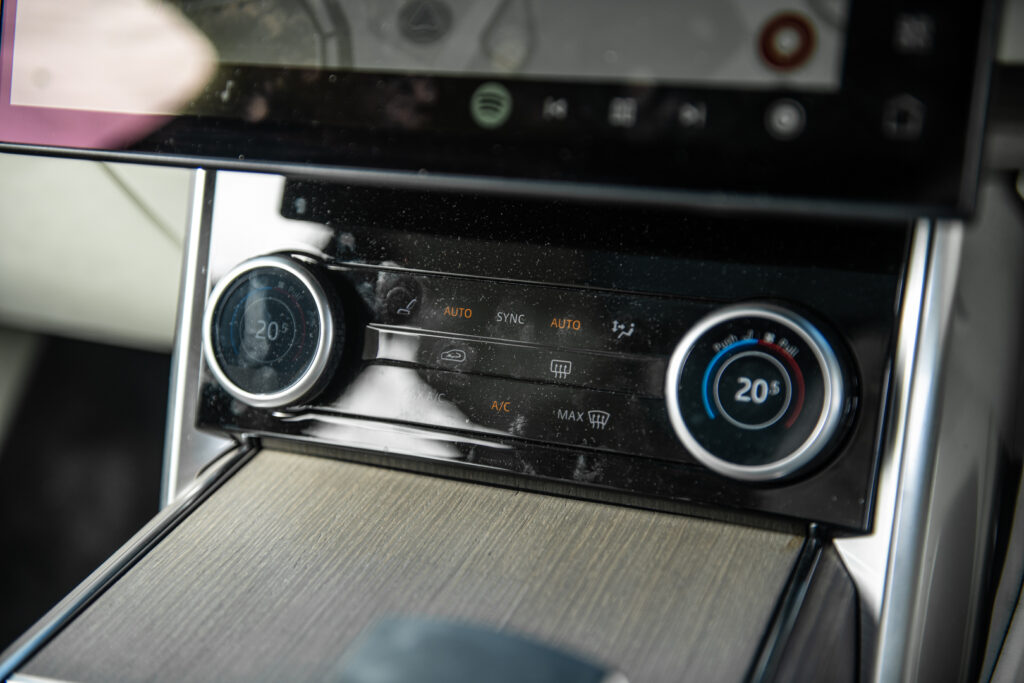 HVAC controls are baked into two dials which work great, but the haptic buttons to set other items like recirculation are cumbersome to use, as they are not touch-sensitive.
There is no electronic parking brake button in the vehicle. Push it into P, and the car applies the handbrake itself. The terrain mode selector is by far the nicest feeling dial in the cabin, and you can switch terrain modes with ease.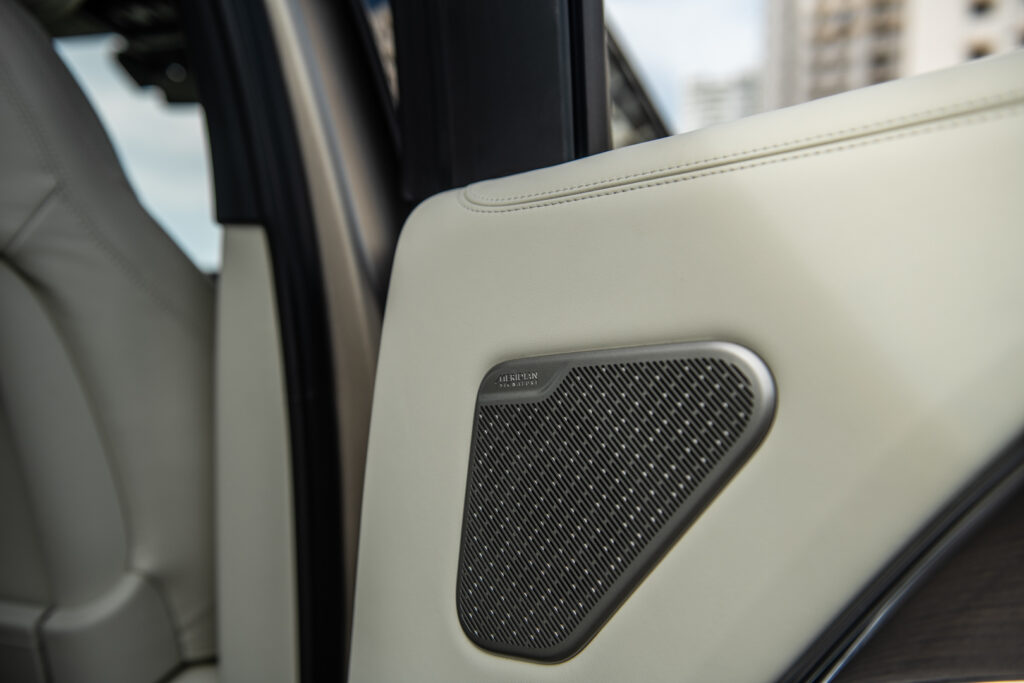 The doors are really heavy, thanks to heaps of insulation, but the soft-closing mechanisms help a ton, meaning you don't have to use uncouth amounts of strength just to shut the doors properly.
Regal Stature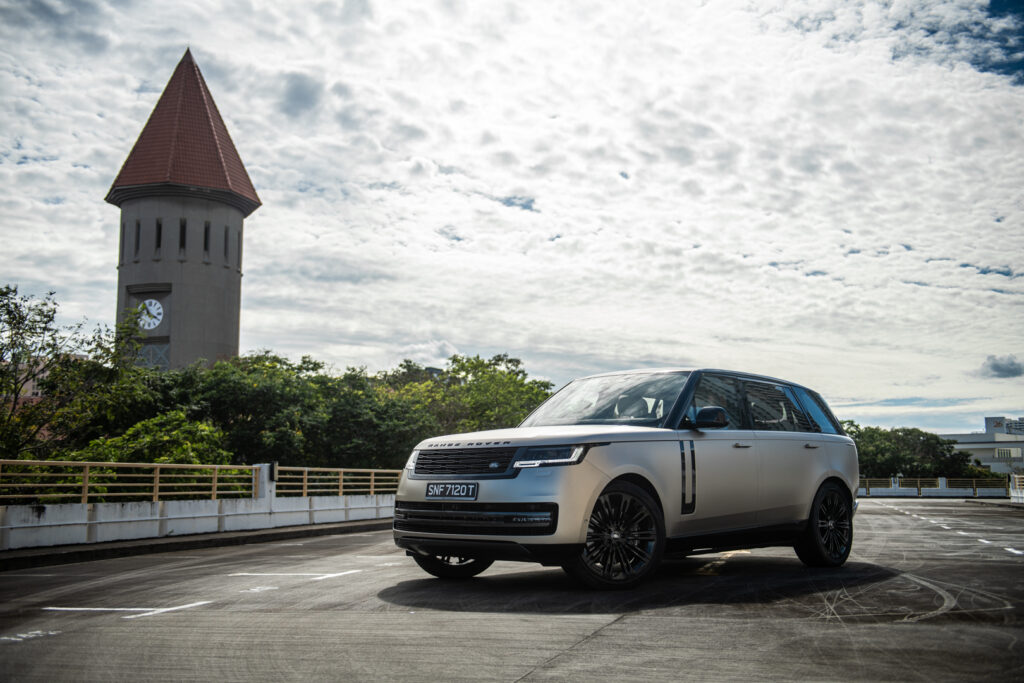 The new Range Rover puts away large intakes and flashy bumpers and instead adopts a more grown-up, sophisticated look. The exterior is now much cleaner, and its smooth hair gel appearance exudes a finer, more distinguished persona.
The front sticks to Range Rover's current design language but removes any bodily protrusions, while the rear sees more change, now adorned with thin vertical rear lamps. Black gloss trim pieces complement the overall design and are dotted around the exterior.
Unlike other cars, the Range Rover has two shark antennas up top, which Land Rover admits is only to feed the growing number of wireless connections that modern cars require.
Call me pretentious, but I love the metal-finished sunset gold colour on this car. The gold is subdued, and the metal finish gives it a premium look, similar to the back of high-end iPhones. Plus, you get the added benefit of not inviting pesky fingerprints.
Powerhouse
Under the hood, you'll be pleased to know that the same bumbling 4.4-litre twin-turbo V8 orchestra that sings to 11 when you mash the throttle is still present.
However, with enhanced insulation and better engine mounts, the engine is whisper quiet if you are gentle with it. It's almost scary that it can be so quiet and docile, considering it can deliver 523 bhp and 750 Nm of torque whenever you please. Even if this weighs in at a whopping 2.5 tonnes, it can still do the century sprint in just 4.7 seconds.
Despite its large size, it's actually fairly easy to get around town with, albeit with space constraints each time you try to find parking. During my media drive, I could not find a single parking space which fit the Range Rover. When I finally did find one that fit, I realised I was in a heavy vehicle parking lot.
But, one does not need to fear the chore of parking in this monster, for it has an array of sensors and a 360-camera suite that screams each time you come within breathing distance of an obstacle. Should you ignore the car's warning, it will automatically apply its emergency brake.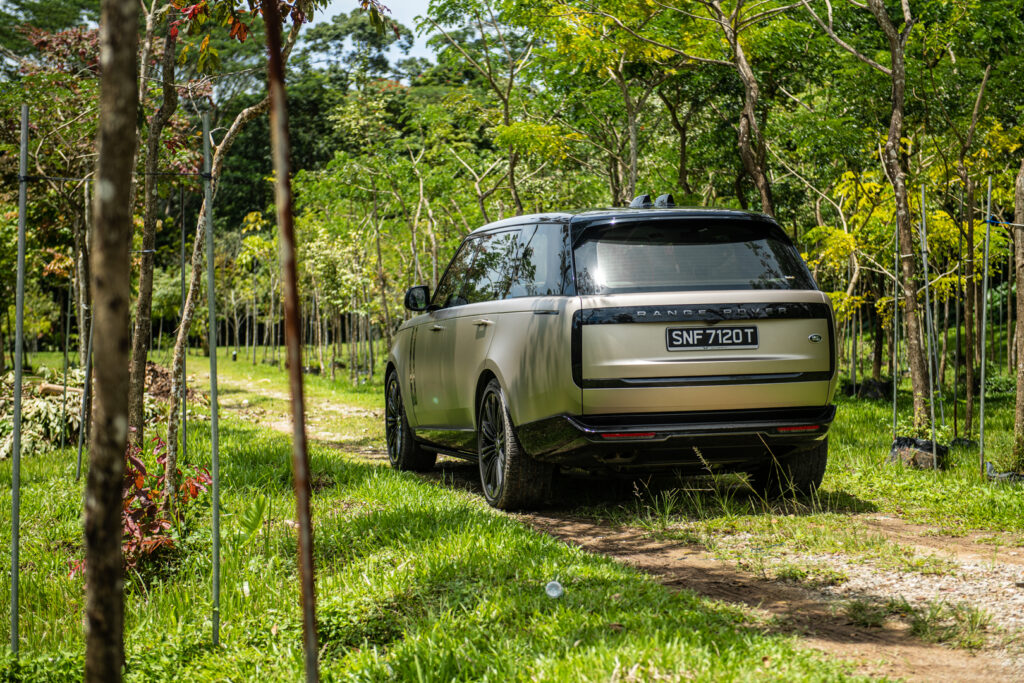 Of course, being a product of arguably the best offroading brand in the world, going off-road with this is not a problem at all, and this car can happily tackle any terrain found in Singapore.
Not that there is any particularly challenging terrain to begin with, but regardless it's not even a challenge for this car. When 'crawling' over undulating terrain, the heads-up display would also project the car's tilt angle, and warn you if you are going overboard.
With a bumbling V8 having to haul so much weight, fuel economy goes about as well as you'd expect. With some mixed city driving, I managed to yield 16.5L/100km, or roughly 6km/L.
Not great, but you wouldn't realistically expect anything better from something like this. And come on, which so much performance at your disposal, do you really want to be light-footed while driving?
Absolute Masterclass
Do you really need a car like this? Do most people need a car like this? Chances are this statement will be a no. But, above all else, this car delivers something emotional to you. It makes you feel really special.
Sitting in it, be it driver or passenger, you really feel like a king in a castle. Everything else just fades away, and you are wrapped up in this cocoon of absolute luxury. Just like our imaginary pretend kingdoms when we were children, this car makes you feel powerful.
Like a synthpop electro dance-rock melody that makes you feel like you're on cloud nine, the Range Rover delivers this luxury experience to a tee.
---
Catch the latest news right here on AutoApp!