With the September school holidays in Singapore right around the corner, you may be looking for some recommendations of places to head to for some good ol' family fun close to home. Short on ideas? We got your back. Let the AutoApp Editorial Team share some of their favourite spots with you!
---
So you've had to bid goodbye to that relaxing resort stay in Bintan, and wave sadly in Singaporean as Malaysia closes their borders till the end of the year. It's okay, we know the feels. But why should you let these restrictions stop you from spending some quality time with your loved ones? So if you're looking for child-friendly places that your little ones will love, check out these recommendations below, personally endorsed by the team at AutoApp!
Marcus recommends:
The Three Peacocks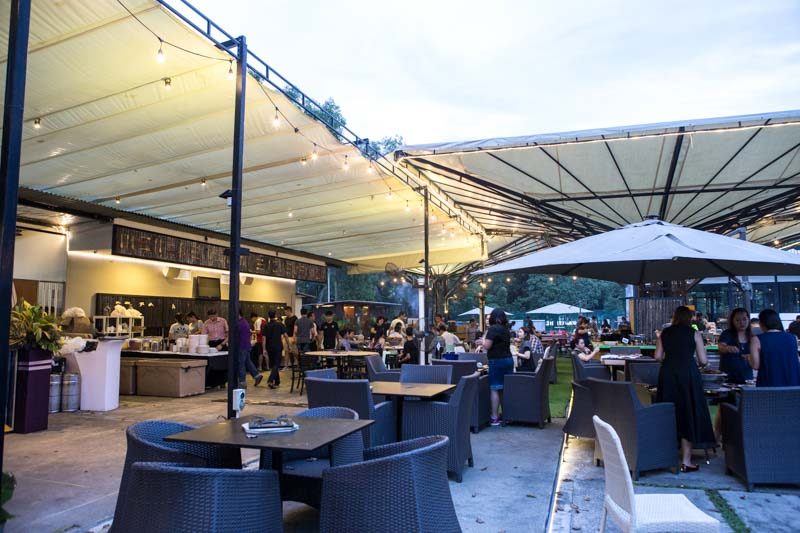 Think of ulu restaurants to dine at, and places such as Neo Tiew and Changi immediately pop into mind. Those areas are the most kampong-esque, where you'd expect to be surrounded by greenery and see wildlife roaming about.
Unlike the ulu makan places we introduced in our previous article, The Three Peacocks is tucked away near the edge of Labrador Park. Despite being just a 15-minute walk away from the nearest MRT station, the restaurant feels 'un-local' – in a good way, of course.
Plus, there's a massive carpark with ample space. Not to mention dining tables spread across the lawn, and free-roaming resident hens and peacocks (hence the name!) that'll come up to you. It's easy to make the kids think they're in Malaysia or Thailand, if not for the nearby condominiums at Keppel Bay towering over you (even if you are spending the school holidays in Singapore).
Dinner here won't bust the budget either, as it's a flat rate for everything, buffet-style. There's a whole range of seafood from prawns to crayfish, as well as some marinated meats for the carnivores.
Address: 8 Port Road, Singapore 117540 (Map)
Brin recommends:
Little Island Brewing Co.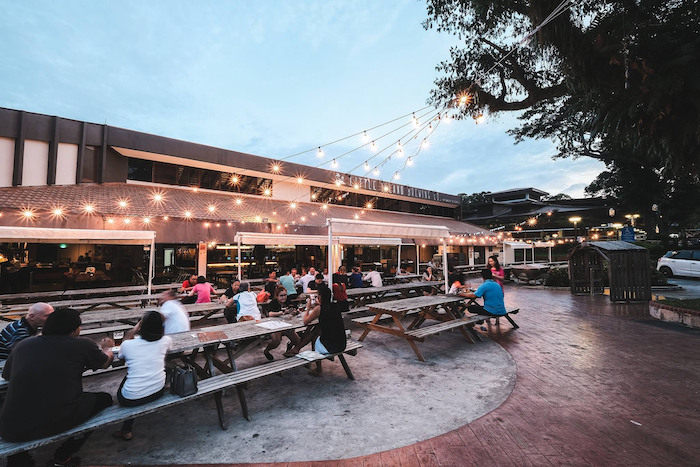 Fun day out with the kids? Take them to the pub, said no mother ever. Except me, that is.
But before you start dishing out some parenting realness, hear me out. Little Island Brewing Co is a laid-back, rustic set-up that serves up awesome food and even better beers. It also spans an impressive 10k square feet and can seat up to 400 (!) people.
But what I love the most? It's location. At Changi Village, it's a little out of the way for most, so you won't have to worry about massive crowds (v. important during these trying times). And with some help from the sun, sea and beer goggles, it's almost as if you're at a beach-side resort bar if you squint a little!
There's also a kids' menu and child-friendly facilities like a playground, child seats, and changing station at the loo. Plus, there's more than enough room for your stroller or diaper bags, which adds on to why it's a great venue to bring the kids to during the school holidays in Singapore.
Food-wise, they serve up smoked meats, wood-fired pizzas with cheeky names (Optimus Prime Meat or Ham Solo anyone?) and a mean Sunday roast. But of course, if you're not driving, do try their freshly-brewed beers. Because I'm a sucker for stouts, their creamy Black Milk nitro-chocolate milk stout is one of my faves. But if you're looking for something more refreshing or light, you can't go wrong with their Kolsch, Golden Ale or Hefeweizen selections either.
Though you usually need to get a special card to dispense your own beers from the counter, friendly staff will dispense it for you instead due to the COVID-19 situation. Swee.
That said, do not over-indulge and parent. And definitely do not drink and drive.
Address: 6 Changi Village Road, #01-01/02, Singapore 509907 (Map)
Everyone recommends:
Heap Seng Leong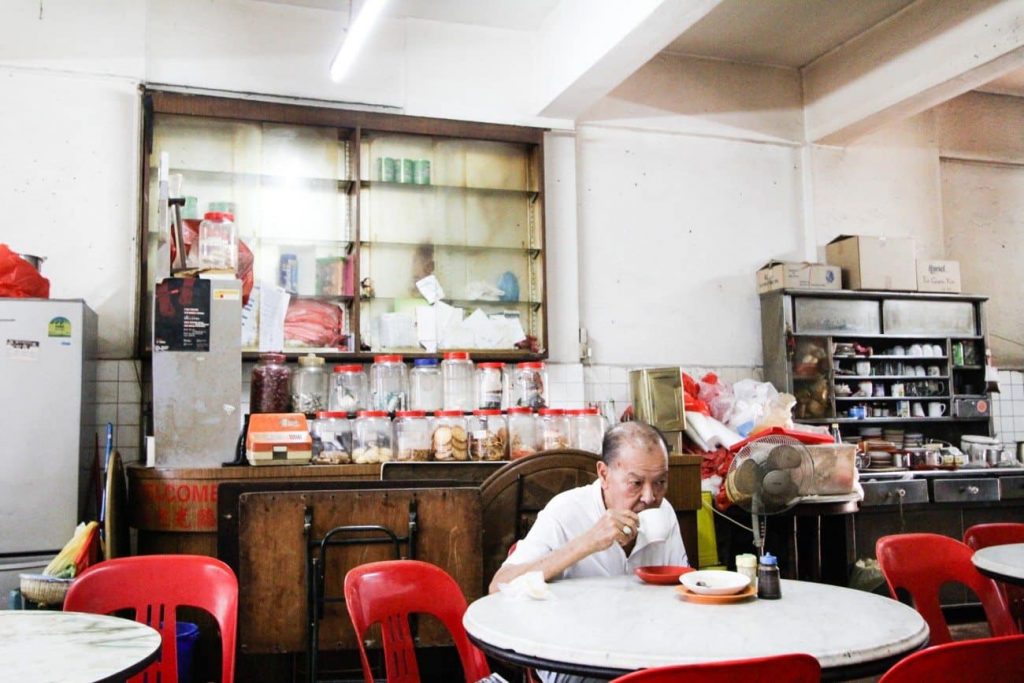 In the era of minimalist modern architecture, Heap Seng Leong is a true time capsule from the 1960s. Look around the store and you'll see kopitiam furniture that even some Malaysian coffeeshops have done away with.
Marble-topped tables and wooden shelving, for starters. Then there's the countertop, occupied by two rows of glass jars filled with traditional biscuits. There's no cash register here either – it's all mental mathematics and a trusty old abacus.
Heap Seng Leong serves up typical kopitiam breakfast fare. There's the regular kopi and teh that you'll expect, paired with kaya toast and soft-boiled eggs. If you're early, you'll also find a Malay stall serving up nasi lemak, curry puffs, and assorted kuih-kuih.
What most people come here for though, is the kopi gu you – directly translated from Hokkien as 'butter coffee'. It's exactly what you think it is, a slab of butter plopped into a cup of hot coffee. The butter melts rapidly, forming a yellow buttery layer on the top of your kopi and giving it a smooth and silky mouthfeel.
The genuine, laid-back kopitiam feel at Heap Seng Leong is the perfect escape from modernity. There's also the impromptu history lesson you can give the kids, which is sure to get them wide-eyed.
Address: 10 North Bridge Road, #01-5109, Singapore 190010 (Map)
Sheldon recommends:
Qian Hu Fish Farm
[embedyt] https://www.youtube.com/watch?v=BZza884dDxc[/embedyt]
In case you didn't know it, Singapore is one of the world's largest exporters of tropical ornamental fish. One of the biggest exporters is arguably Qian Hu. Listed on the Singapore stock exchange, the company claims to export around 1,000 species of fish to over 80 countries around the world.
The fish farm is open to the public where you and the family can get up close to hundreds of species. Think of it as a free alternative to S.E.A. Aquarium in Sentosa or River Safari in Mandai with the difference being that you might bring home some fish and a new hobby.
Guided tours for access to parts of the farm can be arranged for a fee. This is arguably worth the price of admission as it would be an educational experience to learn how fish are bred and how to care for them.
A trip to Qian Hu during the school holidays in Singapore creates an opportunity for a nice, long drive, which can also be beneficial to the car. You also get to see a side of Singapore that many are not even aware of. Within a few minutes drive from Qian Hu, you can also visit Koh Fah Technology Farm where you'll find a weekend farmer's market selling fresh produce grown on site. Since we're on the fish theme, there's also an enormous display tank where you can see a couple of Arapaima – the world's largest freshwater fish swimming about lazily.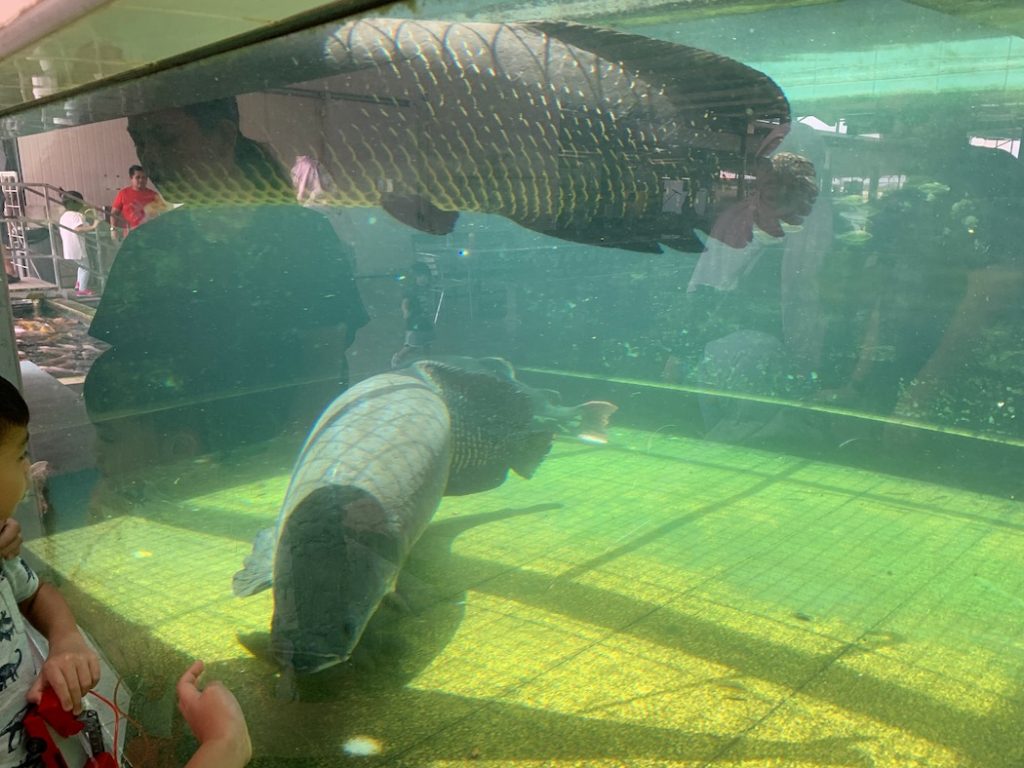 When you get hungry, a nice respite from the heat would be to have a meal at Forrest at Orchidville. It's a proper air-conditioned farm-to-table Chinese restaurant that serves more-than decent fare. One of it signature dishes, Volcano Rock Baked Kampong Chicken has to be pre-ordered a day in advance but is worth the effort. Another must-try is the deep fried crispy Soon Hock in Hong Kong sauce amongst many other dishes.
[embedyt] https://www.youtube.com/watch?v=BWaCppGrwFM[/embedyt]
Address: 71 Jalan Lekar, Singapore 69850 (Map)
Jonathan recommends:
Amped/Bounce/Katapult Trampoline Park
If there's one thing children have too much of (other than sheer unfiltered honesty), it's energy. I'm not a parent myself so I can't imagine how restless your little tykes were all cooped up at home during the Circuit Breaker, but I'm willing to bet you wouldn't want a repeat experience during the September school hols.
A perfect antidote to that might be a visit to one of the big trampoline parks we have here in Singapore. Amped, Bounce, and Katapult all offer hyperactive little ones the opportunity to not only run amok to their hearts' content, but also jump, flip, and literally bounce off the walls.
Each of the three parks have around 30 interconnected trampolines, as well as foam pits, slam dunk hoops, and even dodgeball zones. Katapult and Bounce even have giant air bags for the older or more adventurous ones to try out somersaults or other acrobatic tricks:
One of the great things about this activity is that there is no age limit, so anybody is free to have a go! For the adults, bouncing is also a great workout, as it engages muscle groups across your entire body.
In light of the COVID situation, all the locations have reduced their sessions from 1 hour to 50-55 minutes in order to clean and sanitise the park. Maximum capacity has also been reduced according to social distancing guidelines, so we'd advise booking your slots in advance to avoid disappointment. Prices start from $15 per block.
Addresses:
Amped: The Herencia, 46 Kim Yam Road, #02-11, Singapore 239351 (Map)
Bounce: Cineleisure, 8 Grange Road, #09-01, Singapore 239695 (Map)
Katapult: ORTO, 81 Lorong Chencharu #01-11 Singapore 769198 (Map)
Sam recommends:
Lee Kong Chian Natural History Museum
Last but not least, the Lee Kong Chian Natural History Museum offers a casual educational experience for the young, forever-young and oh-so-curious. The museum leads visitors on a journey from the past to the present day, with real dinosaur fossils that are bound to get Jurassic Park fans excited.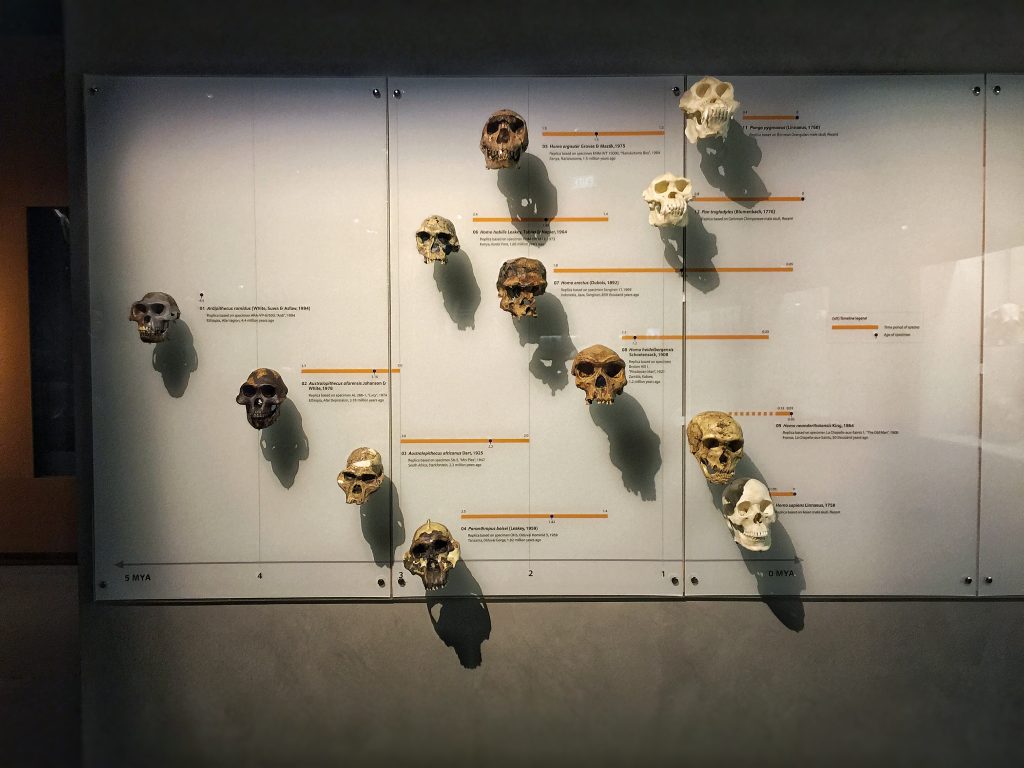 Besides the more eye-catching sauropod bones, the museum also includes interactive exhibits and displays on the biodiversity in Singapore and Southeast Asia. Since the museum also doubles as a centre for research, and exhibits are changed and updated periodically, so this destination is definitely not a one-off on the list!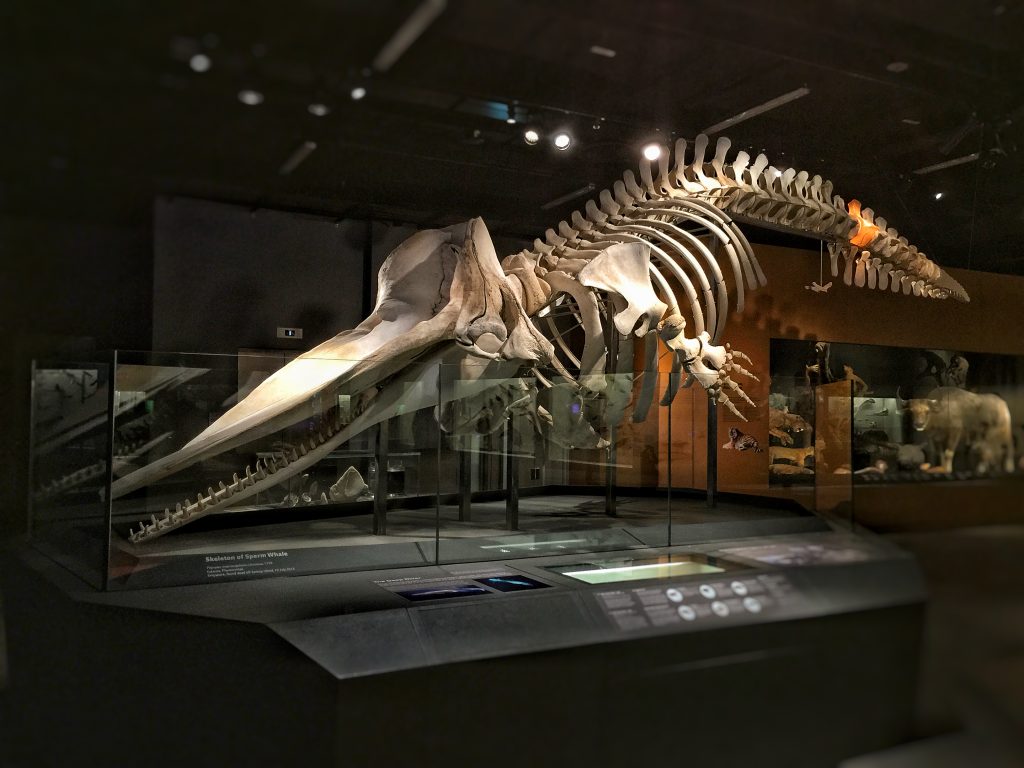 The current exhibit continues the celebration of Singapore's Bicentennial and charters a course through 200 significant natural history events in our island's past. All of which, along with how we've developed as a nation, highlight how the country's natural heritage has evolved.
Make sure to book your tickets in advance! The museum opens on Thursdays to Sundays with three different entry timings. Admission is free for children below the age 3.
---
Now that you've got some ideas on fun places to visit with your fam, why not consider a staycation at home with some exciting toys for the little ones and some good grub for you?