What happens when you bring an array of Cat A-friendly vehicles to tackle some Malaysia B-roads? You get absolute bliss.
Category A COE cars are all the rage these days in Singapore. With soaring petrol prices and astronomical COE premiums, these wallet-friendly city runabouts are just the sort of thing a budget-conscious buyer wants – practical, fuel-efficient, and versatile.
For those of you reading outside of Singapore, here's how we classify Cat A vehicles being registered here:
Non-fully electric cars with engines up to 1,600cc and Maximum Power Output up to 97kW (130bhp).
Fully electric cars with Maximum Power Output of up to 110kW (147bhp).
However, as we can see from the figures above, in traditional cases owning a Cat A vehicle means sacrificing performance and oftentimes driving fun in exchange for a cheaper set of wheels.
But, with the advent and advancement in new engine technology alongside innovations like electrical assistance, engine capacity is no longer the defacto indicator of performance.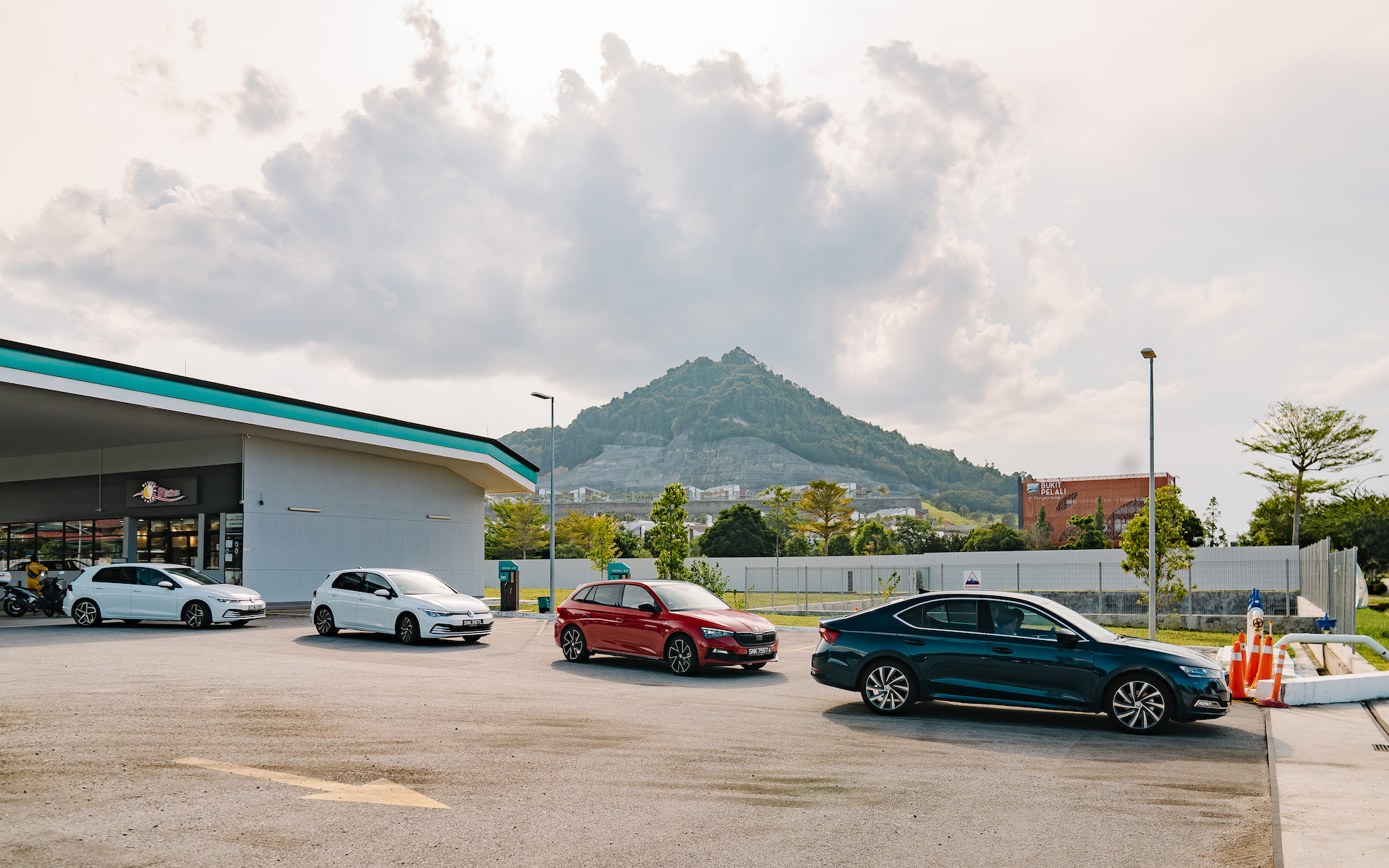 So that begs the question, can Cat A cars be any fun? Well, to find out, I went on a road trip with Volkswagen Group Singapore (VGS) to Desaru, in order to answer this with four wheels and a steering wheel.
What four wheels you might ask? VGS has very kindly offered their existing range of Category A Volkswagen and Škoda cars. Despite our end goal being Desaru, the gang opted to travel in a 500km U-shaped route instead, savouring some of Malaysia's best B-roads along the way.
The cars accompanying us on this journey included the Volkswagen Golf 1.5 eTSI (Life and Life Plus), Volkswagen T-Cross 1.0TSI, Škoda Scala 1.0TSI Monte Carlo and the Škoda Octavia 1.0TSI. Nothing over 1.5 litres of engine block goodness.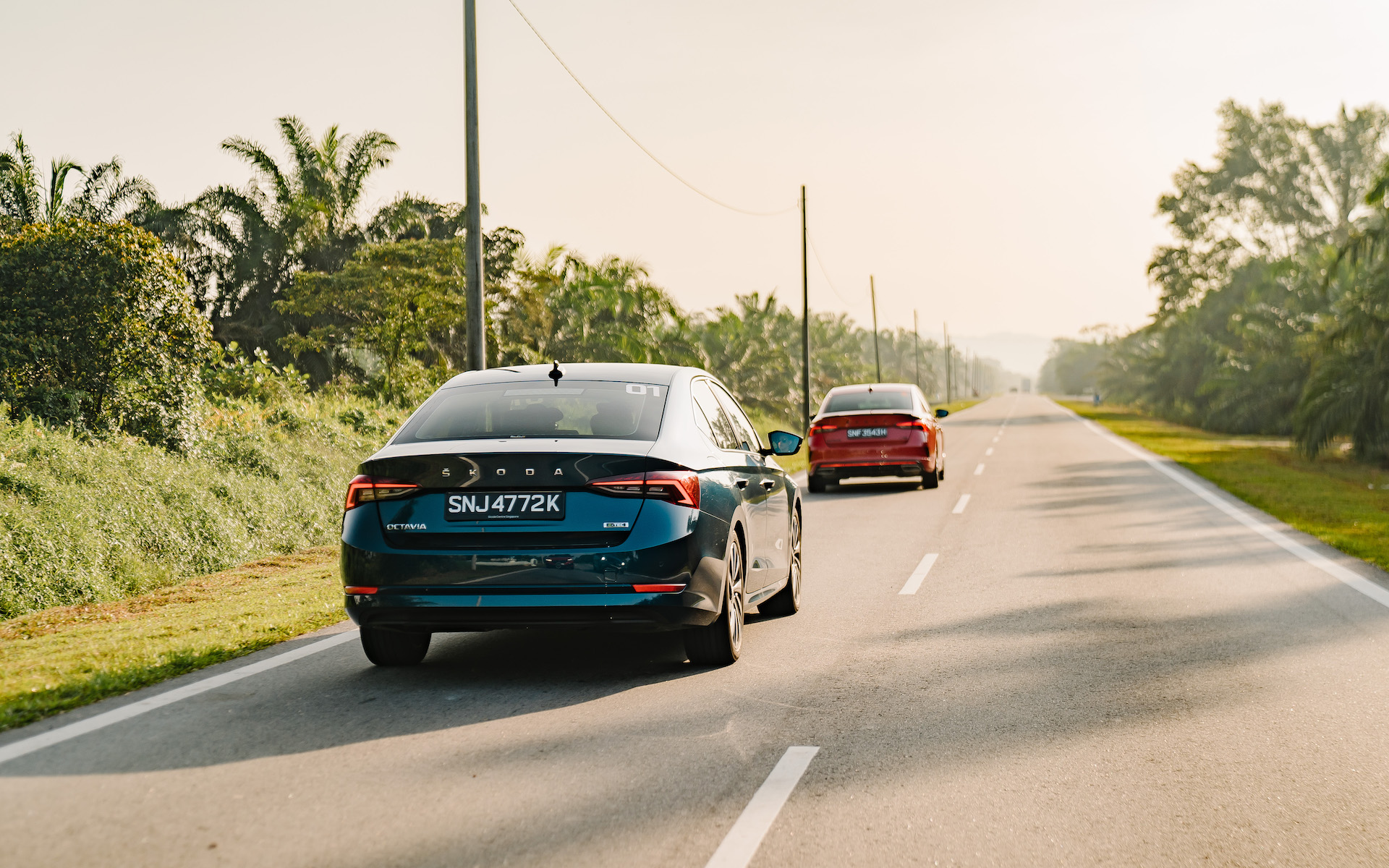 My group were assigned to the Škoda Octavia first, our vessel to cross into Malaysian tarmac. Once the speed limits turned into suggestions, I placed my foot down and started hunting.
Yes, it might only have a 1.0-litre 3-pot heart, but having access to its 200Nm of torque at low RPMs coupled with mild-hybrid assistance meant that it could hold its own both on the straights and the corners. It could easily keep up with its Octavia RS sibling driven by the support crew, bar brief moments of harsh acceleration.
To keep costs down, Škoda opted for a torsion rear beam instead of the usual multi-link setup. I loved this setup, as it makes the car more predictable around corners. The car feels settled even at speed, and any bouts of oversteer can be mitigated as easily as letting your foot off the throttle.
Plus, you get to do that in a spacious and practical family sedan with tons of room. The Octavia has always been dear to my heart, and this road trip bolstered additional gratification towards it.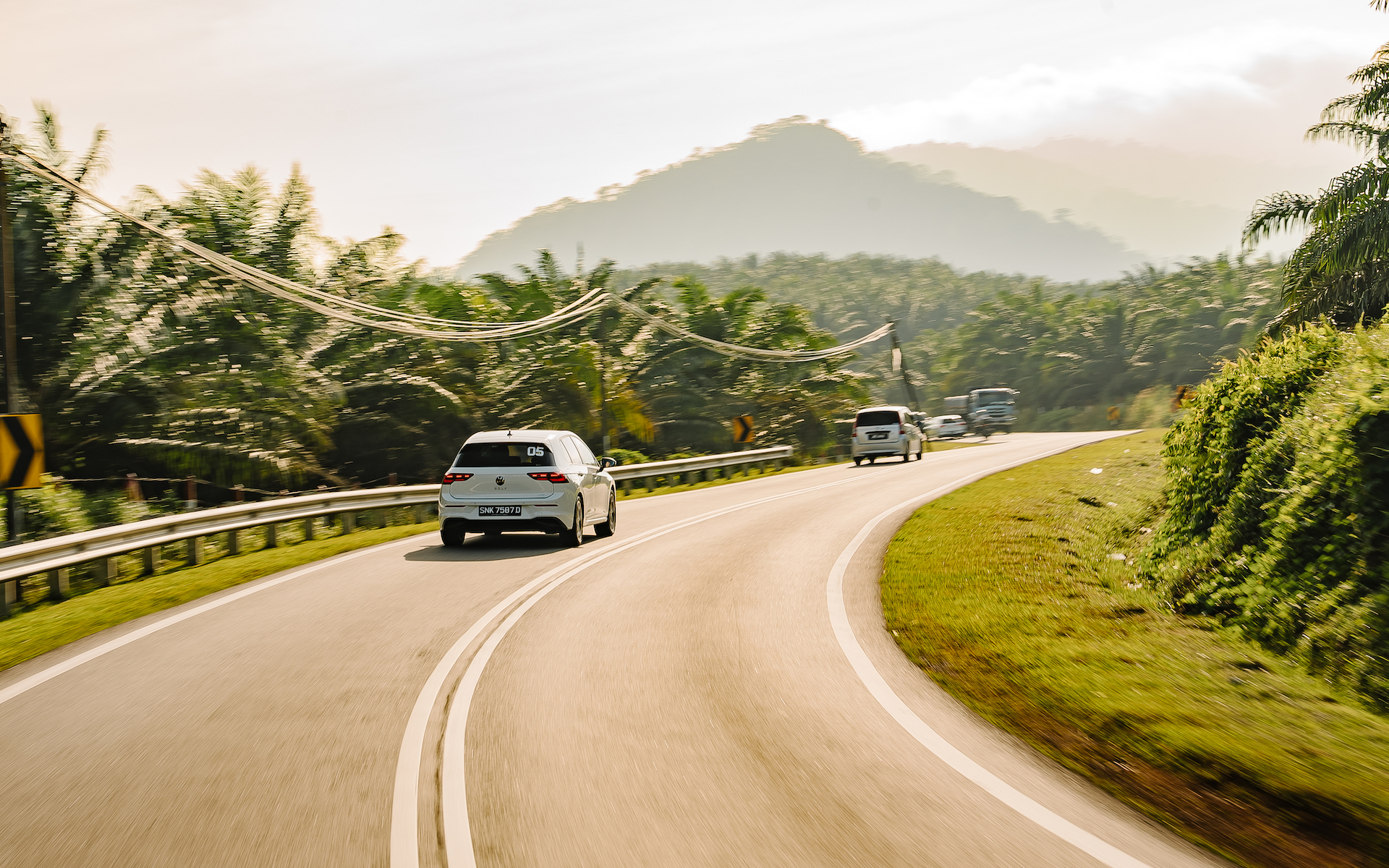 After a spot of brunch at Yong Peng's famous Sunroast, we were on the road again – this time in the Volkswagen Golf Life. The new Life variants are meant to distinguish the Cat A models from their more powerful brethren. With the same engine, the boffins at Volkswagen have managed to detune the 1.5-litre engine to make it fall nicely under Cat A.
Externally and internally, it's business as usual from the regular Cat B Mk 8 Golf. But, what lies in its engine bay is what truly matters, and boy does this Golf live up to its famed reputation.
With the same torsion beam setup as most of the other cars on this trip, the Golf was effortlessly dancing in the bends. It just so happens I was in the Golf for a particularly twisty bit of road, and it couldn't have been a better combination.
Keeping up momentum in the corners, any understeer sensations were quickly sorted out as the Golf soldiered on, and shifting through its 7-speed DSG gearbox whilst keeping its revs high was riveting. All of this, even as it started to pour and visibility became limited.
Our little chihuahua gave us a blast all to way to Jemaluang Emerald Lake, and we were sad to part ways with it at Jason's Bay Beach.
But, this meant we could hop into another ride, and this time it was the biggest of the group – the Volkswagen T-Cross. Now, you take one look at these cars and probably think to yourself, "How can the T-Cross keep up with this pack?"
Yes, I will admit the T-Cross can be a little more tricky to wrestle in the corners, with its taller stature and waftiness. But, despite its SUV proportions, it could just as easily keep up on the highway bits and back roads. It was also arguably the most comfortable of the bunch as well, with tall cabin headroom and ample leg space for toe wiggling.
Turning in for the night, I awoke bright and early for our return journey to Singapore, and the Škoda Scala was there to greet me for the ride home.
This was the Monte Carlo edition of the Scala, fitted with a bunch of extra trinkets like 18-inch alloys, soft bucket seats and a panoramic moonroof. There weren't many B-roads left to enjoy on the return leg, but the Scala was extremely competent blasting down the highway at legal speeds. Plus, I don't know about you, but the Scala looks gorgeous in that shade of red.
Our final car swap saw us crossing the border back into Singapore in the Volkswagen Golf Life Plus. Much like its aforementioned Golf Life sibling, it has all of the charms of the Golf, but is now packaged in a bite-sized wallet-friendly form. Plus, with the Life Plus, you get the added advantage of 3-zone HVAC and cooler rims on the outside.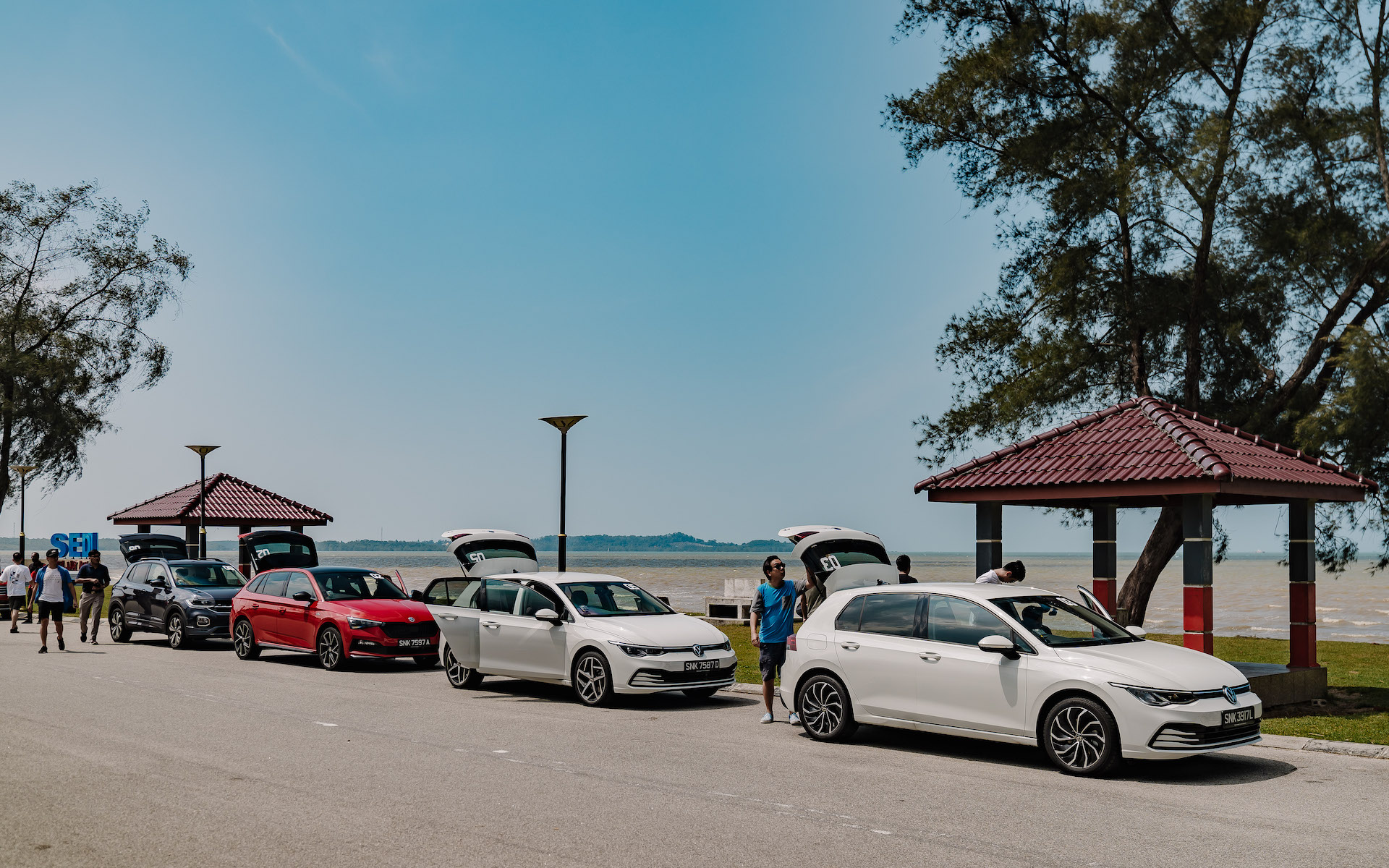 Overall, this was obviously a fun-filled trip, but it was mainly fun because of these Cat A gems. These cars invoke a unique charm behind the wheel and beckon you to just keep driving whilst savouring every last bit of tarmac.
These are not just machines; they're companions. Companions that can munch up the miles and take you to your next destination, with a big grin plastered on your face.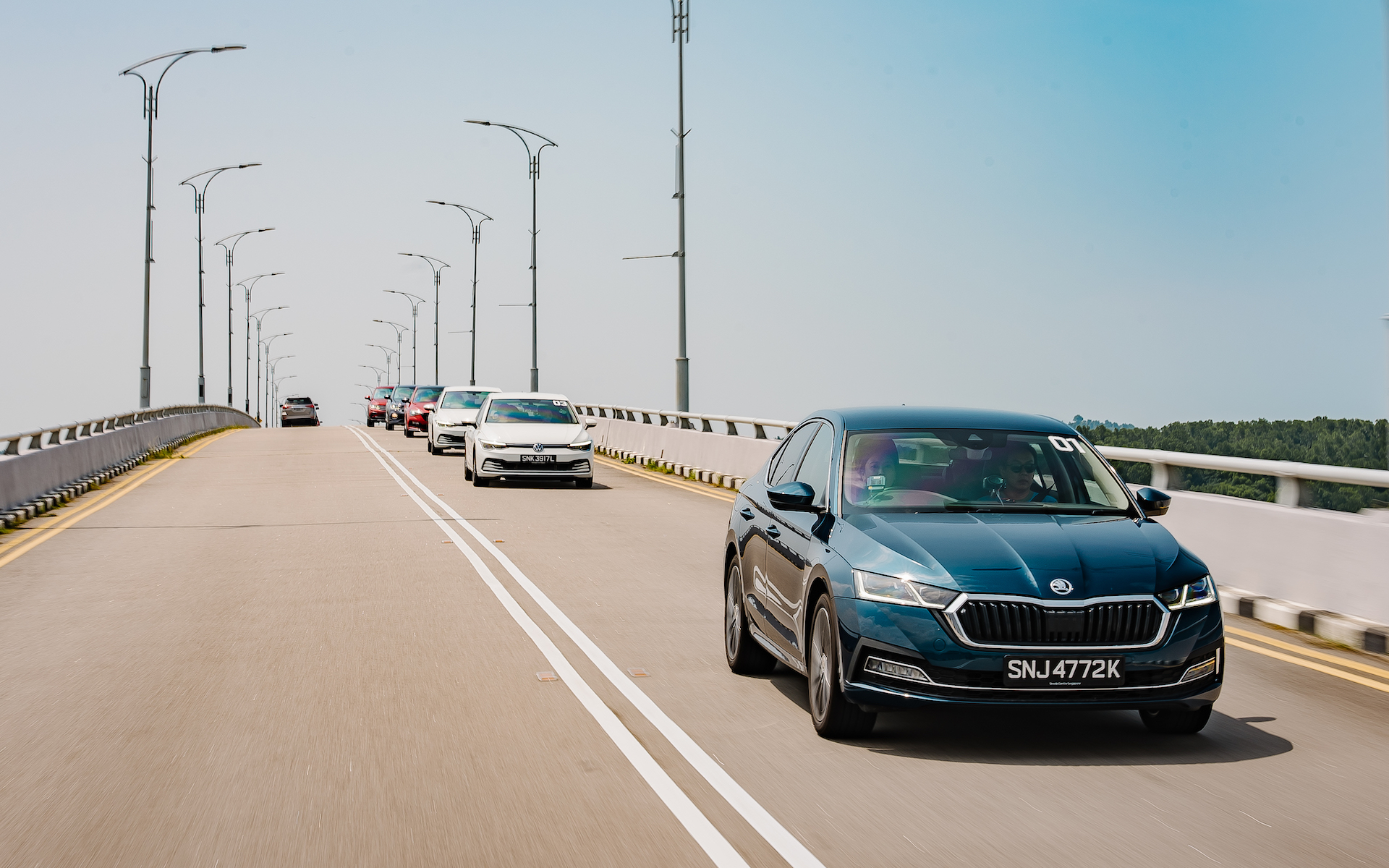 It's more fun driving a slow car fast than a fast car slow, right? Just like getaway cars.
Big shoutout to Volkswagen Group Singapore for making this trip possible!
Photo Credits: Horizon Drivers' Club (@horizondriversclub)
---
Read more automotive news at AutoApp, or check out our latest videos on Ignition Labs TV!