Continental Automotive Singapore recently held its inaugural TechFest conference, signing 3 MoUs with local and global partners 
The collaborations aim at improving technology for the transport of goods and transforming the mobility experience, with each Memorandum of Understanding (MoU) leveraging Continental's expertise and the technological competencies of the respective partners to accelerate new commercial solutions for mobility.
TechFest included a showcase that demonstrated numerous new technological innovations developed by various companies. Additionally, a number of these joint innovations dovetail with Singapore's Smart Nation ambitions and are aligned with the country's digital vision. 
Singapore is set to harness the latest technology in areas such as data analytics, fleet management, and Autonomous Mobile Robots (AMRs), which are provided by Continental. These solutions were showcased to Continental's partners, was graced by guest of honour, Dr. Amy Khor, Senior Minister of State, Ministry of Sustainability and the Environment, and Ministry of Transport.
In her keynote speech, Dr. Khor elaborated on the importance of these collaborations and explained why the push toward Singapore's Smart Nation vision is critical. "Today, Singapore faces the challenges of rising travel demand, increasing manpower constraints, and limited land space. To meet these challenges, we have established a vision to create a car-lite Singapore where people choose to walk, cycle, and ride using public transportation where urban mobility can be achieved in the most resource-efficient and sustainable manner. To do so, we use digital technologies and data analytics to provide
greater comfort, convenience, reliability, and support for various stakeholders in our Smart Urban Mobility ecosystem."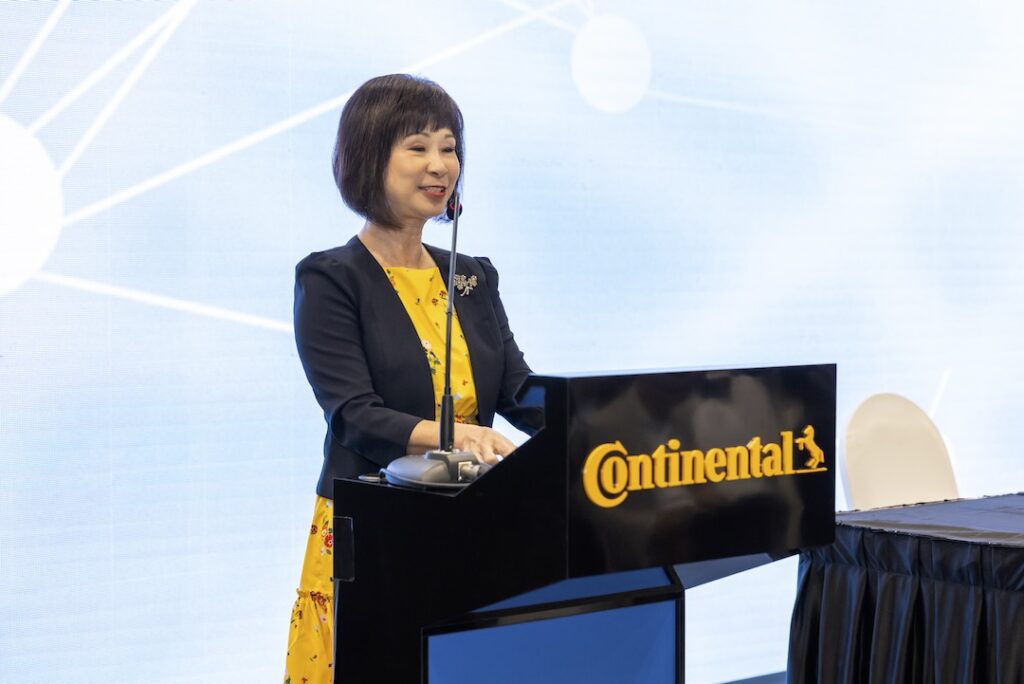 Smarter and safer rides with Hyundai Motor Group
The first MoU signed at the Continental Singapore TechFest was with Hyundai Motor Group which includes Korean car manufacturers Hyundai and Kia. Together, these companies will collaborate to uncover valuable insights into new business areas.
Speaking at the event, Lo Kien Foh, President and CEO of Continental Automotive Singapore explained his company's position in how it planned on driving innovation: "Continental is committed to working closely with our partners to drive innovation and pave the way for safe and intelligent mobility of the future." By focusing on developing solutions that encourage inclusivity, enhance safety, automate logistical processes, and refine predictive analytics with holistic and real-time data, Mr. Loh is confident that Continental would be able to work together with companies such as Hyundai Motor Group to effect these changes. "With these partnerships, we are combining our world-leading technologies with unparalleled technical expertise and innovation towards a common goal."
Currently, Hyundai Motor Group is undergoing developments in mobility solutions that enable vulnerable groups and the differently abled, such as seniors and people with disabilities, to still be able to enjoy the freedom of travel. To this end, Continental's expertise in haptic solutions for smart surfaces can inclusivity in its universal mobility design.
This technology, which can already be found in some of the latest cars, enables users to feel touch-sensitive surfaces and receive active haptic feedback, such as vibrations felt in the fingers, allowing them to interact with the systems in the vehicle. For vulnerable passengers and those with disabilities, these solutions have the potential to be further expanded for their benefit.
"The Continental-Hyundai MoU will facilitate collaboration to pilot robotics and other
smart city technologies, as well as enable new partnerships with start-ups, supporting the development of proofs-of-concept and new automotive products for the future," said Dr. Amy Khor in her address. 
The MoU between Continental and Hyundai Motor Group marks the first-of-its-kind collaboration between the start-up arms of both parties. Singapore will be the first market to launch a partnership between Continental co-pace and Hyundai CRADLE Singapore – an open innovation hub for the Korean car manufacturer, to better understand future product needs and accelerate the go-to-market for innovative mobility solutions. 
Dr. Youngcho Chi, President and Chief Innovation Officer of Hyundai Motor Group was confident that the tie-up would lead to driving innovation in smart mobility: "By working with Continental, we aim to strengthen our mobility technology competitiveness and discover promising start-ups through Hyundai CRADLE Singapore."
Safer roads with Go-Ahead Singapore and Nanyang Technological University 
Bus rides, and other commercial vehicle operators may soon be even safer thanks to a two-year partnership between Continental-NTU Corporate Lab and Go-Ahead Singapore to develop and enhance the driving safety management systems for its fleet of buses.
Fitted with AI and machine learning capabilities, this technology aims to raise descriptive analytics to the next level. With the data, diagnostic and predictive capabilities can be used to determine the root causes of risks for better accident prevention. 
"The safety of our commuters and colleagues is a paramount priority. We regularly explore opportunities that leverage technology to enhance safety and enrich journeys. Continental and NTU possess a wealth of expertise in their respective fields and I'm positive this collaboration will produce valuable insights that further support safe and smooth rides," said Mr. Andrew Thompson, Managing Director, Go-Ahead Singapore.
If an abnormal driving pattern is detected, for example, it may indicate a higher likelihood of an accident that's about to happen. Erratic steering inputs caused by a drowsy bus driver, for example, would alert the fleet manager to check in on the driver or take some precautionary action. 
Improving the safety of public transportation is one area that Dr Amy Khor identified: "In the public transport setting, it can reduce our reliance on manpower – this is especially important given that the median age of bus captains in Singapore is in the early to mid-50s, and there is a challenge to recruit younger Singaporeans to be bus captains."
The system will be piloted on at least five Go-Ahead Singapore buses with the first trial set to commence in Q1 2023. 
Better 5G automotive applications powered by SingTel and Continental
The smart mobility infrastructure is highly dependent on 5G data transmission to communicate, react and even predict traffic movements and flow. As such, network connectivity and security is paramount. This is why Continental has partnered with SingTel, the nation's leading telco for 5G coverage and Multi-access Edge Computing (MEC) infrastructure and solutions, including its industry-leading Paragon platform, and expertise in cybersecurity.
"Industries, enterprises, and public sector organizations are realising the transformative power of 5G. Singtel's pervasive 5G network and its innovative Paragon Edge cloud platform coupled with Continental's deep expertise in automotive innovation will propel new growth in smart mobility and fleet management. Such improvements will create safer, smarter, connected, and more efficient urban mobility solutions, and in so doing, will advance Singapore's Smart Nation vision," said Mr. Bill Chang, Chief Executive Officer, Group Enterprise and Regional Data Centre Business, Singtel.
Through this partnership, Continental will also be able to leverage Singtel's MEC solutions from its ecosystem partners, including hyperscalers like Microsoft Azure, at the edge, which will further enhance the situational awareness of Continental's vehicle systems and improve overall road safety. Other automotive applications that will be explored include remote teleoperation or control of AMRs, and Vehicle to Cloud communication (V2C) to transmit holistic and real-time data for analysis.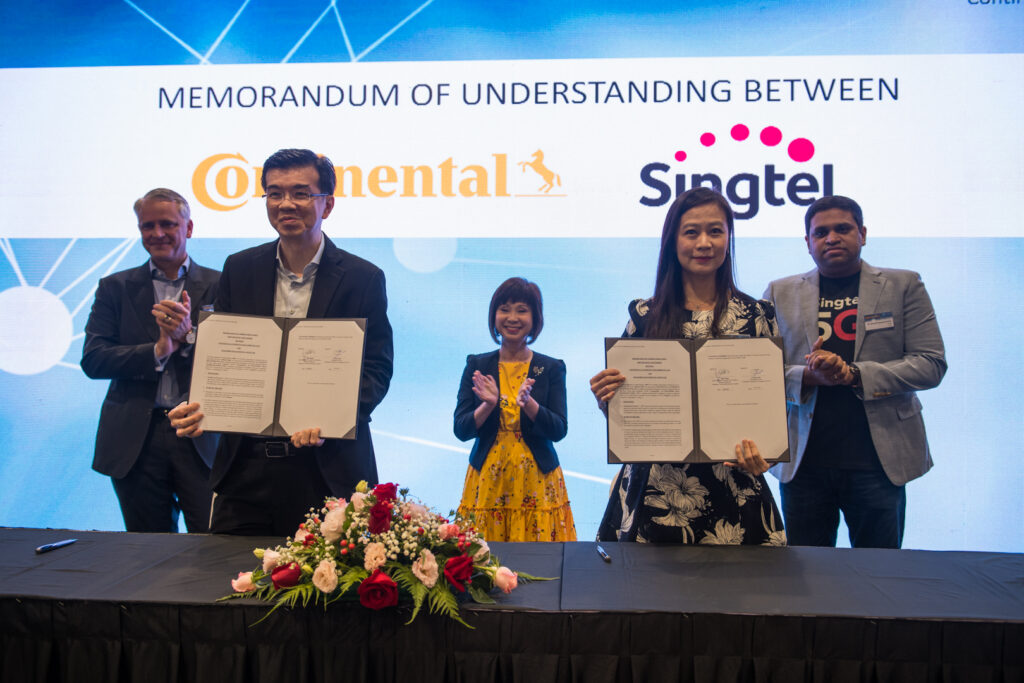 Speaking at the signing, Dr Amy Khor said that she is seeing strong public-private partnerships between LTA, SingTel, and Continental. "The Continental-Singtel MoU will explore the use of 5G connectivity for automotive use-cases, which can enable transportation to be smarter, more convenient, safer, and more sustainable." 
This agreement paves the way for future collaborations between Continental and Singtel's technology partners and government agencies. The partners will potentially look to engage third parties, such as building and vehicle fleet owners in future trials.