This will be ŠKODA AUTO's 19th time in the TdF.
---
This author has occasionally referred to his test-drives around our little red dot as Tour de Singapour, taking inspiration from the famous French bicycle race called Tour de France. Speaking of the latter, ŠKODA AUTO has been the official main and vehicle partner since 2004, and will once again be the main partner for the 19th time in 2022.
To this end, ŠKODA will supply 250 vehicles to afford mobility to the Tour de France organizers and race management, as well as support and service vehicles. Tour Director Christian Prudhomme will have his own command vehicle, a fully-electric red ŠKODA Enyaq iV that will be decked out in unmistakable livery. Behold…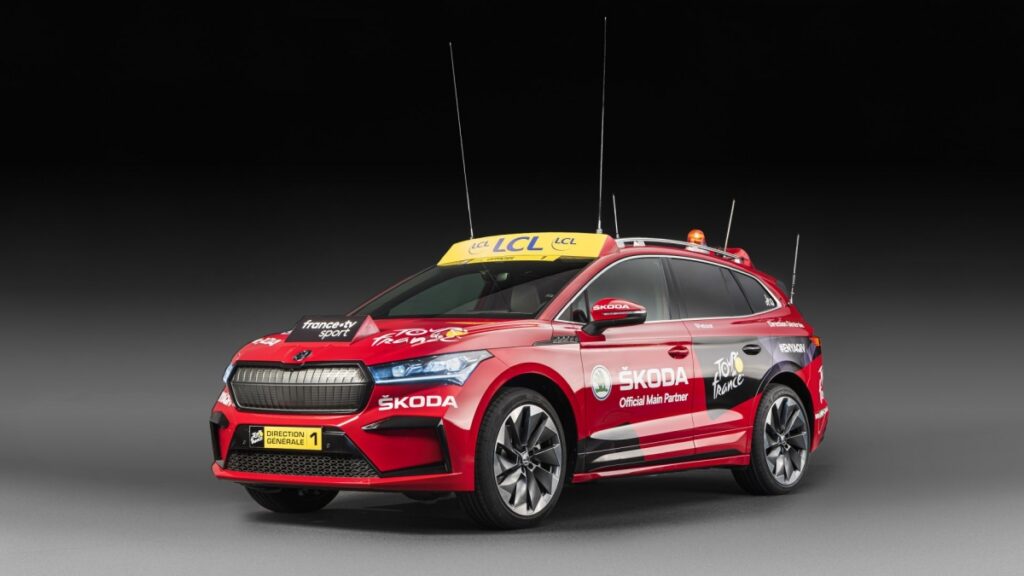 Don't know about you, but I've always wanted my car to be fitted with an array of antennae. These, however, are purposeful and will no doubt enhance radio, cellular and data communication from the command vehicle – essential to keep the race going smoothly. Endearingly called the "Red Car" and serving Christian for the third time as his mobile command centre, the ŠKODA Enyaq iV is also fitted with a sliding roof through which Christian will wave the yellow flag at the start of each stage.
However, at some stages, a plug-in hybrid ŠKODA Superb iV will take over as the command vehicle. With good reason – starting in Copenhagen, Denmark and concluding at the Avenue des Champs-Élysées in Paris, there are 21 stages in the Tour de France race, that covers four countries, six mountain ranges and a distance of 3,300km. Other vehicles in the fleet will include Octavias and the aforementioned Superb iV.
Apart from support vehicles, ŠKODA has also, for the 12th time, designed the championship crystal trophy, as well as sponsoring the green jersey for the points-leader since 2015.
Interestingly, ŠKODA is no stranger to cycling. To further drive the point home about ŠKODA's involvement with cycling since its inception, Martin Jahn, ŠKODA AUTO board member for sales and marketing is quoted as saying, "our long-standing commitment to cycling is one of the cornerstones of our sponsorship activities in elite international and grassroots sport. In the early days of our company, the founders Václav Laurin and Václav Klement began by designing and manufacturing bicycles – this makes for an ideal 'brand fit'. We are delighted to be supporting this great event again this year."
And there you have it – ŠKODA AUTO is back for the 19th time as the official main partner of the Tour de France. Now you know what the "Red Car" is up to during the race.
---
Enjoyed this article? Get more of the latest in car news here!