With petrol prices rocking to new highs, fuel efficiency now plays a very big part in how you can save some spare cash in your wallet.
---
It's a tall order to expect an internal combustion (ICE) car to be economical, decently agile, and practical. The Japanese have more or less been pretty strong in this department over the past decade or so with economical cars, but you get the feeling that most of these cars are just… dull. I mean, there's nothing wrong with them; it's just they are frankly point A-to-B commuters.
But, what if I told you there's a new wildcard in the mix, something that can turn heads and put a smile on your face? Oh, and it comes from the Czech Republic. Say hello to the new 1.0-litre Skoda Octavia.
Huh, the engine is so small?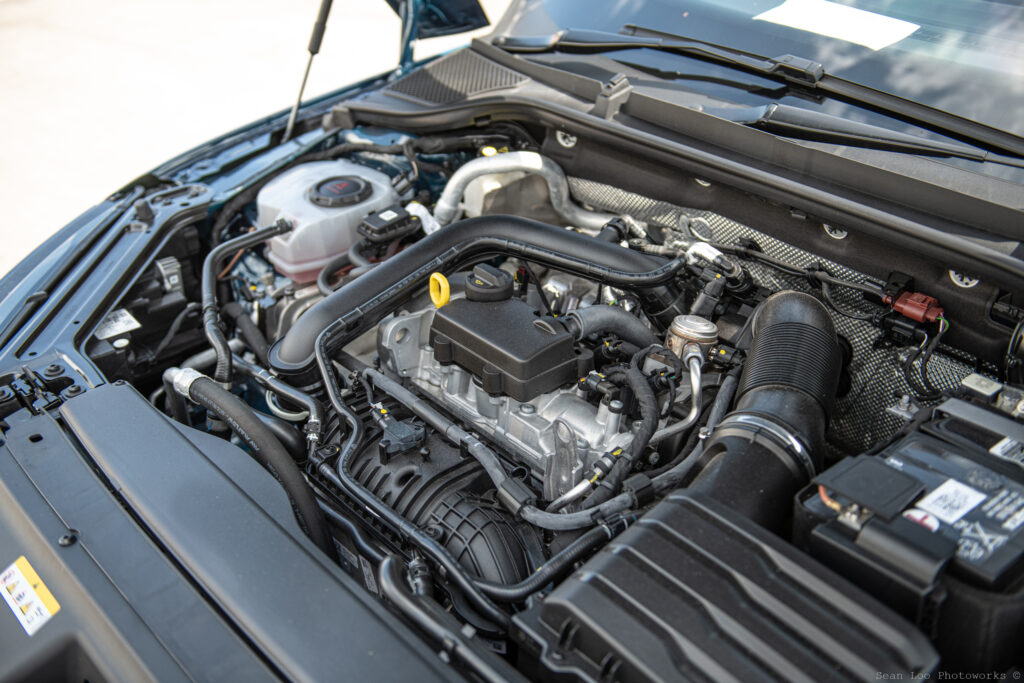 Indeed it is. Singapore's antiquated COE system inadvertently shuns a lot of overseas models from being imported here, as these vehicle and engine combos do not fit snugly in our COE A or B caste system.
However, there are some smaller European territories with similar power-restricted tax structures, and these countries force automakers to be a little more creative when designing cars. In most situations, a downsized engine is usually opted for, giving birth to models like the Audi A3 1.0-litre.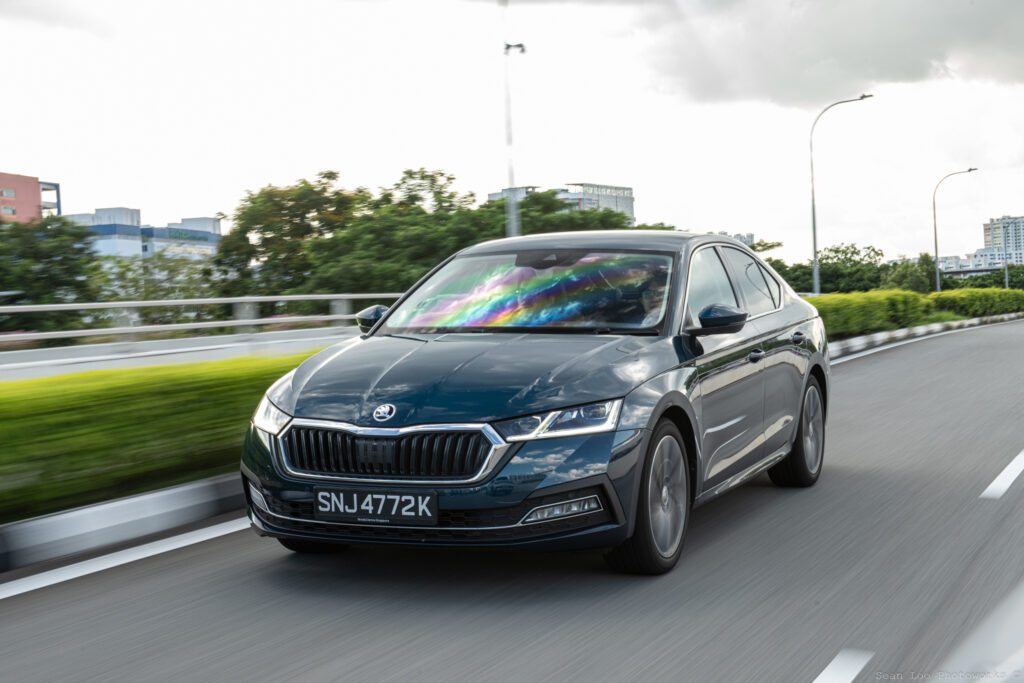 That's where the new Skoda Octavia comes in, with its hot-off-the-press 1.0-litre, three-cylinder turbocharged engine mated to a 48V mild-hybrid system. Doesn't seem like a lot, does it? But, don't downplay this little puppy just yet.
Before the introduction of this model, you had two options locally. Either get a 1.5-litre turbocharged engine but settle for not much power and a more expensive Cat B piece of paper, or just splash the cash and get the EA888-powered Skoda Octavia RS with the same COE instead.
Now, this new 1.0-litre contender fits nicely under Cat A COE, instantly shaving off some change. While 109 hp and (crucially) 200 Nm of torque does not sound like much for a full-sized liftback sedan, the 48V mild hybrid system is there to fill in the gaps.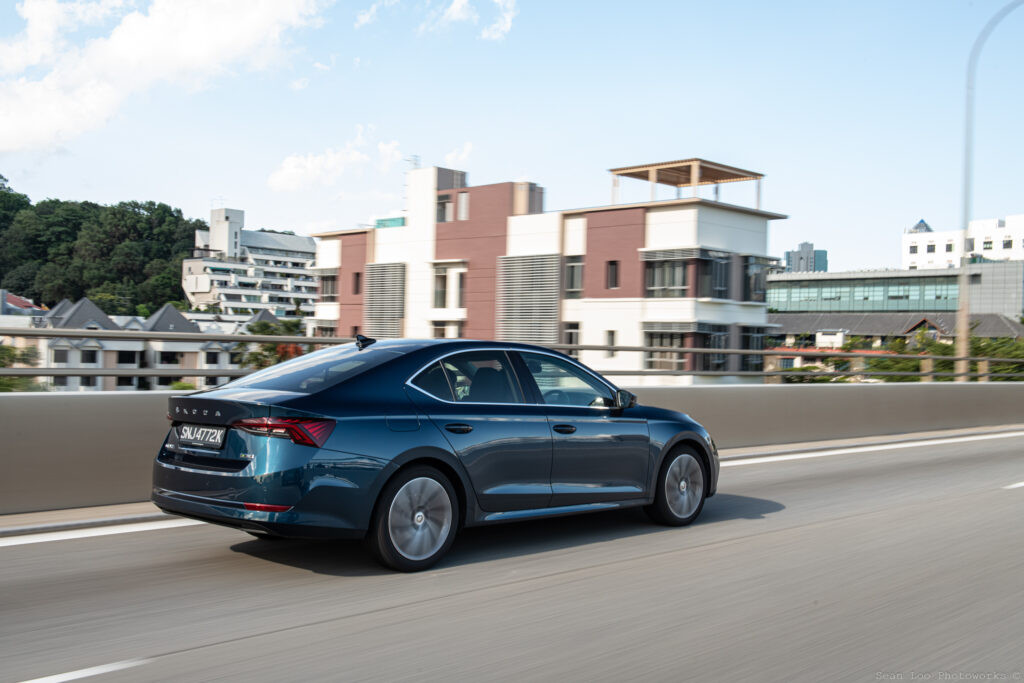 It's not a complete hybrid drivetrain that can run on electrical charge alone; this mild hybrid system acts more like an assistant that gives the petrol engine a bit more enthusiasm, with the added benefit of allowing the Octavia to coast with the engine shut off while the battery supplies power to the onboard electrical systems.
This system is so impressive, it even allows the car to cruise without the engine running for really long distances. Have some clear air in front of you, and you could almost get the engine to hibernate for most of your expressway journey.
The result? A frugal machine that can easily do about 800-850km on a tank of fuel.
During my time with it, I managed to clock an average of 21km/litre on expressway bits, with a long-term reading of 12.8km/litre. Mind you, that is with a ton of start-stop urban conditions thrown into the mix. It isn't astronomically better than its competitors, but it's sound enough that your non-car-loving partner can agree to swap to it for the family shuttle.
Crucially, you don't lose any of the fun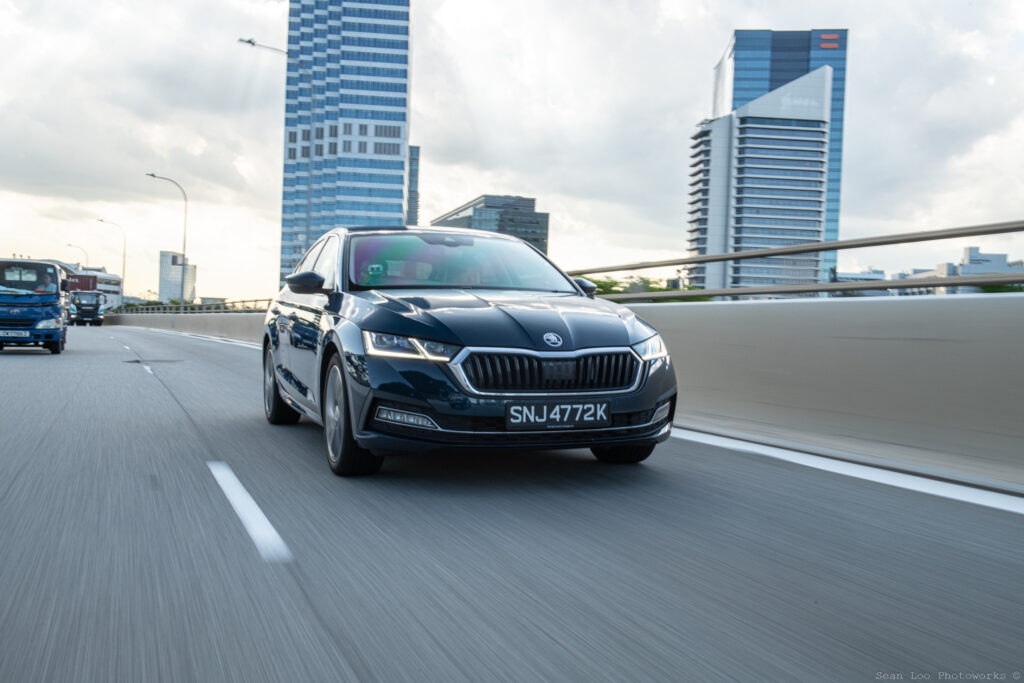 Despite its downsized heart, you don't lose any of the Skoda Octavia's charms.
Like its beefier brothers, the 1.0-litre Octavia can hold its own in the corners, bestowing you with hot-hatch-like reflexes and a chassis that can tackle any backroads with minimal issue.
By default, the car would try and hold on to its higher gears for as long as possible, all in the name of fuel efficiency. But, with quick workarounds with the sequential paddle shifters, or by tapping the gear selector into Sport mode, the Octavia's responsive 7-speed DSG can turn it into a different animal altogether.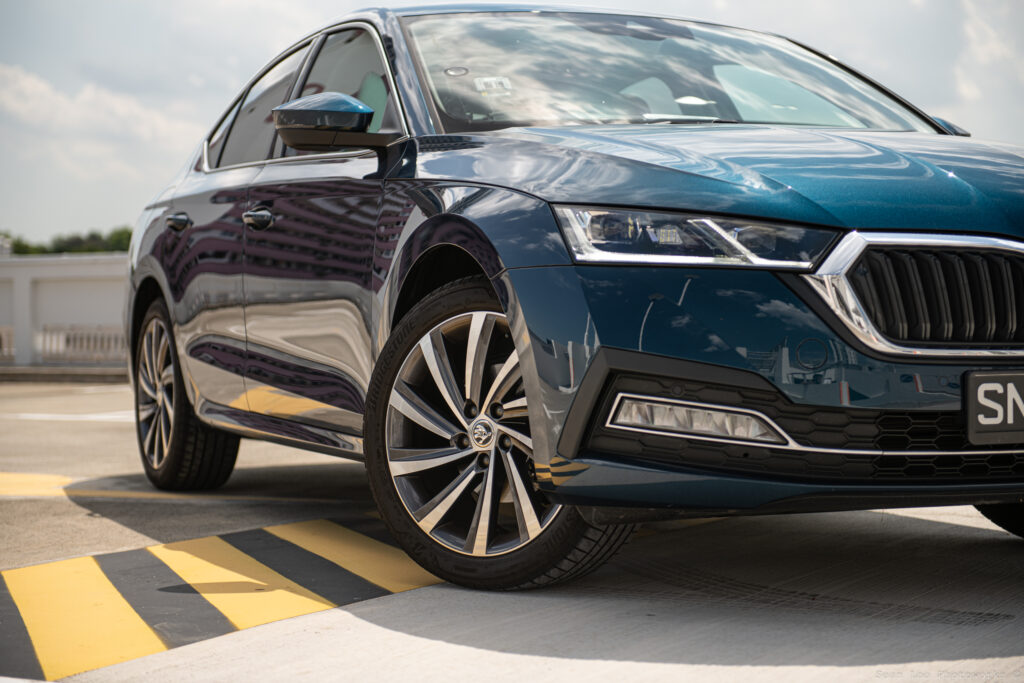 The multi-link rear suspension has been swapped out for a 'worse' torsion beam setup. Personally, I feel this isn't necessarily a bad thing, as it makes the car more predictable while coming round a bend. The car feels settled even at speed, and any bouts of oversteer can be mitigated as easily as letting your foot off the throttle. Having the ability to toss your family around like a salad? Check.
The only downside is the obvious lack of available power, which in turn requires you to employ a more momentum-based driving style instead. With a century sprint time of 10.5 seconds, you're never encouraged to drive too quickly.
Crucially, the Octavia can still keep up with traffic well enough and manages not to feel underpowered. That said, if you load its boot to the gunwales and its cabin with as many people as will fit, it might struggle to lug all that additional weight around.
You still get the same good looks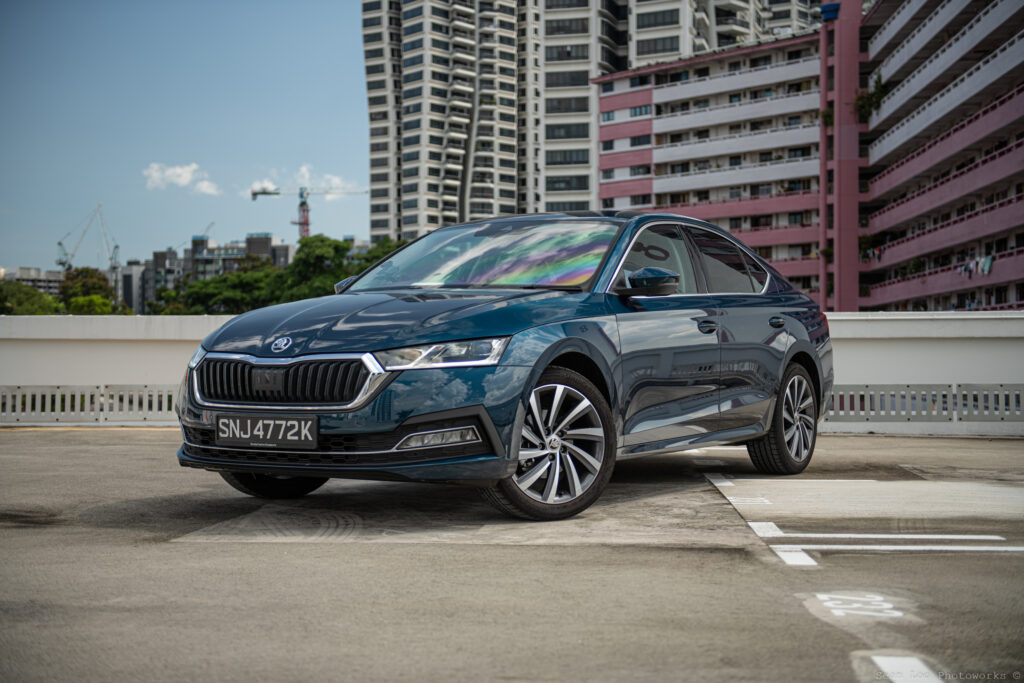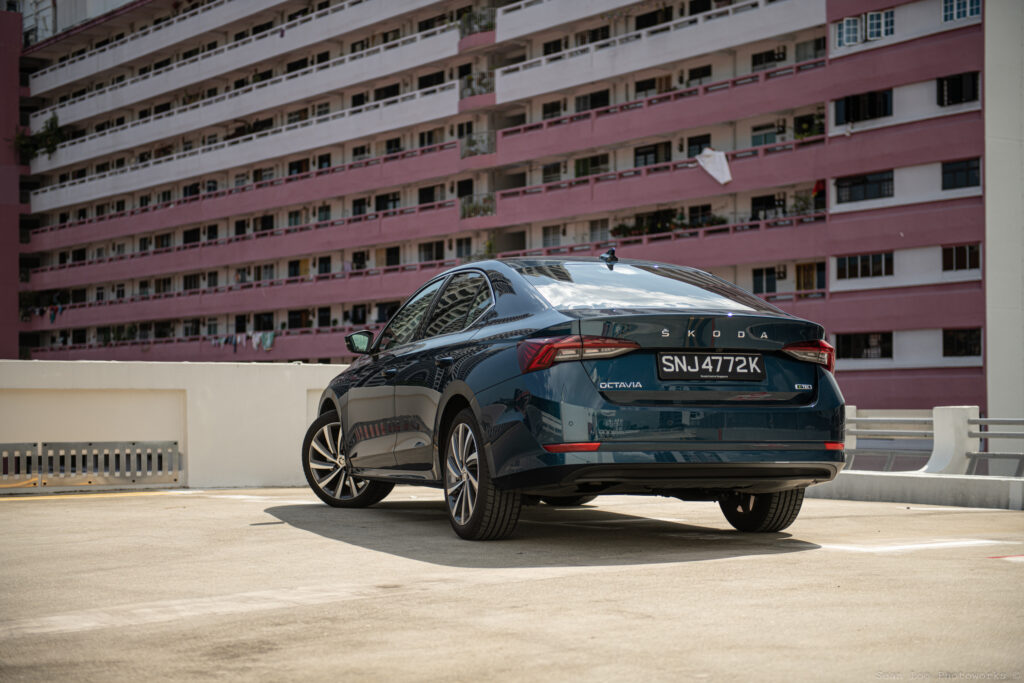 The Skoda Octavia has never really been a bad-looking car by any stretch, and this update brings about several external upgrades.
New chrome accents give windows and bumpers a bit more 'oomph', with LED matrix headlights now fitted as standard, which include active side lighting elements that illuminate as the steering wheel is turned.
And the ol' familiar cabin
Skoda cabins are some of the most refined ones you can find in a car not overtly classed as a luxury vehicle. There's a genuinely posh feel to the drive, and the cabin is one of the most spacious in this vehicle segment.
The new generation trend sees cars ditching physical buttons in favour of fancy screens and digital menus. The Octavia is a victim of this too, but at least there are still buttons for easy access to important menus, largely populated as a strip of proper shortcut buttons.
But, all of those still require a couple of prods at the touchscreen after pressing said button to get your settings locked in, so it's just not as intuitive as it should be. Worst of all, the volume is controlled by a strange touch-sensitive slider. What was wrong with a good old-fashioned dial?
Speaking of the touchscreen, spring for the higher Style trim, and the Octavia comes with a 10-inch Bolero infotainment touchscreen rocking wireless Apple CarPlay and Android Auto compatibility. This system also features gesture control and access to Skoda's Digital Assistant, Laura, who can apparently control the onboard systems in six different languages. What a show-off.
Since everything is wireless, you can toss your phone into the wireless charging dock and forget about it. Up on the flight deck, a 10.25-inch digital instrument cluster can be controlled using the array of buttons located on the two-spoke steering wheel.
Space for days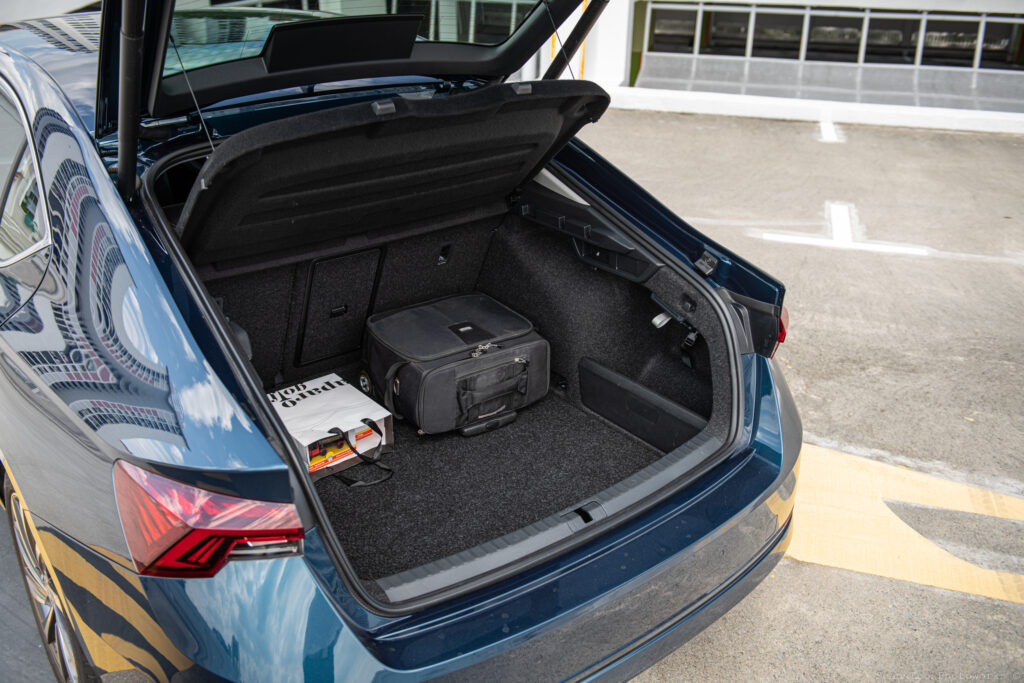 Did I mention just how practical this Octavia is? The 600-litre boot in the hatch is only 40 litres smaller than the wagon, and there's plenty of room for rear-seat occupants. The liftback hatch swallows items that other sedans will have trouble with.
That sloping roof does impinge on headroom ever-so-slightly, but you'd hardly notice unless you regularly transport sizeably tall passengers.
You'll be hard-pressed not to like it
The new Skoda Octavia 1.0 is a true gem of a car. Not many cars today can boast the same amount of space with a cheaper COE and price tag. If you are looking for something that is frugal, stylish, and practical, the Octavia is one of the best value-for-money mid-size sedans you can buy right now.
A turn-up for the books indeed.
Technical Specifications
Skoda Octavia 1.0 TSI e-TEC
Engine: 999cc, turbocharged mild hybrid
Power: 109hp
Torque: 200Nm
Gearbox: 7-Speed (A) DSG
0-100km/h: 10.5 seconds (claimed)
Top Speed: 202km/h
Fuel Economy: 23.3km/L (claimed)
Price: S$160,900 (Ambition) / S$167,900 (Style), both with COE (accurate at the time of this article)
Contact: Skoda Centre Singapore
Photo Credits: Sean Loo (@auto.driven)
---
Read more automotive news at AutoApp, or check out our latest videos on Ignition Labs TV!