We had the privilege of driving this Octavia Combi RS through some lovely roads in Kuantan.
---
I start all my wagon reviews by saying this: "If you've been reading our articles for some time now, you'd know that I'm a wagon fan." Well, that's because I really am, and I prefer it that you know from the very beginning that I'm going to be biased. Be it Audi's range of dashing Avant's, BMW's Touring series, or Mercedes and Volvo's Estates, just give me a wagon and all will be well.
What other body style gives you both car-like driving dynamics and all the practicality a car owner could possibly need? None. Nada. Only a wagon can.
Now if you put a nice, potent engine into a wagon and tweak the suspension, brakes and wheels to cope with the added power, you've got something even more magical. That's what Škoda has done with the Octavia. The once liftback-only RS variant now comes in a Combi form – which is Škoda speak for a station wagon.
We had the privilege of driving this Octavia Combi RS through some lovely roads in Kuantan, Malaysia and my word, did it impress. What made it even more special was the fact that I once owned an Octavia Combi as well, in a shade of grey too, so this was a road trip down memory lane of sorts.
First, the similar bits to the RS liftback.
Well, a lot of it is the same as the lovely red RS we drove recently. The car is 15 mm lower than the standard Octavia, has uprated brakes and sports some cool-looking 19-inch wheels. Power is delivered via a 2.0-litre TSI engine that whips out 241bhp and 370Nm of torque.
The interior panels, steering wheel, seats and features are also similar, with the exception of a very important addition – a panoramic sunroof. I'm a sucker for these and seeing it fitted on the Combi got me nodding with approval.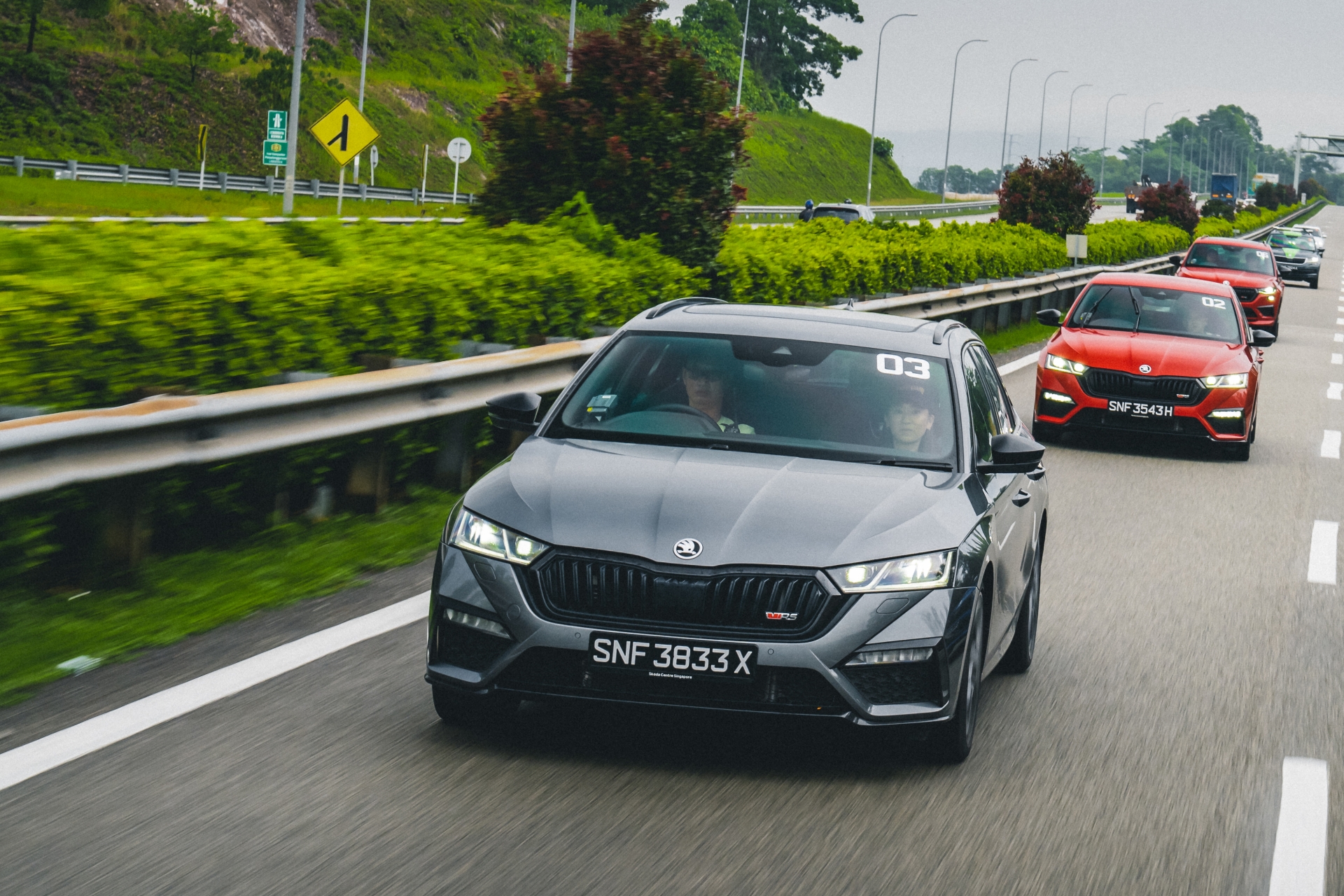 Key exterior visual styling from the front to the side is also identical to the liftback. But the sides are where the similarities end. The Combi, being a station wagon, cuts a sportier and adventurous profile. The rear is stout without being bulky and the three-quarter angle just exudes a sleek-looking form.
I'd dare say, in some angles, it even looks like an Audi RS4, sans the flared body arches.
The added space is a welcomed feature too, not that the liftback version was lacking in any. In fact, the liftback has a larger opening access area with the rear glass panel also raising up to create a gaping boot. But the Combi does have a higher rear roof line and that frees up 640 litres of boot space or 1,700 litres with the rear seats folded down.
So I said it looks like an RS4, but does it drive like one? Well, not quite. Perhaps that's because the RS4 does have 200 bhp more and costs double the price. But while it's not ballistic like the Audi, it's no slouch either. The Combi RS will reach 100 km/h from standstill in 6.7 seconds, and the power is accessible from pretty much across the rev range.
Through the sweeping Malaysian B-roads, the RS performed admirably as well, taking in the rough and tough roads, soaking up the bumps and tacking the undulated surfaces in an extremely composed manner.
If there was one complaint I had, it would have been the noise insulation or lack of it. This seemed to create quite a din when driving across 70% of the roads in Malaysia, whether I was in the liftback or the Combi. The Kodiaq RS we drove had no such issue.
This could be perhaps sorted with some added soundproofing and quieter tyres. Other than that, I really have nothing else to gripe about the car. To me, it's the perfect ride. If only COE was lower, I would be one to sign on the dotted line.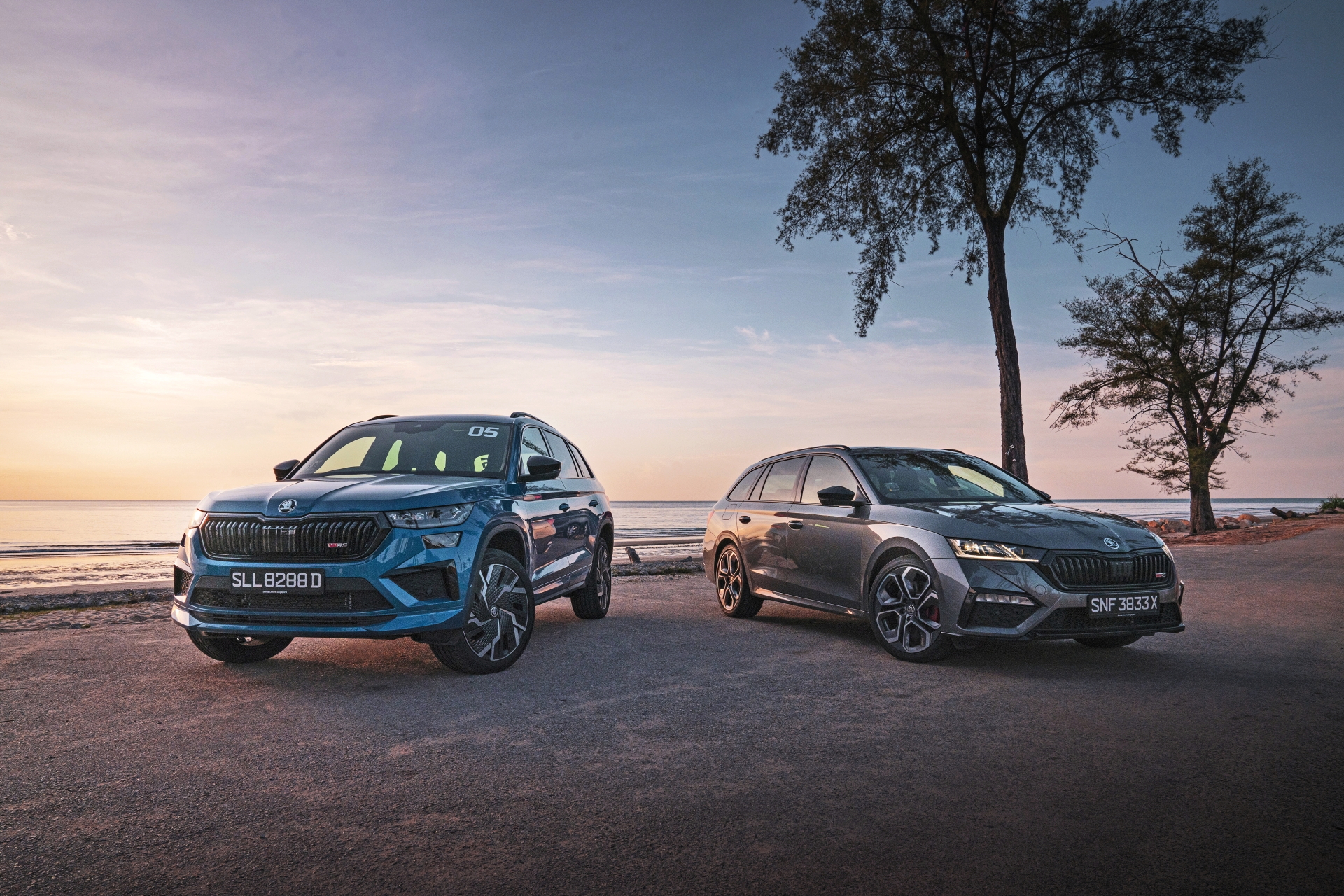 This article first appeared in Burnpavement.com in 2022.
Technical Specifications
Škoda Octavia Combi RS 2.0 TSi
Engine:  1,984cc turbocharged inline four-cylinder diesel
Transmission: 7-speed dual-clutch automatic
Driveline: Front-wheel drive
Power: 245hp @ 5,250-6,500rpm
Torque: 370Nm @ 1,600-4,300rpm
0-100km/h: 6.7 seconds (claimed)
Top Speed: 250km/h (claimed)
Fuel Economy (combined): 6.5-litres/100km or 15.4km/litre (claimed)
Fuel Tank Capacity: 50 litres
Price: $278,900 with COE (accurate on 4th November 2023)
Contact: Škoda Singapore
---
Read more automotive news at AutoApp, or check out our latest videos on Ignition Labs TV!