The new Subaru Crosstrek is now Subaru's entry-level model and coming with a new hybrid engine.
---
Hold on, didn't we already know this SUV as the XV?
So, here's the deal. Subaru decided to unleash the Crosstrek nameplate here in Singapore, a moniker previously reserved for our friends in North America. This isn't just a subtle name change either; it's a whole new personality.
First things first, let's talk looks. The Crosstrek has undergone a transformation that's impossible to ignore. It's got a front end that demands attention, and those flared fenders with plastic cladding?
They give this ride a rugged, tough-as-nails vibe. Subaru calls it a 'playful design that's fun to look at'.
And if you're all about that individuality, this SUV comes in a variety of paintwork colours, including three exclusive shades: Oasis Blue, Offshore Blue Metallic, and Sun Blaze Pearl. So, go ahead, pick a hue that matches your personality.
But what's under the hood? Well, the Crosstrek e-BOXER Hybrid is packing a naturally aspirated 2.0-litre flat-four engine, cranking out 148bhp and 196Nm of torque. Subaru has also given this engine a makeover with a new cylinder head and pistons, making it even more efficient, powerful, and refined.
And here's the green twist – it's got an electric motor in the mix, churning out 16.5bhp and 66Nm of torque. This hybrid duo isn't just about saving the planet; it's also designed to deliver a smooth and powerful performance no matter where you're driving.
Speaking of driving, Subaru's symmetrical all-wheel drive system is standard here, and that's useful when handling all sorts of road conditions. The Vehicle Dynamics Control System and Dual-Function X-MODE add an extra layer of traction goodness, letting you choose the perfect setting for whatever surface you're conquering – be it dirt, mud, or snow.
Safety? Subaru's enhanced EyeSight 4.0 is the brand's latest safety and driver assistance package, and it's got some upgrades. Three cameras now watch your front, thanks to the addition of a new wide-angle monocular camera. It's like having an extra set of eyes on the road, especially when it comes to spotting pedestrians and two-wheelers.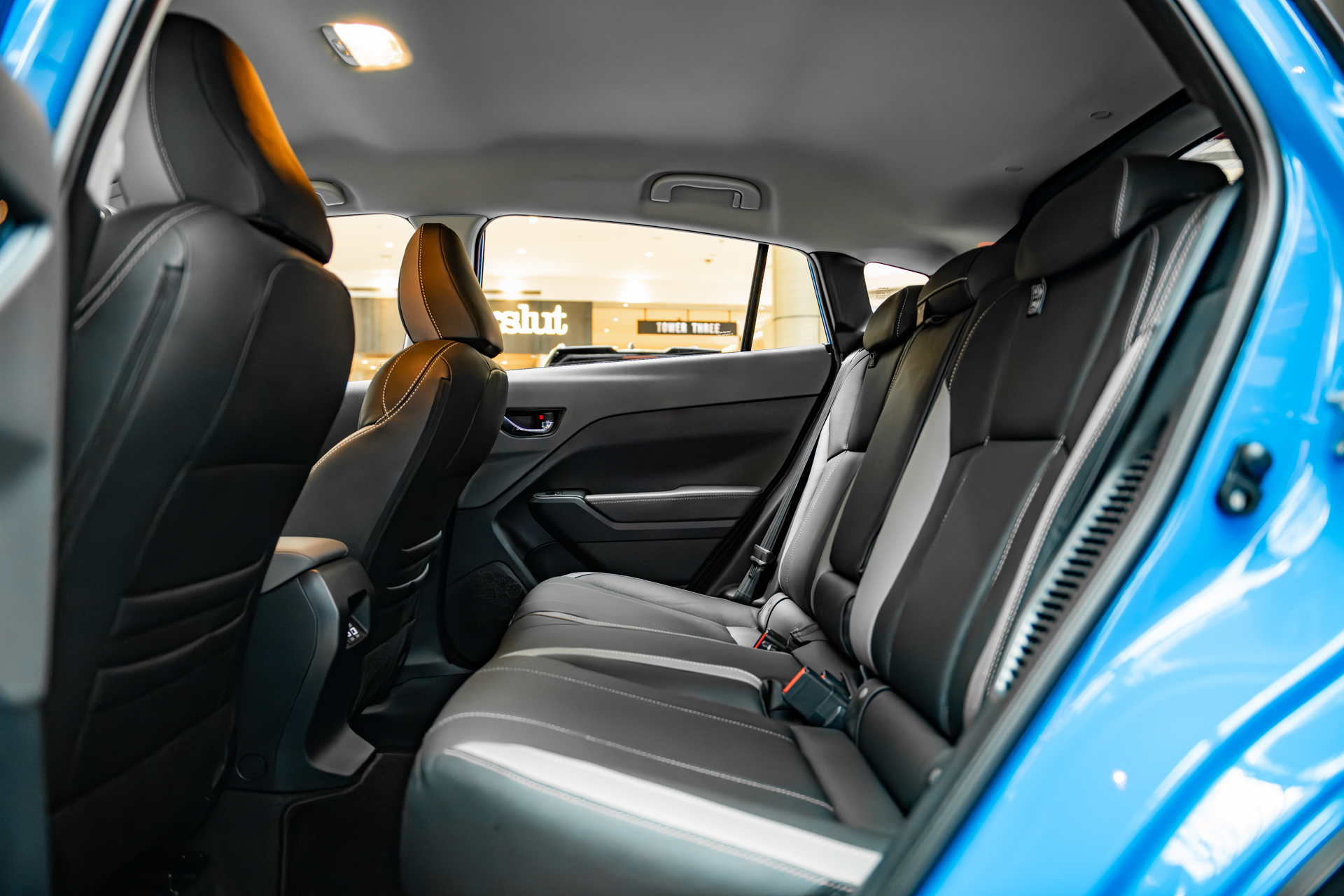 Inside the Crosstrek, you'll find the same familiar Subaru gubbins. The powered, 10-way adjustable driver's seat ensures you find that perfect driving position, and your copilot gets an 8-way electrically adjustable seat.
The infotainment system is now accessible via a new 11.6-inch HD touchscreen, and yes, it plays nice with Apple CarPlay and Android Auto – wirelessly. So, your playlist and navigation are just a touch away.
Prices for the Crosstrek e-BOXER Hybrid start at $216,800 with COE. That's not a small number, but considering all that you get packed into this SUV, it's an investment in a fun future on the road.
Photo Credits: Sean Loo (@auto.driven)
---
Read more automotive news at AutoApp, or check out our latest videos on Ignition Labs TV!