Following the all-electric BMW i5 and the new BMW 5 Series, the model range will be expanded from November 2023 to include the BMW 530e Sedan and BMW 550e xDrive Sedan models.
---
Just a few weeks after dropping the all-electric BMW i5 and some combustion engine variants juiced up with 48-volt mild hybrid tech, BMW is rolling out not one, but two plug-in hybrid models for the BMW 5 Series come this November. Meet the BMW 530e Sedan and the BMW 550e xDrive Sedan, the latest additions to the BMW family.
The new 5 Series Sedan will soon offer the entire spectrum of electrified powertrains, and these two hybrids are the icing on the cake.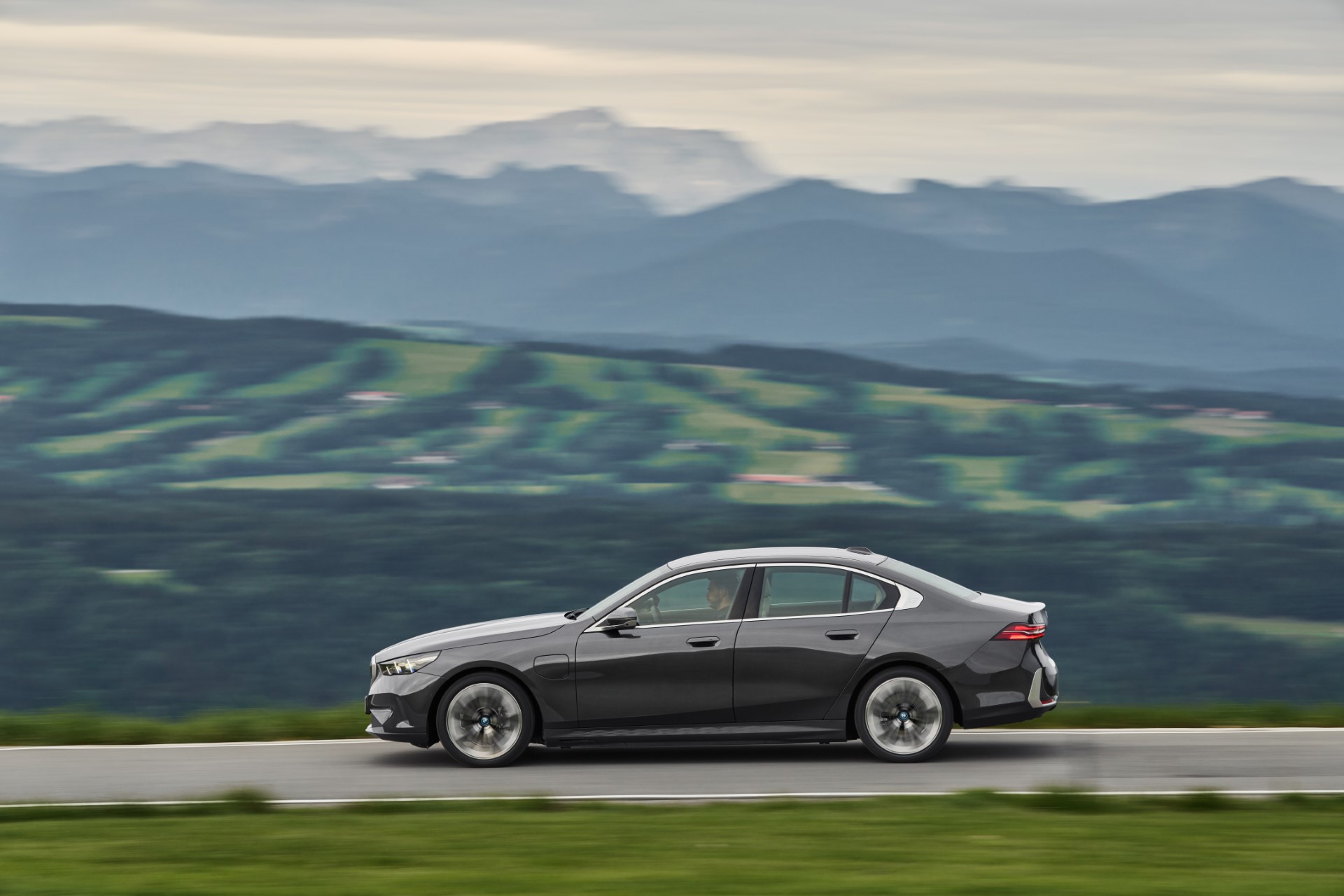 The BMW 530e Sedan, with its four-cylinder petrol engine, and the BMW 550e xDrive Sedan, with an in-line six-cylinder petrol engine, are setting new standards. Both are armed with the latest BMW eDrive technology for plug-in hybrid systems.
The electric motor in these hybrids isn't just an afterthought; it's seamlessly integrated into the 8-speed Steptronic Sport transmission, along with its power electronics. The result? Exceptional efficiency and a power boost of up to 145 kW (197 hp) for the 550e Sedan and 135 kW (184 hp) for the 530e Sedan, adding to the overall system output.
The BMW 550e xDrive Sedan, the kingpin of this duo, is a powerhouse. Its 3.0-litre in-line six-cylinder petrol engine combined with eDrive tech churns out 360 kW (489 hp) and a monstrous 700 Nm of torque. This beast sprints from 0 to 100 km/h in just 4.3 seconds, and its top speed is electronically capped at 250 km/h. But here's the kicker – it can go up to 140 km/h in pure electric mode. 
The BMW 530e Sedan, on the other hand, flexes its muscles with a 2.0-litre in-line four-cylinder petrol engine and eDrive tech, delivering a maximum system output of 220 kW (299 hp) and a maximum torque of 450 Nm. It can race from 0 to 100 km/h in a respectable 6.3 seconds, with a top speed of 230 km/h, or up to 140 km/h in pure electric mode.
Both these hybrids bring more than just a pretty face to the table; they've got stamina. The electric range for the BMW 550e xDrive Sedan is 83 to 90 kilometres, and for the BMW 530e Sedan, it's an impressive 93 to 103 kilometres. That's the kind of range that makes longer commutes a breeze without spewing emissions all over the place.
Plus, their aerodynamic designs, complete with clever underbody tweaks, ensure they slice through the air like butter, reducing CO2 emissions and increasing electric range by up to ten kilometres.
But what about regenerative braking? BMW's got that covered too. Their adaptive recuperation system cleverly harvests energy during the overrun and braking phases. To top it off, it uses navigation data and driver assistance systems to fine-tune the power regeneration according to the road ahead.
The lithium-ion high-voltage battery is neatly tucked away in the vehicle underbody, keeping the centre of gravity low and leaving you with a generous 520 litres of storage space, just like the non-hybrid siblings.
And here's some good news for the impatient souls – the maximum charging power has been doubled so that you can juice up from zero to 100 per cent in just 3 hours and 15 minutes. At a regular household socket, it'll take a little over 11 hours, so you can wake up to a fully charged ride.
And before I forget, these hybrids come loaded with tech. From 19-inch alloy wheels to the BMW IconicSounds Electric system that serenades you with acoustic feedback as you accelerate in electric mode.
If you're eyeing the BMW 550e xDrive Sedan, it comes standard with Adaptive Chassis Professional, which includes electronically controlled shock absorbers and a lowered suspension, along with Integral Active Steering. It's like having your car whisper sweet driving advice in your ear.
And the pièce de résistance? The BMW Interaction Bar is an ambient lighting marvel combining functionality with breathtaking design. Touch-sensitive panels control ventilation, air conditioning, and hazard lights, all wrapped in a mesmerizing crystalline surface that spans the width of the instrument panel and into the door panels.
The BMW 5 Series Sedan is ushering us into a new era of driving, one where power, efficiency, and style converge in electrifying harmony.
---
Read more automotive news at AutoApp, or check out our latest videos on Ignition Labs TV!