This article was first published on 30 May 2020 on www.straitstimes.com
A Singapore start-up has devised an app-based concierge service which gets your car serviced without you having to leave your seat.
AutoApp will go "live" in three weeks, with vehicle pickup and drop-off services starting from $68. Customers merely select what they want – from vehicle inspection and tyre/battery replacement to an oil change and a regular servicing pack- age – and key in time and place of pickup.
While such a service is pertinent in a time of pandemic, the idea came to AutoApp founders over a year ago.
Mr Sheldon Trollope, spokesman for Ignition Labs, the company behind AutoApp, says its proposition is convenience and time-savings.
"Customers get to reclaim the time they would otherwise take if they were to send the car in themselves," he says. "Our studies in these activities have shown that a standard car servicing takes no less than four hours if you factor in the door-to-door time taken to carry out the task."
Mr Trollope notes that the service is "more than a car valet driven by gig economy jockeys". Instead, AutoApp makes use of former workshop service advisers who are able to communicate technical issues which often elude the layman.
"In driving the car over to the workshops, our service ambassadors are also able to identify and relay their findings to the mechanics at the workshops," he says, adding that the service helps with social distancing and minimising risks of infection as customers need not leave home to get their cars serviced.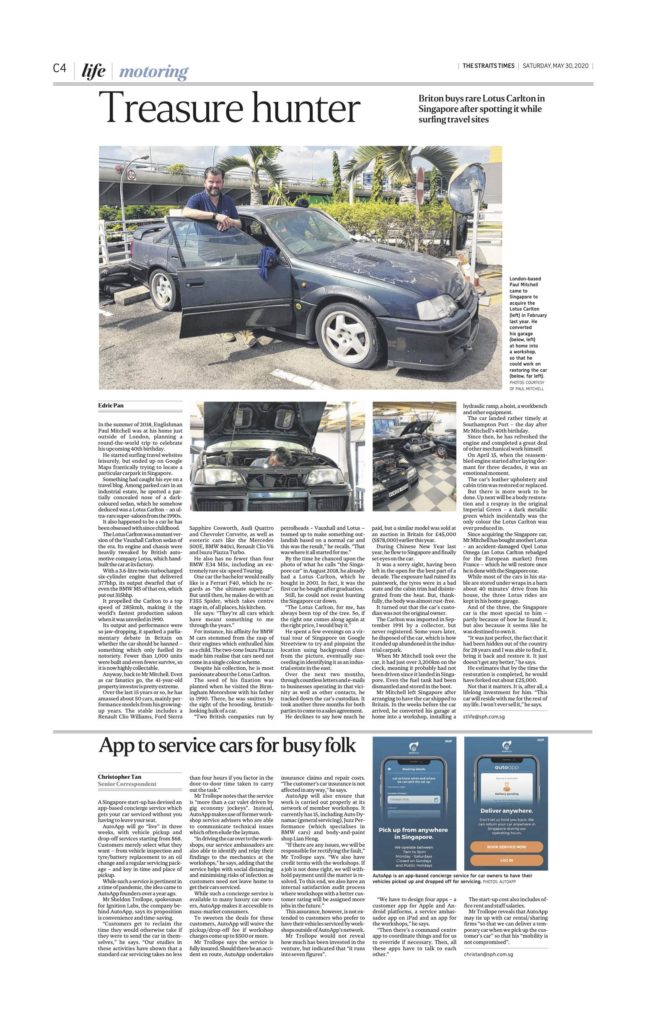 "AutoApp's proposition is convenience and time-savings… customers get to reclaim the time they would otherwise take if they were to send the car in themselves."

While such a concierge service is available to many luxury car owners, AutoApp makes it accessible to mass-market consumers.
To sweeten the deals for these customers, AutoApp will waive the pickup/drop-off fee if workshop charges come up to $500 or more.
Mr Trollope says the service is fully insured. Should there be an accident en route, AutoApp undertakes insurance claims and repair costs. "The customer's car insurance is not affected in any way," he says.
AutoApp will also ensure that work is carried out properly at its network of member workshops. It currently has 15, including Auto Dynamac (general servicing), Juzz Per- formance (which specialises in BMW cars) and body-and-paint shop Lian Heng.
"If there are any issues, we will be responsible for rectifying the fault," Mr Trollope says. "We also have credit terms with the workshops. If a job is not done right, we will withold payment until the matter is resolved. To this end, we also have an internal satisfaction audit process where workshops with a better customer rating will be assigned more jobs in the future."
This assurance, however, is not extended to customers who prefer to have their vehicles serviced by workshops outside of AutoApp's network.
Mr Trollope would not reveal how much has been invested in the venture, but indicated that "it runs into seven figures".
"We have to design four apps – a customer app for Apple and Android platforms, a service ambassador app on iPad and an app for the workshops," he says.
"Then there's a command centre app to coordinate things and for us to override if necessary. Then, all these apps have to talk to each other."
The start-up cost also includes office rent and staff salaries.
Mr Trollope reveals that AutoApp may tie-up with car rental/sharing firms "so that we can deliver a temporary car when we pick up the customer's car" so that his "mobility is not compromised".
---
Reproduced with permission.