Just like that, the school holiday season is here! Fret not, here are some fun activities that kids and grown-ups alike can enjoy together.
---
For many families, the school holiday season used to mean a season of road trips and travelling. Now that overseas travel is off the table, it's time to get creative and discover parts of Singapore that are often taken for granted.
Best of all, these places could help our children connect with their homeland on a deeper level. They might also teach them to appreciate our heritage and local nature just a little more!
MacRitchie Trail
Singapore's oldest reservoir is home to a network of nature trails. Some of these extend all the way to Bukit Timah Hill more than 10-kilometres away. Whether you're only up for a short stroll or could do with a long trek, there are many routes that will take you through the rich bio-diversity of plants, animals and even aquatic life. There are many boardwalks that take you right to the water's edge. Here, there's a good chance that you'll see arowanas, tortoises, water monitor lizards. Even the odd alligator gar can be spotted.
If you have any snacks with you, it is advisable to keep them in your back pack. Do not consume them in the presence of the numerous macaques you'll encounter along the way.
You might also see the odd wild boar. Do not provoke them or try to feed them or any animals for that matter. Follow these rules and you and your 'troupe' should be fine.
It gets hot later in the day so remember to bring some water or other forms of hydration with you.
Get directions to MacRitchie trail here.
Orto
About the size of seven football fields, Orto is an eco leisure park in the northern part of Singapore. Set in a rustic kampung-style environment. Just the type of place to spend the school holiday season at.
Here, children and adults alike can indulge in fishing and prawning. On the other hand, those who are more actively-inclined will do well to check out the adrenalin-pumping options here; Katapult Trampoline Park, Maximum Drift Karting Arena or Red Dynasty Paintball Park.
Nature lovers can also take a slow walk through The Live Turtle & Tortoise Museum that was formerly located in Jurong. Over 700 testudines can be seen here with the larger one roaming around the premises.
There are also numerous eateries and watering holes (of the alchoholic kind) that are located at Orto so you're unlikely to leave hungry.
Get directions to Orto here.
Hampstead Wetlands Park
A new favourite especially among the birdwatching community is Hampstead Wetlands Park. This 3.23-hectare green sanctuary that features its own freshwater ecosystem. Test your photography skills and try to identify the myriad species of fauna that call this place home.
Fun fact. The vegetation in these wetlands also serve as a natural filter for removing sediments from surface run-off when it rains.
When you get hungry, there are numerous food options nearby including Seok Seng 1959 Bicycle Cafe.
Wild Wild Wet @ Downtown East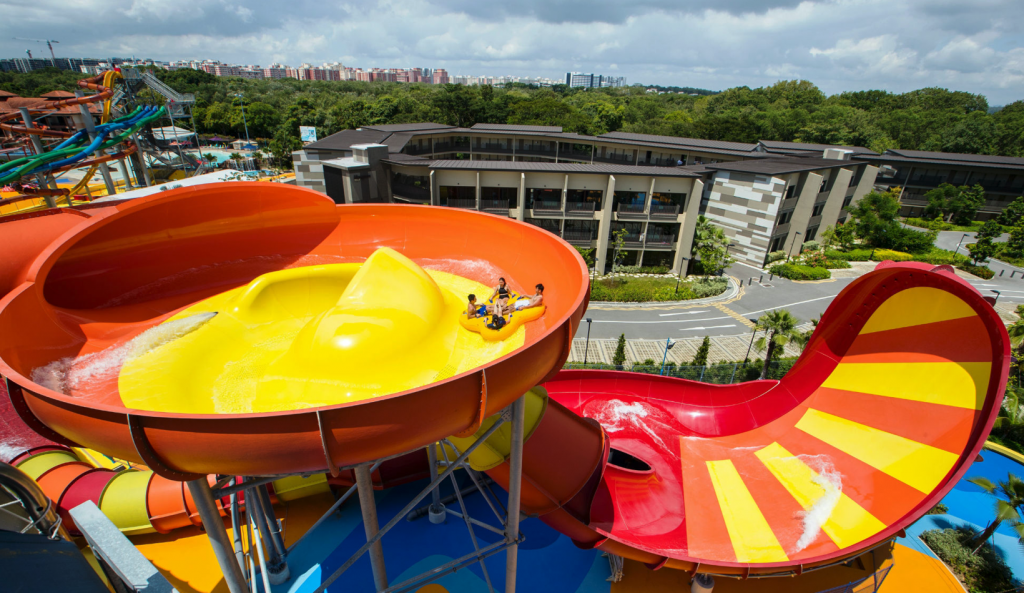 A firm family favourite, Wild Wild Wet is Singapore's largest water park. From exhilarating rides to a relaxing float down a lazy river, there's something for everyone. It even lays claim to being one of the Top 10 water parks in Asia.
Located within metres from Wild Wild Wet @ Downtown East is the family-friendly hotel, D'resort @ Downtown East. You can rent cabanas fitted with air-coolers and refrigerators at the water park. However, nothing beats having a proper room nearby. Freshen up or completely relax after an exciting day out.
Get directions to Wild Wild Wet @ Downtown East here.
---
While you're spending quality time at these locations, let AutoApp take care of all the car-related errands – servicing, grooming or inspections just for you. Download the app here and enjoy our many offers.