Is the Corolla Cross a shot of innovation or JUST another "for-the-sake-of" SUV/crossover?
---
When the Corolla Cross was first launched in Southeast Asia in 2020, Toyota's perceived "slapping of the revered 'Corolla' badge" on the boot lid of a sports utility vehicle (SUV) / crossover made me cross and take an instant dislike to this vehicle. Having grown up with the likes of the KE70 rear-wheel drive Corolla (affectionately known as 'rolla) of the 1980s, and not forgetting the AE86 Trueno (and Levin) of Initial D fame, it was unthinkable to one day find a jacked-up higher-riding automobile wearing this same nameplate.
In my mind, a Corolla should be a sedan, coupe, hatchback, liftback, liftback-coupe or wagon, period. The 'Corolla' nameplate should represent disruptive and innovative, basic, affordable and reliable motoring from point A to B. I went into this review prematurely prejudiced and wanting so much to deeply dislike and diss the Corolla Cross.
Looking at this high-ridin' 'rolla's on-the-road price of $188,488 with COE (accurate at the time of this article), we find the likes of the Subaru Forester e-Boxer and Nissan Qashqai lurking in the marketplace within striking distance price-wise. However, both aforementioned are mild hybrids whereas the Corolla Cross is a full-fledged hybrid of the non-plug-in variety. We also find the BYD Atto 3, Volkswagen ID.4 Pro Performance and Mazda MX-30 similarly priced, but those are fully electric vehicles (EVs).
Being priced similarly to mild hybrids and pure EVs puts this high-ridin' 'rolla in a bit of a quandary, for it needs to significantly outperform the former and put up an excellent value-proposition against the latter, but it also means that the Corolla Cross occupies a bit of a unique place in the market to potentially do just that.
Outside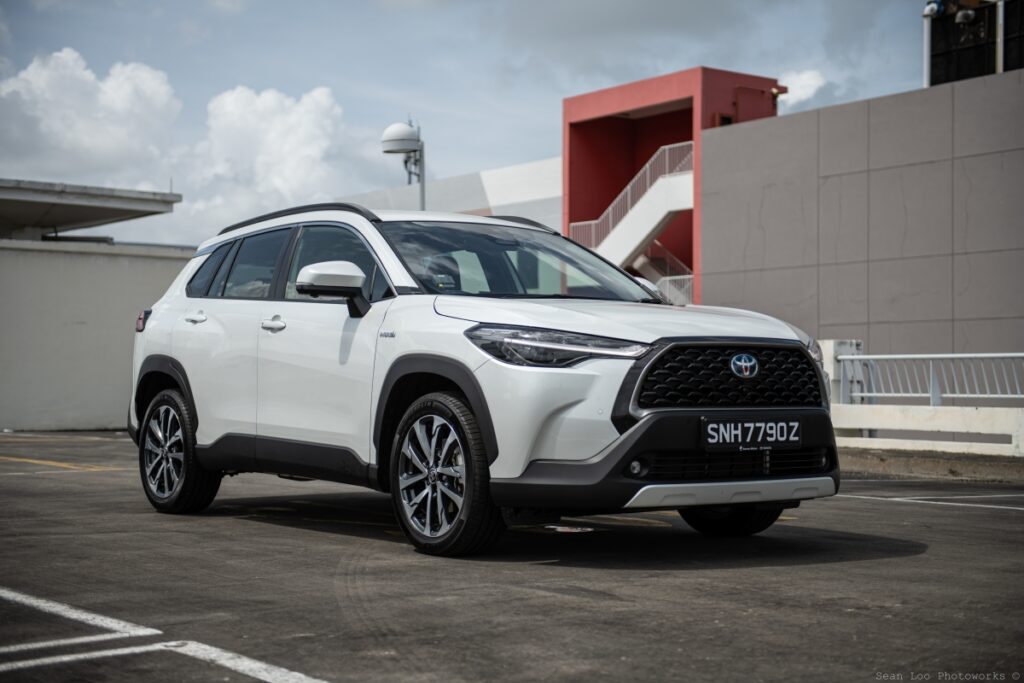 The Corolla Cross' face looks nothing like a Corolla Altis, which is probably a good thing insofar as product differentiation is concerned. Some manufacturers appear to have a tendency to overdo the corporate face on every car in their lineup but, perhaps thankfully, that's not the case here. Although looks are subjective and readers are invited to decide for themselves as usual, it's pretty safe to say that those rather sleek LED headlights combined with the large grille make the front end look pretty angry and imposing, which can come in handy when faced with road hoggers.
Large swathes of black plastic adorn this high-ridin' 'rolla to further reinforce the impression that "this is a crossover than can do more" than its low-ridin' 'rolla sedan-sibling. Contrived? Perhaps, but sitting here in real life juxtaposed against the resplendent White Pearl paintwork, it actually works rather well.
Initially, the sight of tyres with thicker sidewalls made me happy, for a nice and cushy ride was expected. More on that later. And if anyone has apprehensions about the rear view out of the Corolla Cross, large wing mirrors go a long way to alleviating this concern, for they make rearward visibility excellent while on the move, helped by the built-in blind-spot monitors.
Slab-sidedness makes way for a rather bulbous rump framed by sharp creases around the back, and more black plastic can be found adorning the rear bumper. This is a good thing in my view, for this is a rather high-traffic area with loading and unloading everything from the weekly grocery shopping to luggage, and scratching up black plastic is much kinder for the heart than scratching up paintwork and the ensuing heart attack thereafter, especially with the resplendent White Pearl paintwork. Overall, the look from back here comes across as unoffensive and easy on the eyes. The only source of disappointment, for pedantic automotive enthusiasts like yours truly, is the lack of LED rear turn signals, with the respective lamps festooned with incandescent bulbs instead. For the 0.001% of the car-buying population to whom this really matters, the aftermarket provides ample solutions to keep pedants pacified.
Opening the Corolla Cross' boot is an electrical affair, as it swings elegantly upwards to reveal an okay-ish 425-litres of luggage-lugging capacity. In comparison, its low-ridin' 'rolla sedan-sibling features marginally more boot space at 470 litres, and the difference is likely down to the hybrid gubbins underfloor.
Dropping the rear seatbacks liberates more cargo capacity, but strangely Toyota doesn't quote a figure for this extended capacity. Even more strange is that the rear seatbacks, when folded, create a rather high step, so forget about sliding any barang-barang forward to the extra space.
Inside
Let's face it, an SUV/crossover is expected to do family-haulage duties well, and I'm glad to report that the Corolla Cross does.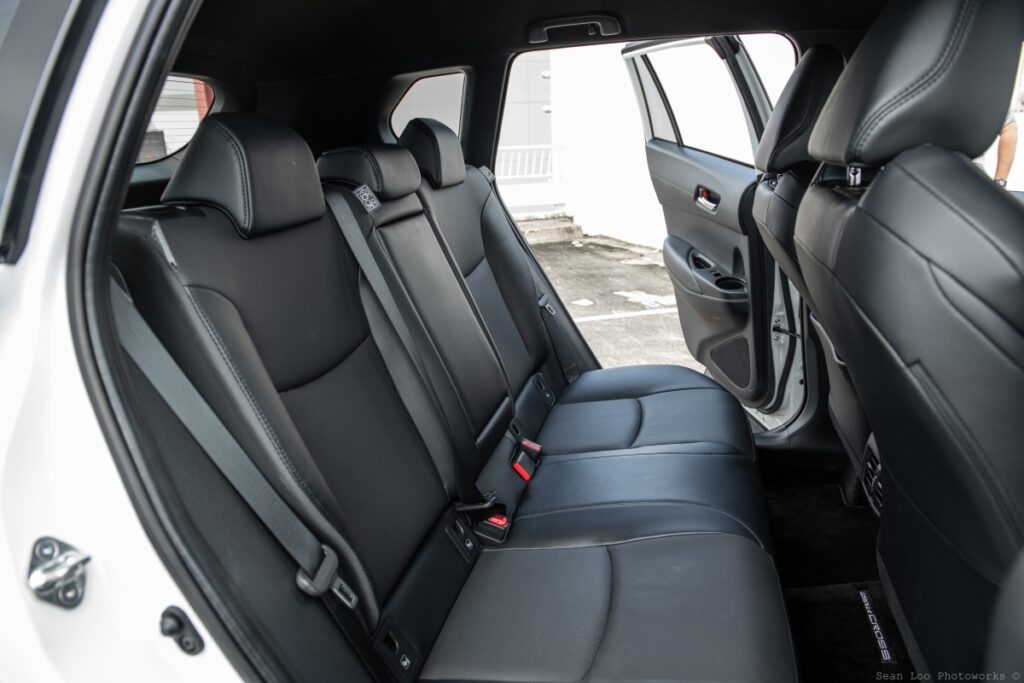 The rear seats, for all intents and purposes, is the business end of such a vehicle, and that 1.82-metre tall longer-of-limbs and shorter-of-torso yours truly was able to sit behind his own fully-rearward and rather-elevated driving position quite comfortably means most families won't have issues. Two pairs of ISOFIX anchor points stand ready to accept child seats, and aircon vents controlled courtesy of the dual-zone climate control up front mean that rear occupants will be well-ventilated and cooled even on the hottest of days. In-door cupholders ergonomically feature within arm's reach, and it is little thoughtful touches like these that make this high-ridin' 'rolla much easier to live with day to day. However, I wish the Corolla Cross came with a (fixed) panoramic sunroof, for it would have made the all-black interior feel much more airy and open.
The front seats are simple to operate and easy to find one's ideal driving position in, with the driver's seat being electrically operated. They're quite well bolstered around the sides, and the squabs are flat enough to easily get in and out of while being sufficiently supportive while driving. The steering wheel is adjustable for both reach and rake and doesn't obscure the clearly laid out digital instrument cluster.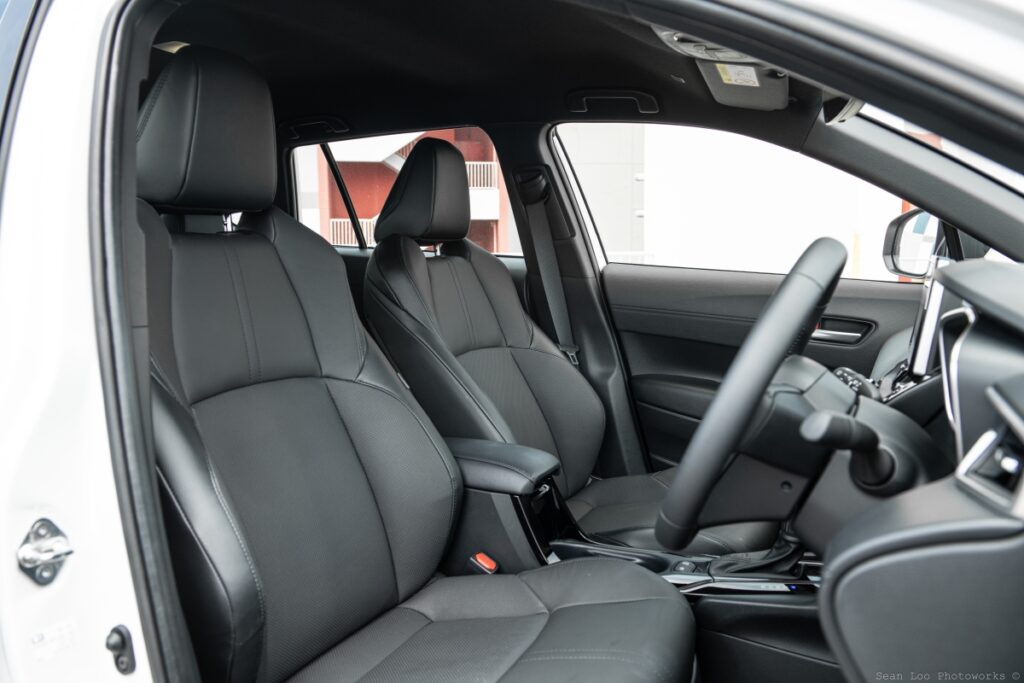 And…. and….. the Corolla Cross has adaptive cruise control as standard fit. NAISE! More on this later.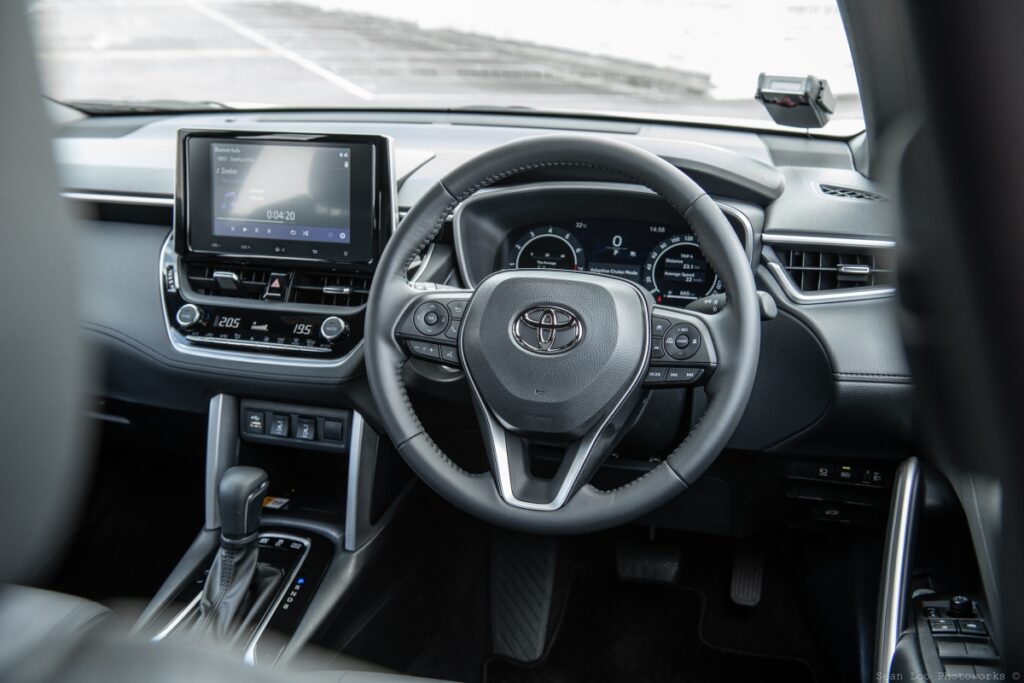 Up front, two cupholders sit neatly nestled into the centre console while both door cards feature a cupholder each, the latter of which could easily hold my 710ml water bottle. Important for parents who need to carry all manner of drinks for their little ones and active folks who need to stow their after-activity refreshments. Also heartening to note is that the driver's window switches are one-touch up/down for ALL the windows!
The infotainment is basic but usable, although most people will opt to use either Apple CarPlay or Android Auto. A solitary USB Type-A socket provides connectivity for this purpose, although why Toyota chose not to include a Type-C socket is bewildering when TWO Type-C sockets are provided for rear occupants.
Strangely, while connected to and playing audio via Bluetooth during the entirety of the test drive, the infotainment kept interrupting music intermittently with audio dropouts, as though there was some kind of buffering issue going on. I've never encountered this with any other test cars and even with my Cardo Freecom 4+ Bluetooth helmet communicators, and Anker Soundcore Spirit X2 and Life Q20 earphones and headphones respectively while connected to my OnePlus 9 Pro, and am unsure whether this issue is isolated only to the test vehicle.
Charging also comes courtesy of a wireless charge pad, and Toyota has thoughtfully provided a button to activate and deactivate said charge pad to keep one's phone healthy and happy. Sweet, but again bewildering considering the aforementioned lack of Type-C connectivity up front.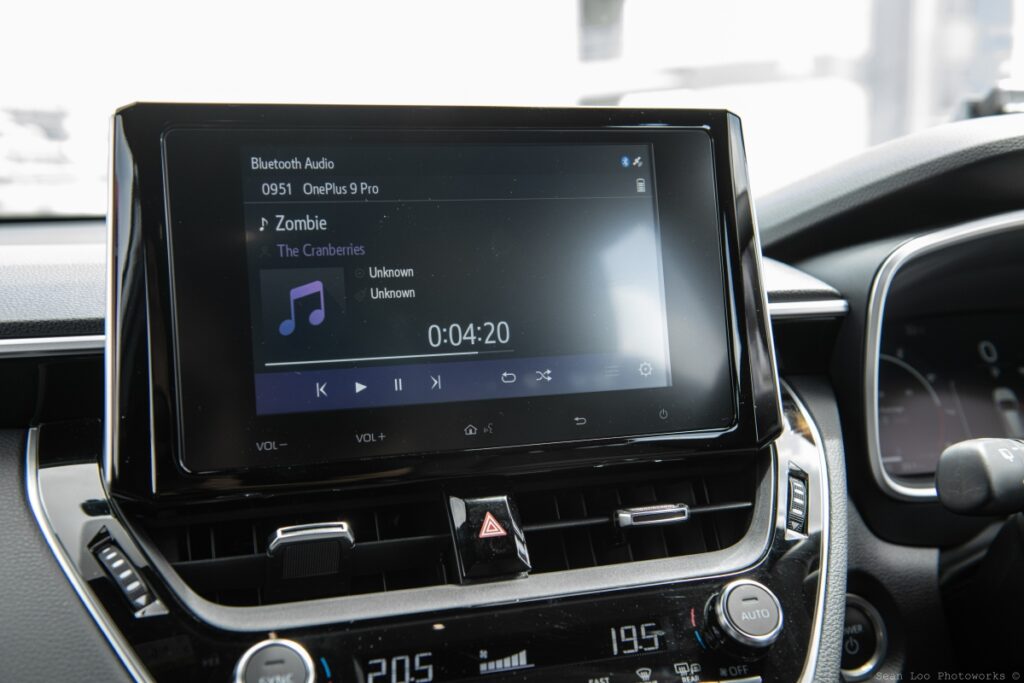 "Old-school curmudgeons" like me can rejoice that the climate controls feature physical buttons and knobs. Although the silver buttons are a bit too slim for stocky fingers, they're thankfully there, and dual-zone climate control means the driver can always remain comfy independent of passengers. To further add to driving comfort, the Corolla Cross features an auto-hold parking brake which means one can sit at traffic lights without having to depress the brake pedal and is a feature that offers the right leg some reprieve and is quite often missed on more expensive cars.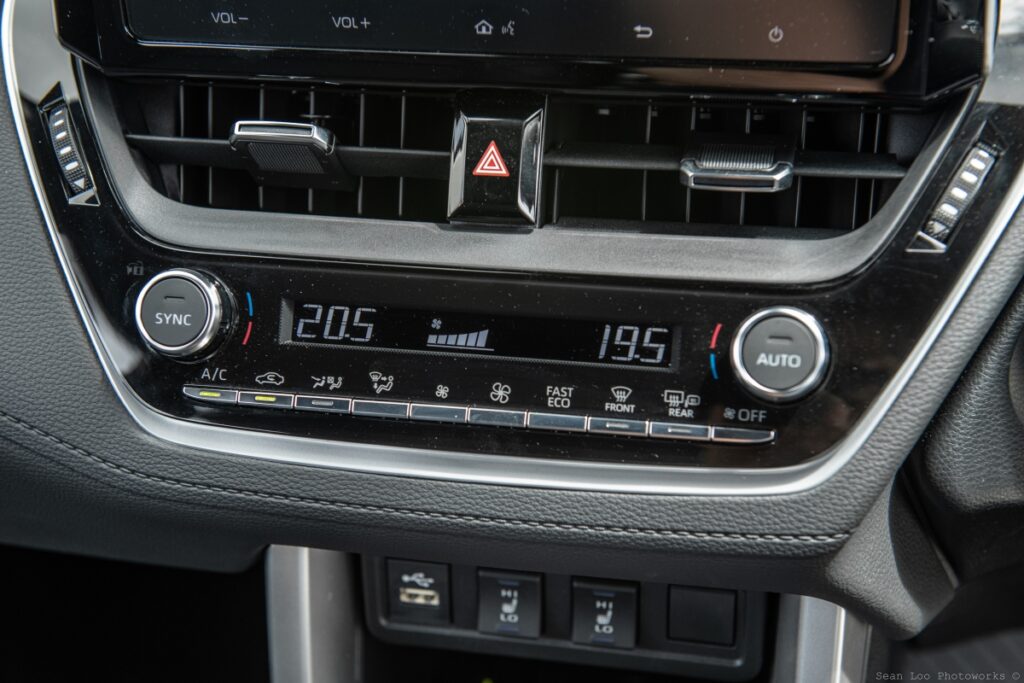 Driving
It's easy, as expected with any vehicle wearing a 'Corolla' badge. Outward visibility is good, aided by the aforementioned blind-spot monitoring system and parking this high-ridin' 'rolla is also simple. Although it doesn't come with any self-parking features, the 360° camera system makes reversing into parking spots a cinch, aided by those large wing mirrors. On the move, the suspension is nice and soft, soaking up humps and bumps with aplomb, although sharper jolts did induce some crashiness. Though soft, the suspension handles remarkably well when chucking the Corolla Cross into corners, with the rear end of this SUV/crossover rotating beautifully to assist with pointing the nose in the intended direction of travel. Most folks won't drive this high-ridin' 'rolla like that, but it's good to know that it can handle well when the situation calls for it.
Wind noise is pretty well contained, although surprisingly, road noise was louder than it should have been and left Sean and me scratching our heads. We suspect less-than-adequate insulation around the wheel arches to be the culprit since the Michelin Primacy 4 tyres that this high-ridin' 'rolla came with were not noisy on test cars from other manufacturers. The aftermarket can thankfully resolve this issue quite easily with sound-deadening sheets and in my opinion a must-do to bring more ride comfort to the Corolla Cross experience.
Active safety systems such as Pre-Collision System with Intersection Assist, Emergency Steering Assist and Auto Emergency Braking along with eight airbags come standard with the Corolla Cross to keep its occupants safe and secure at all times on the road. Add to that the standard-fit adaptive cruise control, which actually can work its way down to a dead stop and then set off again with just a prod on the accelerator can help to make any journey that much more comfortable. The system can also steer itself when the active steering function is enabled, although one still needs to keep both hands on the steering wheel.
For the most part, the adaptive cruise control system works well, even in pouring rain. There was one occasion where, with the system enabled, I was leaving one expressway to join another via a curved flyover, and the system enthusiastically accelerated to maintain its set speed right through that right sweeper. This was delightfully amusing to me, although it could be unnerving to the average driver and a reduction in set speed would be recommended in such a situation. However, on another occasion, the system once again enthusiastically accelerated toward a motorcycle ahead, making me exclaim, "you SURE bro??!!" while manually intervening to slow things down again. It only happened once, so I'm wondering if the system missed the motorcyclist who might have been camouflaged against the back of the black Toyota Noah just ahead of him.
High-breed
This then brings us to the party piece of the Corolla Cross. Toyota has fitted its fifth-generation hybrid system to this high-ridin' 'rolla's two-litre inline four-cylinder naturally aspirated internal combustion engine, whereas the 2020-introduced vehicle had a 1.8-litre engine with the previous-generation hybrid. Acceleration is brisk with this current-gen powerplant, and it was heartwarming to see the hybrid system seamlessly kick in much more often than Toyota's previous-gen systems, running this SUV/crossover in pure electric mode while cruising. And BOY does it work well.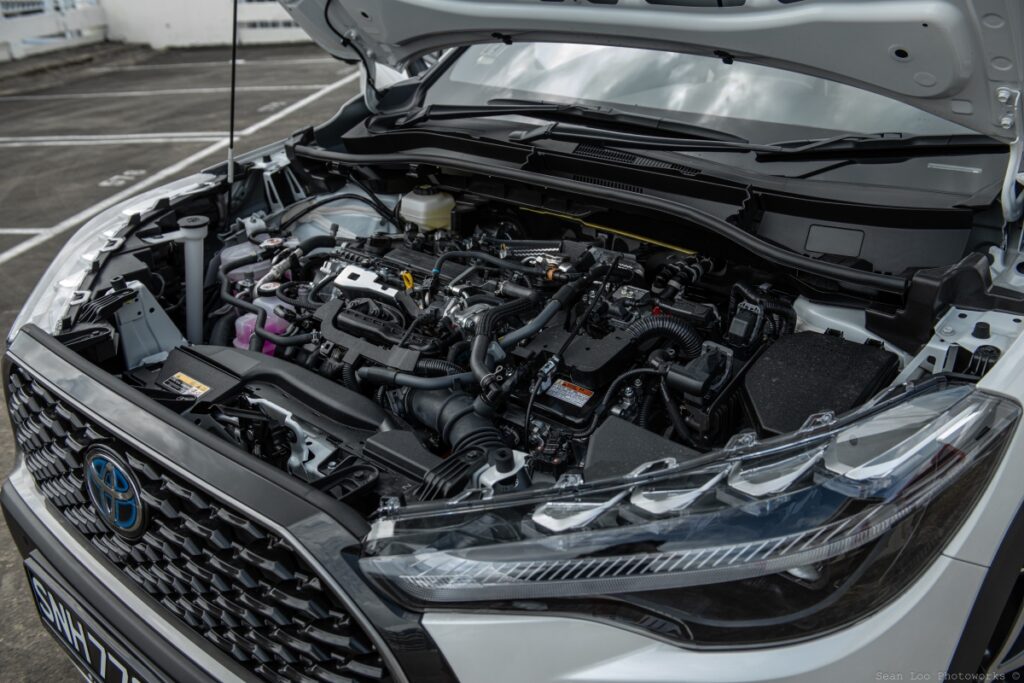 Toyota claims a combined-cycle average fuel economy of 18.8km/litre (5.3-litres/100km). Those numbers are… shall we say…. conservative.
During a 196.2km mostly-highway run with the adaptive cruise control set to triple digits, the Corolla Cross returned a calculated 23.4km/litre (4.27-litres/100km) average fuel economy. Calculated, because BrainFlatus McYoursTruly here thought to Google "2023 Toyota Corolla Cross Hybrid reset total average" ONLY AFTER the highway run. 🤦‍♂️
For context, Trip Average resets itself once the vehicle is shut off, while Total Average needs to be manually reset.
Whilst out and about doing an 81.1km pure-street drive, this high-ridin' 'rolla returned 23.7km/litre (4.22-litres/100km) fuel economy. With those two segments done and dusted, and looking at Toyota's claimed figures, I figured that a drive on mixed roads and highways would probably bring things closer to the claimed numbers.
Ermmmm….. nope. 😳
Over 134.6km of main roads, back roads, viaducts and highways featuring numerous traffic lights, straight tarmac and winding roads with speed limits ranging from 40km/h to 90km/h and one average-speed camera zone of 70km/h and with three rest stops in between, the Corolla Cross managed an unbelievable 27km/litre (3.7-litres/100km) average fuel economy!
This was no hypermiling run. I was just driving in my own usual (quite lead-footed) style and yet, the fifth-gen hybrid system allowed this high-ridin' 'rolla to easily return such impressive fuel economy. To put things in perspective, my motorcycle, a 171kg 373cc KTM Duke 390, does 27km/litre at its worst, and here's a 1.44-ton five-seat SUV/crossover nestling nicely into that same number! 🤯
Let that sink in for a moment, while considering current petrol prices at the pump.
Taking only the street and highway segments into consideration, the Toyota Sienta Hybrid tested last year is more fuel-efficient. However, adding the final segment into the mix, the Corolla Cross usurps that position with an overall calculated average of 24.6km/litre (4.06-litres/100km) fuel economy during the 411.9km total test-driven distance, making this SUV/crossover the most efficient petrol-hybrid vehicle we've tested to date. All drives were done in Normal drive mode. Given its 43-litre petrol tank, the Corolla Cross can easily clock between 800km to over 1,000km before the next refuelling stop.
As usual, the obligatory "your mileage may vary" disclaimer needs to be tacked on.
The Bottom Line
I went into this review prematurely prejudiced and wanting so much to deeply dislike and diss the Corolla Cross. I wanted to write about how it blasphemes the time-honoured and revered 'Corolla' name, and how it was rag-tag thrown together JUST to create yet another SUV in Toyota's already-extensive lineup. I wanted so much for it to be royally disappointing, but it was my premature prejudice that was royally disappointed, for the more I drove it, the more I liked and respected it, aforementioned niggles aside. Nothing here is a deal-breaker.
The 'Corolla' nameplate should represent disruptive and innovative basic, affordable and reliable motoring from point A to B.
Well, this high-ridin' 'rolla ain't exactly basic, but that's also a function of remaining relatively competitive in the market.
At $188,488 on-the-road with COE (accurate at the time of this article), it definitely can't be deemed affordable by any stretch, but that's a function of Singapore's insane tariff system and COE prices, and not Toyota's fault.
Being a Toyota, we should expect it to be able to go the distance fuss-free with just regular maintenance, and time will tell if this is the case (it most likely should, given how many first- and second-gen Toyota Prius hybrids are still running around worldwide today after battery-pack swaps).
And it IS innovative, given how its fifth-gen hybrid system helps the Corolla Cross to go that distance while sipping down petrol at a relatively meagre pace.
Which then brings us to its value proposition alluded to earlier. This high-ridin' 'rolla has proven itself to significantly outperform mild hybrids in fuel economy. It also suffers none of the drawbacks of EV-charging, being able to splash-n-dash while not having to pay parking charges at carparks whilst refuelling. In other words, it IS disruptive in the market space that it occupies, just like the ur Corolla was when it was first introduced.
For these reasons, the Toyota Corolla Cross Hybrid has proven itself to this prematurely-prejudiced reviewer to be truly worthy of wearing the hallowed 'Corolla' badge indeed.
If it ain't obvious by now, I like and respect it. A LOT.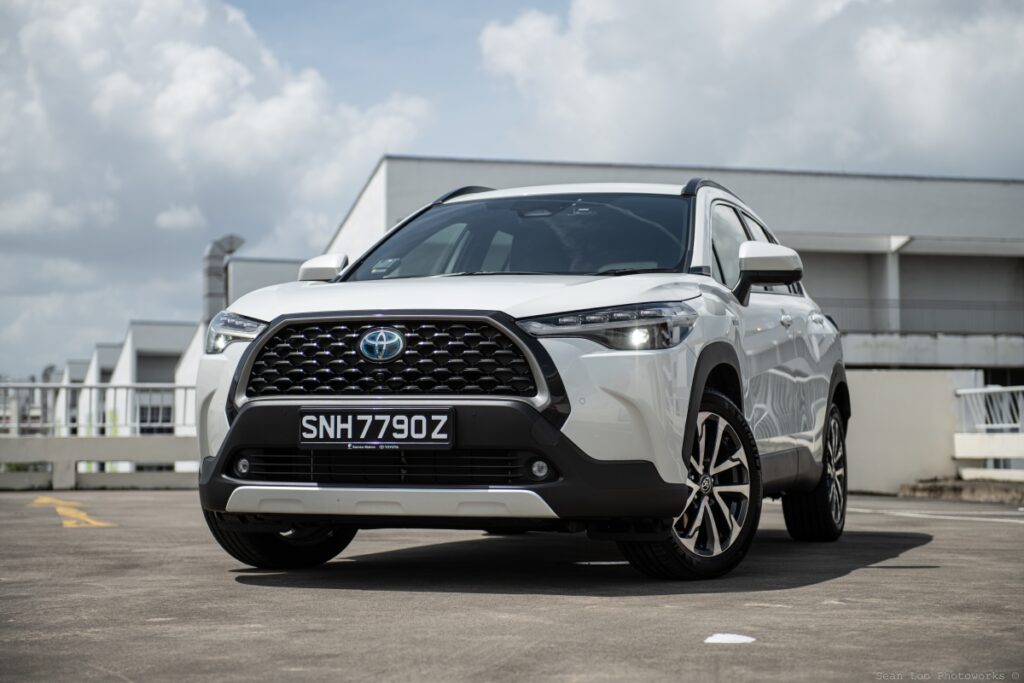 (Photography Credit: Sean Loo | @auto.driven)
Technical Specifications
Toyota Corolla Cross Hybrid Premium
Engine: 1,987cc in-line 4, mild hybrid
Power: 150hp @ 6,000rpm
Torque: 190Nm @ 5,200rpm
Gearbox: eCVT
0-100km/h: 7.7 seconds (claimed)
Top Speed: 180km/h (claimed)
Fuel Economy: 18.8km/litre (5.3-litres/100km) (claimed)
Price: S$188,488 with COE (accurate at the time of this article)
Contact: Toyota Singapore
---
Looking for a more upmarket hybrid SUV? Check out the Lexus NX 350h Luxury, and other reviews here!