There's something for everyone with this latest gen Sienta Hybrid. Yes, even enthusiasts.
---
What does one do when one needs to affordably move up to six folks around, or transport a bunch of brand-new fittings for one's under-renovation BTO? Swallowing seven people and getting them places or transforming into a minivan with passenger seats stowed, both in a cost-effective way, is what the Sienta Hybrid has been best known for. Pretty sure there have been more than a few occasions when a private-hire vehicle was booked, and a Sienta turned up – for good reason.
In this segment, the Sienta Hybrid's closest competitor is the also newly-launched Honda Freed. Both mini-MPVs feature seven seats in a compact monocoque form-factor, but the officially-imported Freed has a 1.5-litre naturally aspirated i-VTEC engine without hybridisation, leaving the Sienta Hybrid pretty much in a class of its own.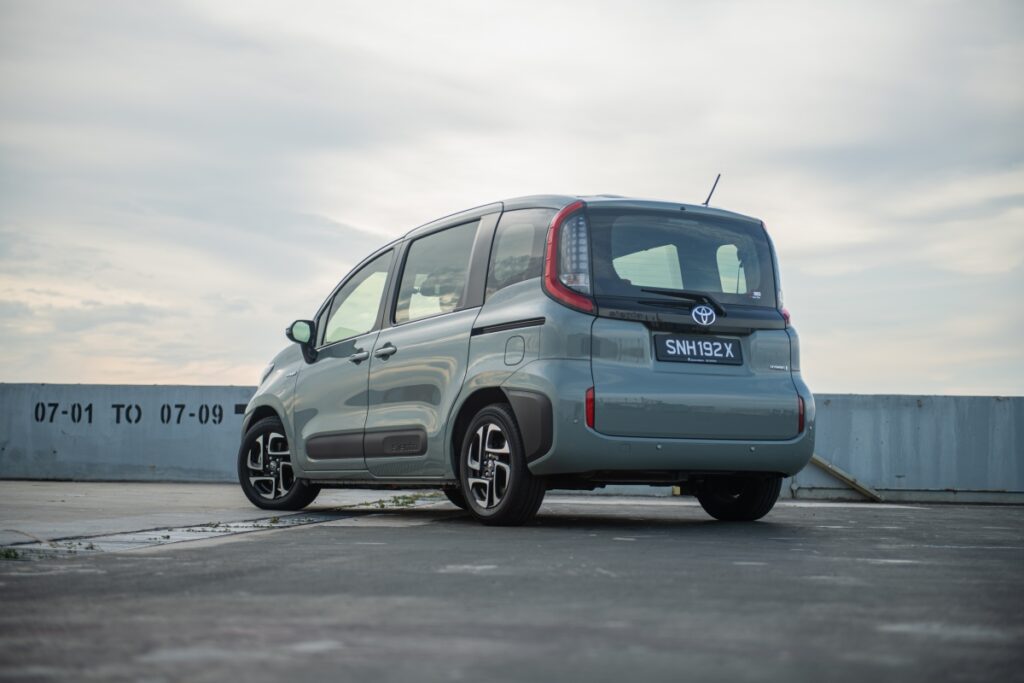 Curmudgeon-mode Engaged Enraged
But first, I need to get these niggles off my chest.
The Sienta Hybrid is built to a price-point. This means cheap-looking and -feeling carpets and hard plastics all around. The panel gap between the glove compartment and dashboard is atrocious and unbecoming of a Toyota product. A piece of plastic trim on the floor underneath the driver's seat kept coming loose and falling off, and multiple efforts to re-secure it were in vain.
Without exception, every individual who's sat up front has consistently reached for a non-existent door handle where it would usually be, exclaimed "OH…", and only then grabbed the ACTUAL handle at the top, next to the window. How much extra would it have cost Toyota to put another door handle in the usual position? We can't imagine the Bill Of Materials (BOM) cost to be more than $2 or so.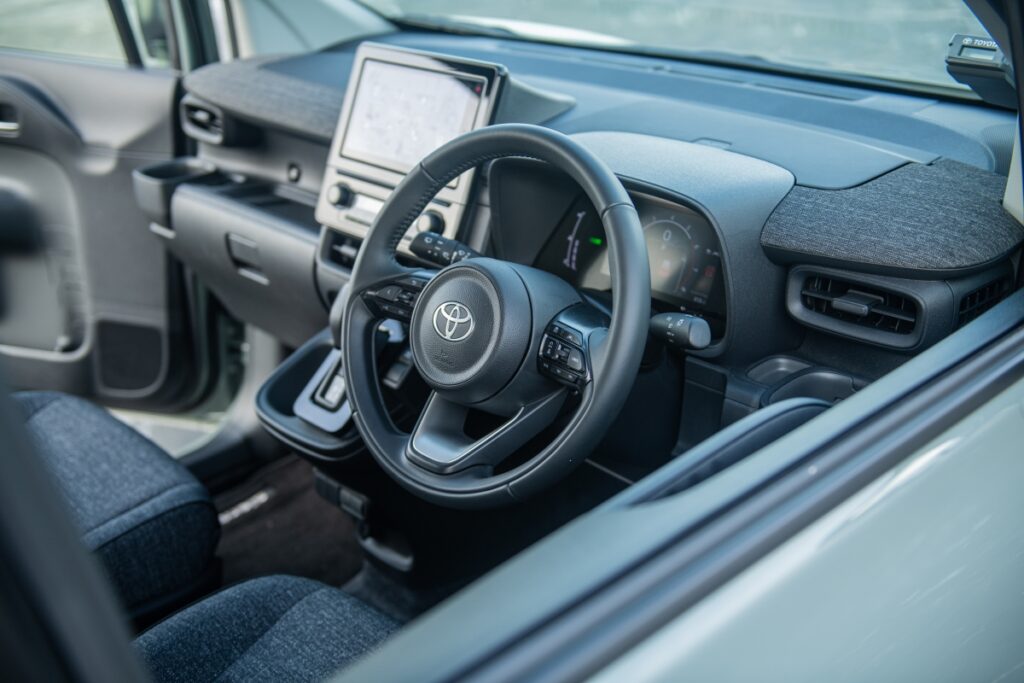 I'm 1.82-metres tall, with longer limbs and a disproportionately-shorter torso. For those of us with longer limbs AND shorter torsos who NEED the extra seat elevation AND extension, cranking it upward pushes the seat further forward, robbing one of already-precious legroom. The front seats don't go back far enough, for good reason as will be seen later, and I found myself having to compromise on seat height in favour of legroom. Even then, my left knee was hard-up against the corner of the centre console, leaving a light bruise at the end of the two-and-a-half day test drive. Taller drivers should take note.
And finally, the Sienta Hybrid has a foot-operated parking brake. What year is this, 2001? I mean, it has an electronic gear lever, so why not an electronic parking brake also? Shouldn't be too much of a BOM cost, given it would likely be a Toyota parts-bin item. Moreover, the front-edge of that foot-operated parking brake pedal, when released, sat uncomfortably close to my left shin and was always on my mind during the test drive.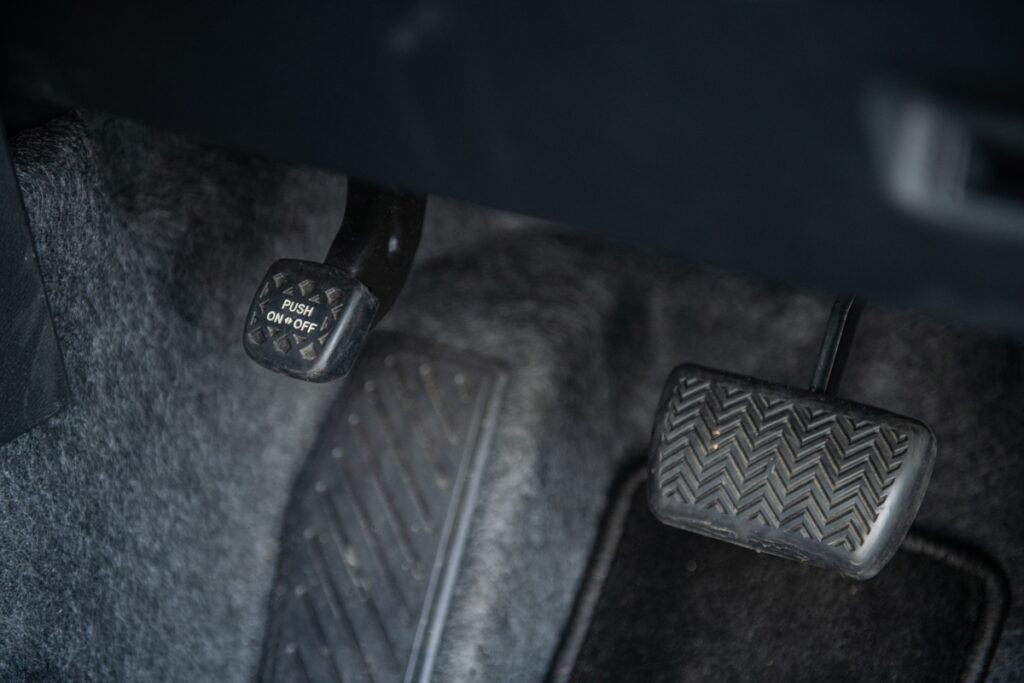 While it may seem like I'm being a Debbie Downer on the Sienta Hybrid, you can rest assured that it is not the case. There is much to like here.
The Outside
The Sienta Hybrid is built to a price-point. This means being relatively affordable, even in this day and age of conspiracy theory-evoking historically-stratospheric COE price levels. And…. it's not Attrociously Attragic either (those who know, know). I mean, just look at it – it's funky and fun! Subtle touches such as the debossed 'Sienta' in the black plastic trim in the front bumper, side door-moulding and bootlid at the back make one look at it and go "oh…. interesting detail!" More black plastic trims feature fore and aft of the front and rear wheels and on the doors, making for a different visual effect on the otherwise flat sides of the mini-MPV.
The headlight-housings are also nifty, with a distinct daytime running lights (DRLs) arrangement, and those LED projector headlights were able to shoot bright, wide and far down an unlit, currently badly-rutted gravel track, making the lack of separate foglamps a non-issue. Even the nighttime running lights at the rear are of a funky and uniquely-curved arrangement.
Being built to a price-point means that the Sienta Hybrid is shod with 185/65R15 Toyo Nanoenergy tyres, and this means a much more economical tyre-change session down the ownership-road. The tyres, being of a high-profile nature, work well in conjunction with the softly-sprung suspension, even down the aforementioned badly-rutted gravel track, offering a nice and cushy ride for its occupants.
More premium car manufacturers should take note – if this humble mini-MPV that's built to a price-point can do EVERYDAY comfort so easily and superbly, what's your damn excuse? What makes it more marvellous is the fact that the suspension setup is very simple (some might call archaic), and there are absolutely no adaptive dampers to be found!
The Inside
Up front, cupholders are placed right next to the aircon vents, allowing one to effortlessly keep their drinks chilled while on the move.
Both front door pockets feature bottle holders, and my 710ml water bottle fit in there with ease. While the cupholder was able to accommodate the bottle easily, the latter sat pretty loosely within, despite the spring-loaded flap that's meant to hold drink receptacles in place. Negotiating corners therefore saw the bottle go into Leaning-Tower-of-Pisa mode. So, despite there being a bottle logo on the cupholder, it would be best to use the cupholder for cups that either sit lower, fit more snugly or both, and relegate bottles to the door pockets.
The fabric-trimmed seats themselves are comfy and pretty easy to adjust to one's desired position, aforementioned driver-seat restrictions for my driving position notwithstanding. The driver's seat also features an armrest on the left side, but I found it unusable due to it not being able to tilt down low enough and my left shoulder ended up being scrunched as a result. More proportionately-built drivers would likely enjoy this feature, however. The pivot-point trim for the armrest also doubles up as a plastic bag hanger. Nice touch!
The touchscreen infotainment features Apple CarPlay and Android Auto, both wireless. One can also stick a thumb drive full of songs in one of the USB outlets directly on the infotainment system, and both Type A and Type C jacks are available. Somehow, the system did not recognise FLAC files on my thumb drive. Not a big deal, since Bluetooth streaming works well. The stock audio system is pretty decent and clear, although distortion, muddy details and clipping become par for the course the louder one goes.
Just below the infotainment sits the aircon control panel, with physical buttons and knobs (HOORAY!)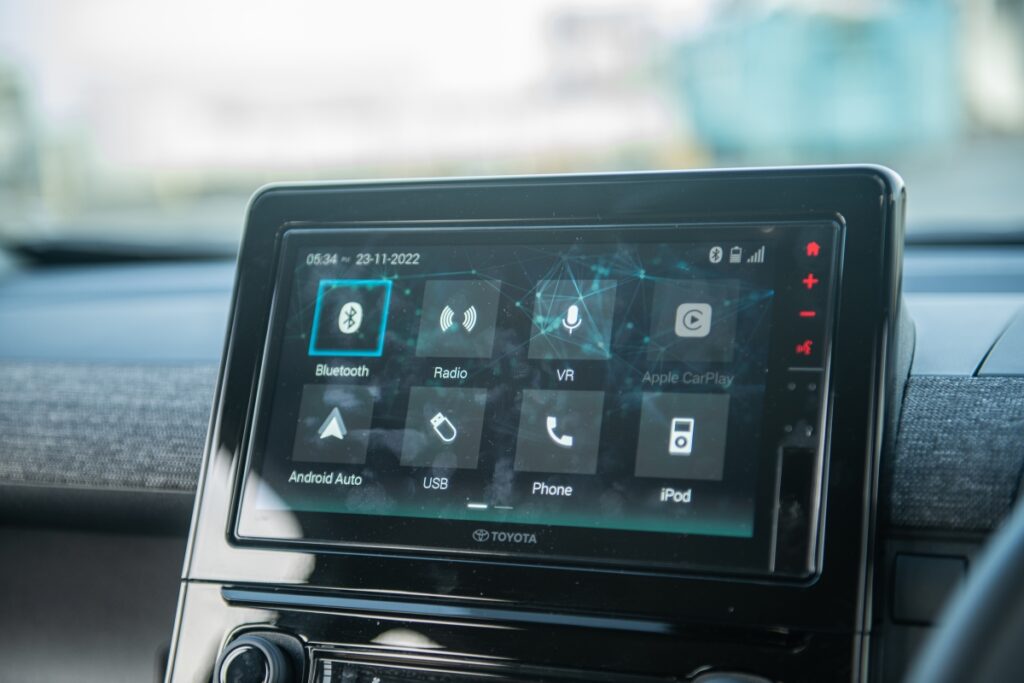 Seven Aboard!
And then we come to the raison d'être of the Sienta Hybrid – being able to carry six passengers in one go. The prep starts with the middle row of seats, which need to have their headrests fully stowed downward, and can then be slid and tumbled forward. Then move round the back to the boot, and pull on the strap at the base of each third-row seat to deploy it into position, and engage the backrest-tilt lever to put the backrest up. Finally, tumble the second row of seats back into position and put its backrests up. Here's a GIF of part of that process in reverse…
You'd need to leave the second row fully slid forward though – this is necessary to fit normal-size people in the third row.
I can just about sit behind my driving position in the second row with the latter slid fully forward.
With the rear seats stowed neatly underneath the second row and the latter slid fully rearward, legroom is generous in five-seater configuration.
Sip-sippin'
Finally, there's the pièce de résistance of the Sienta Hybrid, which is in its name for all to see – frugal fuel economy. The internal-combustion engine is a naturally-aspirated 1.5-litre three-cylinder Dual VVT-i item putting out 91hp on its own, and is mated to a hybrid system consisting a 79hp motor-generator powered by a nickel metal hydride battery, for a grand total of 114hp (it's not a direct addition formula, folks). Drive is sent to the road through the front wheels courtesy of a continuously-variable transmission, or CVT.
No, its performance is not going to set anyone's pants on fire. Yes, it is set up in this way for fuel economy.
With just me in the car, over a purely street-driven 80.5km, the Sienta Hybrid managed an unbelievable 26.1km/L or 3.83L/100km, and during a 193.6km mostly-highway drive with Adaptive Cruise Control set to triple digits for most of the drive, the average fuel economy was 25.1km/L or 3.98L/100km. Both numbers bested Toyota's claimed combined-cycle consumption of 25km/L or 4L/100km.
While the above numbers ARE real-world, more testing had to be done to record figures in more mixed-use scenarios. To this end, four colleagues were picked up from their respective homes or the office for a lunch outing, with the drive being on both highways and streets, and also allowed me to test out the Sienta Hybrid as a passenger.
During our 113.4km stomach-satiating shenanigan, the Sienta Hybrid still kept sipping fuel at the rate of of 20.6km/L or 4.85L/100km. And while driving to and from, and during the photoshoot with Sean, the numbers were 21km/L or 4.7L/100km over a distance of 82.8km.
I'm also happy to report that as a second-row passenger, the aircon was strong and cool under the blazing 2PM tropical sun, road imperfections were dealt with aplomb, and engine, gearbox, road and wind noises were well contained, making for a nice and calm journey.
The overall test-drive average was a calculated 23.5km/L or 4.26L/100km over 470.3km. Not quite Toyota's earlier-mentioned 25km/L claimed combined figure, but pretty darn close.
Given the 40-litre fuel tank, we're talking anywhere from 800-1000km of range, which is impressive for a vehicle of this size and class. As usual, the obligatory "your mileage may vary" disclaimer applies.
What we Think
Sheldon likes the Sienta Hybrid a LOT.
Young (future) family-planning Sean likes the Sienta Hybrid a LOT.
And I, despite the earlier Debbie Downer diatribe, like the Sienta Hybrid a LOT.
Remember, the three of us are hardcore petrolheads.
In fact, we'd go as far as to say that even an automotive enthusiast can buy this mini-MPV as a family vehicle and needn't worry about doing the drive of shame, for it is likely that other enthusiasts would take one look at the vehicle, then its owner, and nod silently in "I know EXACTLY why you bought it" approval.
Ignition Labs, our parent company, has three publications under its wing. Burnpavement deals with car-enthusiast content, AutoApp with everyday vehicles of interest, and futr's focus is mainly on electric vehicles, hybrids and other green-lifestyle related articles.
The Toyota Sienta Hybrid holds the distinction of being the FIRST review-car EVER to be featured across ALL three titles. Let THAT decision speak for itself.
Technical Specifications
Toyota Sienta Hybrid Elegance
Engine: 1,490cc in-line 3, hybrid
Power: 114hp
Torque: 120Nm (engine), 141Nm (motor-generator)
Gearbox: CVT
0-100km/h: 12.5 seconds
Top Speed: 160km/h
Fuel Economy: 25km/L (claimed)
Price: S$160,988 (Elegance) / S$162,588 (Elegance Two-Tone), both with COE (accurate at the time of this article)
Contact: Toyota Singapore
---
Looking for a more upmarket hybrid? Check out the Lexus NX 350h Luxury, and other reviews here!