Prepping up to welcome your bundle of joy? Here are come must-have car accessories for babies you're going to want to get your hands on.
---
So it's almost time to welcome your bundle of joy – and we're not talking about a new car! You've got your nursery all set up, confinement nanny booked, hospital bag packed and excited future grandparents calmed down. The only thing left? Getting your ride all set for the little cutie who's on his or her way. But before you start splurging on wayyyy too many unnecessary purchases, check out our list of some must-have car accessories for babies!
1. Car seats
Ah, car seats. Definitely the first thing that comes to mind when you think of prepping your ride for your newborn. With so many different brands and types available, where do you start?
First, check out what's available on the market.
There are currently several kinds of car seats available in stores. Here's a quick breakdown of what to expect so you don't get too overwhelmed with choices:
Baby seats/infant carriers: These are seats specifically designed for newborns, or infants under 13kg. Car seats for infants are always rearward facing.
Combination car seats: These are seats which can be used from birth, up to when your child grows to about 18kg.
Stroller compatible car seats: When out of the car, these seats can be secured onto a compatible stroller.
Other child seat types that shouldn't concern you at the moment: Forward facing seats (for children around 9 months and above) as well as highback booster seats and booster cushions (for children 4 years and above).
Combination and stroller compatible car seats may come with separate infant inserts or attachments for a more secure fit, so be sure to check. Also, as a rule of thumb, the best kinds of car seats for newborns are those that allow your little one to lie as flat as possible. Avoid keeping your child in upright car seats for extended periods of time as it may restrict their breathing.
Picked one? Now let's talk about fitting it in your car.
Car seats in Singapore can be attached via ISOFIX attachment points or fastened in place with a seat belt. Although ISOFIX-enabled seats, are thought to be safer, they can be inconvenient if you need that extra seat in your car for adults too. This is mainly because these seats and their accompanying bases, take some time to install and remove.
On the other hand, seat belt secured child seats are especially appealing to parents who plan to carry around their newborn in the car seat because they're easy to attach and remove. The downside? While safe, you may be putting your little one at risk if the seat belt is incorrectly fastened (and believe us, this happens more often than we'd like).
Of course, don't forget some other important factors…
These include price, unique safety features and more. Weight is also important to consider if you're planning to detach and carry around your car seat (and newborn!) for doctor's appointments and the like. Unless of course you're looking to tone up those biceps.
If you're looking for reccs…
At AutoApp we're all about convenience and going the extra mile. Likewise, we love car accessories for babies and seats that offer loads of value. Check out the Joie Stages Convertible Car Seat that grows with your child from birth till about 7 years of age, or the Cybex Cloud Q that allows your baby to lie flat when detached, and is also compatible with Cybex strollers. Bonus points also go to the Doona Infant Car Seat Stroller which functions as both a car seat AND stroller. As far as we know, it's the only of its kind in the market!
2. Sunshades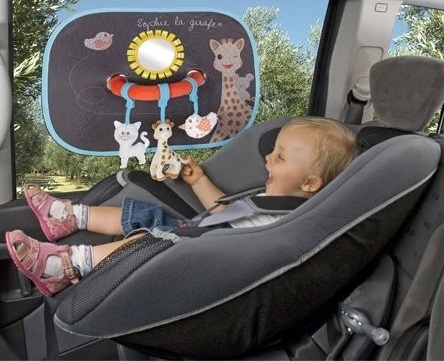 In the first 6 months of life, babies' skin and eyes are extremely sensitive to sunlight. This makes them more prone to sunburn and eye damage. Before your start investing in expensive infant sunblock, here's a more economical solution: sunshades!
Though some infant carrier car seats may come with attachable shades of their own, most do not. As such, it's a great idea to prep up your ride's windows with enough sunshades before the arrival of your little VIP! We love how shades like these from Sophie la Girafe come with activity arches to keep your little one entertained on the road too!
3. Travel organisers
When you're on the road with a newborn, packing less is never more. Think you need two diapers for a 30-minute drive? Pack four. Can't tell if one pack of wet wipes will suffice? Grab another. Afterall, an oncoming poopnami might strike leaving you in desperate search of the nearest pharmacy, all while hopelessly trying to carry a tune to quieten your crying baby. Yikes.
Travel organisers are a great way to ensure that you have room to store everything you need – from milk bottles, pacifiers, to even emergency rattles to soothe your baby. Some of the most common ones new parents use are back seat organisers like the one from Bonbijou pictured above, and car seat side organisers like this one. And for those of you who can't bear to lose your reputation as a fashionista, there's also this pretty hip one from Zara. What's more, apart from being just useful car accessories for babies, travel organisers are great for holding loads of items for your next family road trip! Whatever your preference, the most important thing is that they're able to neatly hold all your little one's essentials securely.
4. Car seat protectors
As much as you're going to want to make sure your little one is nice and snug, don't forget that your trusty steed needs some TLC too. So once you've chosen your child seat, be sure to invest in car seat protectors. These convenient mats will help protect your car seats against scratches from the ISOFIX base or the child seat itself. Plus, some like the Diono Ultra Mat pictured above, or the Snapkis Protector Mat come with attached pockets for baby essentials too. As an added bonus, they may also be able to catch dribbles of milk or drool from your newborn!
5. Child rear view mirror
If you're planning on travelling alone with your little one, you probably already know that keeping an eye on him or her is going to be a challenge, especially since infant car seats are rearward facing. That's why the next item on our list is the ultra handy child rear view mirror – a simple solution to an otherwise anxiety inducing problem! There are various types and brands available, such as the one from Safety 1st that easily attaches to the rear window, or the mirror by BeSafe that hangs over the headrest of your back seat. Best of all, these mirrors can also be easily adjusted to a forward-facing position once your baby gets a little older!
6. Baby belt collectors
Most babies love getting all cosy in swaddles and other snug places because it reminds them of chillin' in the womb. But every now and then we come across a little Houdini. That one baby that somehow manages to wriggle out of every swaddle and gets cranky when you cuddle them a lil' too tight. Wanna bet how quick he's gonna escape from underneath the harness of your child seat?
If your baby matches this description to the tee then you might want to check out belt collectors. One of the most overlooked car accessories for babies, this nifty gadget helps hold shoulder belts in place so your little one is snug and secure all ride through. Can't wait to get it? Good news as the one from BeSafe is available on Taxi Baby!
7. Car toys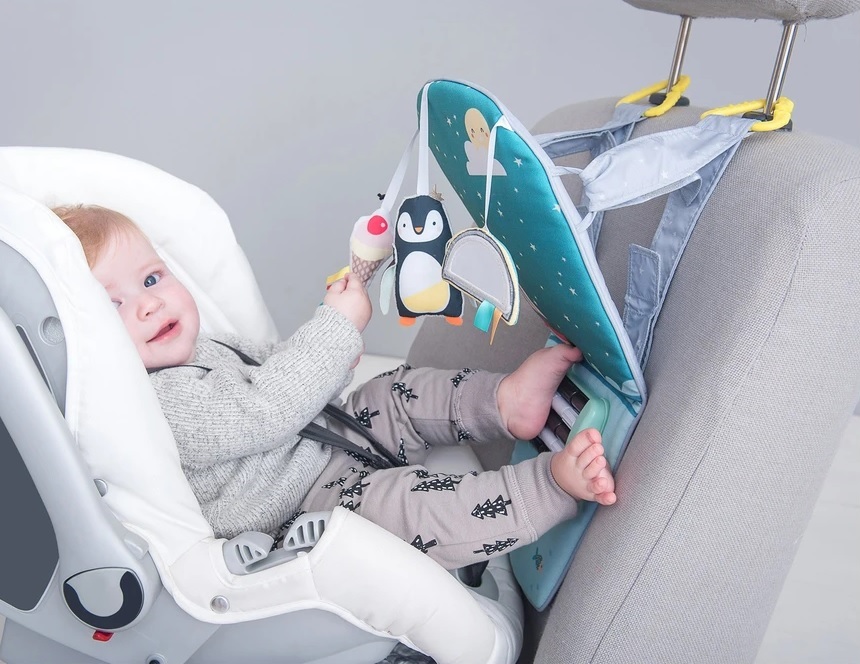 Babies are simple creatures. All they need is milk, sleep, clean diapers, a little burp here and there, and of course, CONSTANT attention. Okay, that may be a slight exaggeration. But there's no denying that all babies need to be adequately stimulated and entertained for their development.
Despite there being plenty of toys available for newborns, only a few are specifically created for use in cars. We like this one by Taf Toys that works like a mobile play gym. You simply hook it on to the back seat head rest and your little one is free to touch and feel the colourful toys, while you focus on the road!
---
Now that you're done checking out car accessories for babies, why not browse our other articles? If you're looking for some gift ideas for your children, check out some cool toys here!