Volvo is on the charge, quite literally, and it wants to fully electrify its lineup come 2030. Leading this charge is the XC40 Recharge, showing the world how the Swedes can do it in an organised, formal manner.
---
The Volvo XC40 Recharge (And the C40 Recharge, which we reviewed earlier) are Volvo's first foray into the EV space. Even with its EV underpinnings, it can still hold its own against its ICE brethren. Heck, in some areas its probably the better buy too.
Volvo may have packaged a smaller battery in this facelift, and it has slightly less power compared to its predecessor, but it still holds its own very well in this segment.
Waxed, clean-shaven looks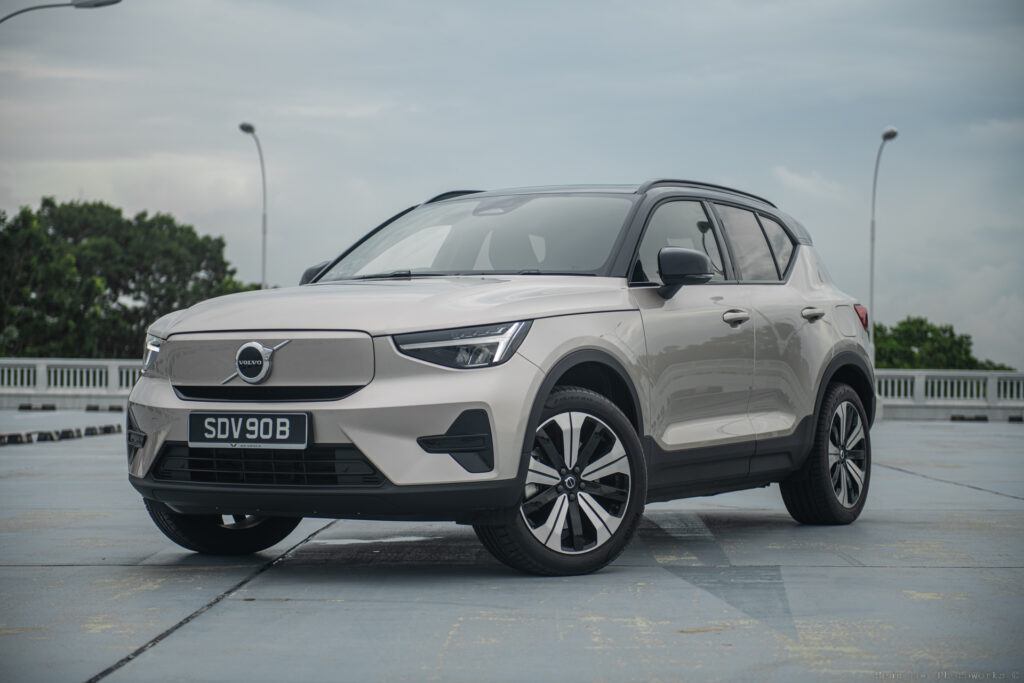 If you like iPhones and the minimalist lifestyle aesthetic, the XC40 Recharge is definitely something that'll catch your eye.
Volvo really comes into its own in the looks department. Where other manufacturers strive for curvaceous and future-focused designs, the designers at Volvo stuck to a design language that retains brand familiarity but also making sure that at one glance, you know this is a model for the future.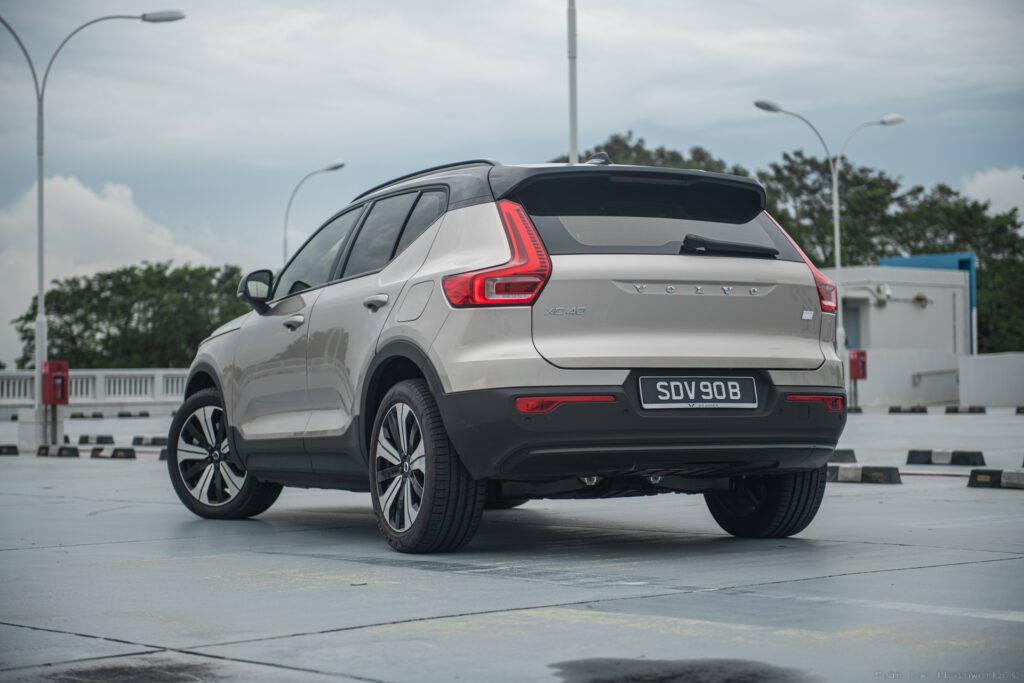 Sharp cutouts or brash contours simply do not exist on the car, and its tall SUV stature gives the XC40 a commanding appearance.
Everything is designed for a purpose, and this clinical approach ensures that there are no fake vents, excessive chrome pieces or outlandish traits that detract from the simplicity of the XC40.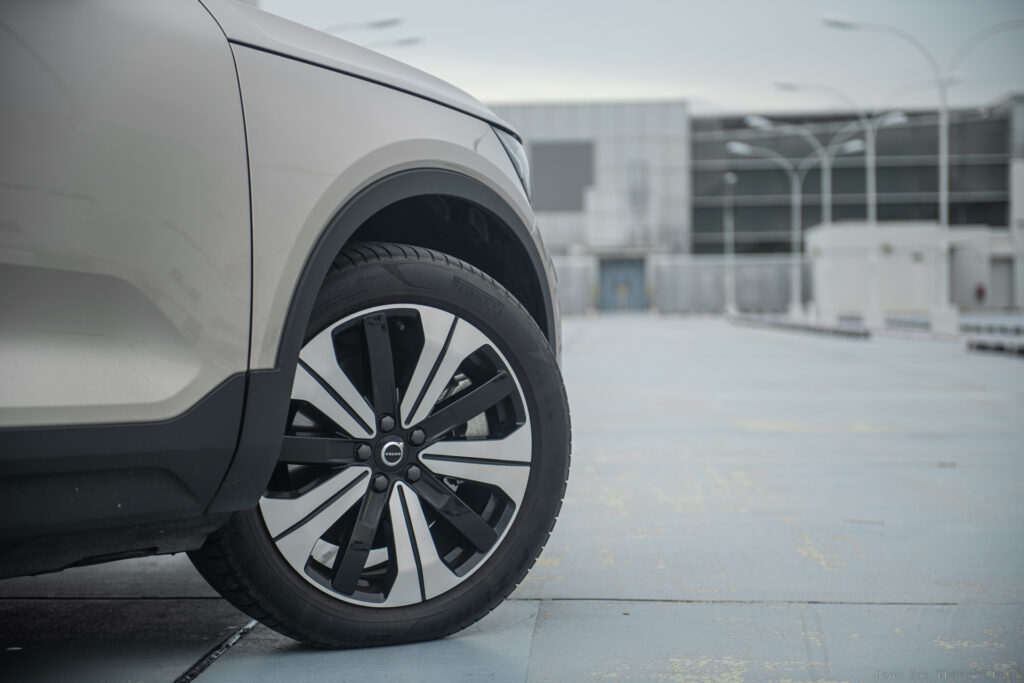 Arguably the most bling piece of kit on board are the 19-inch rims, a stark contrast to the otherwise Macintosh-based sleekness of the car.
Like a smart and well-dressed person, the XC40 goody boy looks are subtle yet striking.
Function over form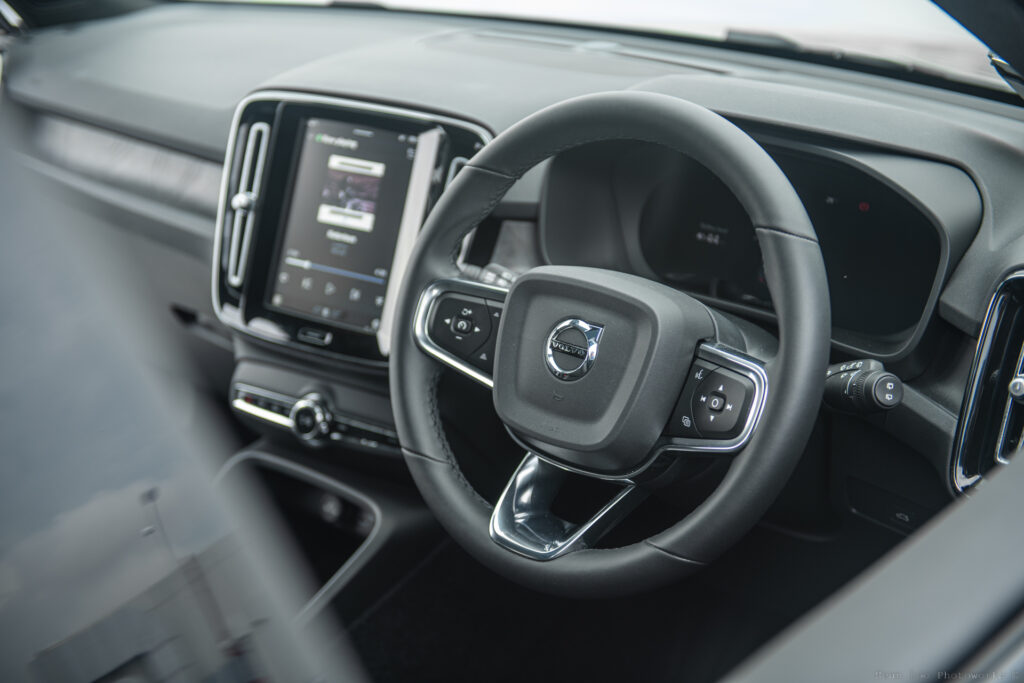 Like the other models in the current generation Volvo lineup, the XC40's interior exudes functionality. Buttons and dials are only placed where they're needed, and the minimalist theme translates to an uncluttered space. Makes it easy for new drivers too, as everything is where you expect it to be. 
However, the one thing I wish was present was physical HVAC controls. While new-fangled screens and high-tech gizmos are aesthetically pleasing and 'look futuristic', digital HVAC controls are just way tackier to use, and counterintuitive to the whole "ease while driving" theme.
To set your aforementioned HVAC settings and to assess other infotainment options, a 9-inch vertical touchscreen sits front and centre. This Android-operated system is a breeze to use, even for Apple users. The menus are a little disorientating at first, but once you have your personal account set up, connectivity becomes a simple 'plug & play' affair.
Should you not wish to pair your smartphone for whatever reason, you can even sign in to certain apps like the Play Store and Spotify.
Volvo really went all out with the eco-friendly theme, and essentially made the entire cabin out of sustainable materials. What appears to be leather at first glance is actually a new synthetic material which is used throughout the cabin's upholstery. It's somewhat water resistant too, something which may become especially handy should rowdy kids get too touchy with their sweet drinks or snacks.
The rest of the surfaces in the cabin are either finished in brushed metal or hard plastics. While plastics are typically a sign that the vehicle may be built to a cheaper price, in the XC40 the plastics feel nice to the touch. Plus, with a lower tendency to get scuffed in the long run, longevity is a big selling point for the cabin.
Volvo added a few easter eggs of their own too, to maintain the XC40's Swedish heritage. A typography map outline of a notable Swedish national park is etched onto the trim pieces, and tiny Swedish flags hide amongst the upholstery. 
Rear passengers have tons of room thanks to the boxy roofline, and there is enough cargo space for a typical family's needs. You can even fold the seats down 60:40 too, should a need to lug longer items arise.
It may not be the flashiest or something with tons of features jam-packed in, but for what's it worth, the XC40 does a stellar job at being a practical family solution.
Punchy when it needs to be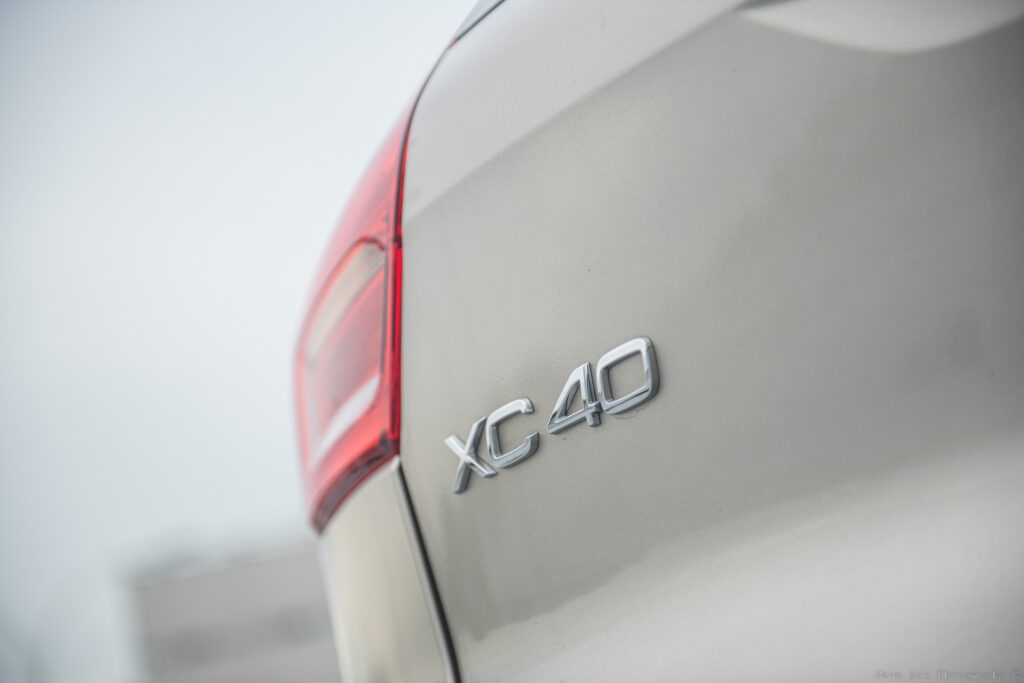 While there are rumours that Volvo will be releasing a dual motor variant this year, this particular XC40 Recharge runs off a lone single motor powering the front wheels.
That's not to say it isn't quick. Depress the accelerator and 172kW (231bhp) alongside 330Nm of torque enabling you to whoosh off the line. 0-100km/h stands at a more leisurely 7.4 seconds, but to be frank most people in Singapore do not need the raw brute strength and bite of a dual motor setup.
Should you wish to take the next corner at speed, you can very easily do so thanks to low-profile tyres coupled with slightly stiffer suspension. This is great and all, but the XC40 does feel a little more unsettled when going over undulations on the road. This is not meant to be a performance vehicle after all, so I would prioritise comfort over cornering ability.
Still, with a 69kWh battery powering the whole vehicle, the XC40 has a very usable real-world range of 425km. In testing, I managed to do 370km and still had about 18% left. Plus, the biggest praise I can give to an EV is that during my media drive, I never once felt range anxiety kicking in, unlike other EVs where the battery level starts to dwindle quickly and I have to scramble and find a nearby charger.
In any case, the XC40 has a max charging rate of 130kW, so it can be juiced up by our DC chargers in no time at all.
Sensible Swedes have done it again
It may not be the fastest EV, or one with the most features. But, overall the XC40 Recharge is a really compelling package as a whole, and one of the best EVs on the market today should you wish to make the conversion from fossil fuels.
When it really comes down to it, what you're looking for is a car that has longevity. Something you will wake up to everyday and enjoy driving, while giving you a fuss free ownership experience. With its simple and unassuming demeanour, the XC40 has that special charm going for it.
You can really have your sensible cake and eat it too.
---
Catch the latest reviews and cars right here on AutoApp!