… at Changi Exhibition Centre, and BOY are we glad we did. Thanks Subaru!
---
Upon arriving at CEC, the first sight to greet us was a fleet of Subarus, or as enthusiasts refer to it, Scoobys parked up and on display. These included the modern-day enthusiasts' choices, in the BRZ, WRX Sedan and WRX Wagon.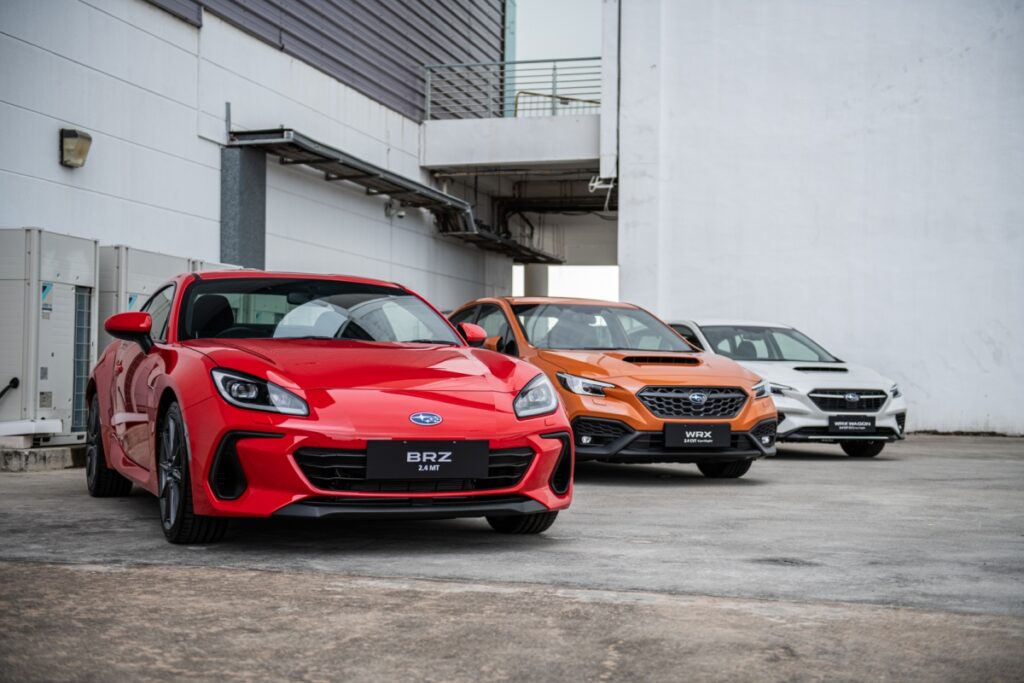 Up front were three hero cars from yesteryear, the S206, S207 and S208…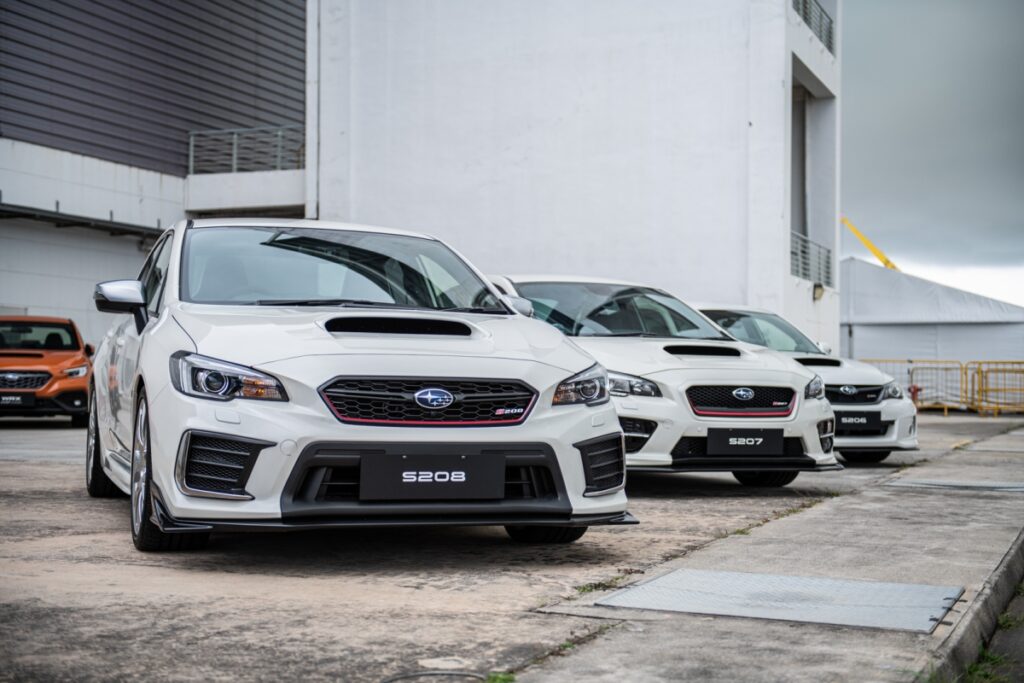 … flanked on one side by great-granddaddy and granddaddy WRX from the 90s and the trackday-oriented WRX STi Spec C from the noughties respectively. Pulses had already started to race at this time, and things were only about to get hotter. We're saving the best for last, so stay with us.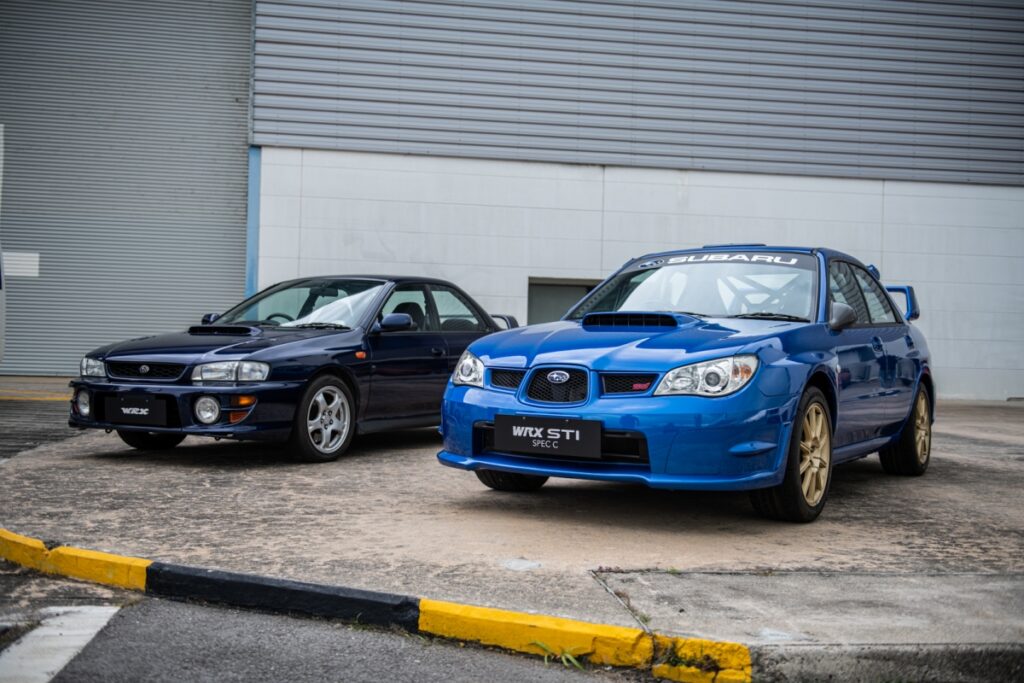 The second station we went to was with the Subaru Solterra, specially flown in from Taiwan in left-hand drive.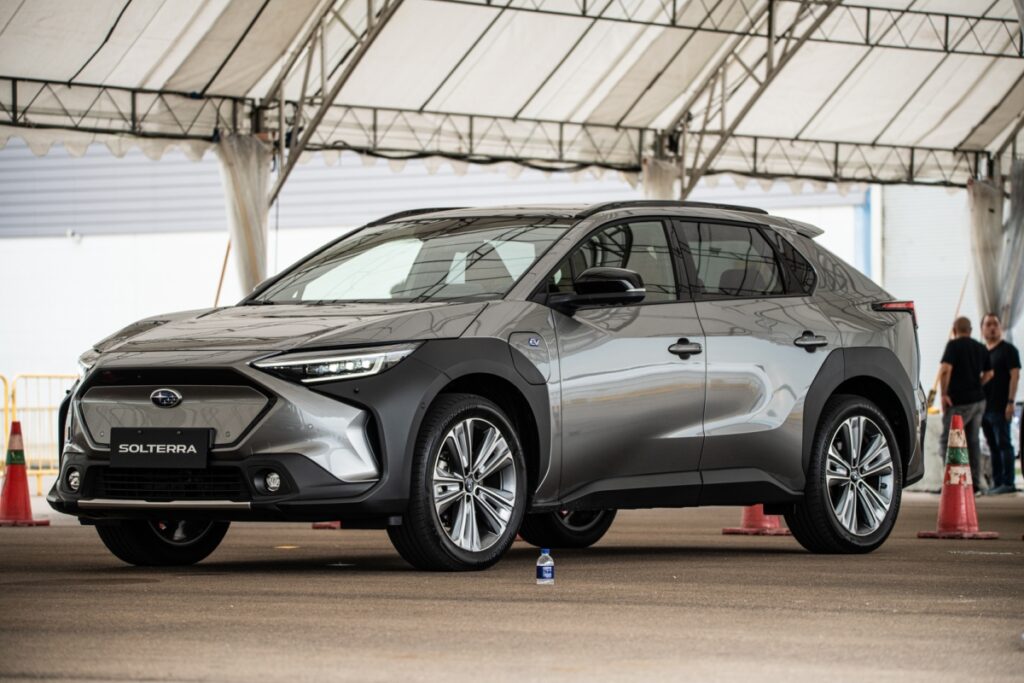 Here we were shown how this EV has advanced self-parking features, where it can reverse, as well as parallel park without user intervention after the appropriate buttons are pressed. Likewise, it can also get itself out of parking spaces without direct driver intervention.
Then it was off to showcase what Subaru describe as "the Solterra's highest ground clearance in its segment" and yes, it is fitted with X-Mode to this end.
Negotiating these asymmetric ramps will be a challenge for any SUV, and the Solterra did experience some hesitation initially. But when X-Mode was enabled, the Solterra simply climbed up and over without fuss, demonstrating Subaru's DNA but in EV form.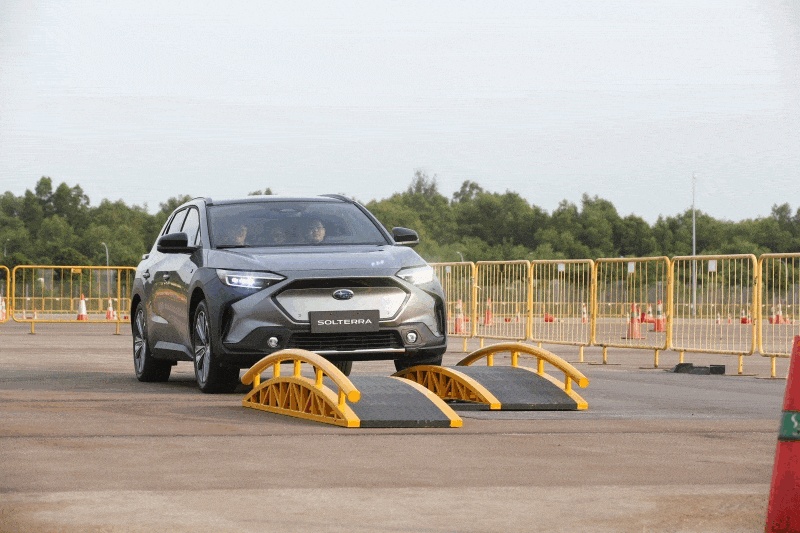 There's enough torque from the Solterra's electric motors to snap one's head back into the headrest upon sudden acceleration, so don't scoff too much at it. Moreover, it's nice and comfy to sit in, and during our demonstration run, there were five of us in the car.
Next up, we went to check out what new goodies Subaru's fourth-generation EyeSight technology brings to the road, courtesy of the Forester, or as I call it endearingly, Frosty.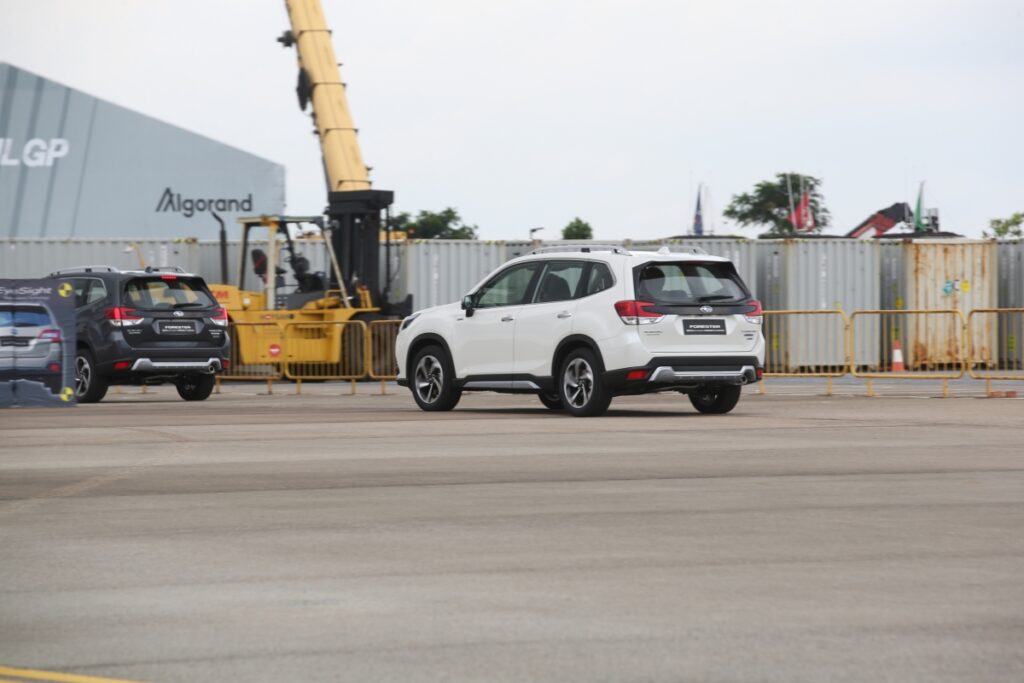 The first demonstration involved driving at 60km/h alongside lines on the road with Lane Departure Prevention (LDP) enabled. EyeSight picked up the lines pronto, and I deliberately steered our Frosty toward the lines in an attempt to veer out of my 'lane.' LDP was quick to nudge the SUV back into 'lane' and feedback could be felt through the steering wheel. This feature, in my opinion, is a must-have in this day and age of touchscreen-operated everything.
Then, it was on to a lead-follow sequence with both Lane Centering and Preceding Vehicle Adaptive Steering Control functions enabled. At 30km/h, our Frosty kept pace with the lead SUV and followed its path as it gently filtered left and right. This function would be useful in heavy traffic and traffic jams where one can just activate them and let the car drive itself.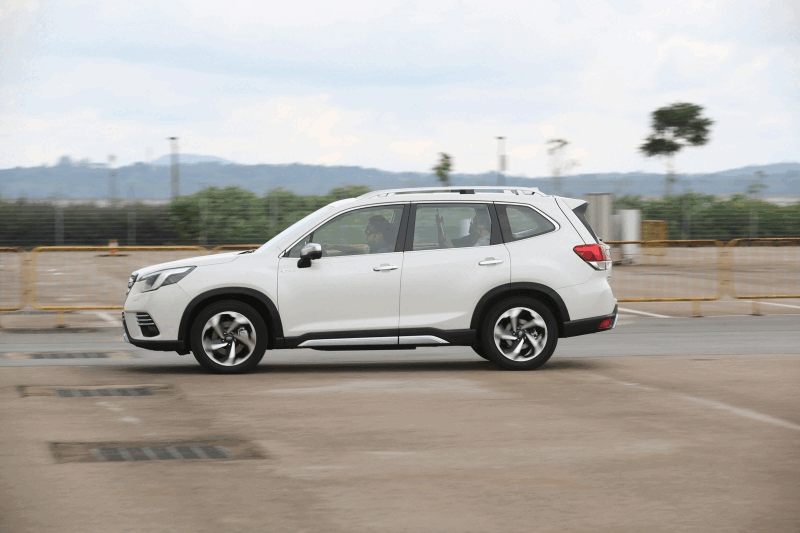 Then, with adaptive cruise control disengaged, our Frosty was allowed to coast toward the EyeSight target board to demonstrate Pre-Collision Braking (PCB).
Unfortunately, during our stint, dark clouds had already rolled in overhead, and a very strong gust of wind blew the target board over, necessitating manual intervention. Not to worry though, we witnessed this station being performed by others. Here's an animation of what it looks like: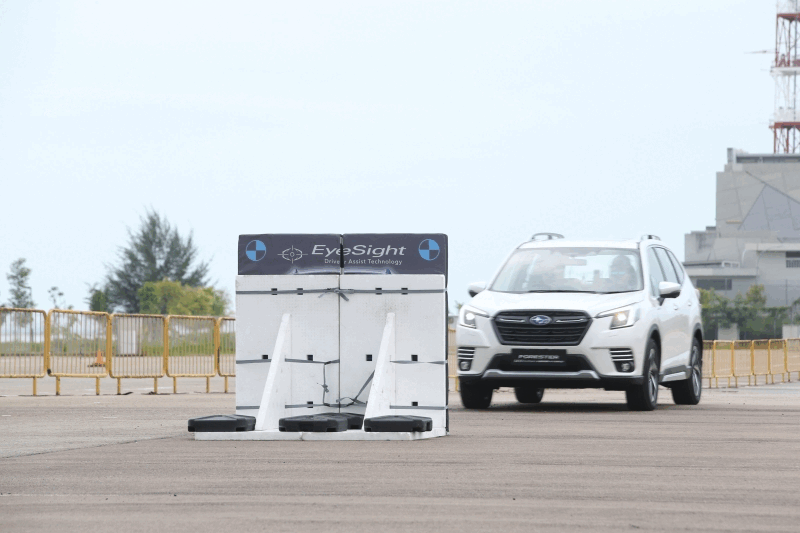 Which then brings us on to the first station of the day, and the Subaru that enthusiasts have all been waiting for.
WRX. Rexy. Rex. W.
Both demo cars were automatic. I chose to have a go in the Wagon variant first, and this is the tS version on test.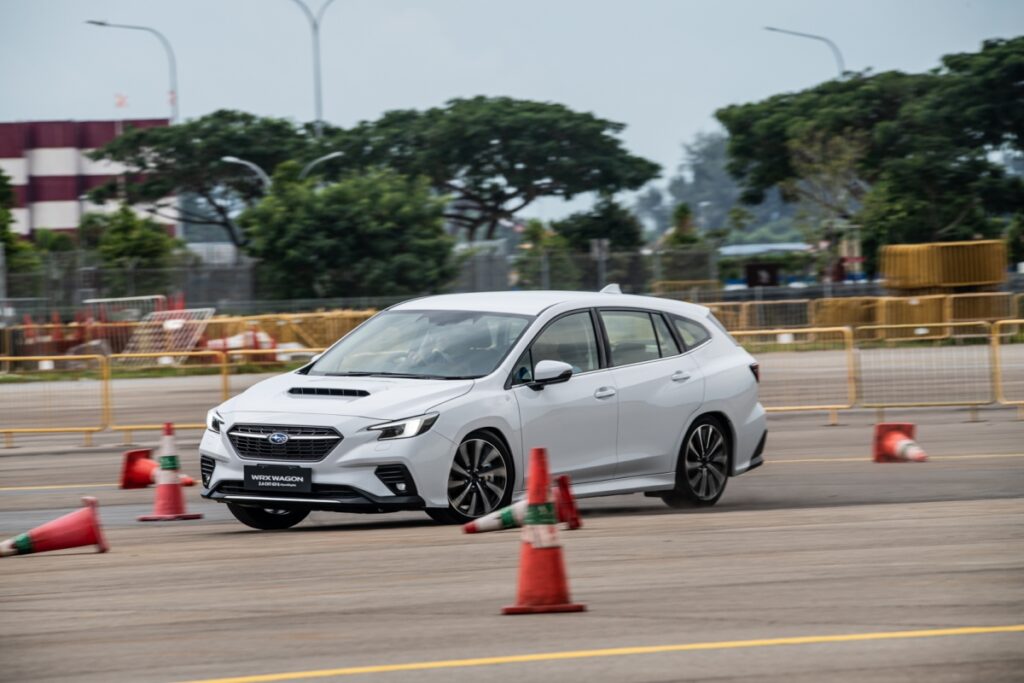 In a first for Subaru, the top-trim WRX tS EyeSight in both Sedan and Wagon variants feature electronic dampers, which will make these enthusiast-favourites even more versatile as an everyday performance car.
And if there's any doubt as to whether one should choose a Sedan or Wagon…. in stock form, the Wagon is the keener handling WRX, and is more willing to rotate in the twisties, possibly owing to extra weight over the rear axle. Think pendulum.
That's not to say that the Sedan handles poorly. Far from it.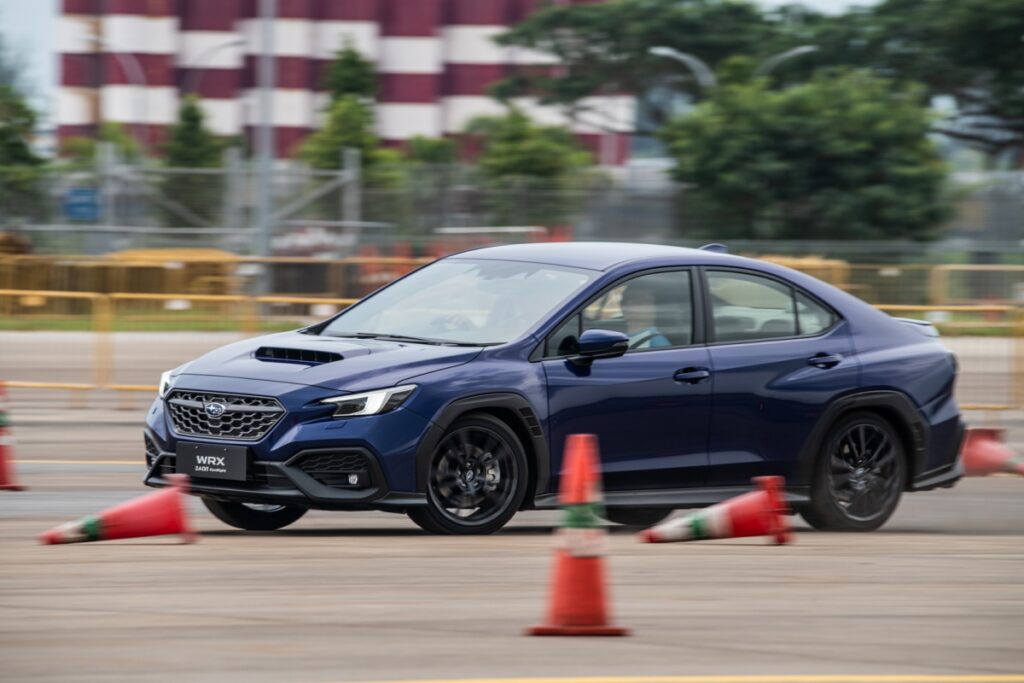 Just that in stock form, I found the Sedan to push its front-end more than the Wagon. But let's keep in mind that Rusty McYoursTruly here hasn't twirled a steering wheel in anger through a series of tight corners for over a decade and is completely out of practice.
It is therefore, with great gratitude, that there was sufficient time to ride shotgun for a lap with one of the instructors at the wheel of the WRX Sedan. Boy, did it bring back fond memories, with the differentials being worked perceptibly-hard through the corners in the hands of a professional performance driver, and is what I remember of my own 'cross-eyed' WRX from 2004.
The difference here is that one does not need to trail-brake as hard or heavy as in my old WRX to get the rear end to rotate. Simply use the throttle to do it and have confidence in the symmetrical all-wheel drive system sending drive torque to whichever axle can use it the most.
Both cars feature a 2.4-litre direct-injection turbocharged boxer-four engine, and the increase in low-end torque is immediately apparent. The WRX now takes off smartly from a standstill, or even with alacrity if Sport Sharp or S# mode is selected. Although maximum torque remains the same 350Nm as before, it is developed much earlier in the rev range from 2,000rpm and held all the way to 5,200rpm like before. Power takes a bump to 275hp at 5,600rpm.
This is, but a preview of the WRX. We'll have a full review in time to come. In the meantime, we're glad to have had a chance to experience all the vehicles and technology during Subaru's Advanced Technology Drive at Changi Exhibition Centre.
---
Enjoyed that article? Get more of the latest in car news here!