The Skoda Scala proves that fun and enjoyment can come from compact packages.
---
The Scala is Skoda's attempt to bridge the gap between the Fabia and Octavia. Think competition for the Volkswagen Golf and SEAT Leon, that sort of thing.
Still, as is the Skoda way, the Scala is priced competitively so that you get a bit more kit than the aforementioned brands for the same money. With badge prejudice becoming ever more pointless in today's automotive landscape, it's a rational take on the hatchback scene.
You don't need power to dance well
Now, let's get one thing straight – power is cool, no doubt about it. But, the Skoda Scala is here to remind us that power isn't the only metric that can make the driving experience engaging. This nifty hatchback might not be setting any speed records, but it's got its own groove.
Hop in, and you'll find yourself in a ride that knows how to treat you right. Smooth ride, check. Responsive steering, check. Brakes that know how to show some muscle, check. It's got all the moves down and doing it with a certain finesse that makes you feel like you're in control.
The century sprint is dusted in 10.1 seconds. Not Formula 1 levels of adrenaline, but the Scala's 109bhp and 200Nm of torque still has enough bite without needing to break the sound barrier. A Sport chassis package allows it to be playful when attacking corners, and it sure knows how to handle them, like that friend who nails every dance move at the party. The Scala's got the corners down to an art, and it's not shy to show it, putting a grin on your face.
However, while the 7-speed DSG gearbox is a great companion for when you wish to mash the throttle and have a blast, it isn't as obedient when you're taking it slow. Low speed gear changes can sometimes feel clunky, and the best way to mitigate it is to keep the revs up. Sounds great (literally), but it may infringe of your overall fuel economy.
If you're prudent, it sips fuel too. You're looking at 18.8km/litre if you are easy on the throttle. Go wild, and it might nudge up to 13.3km/litre, but even then, it's not crying for fuel.
All thanks to the 1.0-litre 3-pot residing under the hood. Normally, these little engines can feel like they're hosting a mini-earthquake, but not this one. The Scala's powerplant purrs along, unfazed even when you flirt with the redline.
And you still get a lot for your money
The Skoda Scala is decent on the inside as well. Sure, there's a hint of plastic here and there, but the layout is simple, and everything's where it should be.
The only gripe I have is the HVAC controls; you do get rotary dials for dual-zone climate, but in order to change the fan speed you would have to swipe across the touchscreen. A dedicated button or dial would make it much more intuitive.
The Monte Carlo edition receives sports seats similar to those found in the vRS models, offering good bolster support in the corners.
Space in the cabin is great too, with ample space for five adults The back doors open wide too, allowing for easy ingress and egress. Your passengers will be treated to nice views too thanks to the massive panoramic moonroof found on the Scala; the largest I've ever come across on a hatchback.
Infotainment is handled by an 8-inch colourful, easy-to-use infotainment system with Apple CarPlay and Android Auto built-in. You also get a nice old-fashioned handbrake lever which I adore, and a rarity these days.
A big gear shifter is another uncommon sight since most cars have since adopted more low-profile electronic selectors, but it is extremely satisfying to use when rolling through the gears yourself; I used this more than the paddle shifters found on the steering wheel.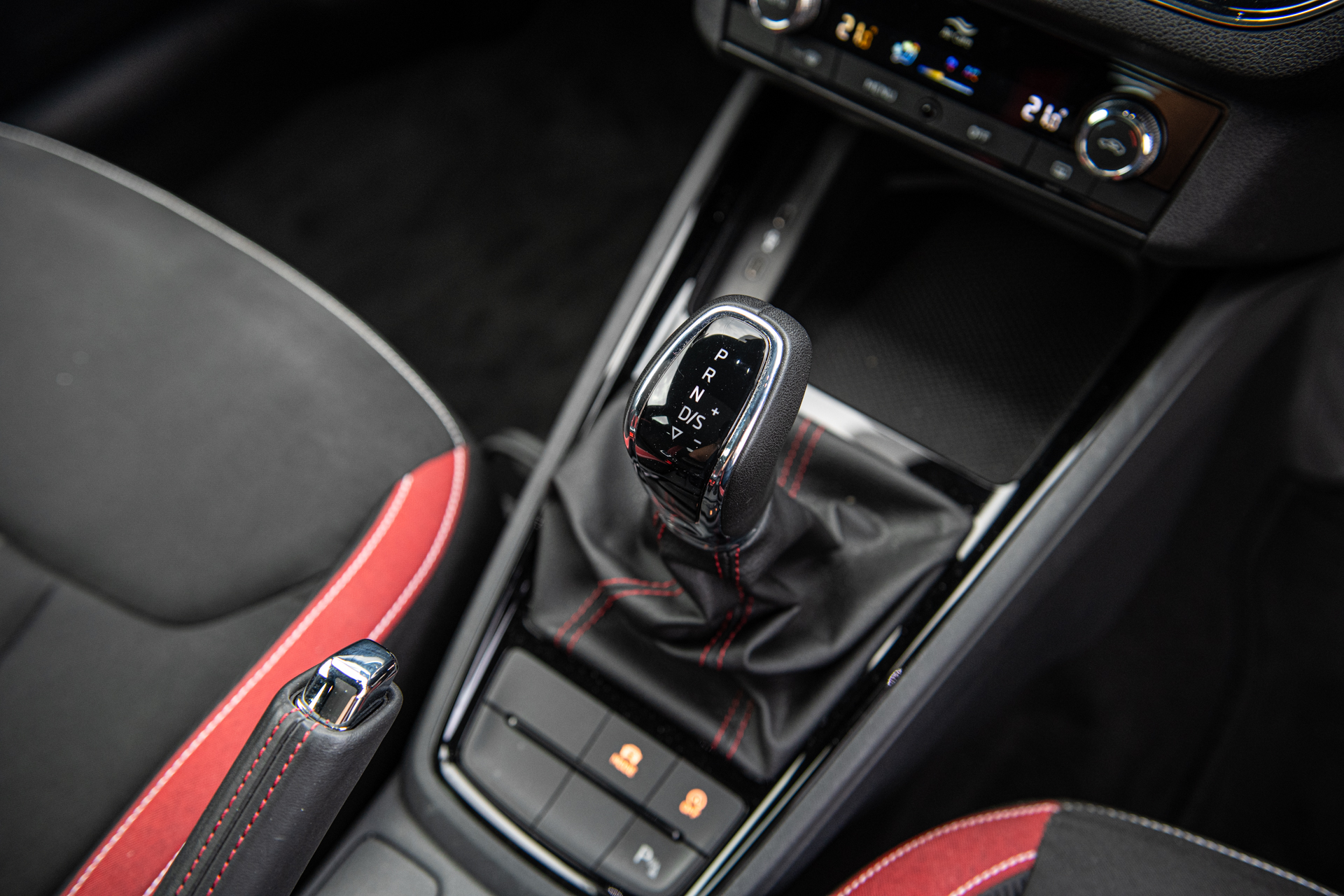 Since it's essentially a slightly chunkier version of the Volkswagen Golf, you get more boot space too, spanning 467 litres with the rear seats up. This swells up to 1,140 litres when they are folded down. The rear hatch is automated as well, a feature not commonly found on more 'entry-level' offerings.
And guess what? The Scala comes prepared with a spare tyre as well, none of that tire-inflator nonsense.
Not to mention it looks great as well
From the outside, The Skoda Scala's got that magic badge, the kind that whispers sporty elegance thanks to its Monte Carlo trim. The car sits handsomely on 18" Black Vega alloy wheels, and LED adaptive lights give it some upmarket personality.
The two-tone facade is done well on the car – blacked-out grille, and additional trim bits on the bumpers and skirts. Even the rear lettering is blacked out, which fits nicely onto the large elongated rear glass panel.
But alas, the price
The Skoda Scala is a great all-rounder package, and it can definitely charm folks who wish to seek out something more unique than a hatchback with the 'V' and 'W' logo.
You do get a lot of stuff for your money. But, this double-edged sword also hurts the Scala to some extent. Due to its extra weight from items like the panoramic roof, the Scala sits in the VES B tier, unlike its Style and Ambition trim siblings who can relinquish rebates due to their A2 status. Even its larger cousin, the 1.0 eTec Octavia, is able to clock in under the A2 tier.
This then makes the Scala's 'entry-level' nameplate a tad more ambiguous.
But, there's no denying that the Scala Monte Carlo is a wonderful hatchback. It's got soul, something which many cars fail to exude, and it can really give some other 'A', 'B' and 'M' brands a run for their money.
It's got the moves, the style, and the practicality that makes it a winner in its own right. So, if you're ready to embrace a different kind of thrill, hop in and let the Scala show you how it's done.
Technical Specifications
SKODA Scala 1.0 TSI Monte Carlo
Engine: 999cc in-line 3, turbocharged
Power: 109bhp
Torque: 200Nm
Gearbox: 7-Speed (A) DSG
0-100km/h: 10.1 seconds (claimed)
Top Speed: 202km/h
Fuel Economy: 21.2km/L (claimed)
Price: S$176,900 with COE (accurate at the time of this article)
Contact: Škoda Singapore
Photo Credits: Sean Loo (@auto.driven)
---
Read more automotive news at AutoApp, or check out our latest videos on Ignition Labs TV!