The R 18 B sure knows how to charm its way into one's heart despite its size.
---
Coming away from my first cruiser experience recently, I was keen to have a go at BMW Motorrad's offering. The time came to meet the bike, and my initial internal reaction was, "ohhhh…. s**t…" Then the sweats started.
Although having been informed ahead of time that the R 18 B would be the bike on media loan, somehow my sodden brain processed it as the R 18 instead.
After a thorough briefing on the cruiser's myriad functions, I rode away slowly and apprehensively. But all it took was a mere 100-150 metres for my tune to change to, "hey, this isn't too bad at all!"
The R 18 B comes from BMW Motorrad's heritage series of bikes, and can trace its roots to the 1936 BMW R 5. 'B' stands for 'Bagger', which means this cruiser goes up against the likes of the Harley-Davidson Street Glide.
Does this German have what it takes to win someone over? Yes, oh yes it does.
But first, the mechanical bits…
Make no mistake, this is a big bike.
B-I-G-G.
Weighing in at just 2 kilos under 400kg, this is an imposing-looking cruiser. Sitting here in Racingblue Metallic hue, it gets noticed in a big way, and other motorists give you a wide berth when you're out and about cruising. Not to mention all the gawking and staring from them.
Powering this behemoth is an air and oil cooled 1,802cc boxer-twin that BMW Motorrad has chosen to label "1800cc." The engine sits low, causing the centre of gravity to be lowered. That's a good thing because of all the additional weight up top from the cowling, windshield, and what they hold within.
Furthermore, with each cylinder head right out there in the open air, this engine has the advantage of running cooler than a V-twin, which has the entire engine ensconced within the frame with one cylinder head sitting behind another, causing that one to run hotter.
With 91hp and 158Nm of torque, this burbling beast is a torque monster, and it's very easy to short-shift, pick up pace and ride smoothly.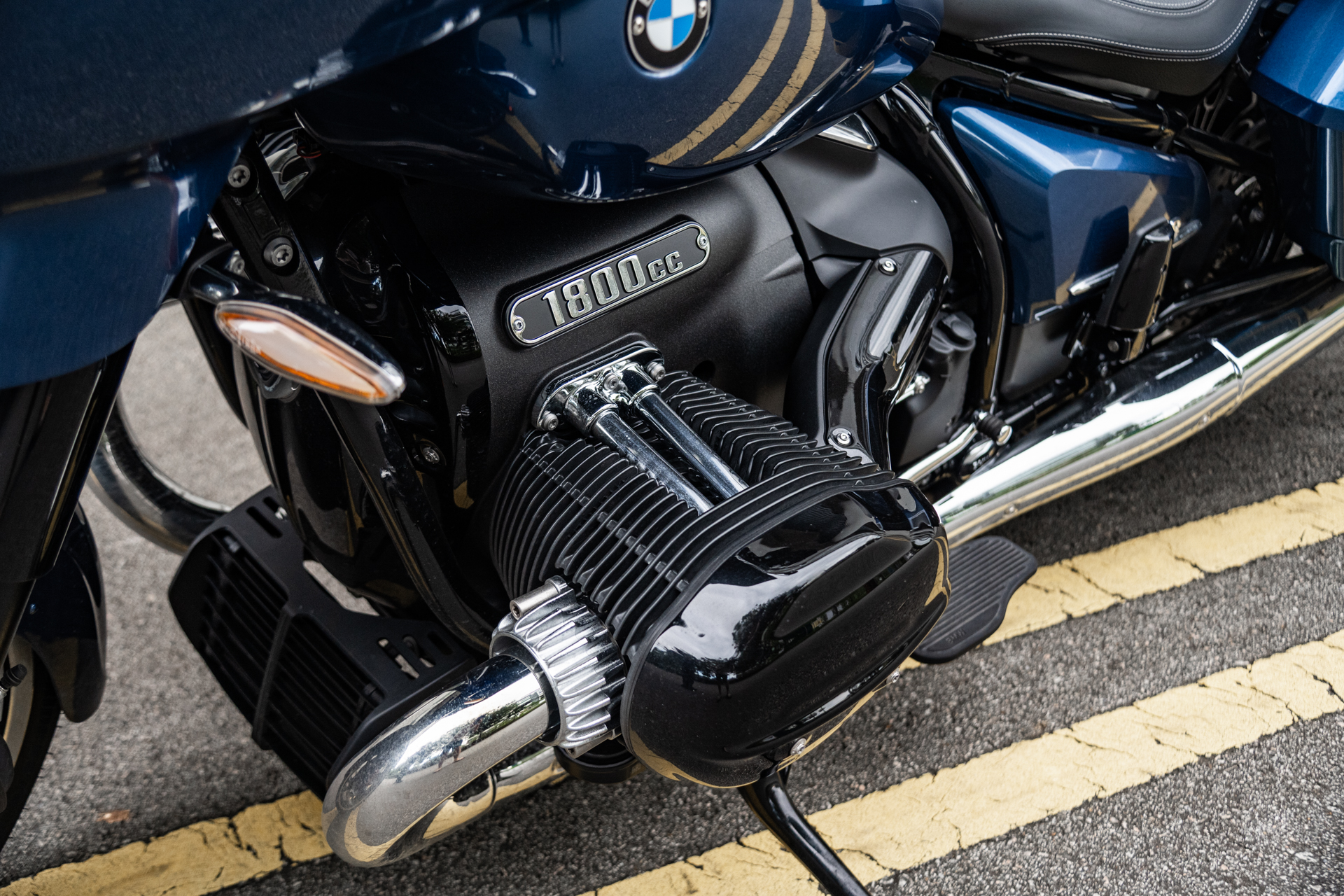 Said short-shifting comes courtesy of a six-speed manual gearbox. This bike needs its rider to heel-and-toe. Heel to shift up, and toe to shift down.
Combined with the floor board, this task becomes muscle memory very quickly and I found it to be the superior way to upshift as opposed to kicking up.
Drive is sent to the rear wheel via a driveshaft. No external chain or belt, just a shaft that runs rearward on the right side that's tucked away neatly behind the exhaust pipe.
Speaking of wheel, it's interesting how the R 18 B has a 120/70 R19 radial tyre up front but a 180/65 B16 blackwall item at the rear – the latter probably in a nod to its heritage.
Twin 300mm discs at the fore are clamped by two 4-piston calipers up while a single 300mm disc clamped by a single 4-pot caliper at the aft take care of slowing and stopping duties, aided by BMW Motorrad Integral ABS.
Now with the mechy bits done…
…let's look at the techy stuff .
Y'know, I've always wondered… Since Apple CarPlay and Android Auto require the use of touchscreens, and given that there are so many tech geniuses in this world, couldn't they make something more bare-bones that would use toggle switches and thumb-controls to operate?
In other words, Apple BikePlay and Android Moto. For if they did, the R 18 B would be a perfect candidate for these smartphone integrations.
Not to worry though, for there is the BMW Motorrad Connectivity app to mirror navigation data, telephony and music on screen, controlled by a rubberized thumb-wheel on the left hand grip.
One can also choose to connect their helmet's Bluetooth communicator to the bike and pass audio and telephony through to the helmet.
There's even a smartphone holder built into the tank where one can safely store their mobile device away from the elements.
However, if one chooses to "share their music" with everyone else, one can do so through the built-in Marshal Gold Series Stage 1 audio system with four speakers and a 180-watt booster.
I didn't try this on my ride though, preferring to stream music directly to my helmet's Bluetooth communicator system instead.
The R 18 B has a keyless start system. Once at the bike, press the button marked with the power logo to unlock, and the electronics spring into life.
Then it's a simple matter of engaging the starter via the kill switch, and the boxer twin shudders into life with a throb.
Be warned though, for if the throttle is snapped open to rev the bike at a standstill, the boxer engine will strongly torque the bike leftwards. You'd better have a good grip on the handlebar and both feet on the ground before doing that.
There's also a nifty way to throw the bike in "reverse gear." On the left and near the gear shifter is a separate chrome lever. With the gearbox in neutral and the engine running, push this lever down, then depress and hold the starter switch.
The bike will start moving backwards, and this is a Godsend in inclined and/or tighter parking spaces where manual pushing would be a strain.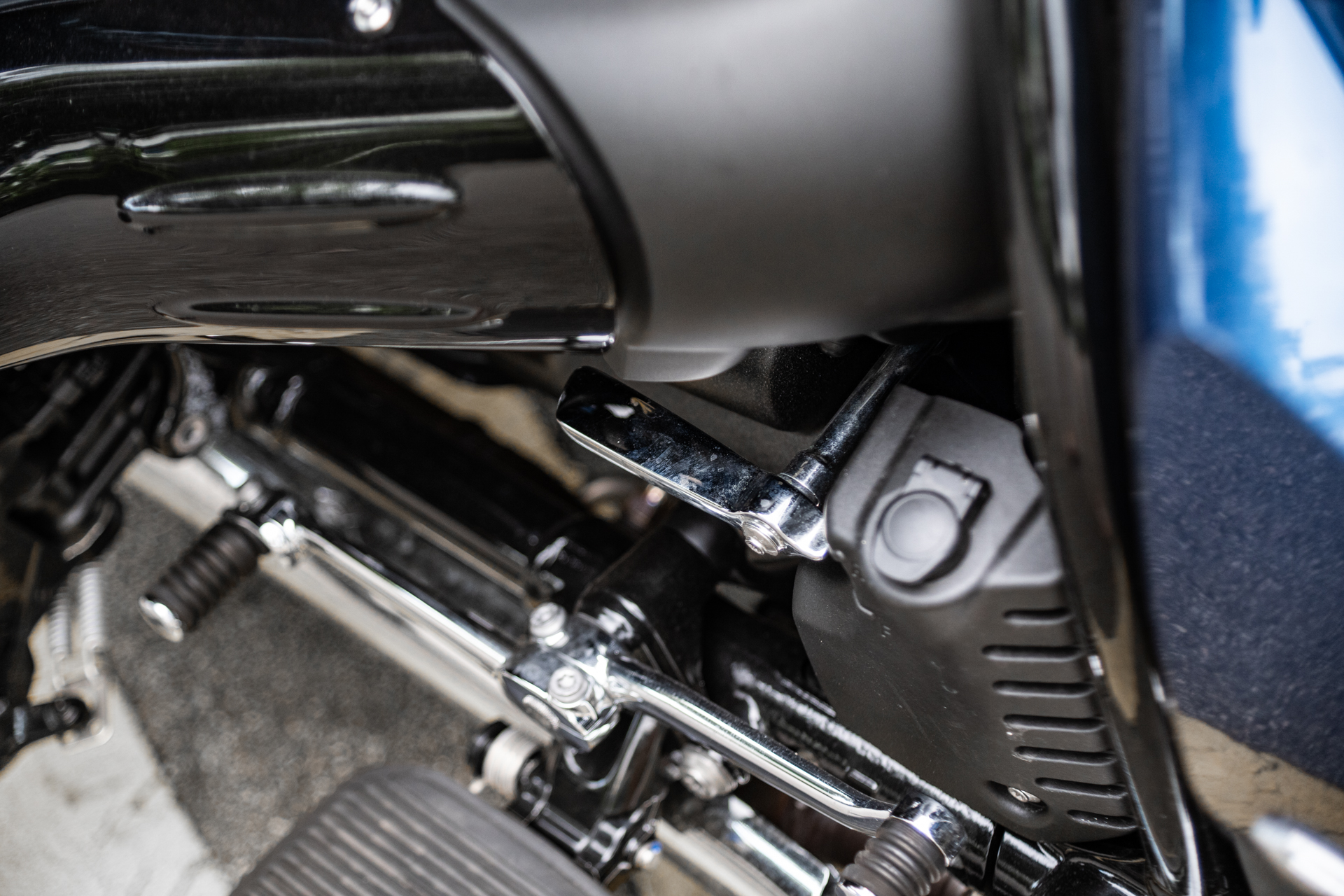 However, the R 18 B is a heritage-series bike after all, and needs touches that speak to that heritage.
Helping out with the Bagger bit are two 27-litre cases, one on either side, that can be suitably packed for an overseas road trip.
Then there are the gauge pods that house various classic-looking dials with BMW fonts, including a Rolls-Royce-esque "Power Reserve" gauge.
It's not the destination, it's the journey
Now that we're familiar with this cruiser, let's hit the road. Or should I say highway.
It's not that the R 18 B can't handle street riding. It can. However, it's size and weight means that you'll always be rather wary as to where you ride. Not to mention a pretty physically-taxing experience.
Forget tighter basement carparks. This cruiser can barely park in a standard HDB motorcycle parking spot. Its sidestand WILL overhang the spot even if the bike itself is offset to the right. As I write this article, the R 18 B is currently sitting in the outer-most motorcycle spot with the sidestand sitting on the speed hump to its left.
Here, have a look: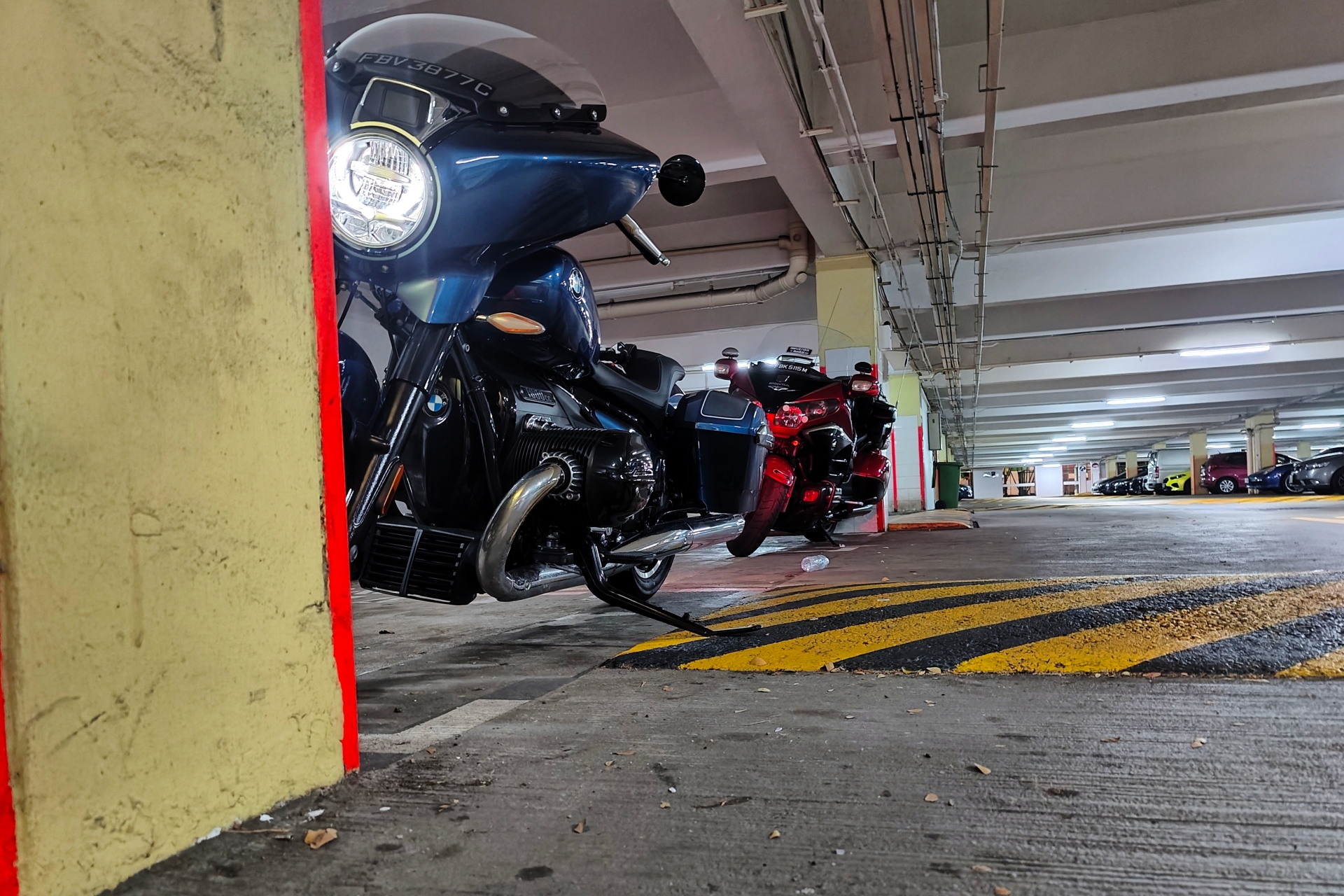 Therefore, the R 18 B is at its happiest out on the highway and loping along, and streets are but a necessary evil to get there. This is where this cruiser absolutely shines.
The test ride began around 2PM. Having previously learned a valuable lesson about NOT doing late afternoon rides during weekdays, this ride proved to be a pleasure.
Three riding modes are available, namely Rock, Roll and Rain. Rain, as the name suggests, blunts throttle response for slippery situations. Rock sharpens it up for more immediacy. Roll is the middle-ground, and for my riding style, the more relaxed option.
With Roll selected, hitting the highway and getting up to speed on the right lane was a cinch. Simply short-shift into sixth gear, keeping the revs around 2,000rpm and this cruiser literally cruises along while burbling boxer beats out of its twin tailpipes.
Then engage adaptive cruise control and relax the right wrist as the bike takes care of business. It kept a comfortable following distance with the vehicle in front and never braked or accelerated abruptly. Not only that, but other motorists gave the R 18 B a wide berth as it cruised along.
No challenges, no tailgating, just space fore and aft for this Bagger to make good progress.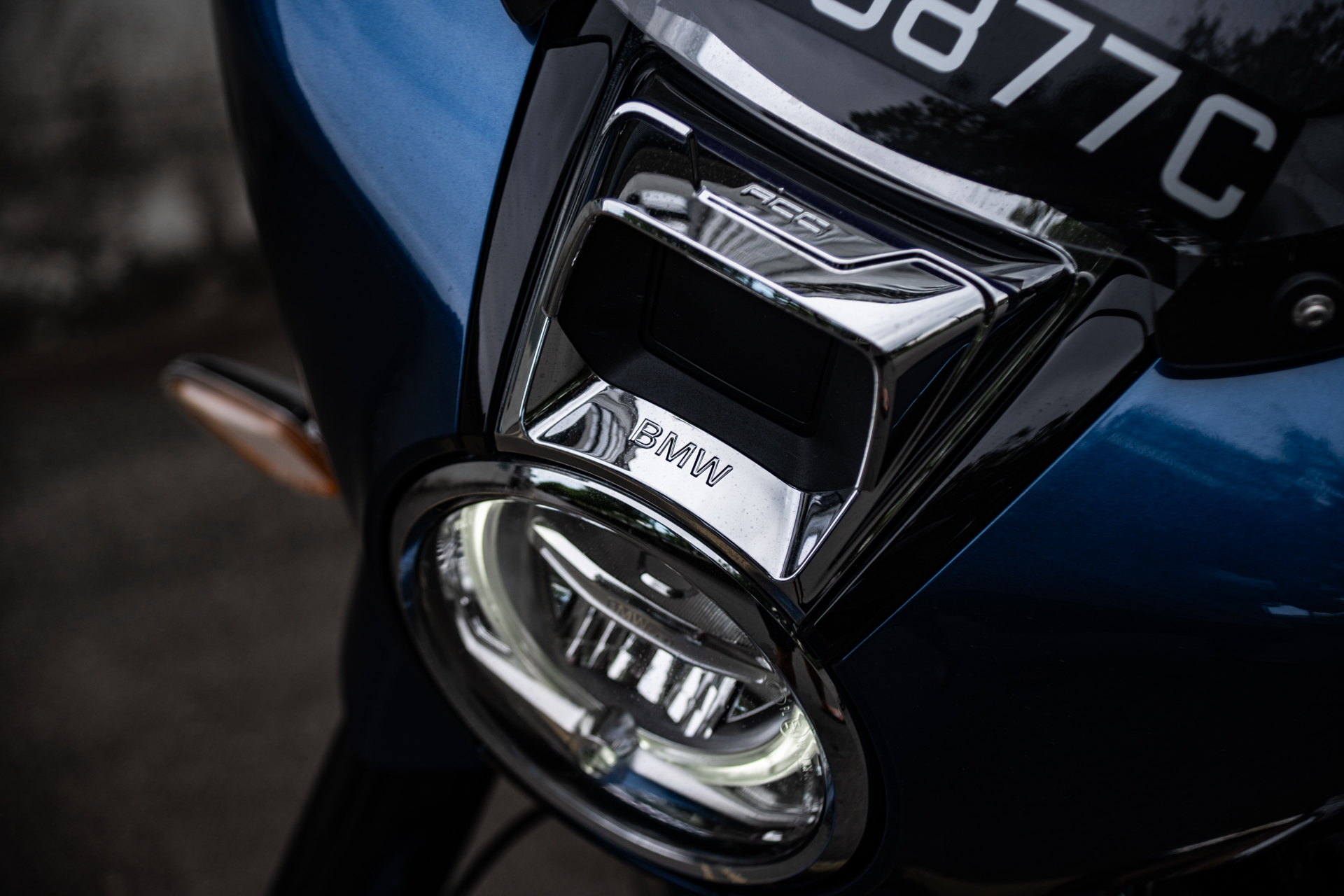 Then it was time to cruise at Malaysian highway speeds.
With 'Rock' riding mode selected and a roar from its boxer twin, the R 18 B took off down the highway. It sat rock (see what I did there?) solid at these higher speeds, with the audible rumble combined with pleasing vibrations through the seat a constant reminder that I was indeed riding something special.
However, there was just one fly in the ointment.
The R 18 B needs a taller windscreen, or a wind deflector at minimum. The standard windscreen induced a good amount of vision-blurring buffeting around the top third of my Scorpion EXO-R1 Carbon Air full face helmet. Thankfully, both wind deflector and high windscreen are available from BMW Motorrad as options.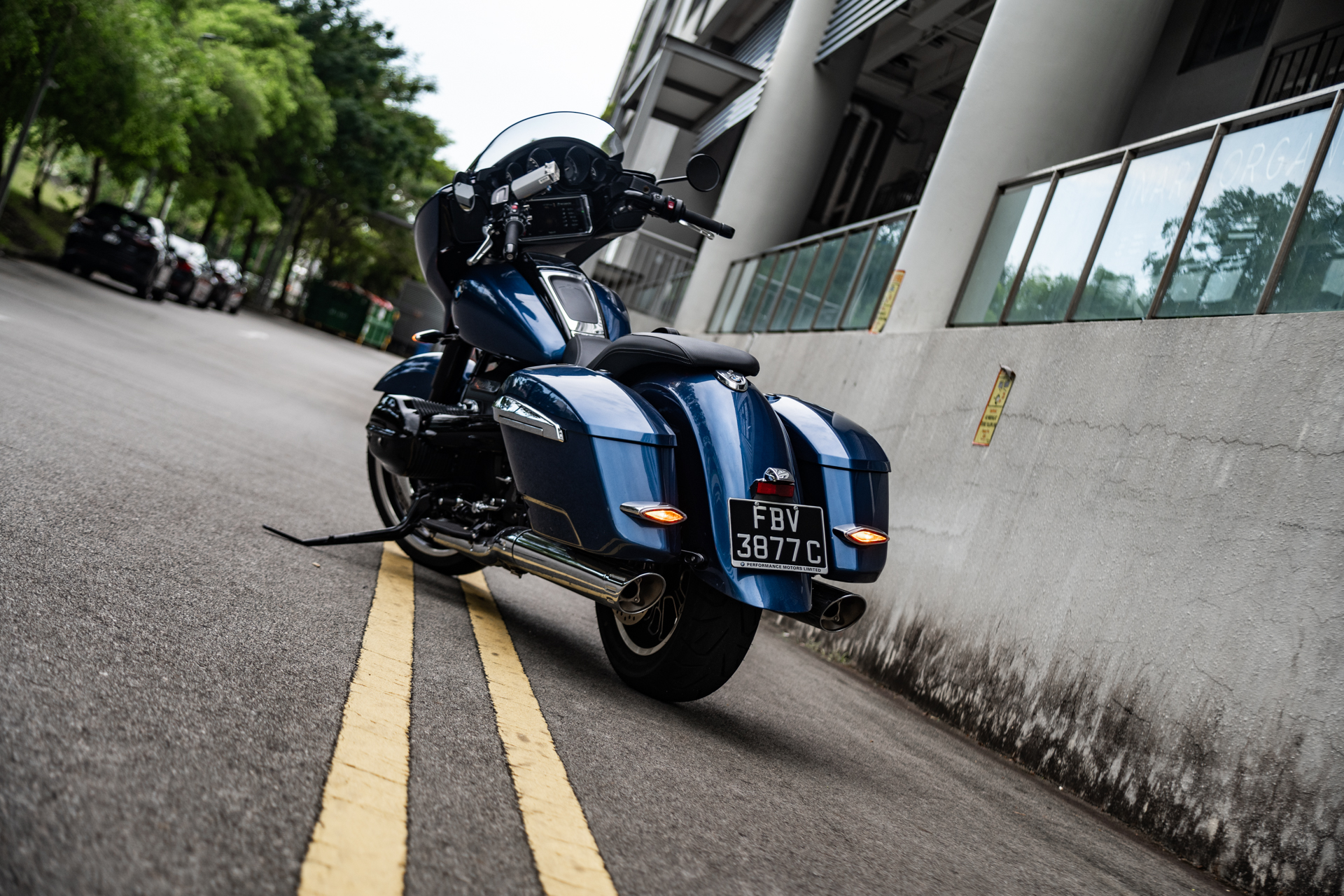 Back to Singapore highway cruising, the R 18 B remained unflappable and serene, loping along at a steady pace. Its suspension soaked up bumps with aplomb and smoothed out rough tarmac with ease.
While returning home, the skies opened up. Though my helmet visor and arms were picking up raindrops, I remained dry from chest down to shins. This, even at a piddling 30km/h. Just goes to show how well the engineers have sculpted that cowl to keep the rider comfortable while cruising come rain or shine.
At the end of the test ride, it did pretty well on the fuel economy side of things too, with 4.72-litres/100km or 21.2km/litre averaged over 166km. BMW Motorrad claims 5.8-litres/100km or 17.2km/litre, and this means 340-400km on a tank of RON95 petrol is doable before hitting reserve.
Frankly, I've never felt this excited before to get on a bike and just go for a highway ride while rocking out to my favourite tunes. Moreover, this is a BIGG Bagger! With every passing kilometre, the R 18 B was charming its way into my heart to firmly plant itself there.
If there was a theme song to describe the totality of the R 18 B riding experience described in this article from sweats to sweetness from pick-up to return, this would be it:
The title of this article says "Love At First Ride." I mean every word of it.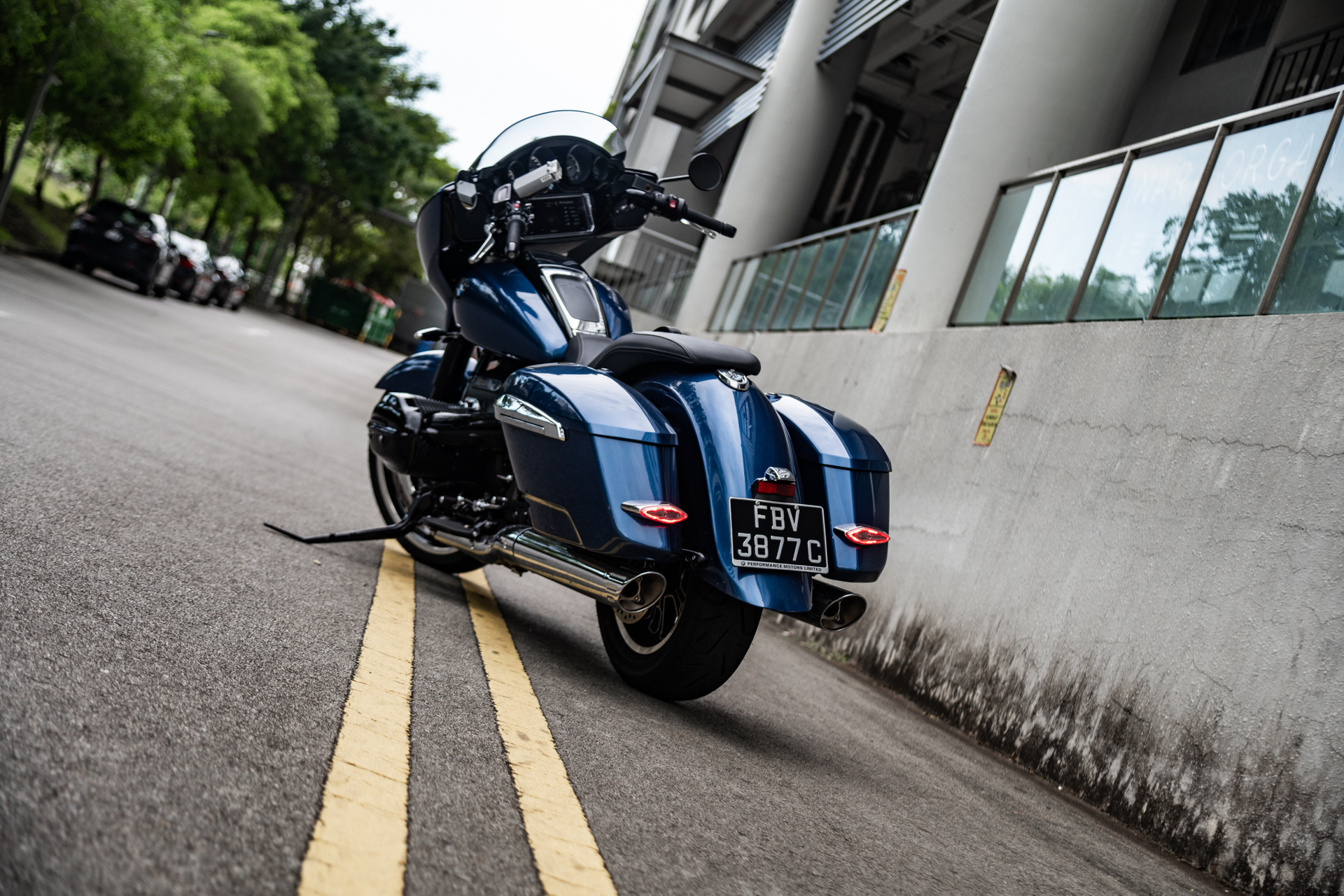 Photo Credits: Sean Loo (@auto.driven)
Technical Specifications
BMW Motorrad R 18 B
Engine: 1,802cc boxer-twin, air/oil cooled
Transmission: 6-speed manual
Secondary Drive: drive shaft
Power: 91hp @ 4,750rpm
Torque: 158Nm @ 3,000rpm
Top Speed: "over 180km/h" (claimed)
Fuel Economy (combined): 5.8-litres/100km or 17.2km/litre (claimed)
Fuel Tank Capacity: approx. 24 litres, of which approx. 4 litres is reserve
Kerb Weight : 398kg
Length: 2,560mm
Wheelbase: 1,695mm
Width: 970mm
Height: 1,400mm
Unladen Seat Height: 720mm
Price: from $85,800 (with COE, accurate at the time of this article)
Contact: BMW Motorrad Singapore
---
Read more automotive news at AutoApp, or check out our latest videos on Ignition Labs TV!