The 8-seat SUV makes for a stylish alternative to minibus-style people movers.
---
When it comes to vehicle design, there seems to be an unwritten rule that dictates an inverse proportion between the number of seats it has and how it looks. I submit aircraft as an example, a single-seat fighter jet versus the Airbus A380. When it comes to cars, how about the new two-seat Lamborghini Countach v a 40-seat coach?
So what's a family man to do when his brood needs a car with more than five seats? Households with extended families or those who tend to go out with an entourage typically have little choice but to drive around in a Multi-Purpose Vehicle (MPV).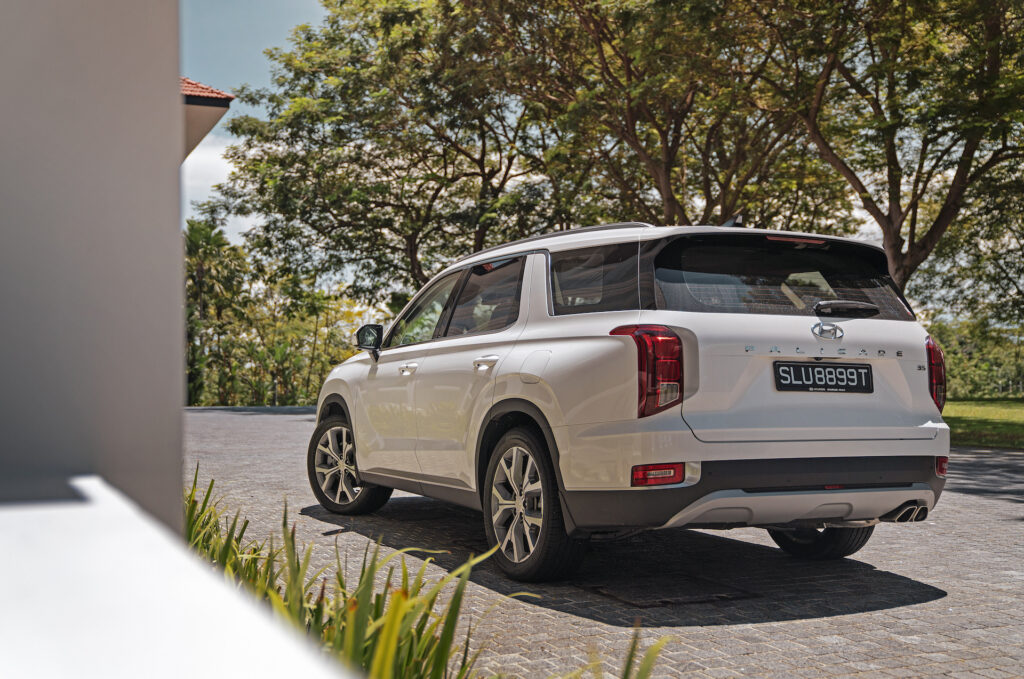 As form tends to follow function, MPVs tend to look rather boxy as interior space has to be maximized to accommodate as many as seven or eight occupants. 
Alternatively, you could roll in a large Sport Utility Vehicle (SUV) with three sets of seats. In most cases, however, the third row seldom, if at all, offers enough legroom for adults or even pre-teens. Furthermore, luggage is reduced to nearly nothing when all the seats are in place. This severely limits travel plans or even a family trip to the supermarket. 
Hyundai Palisade is inspired by Americans
American models such as the Chevrolet Suburban, Cadillac Escalade, or Lincoln Navigator are, for the most part, big enough for passengers as well as luggage space for all on board. But as you know, none of these are available in Singapore.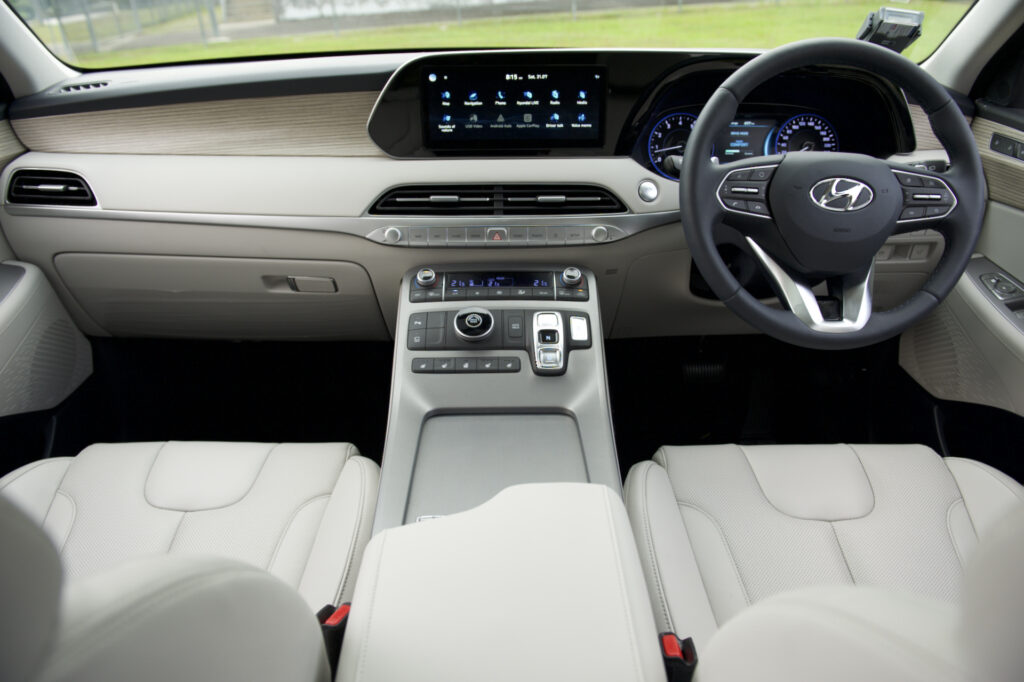 Fortunately, one model available here that is aimed at that segment is the Hyundai Palisade. Its moniker follows the Korean car maker's tradition of naming its SUV models after evocative places in the United States; Kona, in Hawaii, Tucson (Arizona), and Santa Fe (New Mexico). Its latest car is named after the Pacific Palisades — an affluent residential neighbourhood tucked between the Santa Monica Mountains and the Pacific Ocean. Here you would be rubbing shoulders with neighbors such as Matt Damon, JJ Abrams, Reese Witherspoon, and many other Hollywood A-listers you might care to name. 
So the Palisade's name should clue you in what this car represents; luxury, space, and style. Going by the reaction of my family members when they first lay eyes on this car, it would be fair to say that Hyundai has nailed it in terms of the "wow" factor with its imposing road presence.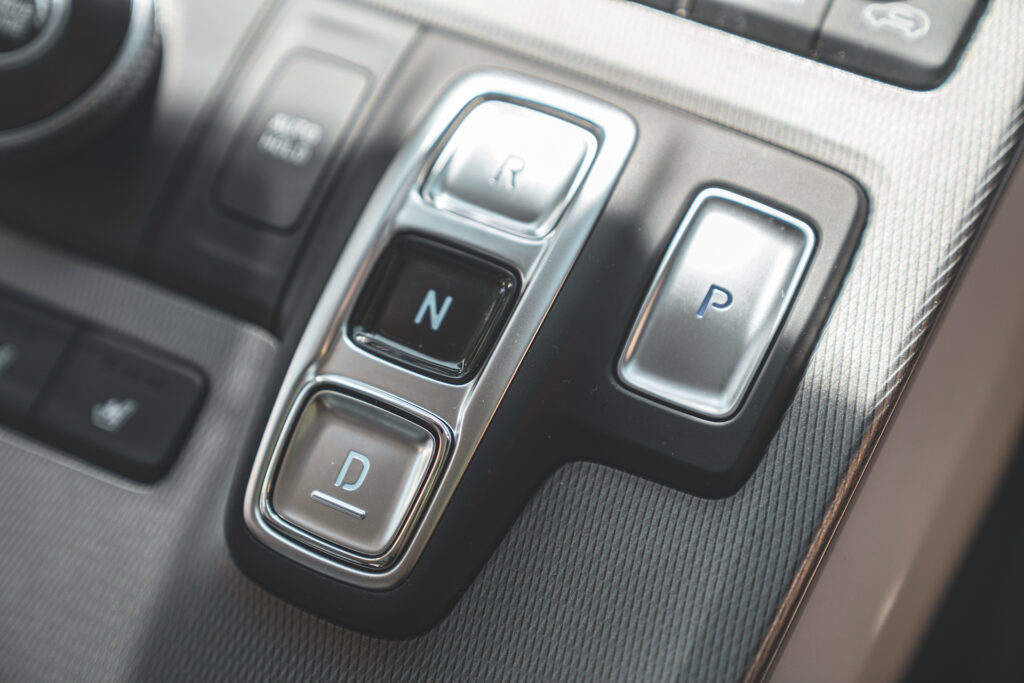 "Wow! What's this?" was the question I was the first question I was asked by almost everyone who saw me step out of the Palisade. To underscore this car's ability as a luxury car, Hyundai's dealer Komoco Motors very generously arranged a staycation at a villa in Sentosa during the weekend when I had the car. It actually proved to be quite useful in helping to place this car in the context of its intended positioning.
The Palisade is a land yacht
For example, when parked next to the myriad Range Rovers and Porsche Cayennes that litter the island's ultra-lux neighborhood, the Palisade looks right at home and even got several nods of approval from residents in the area. 
In white, with a two-tone cream and navy letter interior, the Hyundai Palisade was also in alignment with the numerous yachts moored at the local marina, Oneº 15. Indeed, our land yacht was just as comfortable wafting down whichever road we pointed it at.
Even with our household of four adults and two children on board, everyone had ample space to lounge in their own 'corner'. The plethora of USB charging points was enough to keep all my passengers entertained with their mobile devices. When I needed their attention, the Palisade's party trick was particularly handy.
This car is so big, that it actually has its own built-in PA system! To activate this, simply tap an icon labeled "Driver Talk" from the home screen of the 10.25-inch infotainment touchscreen, and hidden microphones will patch your voice through the speaker system so those in the last row can be heard without the need for the driver to raise his voice. Jokingly, we also came to refer to it as "tour guide mode".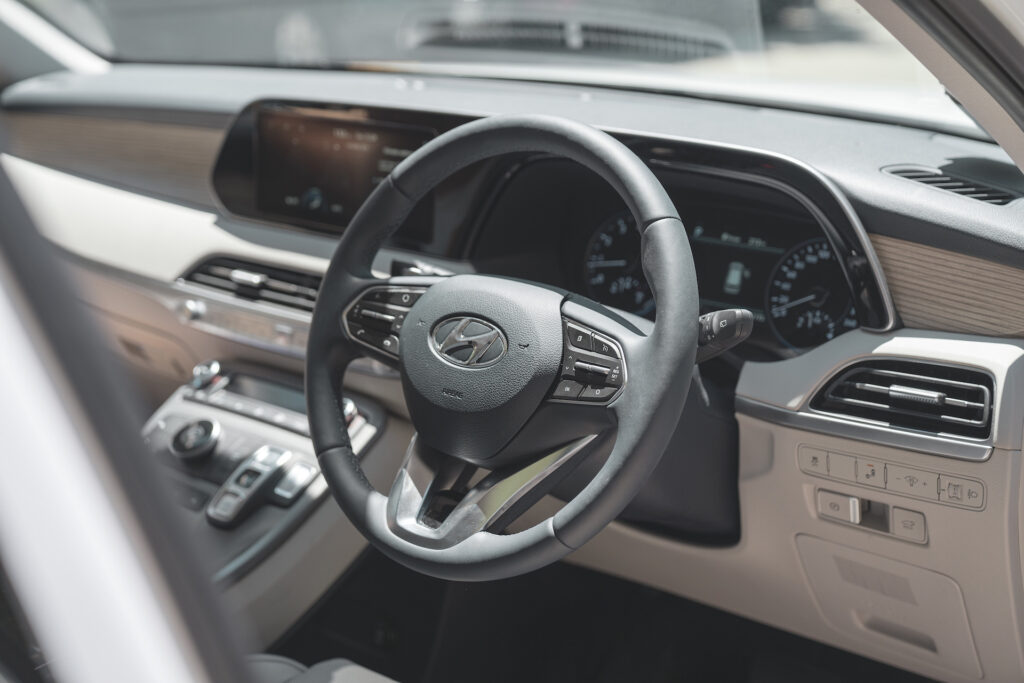 In its 'engine room' lives a 3.5-litre engine that transmits its power to the front wheels only. For more than 95 percent of the time spent driving on Singapore's roads, its driver nor occupants are ever likely to notice nor care about which wheels the power goes to. In fact, they might forget that with this vehicle at times because the V6 unit is really that smooth and silent.
However, the jig is up if the driver is a tad too enthusiastic about getting the Palisade to move from a traffic stop. Anything more than a moderate step on the accelerator pedal will find the front tyres scrapping for traction as the All Season rubber gets overwhelmed by the 277hp and 336 Nm of torque available on tap.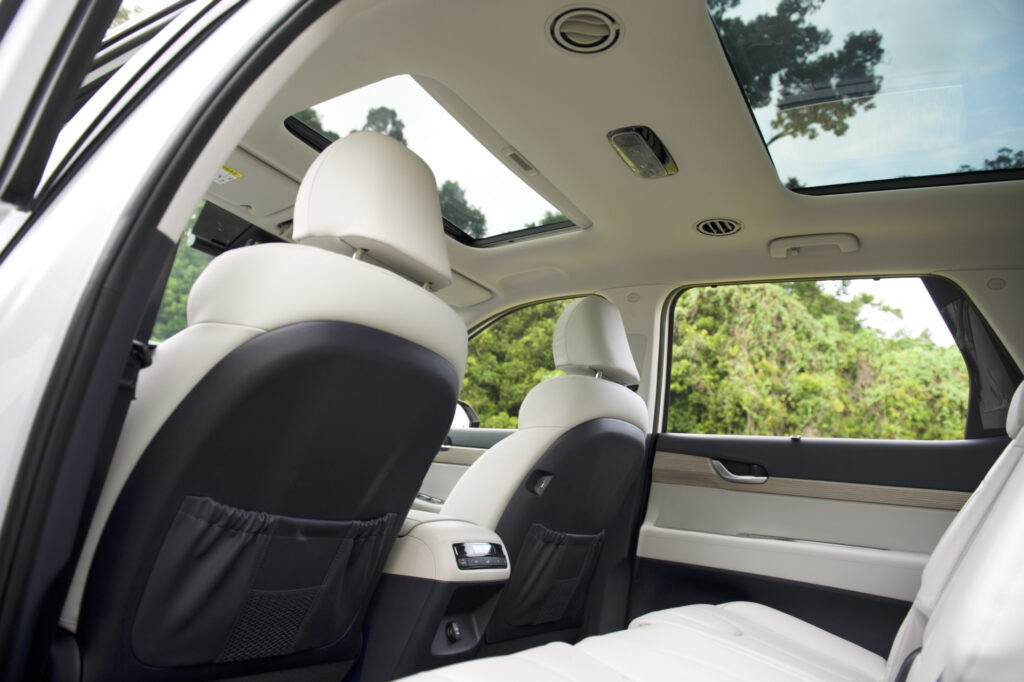 The other scenario where the front-wheel drive Palisade momentarily loses its composure is if you make a sharp turn up a slippery driveway — like when it rains as it did on our drive — this resulted in a brief wheel-spin but nothing more. However, it is easy to see how a less experienced driver might panic when this happens. In all likelihood, upgrading to a summer tyre can help alleviate much of this.
The rest of the time, the Palisade simply munches the miles effortlessly while its long wheelbase (2,900mm) and plaint suspension soaks up the bumps and other obstacles in the road with the fluency that you might otherwise find in a Mercedes-Benz S-Class.
Big but (carpark) friendly
Surprisingly, the Palisade is fairly easy to manoeuvre in car parks and other tight spaces. What really helps in this department is the virtual overhead view where cameras around the car stitch an image that shows all sides at once.
Another party piece that makes the Hyundai Palisade easy to drive is the Blind Spot View Monitor. When the turn signal is engaged, cameras in the wing mirrors send a live video to the driver's info screen. This negates the need to turn your head to check your blind spot when changing lanes or making a turn.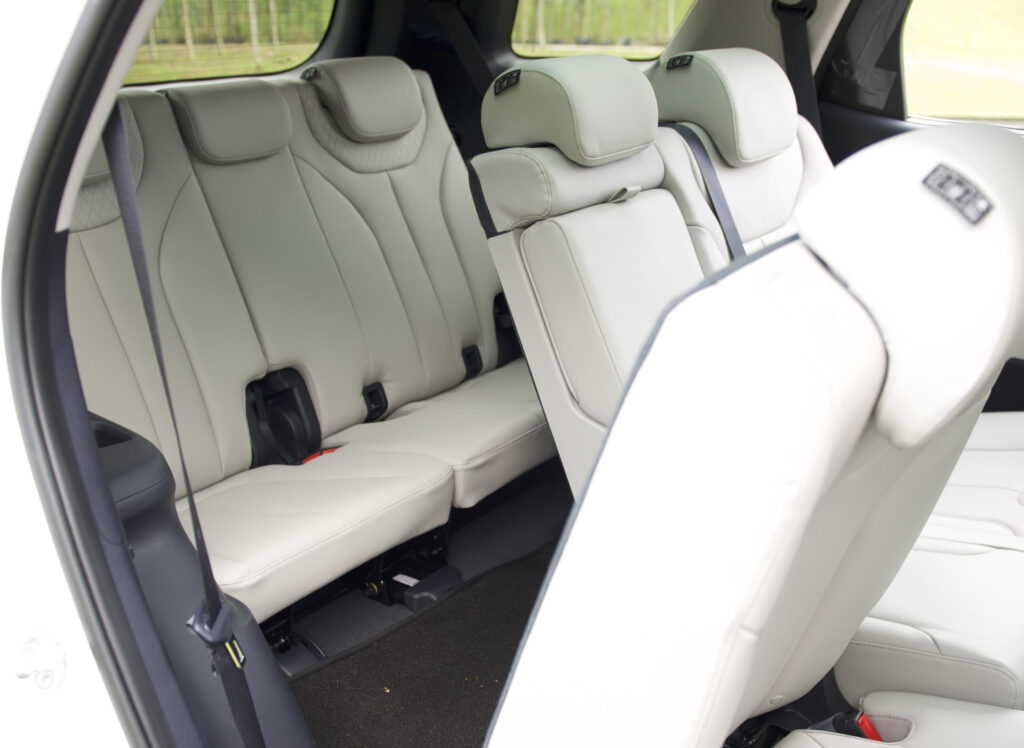 With these features and everything but the proverbial kitchen sink, the real surprise is that this Hyundai convincingly passes for a luxury car twice its price.
For an 8-seat car that comes in at a handy $34k less than a 7-seat Toyota Velfire, Hyundai makes a very compelling case for the Palisade.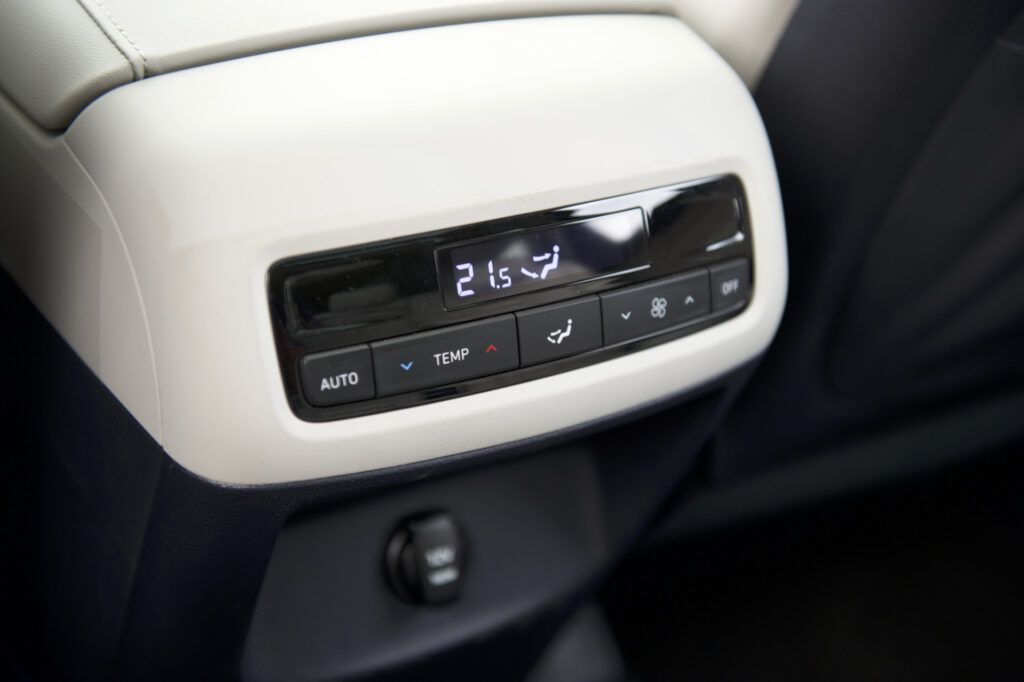 Ideally, a hybrid drivetrain with a 2.0-litre turbo engine might make the Palisade more appealing to the local audience while four wheel-drive, electrified or otherwise might endow it with the sort of composure it needs to make the luxury car impression complete. At this point, I might as well ask for self-closing doors which would really add a touch of class.
While driving the Hyundai Palisade, I couldn't help but compare this car to the Lexus RX 350 L, also powered by a 3.5-litre V6 but seats seven. While the Japanese car's engine and dynamics were a shade more involving from the driver's seat, production has ended and the new RX will be launched in September.
Until then, the Hyundai Palisade occupies a niche unto its own. At its price point, nothing else comes close to matching it for style, space, and luxury.
Technical Specifications
Hyundai Palisade 3.5 V6 Sunroof
Engine: 3,470cc, V6
Power: 277hp @ 6,300rpm
Torque: 336Nm @ 5,000rpm
Transmission: 8-speed automatic, fwd
0-100km/h: 8.1 seconds (claimed)
Top speed: 210km/h (claimed)
VES Band: C2
Base price: $218,999 with COE
Contact: Komoco Motors
---
In the market for an 8-seater? Check out our review of the Kia Carnival here.