If space is the biggest priority in an MPV, then all hail Staria, the new King of the Road
---
It has been said that you can never be too rich or too thin. By this extension, could you have a car with too much power or interior space? Arguably, the only time that anyone were to answer "yes" is when a lack of road starts to impede the full appreciation of either attribute.
The Hyundai Staria has no problems with power from its 3.5-litre V6 unit that runs on petrol and makes up to 272hp. In fact, if anything, it could do with another 50hp or so. Inner space is the frontier that it pushes to the limits of what's possible in a passenger car. 
Measuring at 1,9990mm in height and 5,253mm in overall width, the Hyundai Staria absolutely dwarfs the Toyota Alphard and Vellfire – among the biggest MPVs sold locally, until now. 
As evidenced by their numbers on our roads, the Alphard and Vellfire have proven to be a hit and it's easy to see why. In  a country where real estate is in real short supply, every square inch where you can stretch out is indeed a luxury. 
With the Hyundai Staria, its occupants can look forward to event more room to stretch out in. Our test car was configured as a 7-seater where the middle row consisted of a pair of electrically reclining seats that also featured heating and cooling. 
Up front, a large storage box with a sliding cover divided the driver's and from passenger's seats. While it was certainly versatile to hold all manner of personal carry-ons or drinks bottles, I couldn't help wishing that an option for a middle front seat were available instead.
Given how massive the interior is, the Driver Talk function that is found in the Palisade is conspicuously absent in the Staria. If anything, this is the car that needs it more so that the driver can use the speaker system as a PA to communicate to those in the third row.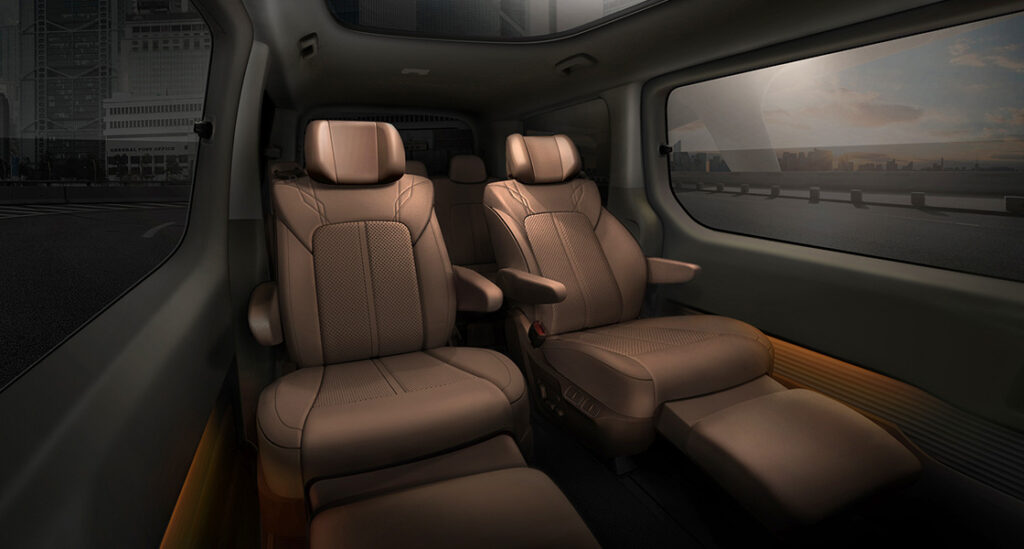 Those seated in front get a panoramic view out thanks to a massive windscreen and huge side windows where the sills extend down to thigh level. This also helps with minimising blind spots especially when parking in tight spaces. Let's face it, in a car this size, every parking space is tight!
While the Staria's interior is wonderfully roomy, the ceiling height seems unnecessarily tall. Sure, an average sized adult could just about walk down the middle aisle, but lowering the roofline by 10cm or so would have made this car much more accessible without compromising any of the perceived spaciousness.
Instead, it's height is actually the biggest liability of the Staria. Height limits when entering covered carparks have to be carefully adhered to if very expensive repair bills to the roof are to be avoided. 
Surprisingly, maneuvering this mammoth MPV is not as daunting as its size might infer. Besides the generous window openings, the digital dials in the driver's display turn into a live feed for the blind spot camera when either side indicator is selected. The turning circle is also decent for a car this size.
While the Staria looks too futuristic to have a petrol-burning engine under its bonnet, the 3.5-litre V6 unit is wonderfully smooth and silent enough to render a ride that's refined enough to pass for a luxury car.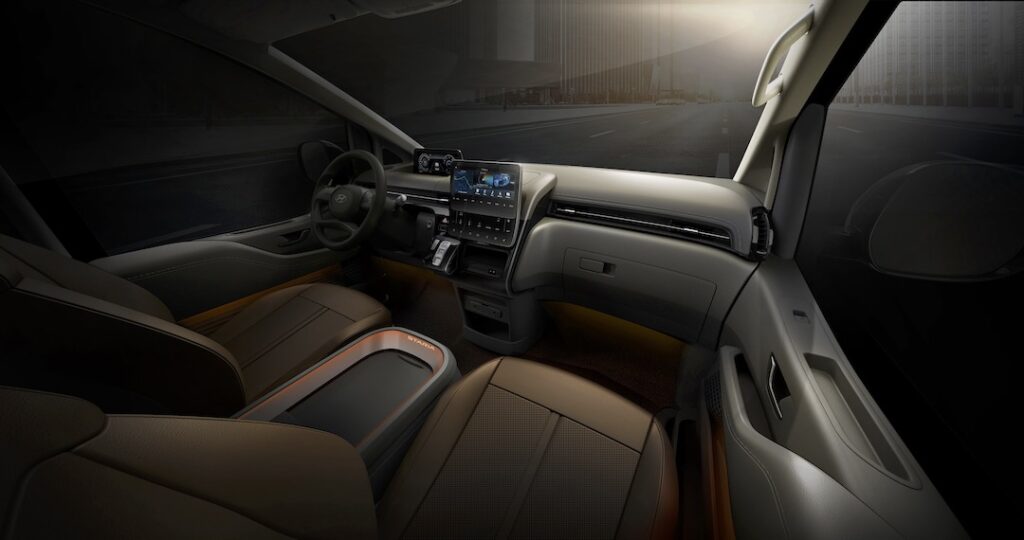 In terms of design, Hyundai's designers have done a brilliant job of making the Staria look as clean and streamlined as a giant MPV could possibly hope to be. No fussy grilles and unsightly creases in the sheetmetal.
Inside, the execution is similarly tasteful. The leather seats are quilted and supple enough to make even the longest roads trip pleasurable while the occupants are treated to the view above with a pair of sunroofs. At night, the cabin set aglow with soft LED lighting that makes the entire interior feel welcoming. Only the most fastidious of drivers would notice that some of the switchgear sully the high end impression as they have been taken from Hyundai models lower down the product line.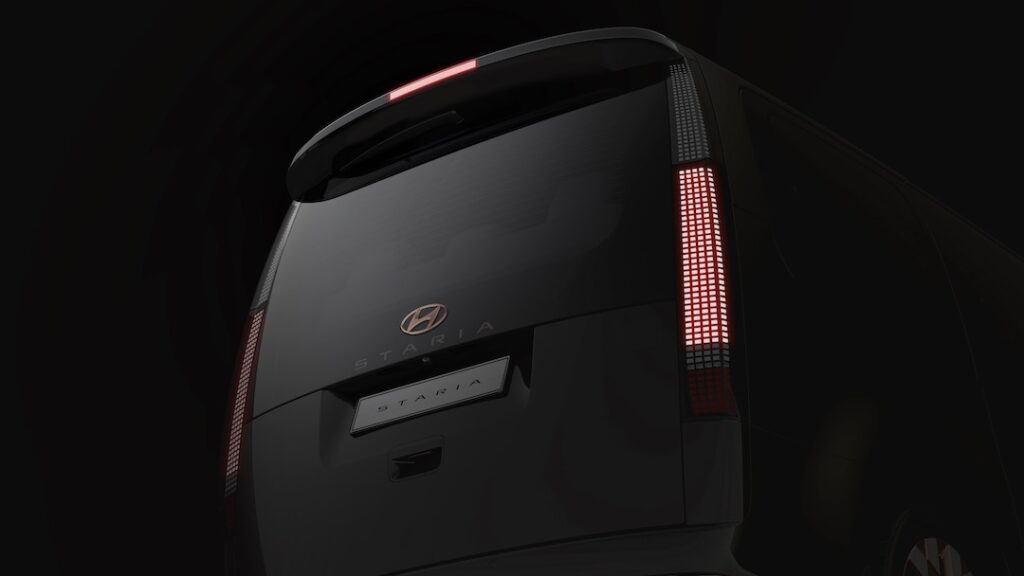 In the context of a vehicle where its occupants are meant to be chauffeured rather then just driven, the Staria wafts along expressways and city streets effortlessly. There is expected body roll in corners but set it up properly when entering a high speed bend and it'll oblige more than you might expect.
After living with the Hyundai Staria for a few days, driving it around became less daunting. To the point where it was no more challenging to park than say, a Mercedes-Benz S-Class.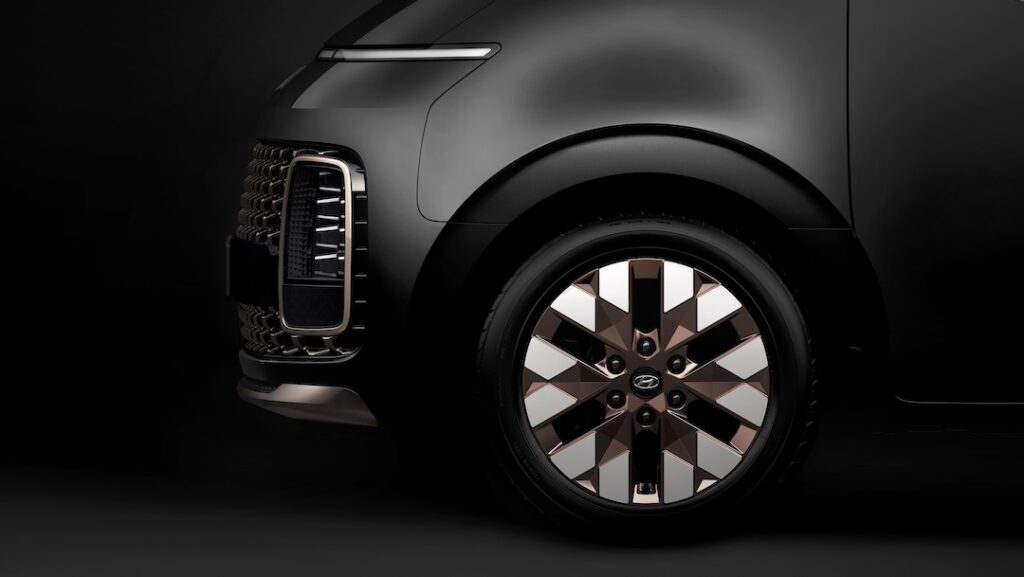 MPVs tend to fall woefully short on style or desirability and are usually bought out of necessity. The Hyundai is set to buck this trend as it looks like you're driving an altogether different type of vehicle. Which it is, since nothing comes close in terms size, or presence as the Staria.
TECHNICAL SPECIFICATIONS
HYUNDAI STARIA 3.5 V6
Engine: 3,470cc, V6
Power: 272hp @ 6,400rpm
Torque: 331Nm @ 5,000rpm
Transmission: 8-speed automatic, fwd
0-100km/h: 8.9 seconds
Top speed: 210km/h
VES: C2
Base price: $263,999 with COE
Contact: Komoco Motors
---
Enjoyed this review? Check out more of them here!