The Volkswagen Caddy can lug your cargo around while putting in a surprising turn of acceleration and fuel economy.
---
Around the mid-2000s, it was possible for private buyers to own panel vans without the need for company registration. At that time, there were many who sprung for just such an option, with the Volkswagen Caddy being among the more popular choices.
A couple of car-enthusiast friends got themselves Volkswagen Caddys, and one of them sneakily went off to have his van 'tuned'. And so our group was regaled with tales of excellent fuel economy and being able to outrun most cars on the road whenever we met up for kopi sessions, much to the green-eyed envy of everyone else. For perspective, this was back in the day when diesel prices were nearly half that of petrol.
And so we come to the present, with the Caddy in its fifth iteration and now based upon Volkswagen's MQB platform that also forms the basis of VeeDub vehicles like the Polo, Golf, Jetta, Tiguan, T-Roc, and other similarly-sized vehicles in the Volkswagen Audi Group.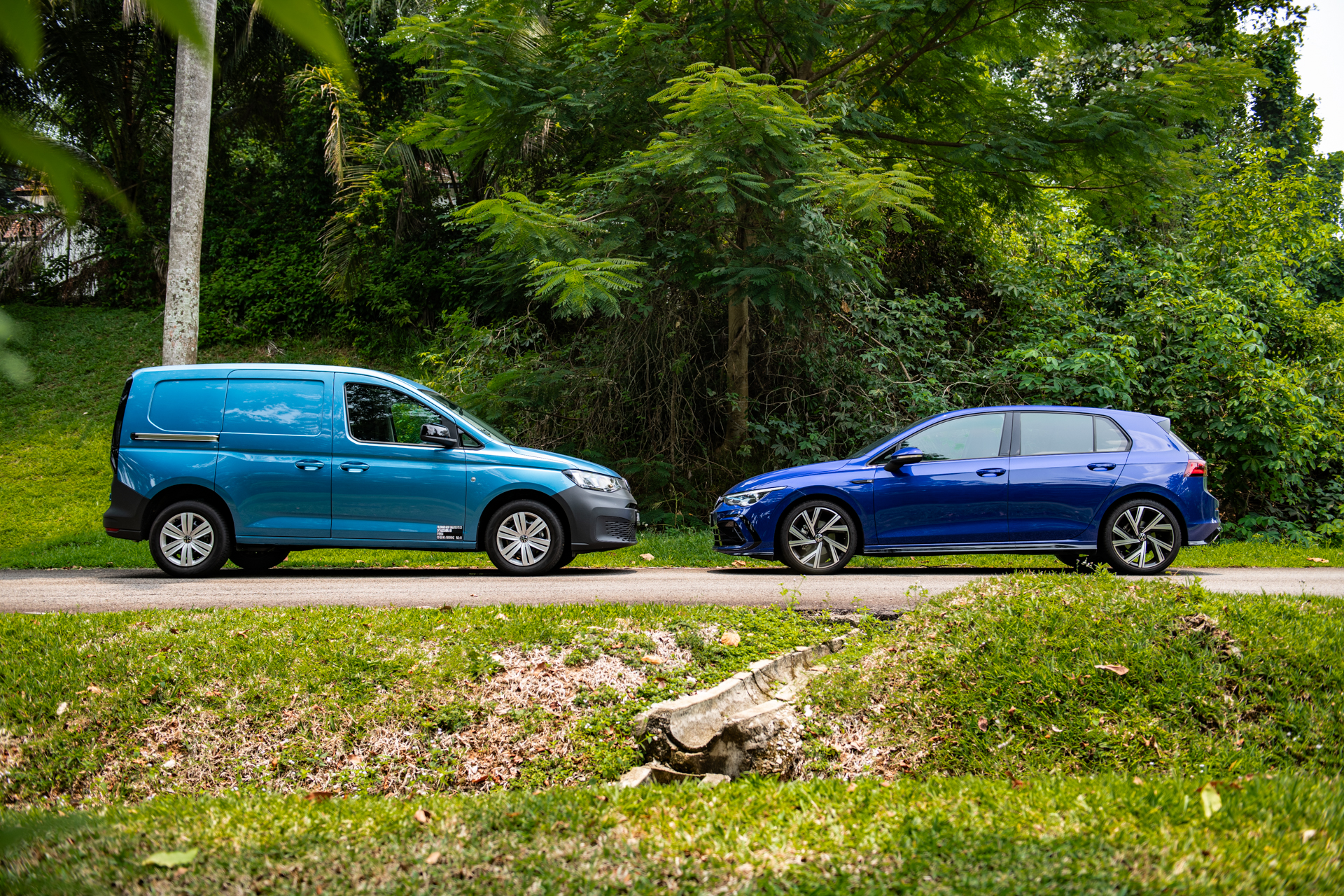 Outside
One walks up to a face that's unmistakably Volkswagen. Sitting here in a cheerfully bright shade of Costa Azul Metallic brings a smile, compared to the vans we usually see on the streets in boring black, white, silver or grey.
Those colours are available too, should one prefer to remain low-key, but that VW would offer fun hues such as Bright Orange, Golden Green Metallic and Cherry Red as part of 13 colour choices speaks volumes about the Caddy's character.
Unpainted bumpers may be a bummer to some, but potential scrapes during tight parking and cargo operations can be easily brushed off as battle scars worn with pride.
Not that the Caddy is difficult to manoeuvre at all. At 4,500mm in length and 2,100mm in width, it fits comfortably into a standard HDB parking spot. 1,860mm height means the majority of multistorey carparks are a non-issue to get in and out of. That the Caddy comes standard with a reversing camera and Park Distance Control both fore and aft makes things that much simpler in carparks and tight spaces.
See those wheels? Those are not alloys but alloy-mimicking hubcaps covering steel rims. I did a double-take when this realization set in, and the look works really well. The test vehicle's steelies are shod with 205/60R16 Maxxis Mecotra 3 passenger vehicle tyres, meaning tyre changes should be much easier since commercial vehicle-rated tyres are not needed.
Otherwise, we get what we expect of a panel van of this size here – a sliding door on each side and split rear wing doors that…
Inside
… open wide enough to accept a Euro pallet that can be loaded by forklift if need be. The load floor is rubber-lined to keep from scuffing and scratching painted metal up.
3,100-litres of cargo capacity is available here at a maximum payload of 710kg, so carting around goods for delivery should be a cinch for most intents and purposes. Six lashing rings are provided in the cargo compartment for the obligatory ratchet-strappery to keep your barang-barang from sliding around while on the move.
With cargo operations completed, it's time to jump into the cab and move off.
Seat adjustments for both driver and passenger are manually done, with each seat receiving an armrest toward the centre of the van. This is a nice touch, especially for longer highway cruises where one can just rest their elbows on both the seat and door armrests and relax en route to the next destination.
The only niggle I found with the Caddy is the grille in the high partition behind the seats. Over rougher roads and when the skies open up, the cargo compartment turns into an echo chamber of sorts, with the grille letting this amplified noise into the cab. Perhaps a clear glass panel would have been better at isolating noises from back there.
The steering wheel falls nicely to hand and is adjustable for reach and rake. Normal cruise control is standard fit and came in extremely useful on highways and in average speed zones.
The instrument cluster is mostly analogue and easy to read, with a smaller digital screen in the centre that can display a variety of information, but I suspect will be left showing speed for most folks.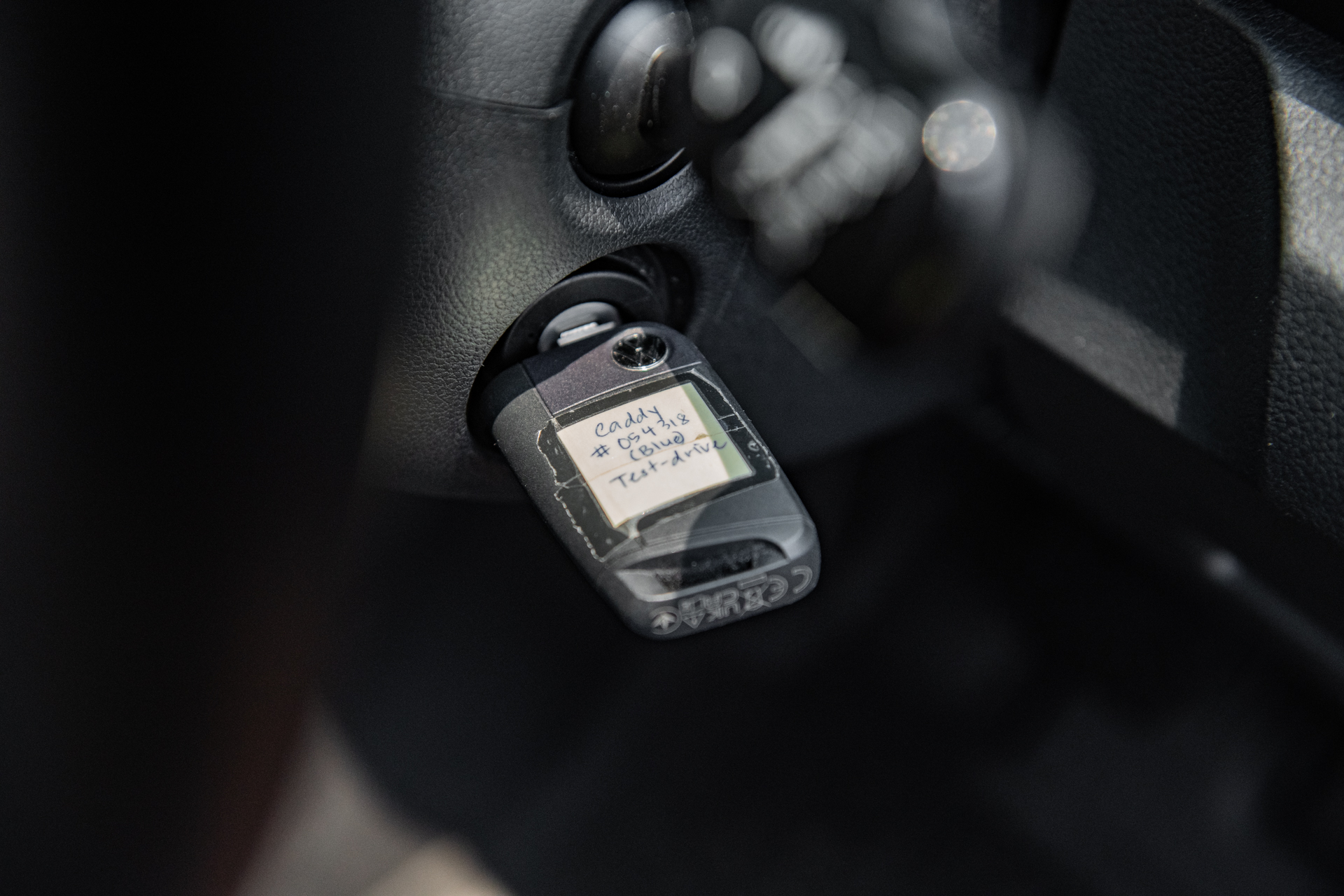 The infotainment system is simple, straightforward and pretty easy to use. It is connected to an audio system that can bang out tunes sufficiently loud to drown out the speed-limit dictating beeper that's regulation-fitted to every commercial vehicle on our shores.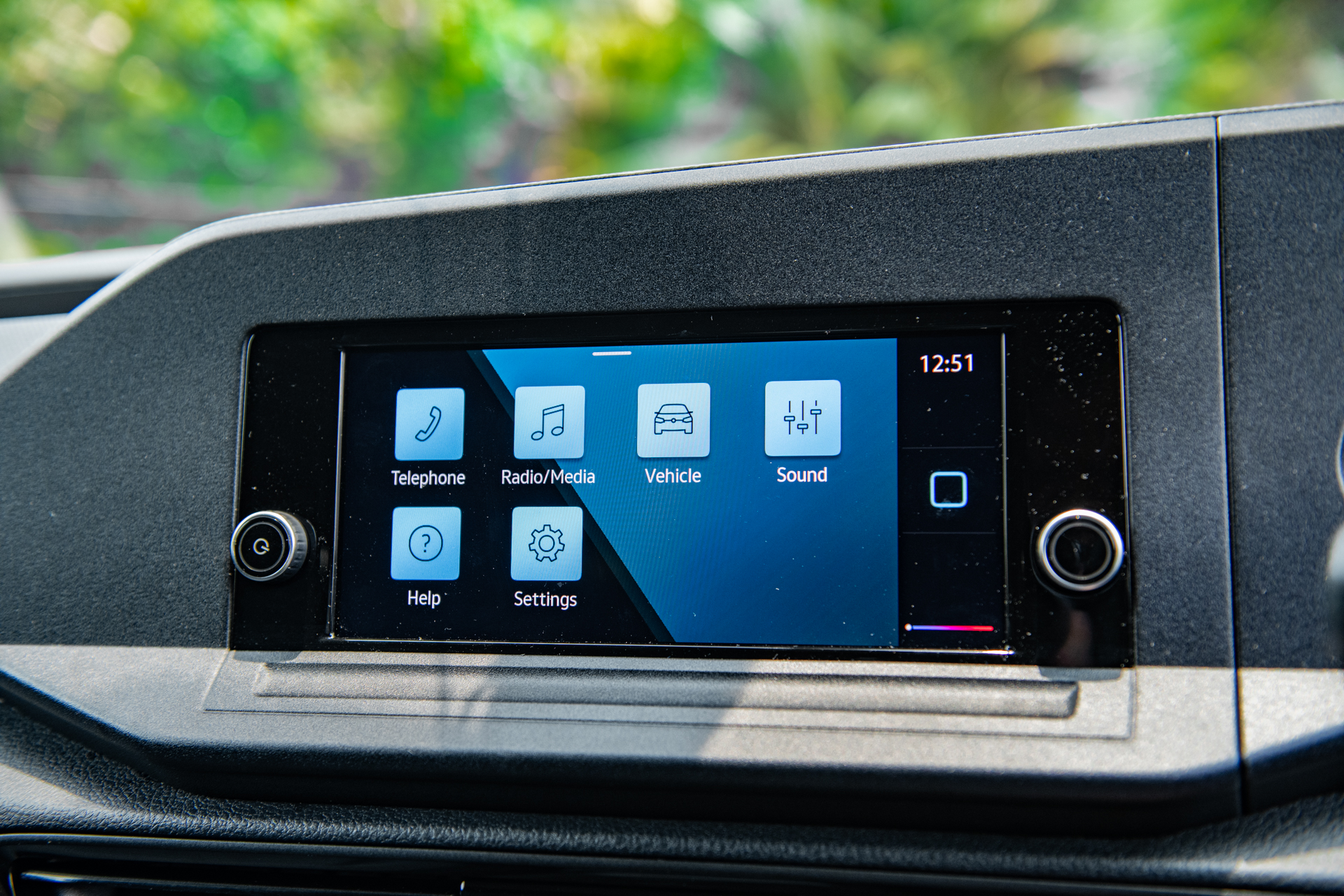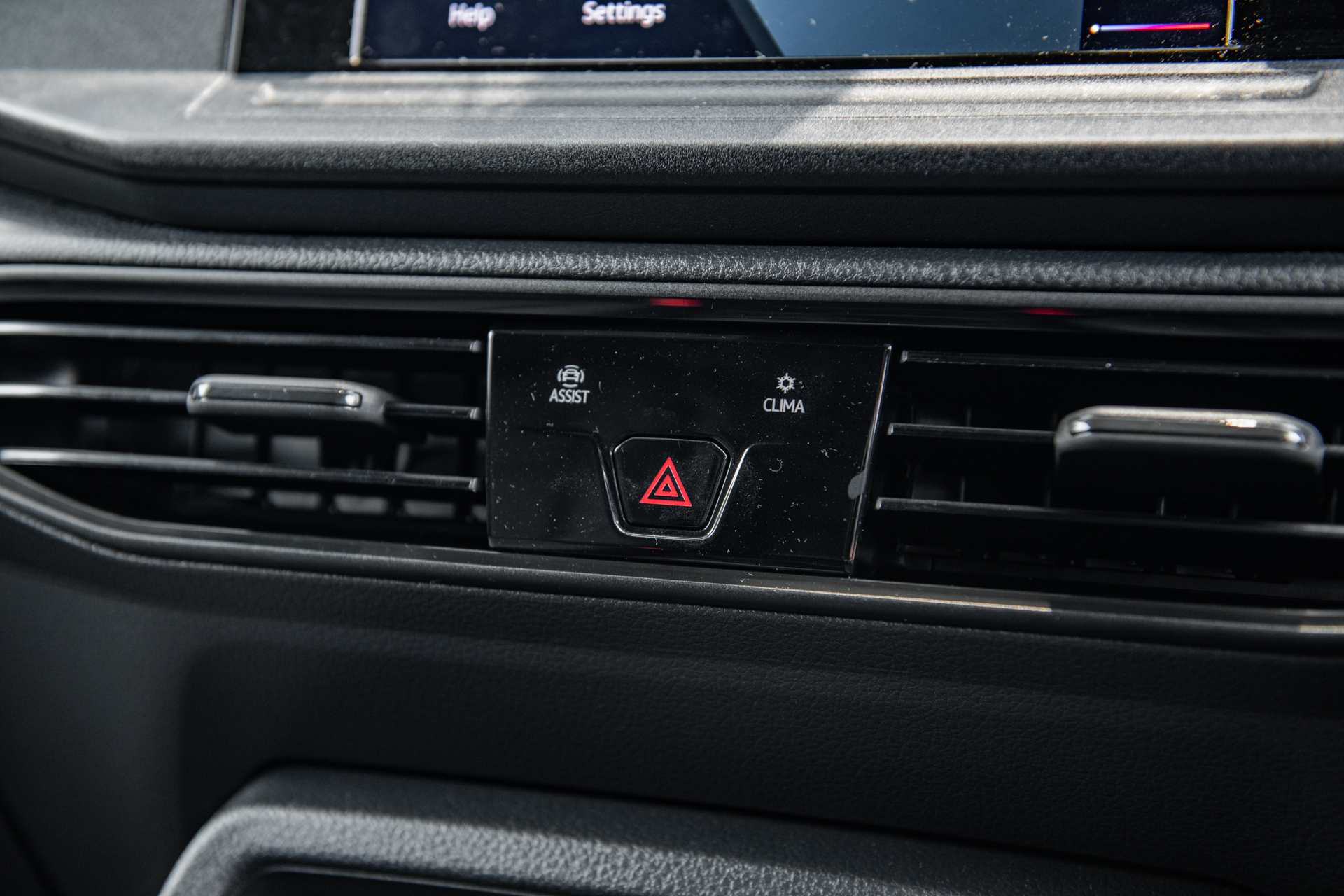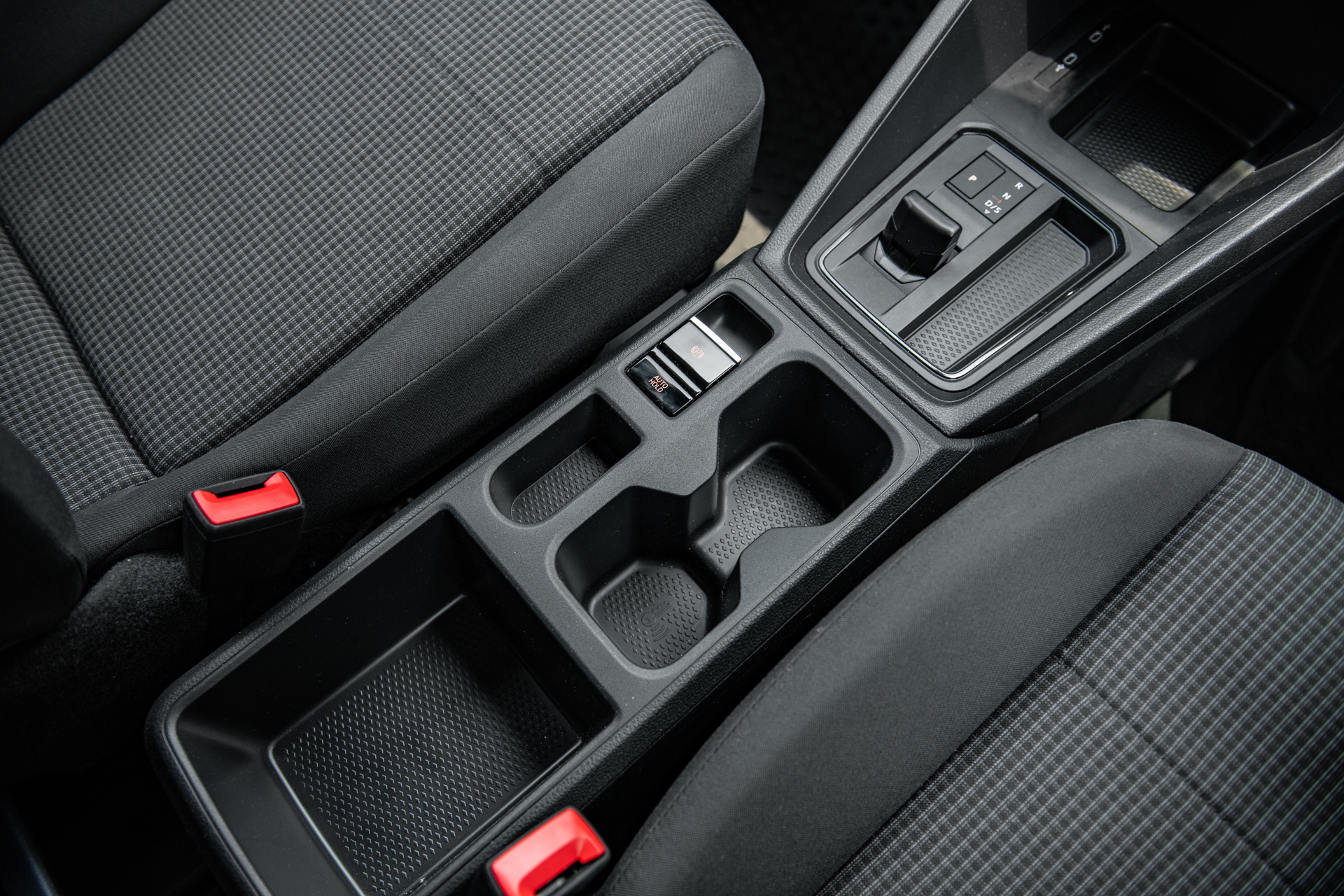 An overhead storage binnacle is useful to hold all manner of shipping paperwork, and possibly a smaller laptop or tablet. I'd put down an anti-slip mat first before keeping a laptop or tablet up there, just in case.
Door bins are also sufficiently spacious and can swallow larger water bottles with ease.
Driving
One word – easy. Visibility out of the cab on the move is good. Sufficiently large wing mirrors aid lane filtering and reversing very well. The steering wheel is pretty light, and that it features physical buttons make it that much easier to use.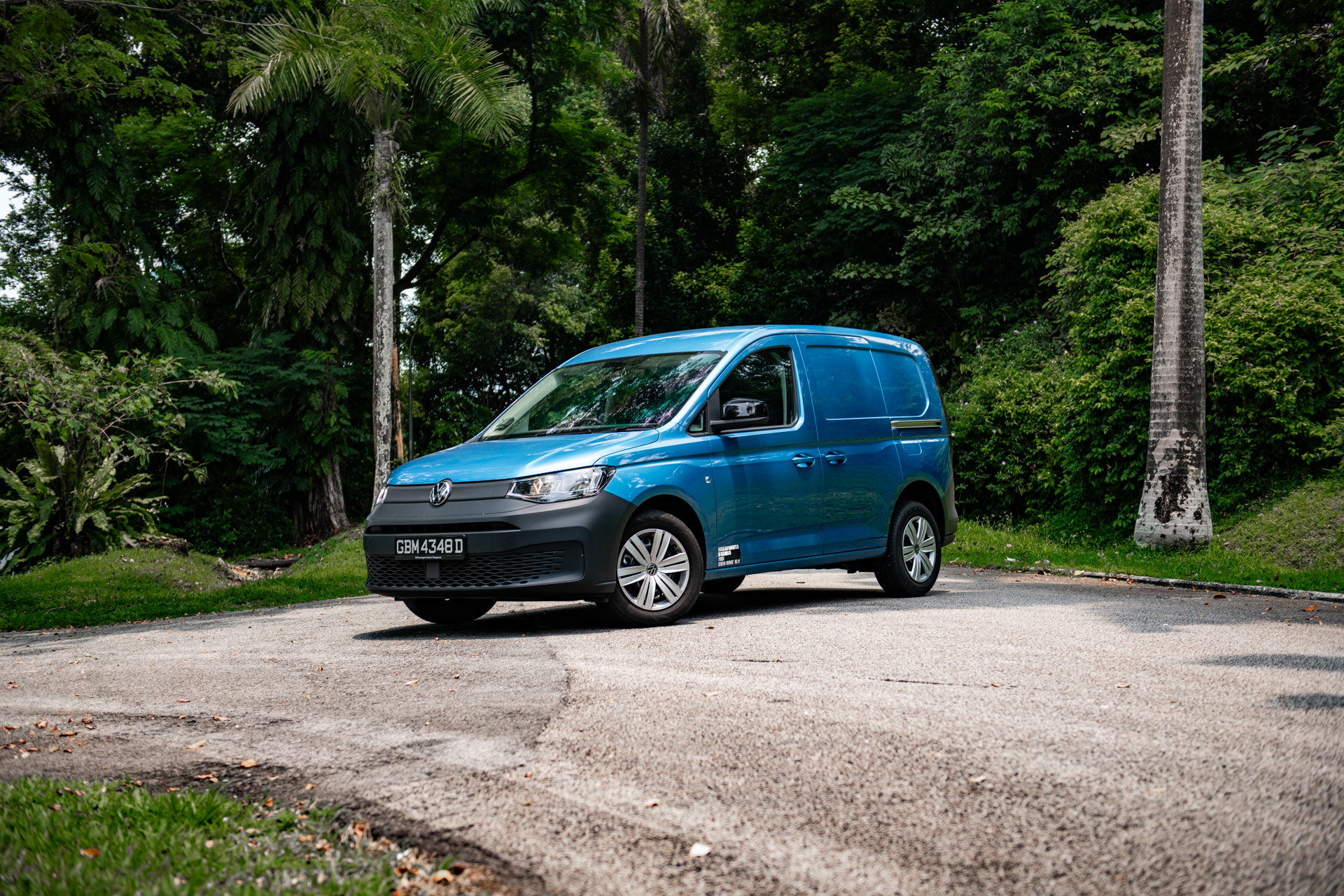 Despite being a van, the Caddy can handle corners very well. It managed to surprise a souped-up Scirocco in a tightening-radius bend. At a cruise, the suspension soaks up most bumps well, although larger bumps can induce some crashiness.
The tyres remain quiet over smooth tarmac and only become audible over coarser bits of highway. When pushed in corners, they do protest early on, but grip well and remain stable.
What was endearing to my friends back in the mid-2000s is still here – the two-litre turbodiesel engine. 122hp may not sound like much, but 320Nm is certainly a lot for a van this size. Put your foot to the floor and the Caddy can chirp its tyres while taking off with alacrity.
Helping things along is a seven-speed dual-clutch DSG gearbox that remains smooth most of the time. One can also opt to use the steering-mounted shift paddles to row through gears semi-manually.
However, this is a commercial vehicle, and the idea is to ride the mountain of torque and leave the gearbox to its own devices. Do that, and good fuel economy can be yours for the taking. Volkswagen quotes a combined economy figure of 4.6-litres/100km or 21.7km/litre, and I was able to better this slightly at 4.4-litres/100km or 22.7km/litre over a test-driven 620.6km with the Caddy unladen and with auto engine start/stop left turned on.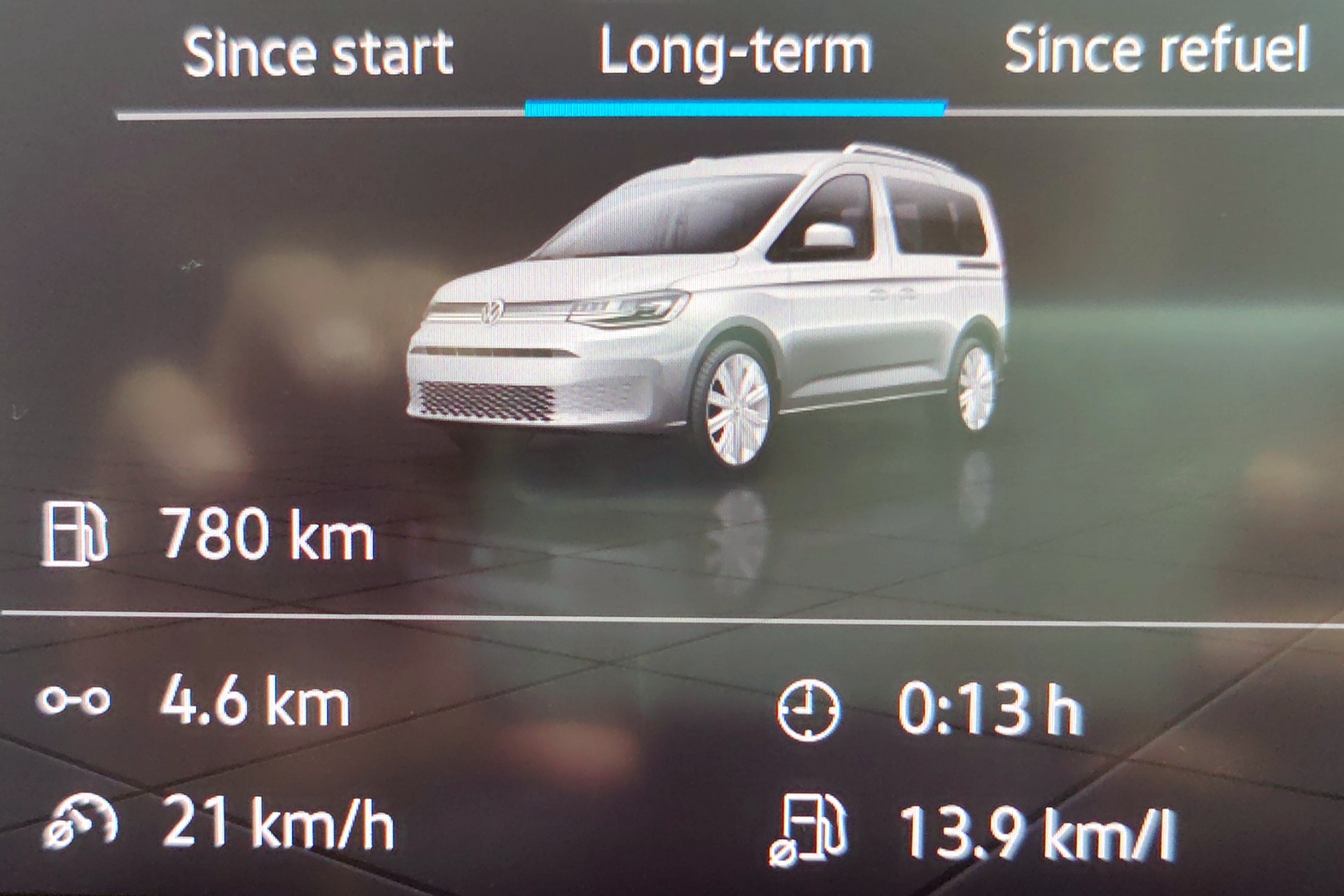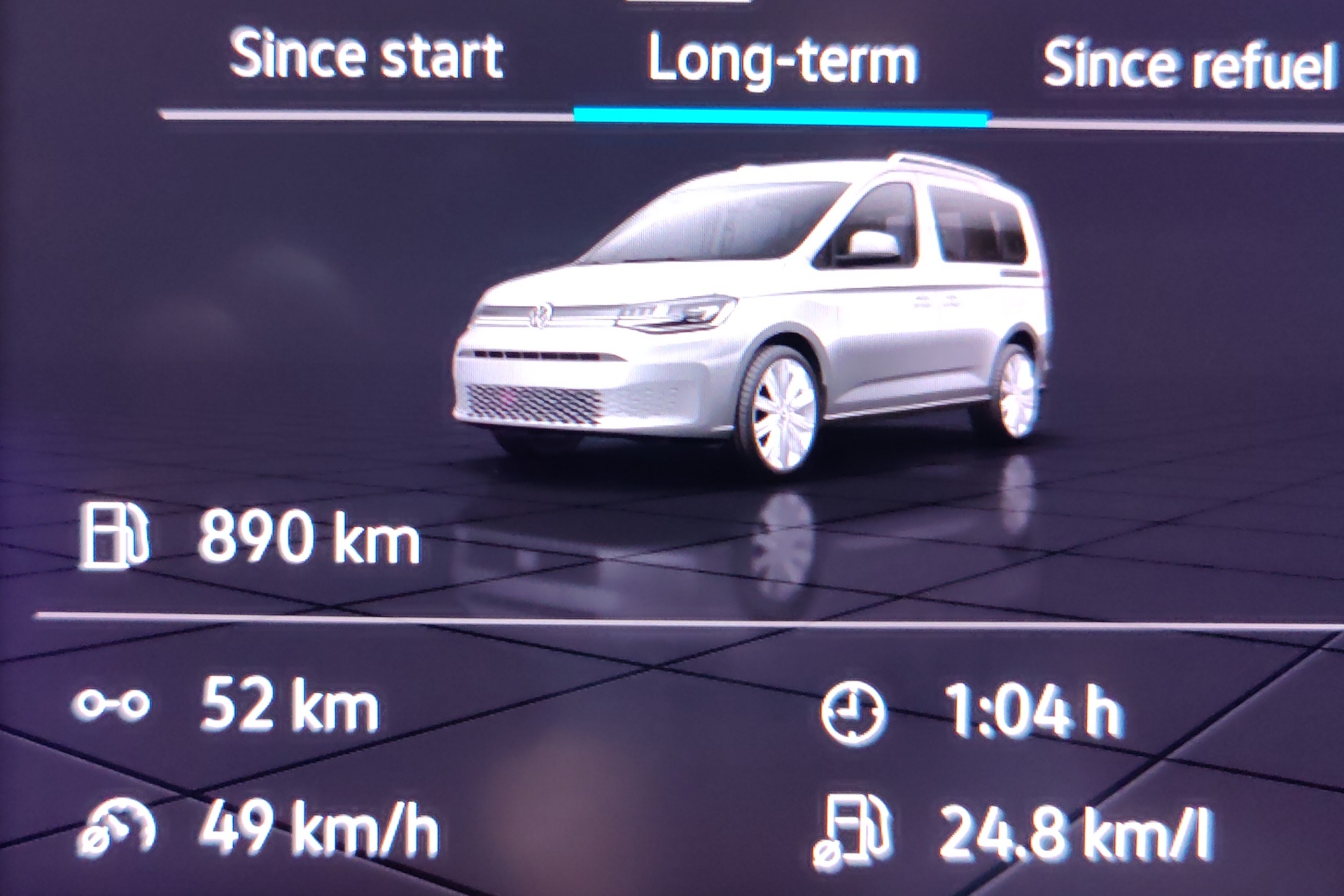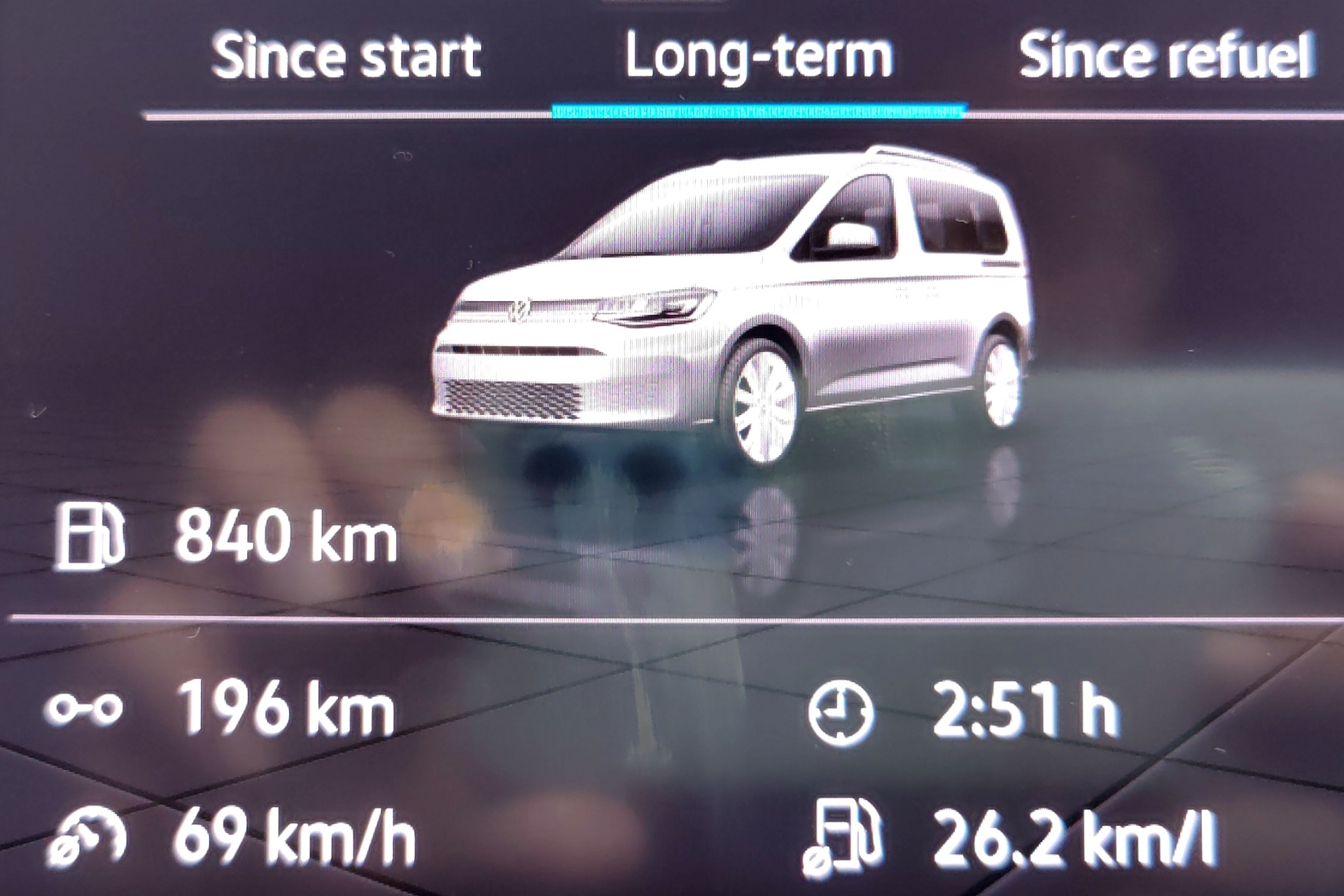 Given its 50-litre fuel capacity, over 1,000km on a single tank of diesel is not out of the question. Of course, depending on load and use case, your mileage may vary.
When esteemed industry colleague and dear friend Clifford got wind that I'd be reviewing this VeeDub van, he chimed in with, "See if you can clock 31km/litre hahaha" on WhatsApp, because that's what he managed with the Caddy.
The 'gauntlet' had been thrown, throwing my obsessive compulsion into overdrive along with it.
Immediately after "general commute #3", a 56km "eco run" was therefore undertaken. The Caddy managed an unbelievable 35.7km/litre or 2.8 litres/100km even with the aircon blowing nice and cool and the audio system blasting out my favourite tunes.
Folks, it's safe to say that no one is going to drive like this on a daily basis in real life. This was done purely as an academic exercise to showcase how efficient Volkswagen's EA288 turbodiesel powerplant can be. Therefore, this economy figure was not used in the overall average calculations.
The Caddy is well put together, versatile, flexible and likeable. That it can pull like a freight train, handle corners smartly and sip fuel along the way just adds to its appeal. Given skyrocketing COE prices, revisiting the van ownership vs. car matter becomes a tempting proposition indeed.
Photo Credits: Sean Loo (@auto.driven)
Technical Specifications
Volkswagen Caddy 5 Cargo NWB Panel Van
Engine: 1,968cc turbocharged inline four-cylinder diesel
Transmission: 7-speed dual-clutch automatic
Driveline: Front-wheel drive
Power: 122hp @ 4,250rpm
Torque: 320Nm @ 2,500rpm
0-100km/h: approx. 11 seconds
Top Speed: 186km/h (claimed)
Fuel Economy (combined): 4.6-litres/100km or 21.7km/litre (claimed)
Fuel Tank Capacity: 50 litres
Kerb Weight (unladen): 1,540kg
Gross Weight (laden): 2,250kg
Payload: 710kg
Cost: Price On Application
Contact: Volkswagen Singapore
---
Read more automotive news at AutoApp, or check out our latest videos on Ignition Labs TV!