The RX 350h Luxury cossets while costing less at the pump.
---
With the Corolla Cross and Sienta dynamic duo from Toyota's hybrid stable topping our fuel-economy chart, I was certainly looking forward to reviewing more hybrid vehicles to see how they'd stack up. Therefore, I jumped at the offer when the opportunity to review the Lexus RX 350h Luxury came up. Knowing it would not dethrone the smaller and lighter Toyotas, I was nevertheless curious as to how Lexus had moved its luxury sports utility vehicle (SUV) game on from the hugely popular RX 300 from the late 2000s while moving towards being more environmentally conscious.
From a pure price perspective, one finds the Volvo XC90 B5 Mild Hybrid and T8 Recharge Plug-in Hybrid, and Land Rover Defender 110 Mild Hybrid as the obvious competitors, but the RX 350h is a five-seater whilst the others seat seven. One also finds the Jaguar I-PACE SE 90kWh, Mercedes-Benz EQC400 AMG Line 4MATIC Premium Plus 80kWh and the BMW X4 M40i Mild Hybrid in the same price range, and although these are five-seaters, the RX 350h is a larger SUV, which places it in a pretty interesting market segment indeed.
Outside
There are no two ways about it – the RX 350h is large and imposing. Doesn't help that the grille is massive, and I'm not too sure about the 'snout' effect atop the grille but overall, the look of the front end works quite well. What works really marvellously is its paintwork, called Sonic Copper, and uniquely stands out without being garish or outlandish – perfect for a luxury SUV.
Those rims and tyres are massive as well, with 21-inch rims wrapped in 235/50 R21 Bridgestone ALENZA 001 rubber. While I'm mostly a proponent of smaller rims and tyres with thicker sidewalls for more ride comfort, that's not an issue here because Lexus has tuned the suspension beautifully to ride nice and supple, even down a rutted gravel track. The RX 350h needs these large rollers to adequately fill out those wheel arches.
Another interesting design touch comes courtesy of a chrome window line, that starts at the base of the A-pillar, and swoops upwards while tracing the roof-pillar line…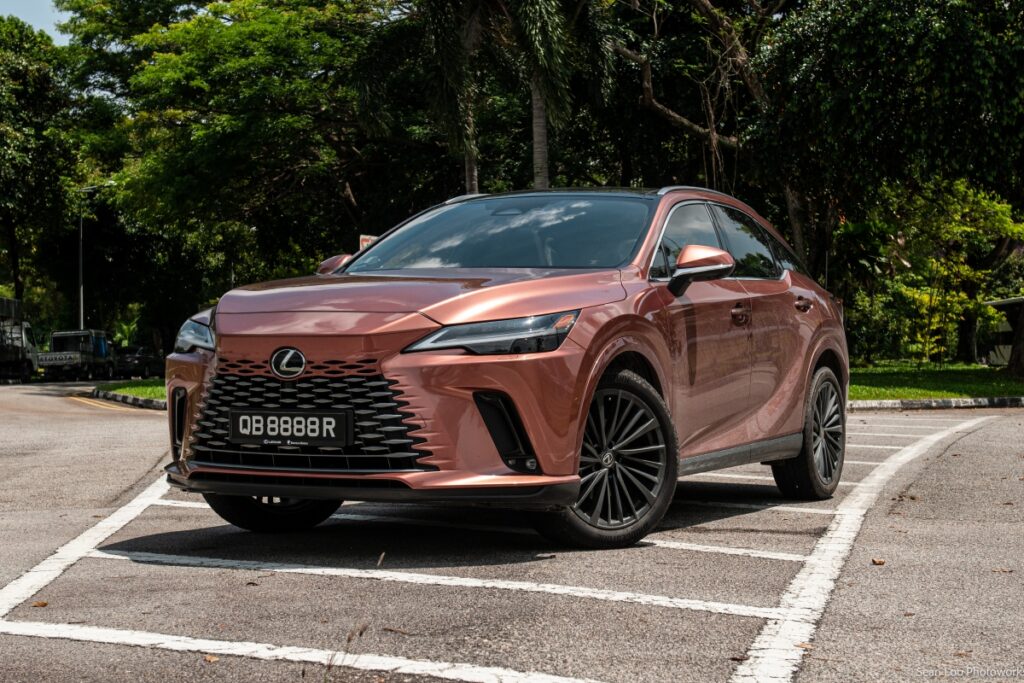 … and then swoops downward and wraps around at the perimeter of the boot hatch while headlining the glass panel at the C-pillar.
There is an interplay of black trim, copper paintwork, glass panels and chrome that come together to demarcate different sections of the SUV while keeping the overall design nicely cohesive. Can ya tell I dig the RX 350h? Here's something else that I dig, and wish more manufacturers would do…
… and that is to secrete the rear wiper underneath the boot spoiler for that clean look.
Inside
Stand behind the RX 350h and sweep left to right with your right foot underneath the rear bumper. The boot lid opens electrically to reveal a capacious 612 litres of storage capacity. If more space is needed, drop the rear seatbacks electrically via two switches on the left inside the boot. Strangely, Lexus does not quote a figure for this expanded cargo capacity, but it is MAHOOSIVE indeed.
The rear seats are nice and comfy and have more than ample knee, leg and foot room for longer-of-limbs and shorter-of-torso 1.82-metre tall yours truly with the driver's seat adjusted all the way back and some ways up to my driving position, so most folks should be happy back here for longer journeys up north. Dark brown leather and suede in a Tazuna-themed motif, representative of "using reins to control a horse" feature throughout the interior.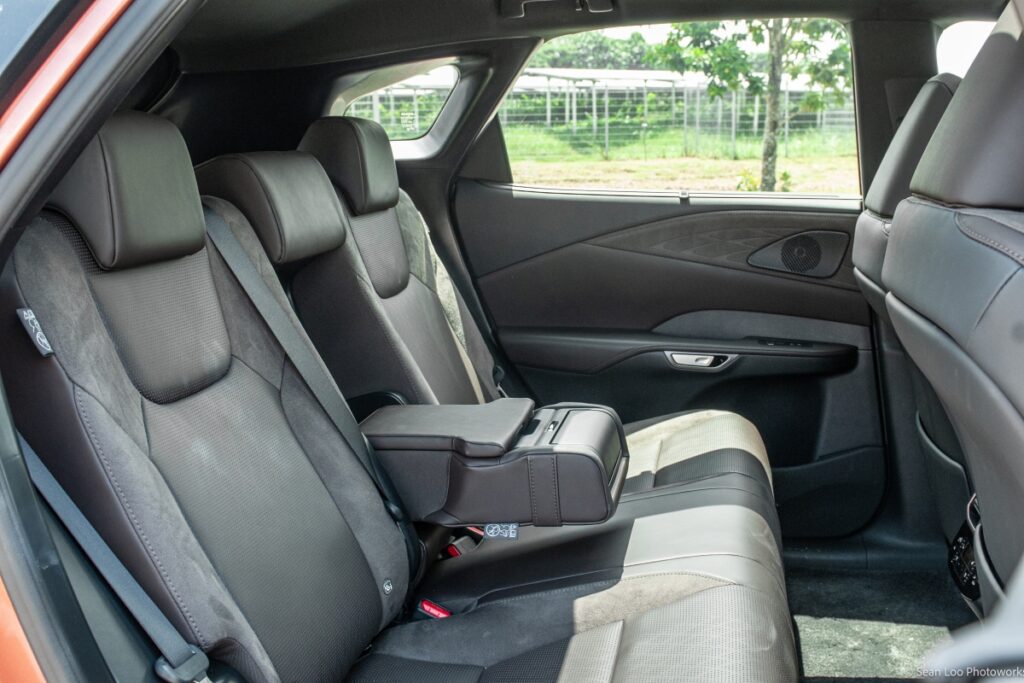 A panoramic sunroof allows natural light to bathe the interior and make it feel more spacious and airy, while three-zone climate control ensures rear occupants will remain nice and cool, aided by ventilated outer seats at the rear – nice touch Lexus!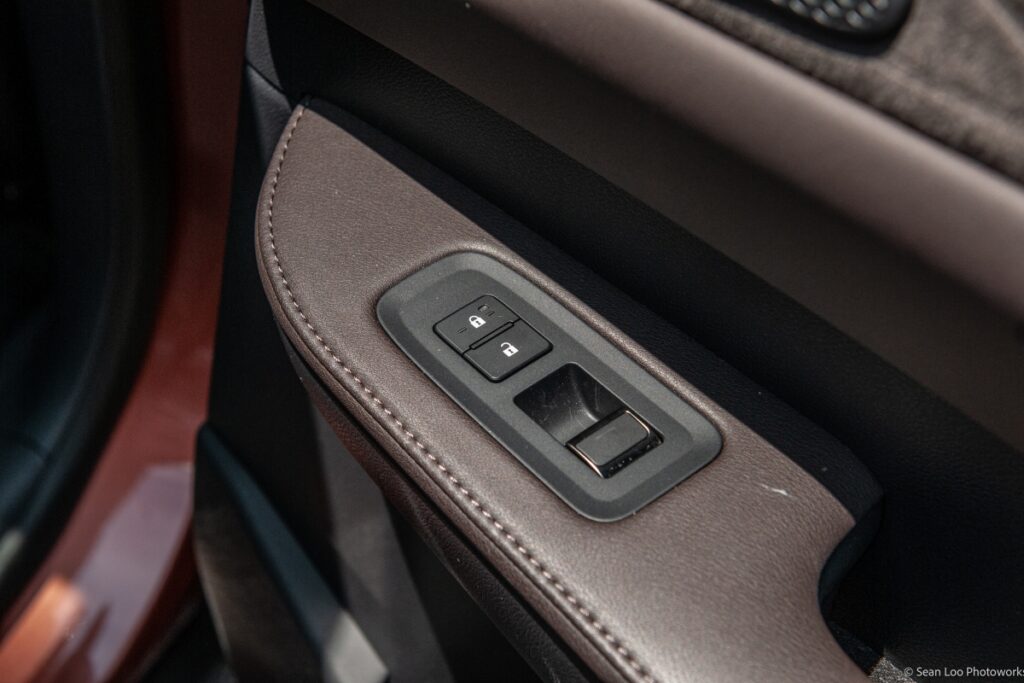 The front seats are equally as comfy and easy to get in and out of. This writer's Mom, who stands at a petite 1.52-metres and is almost 80 years old, had little issues getting in and out of the front passenger seat, courtesy of the relatively flat squab which made for easier ingress and egress. Once seated, myriad electric adjustments and seat ventilation up front meant that both Mom and I were nicely cossetted to and from our supermarket run.
One feature which could be both a boon and bane is rocker switches for adjusting the front passenger seat, which came in handy when prepping the passenger seat for Mom, but I shudder to think what havoc rowdy runts could wreak from the rear with these rockers within reach.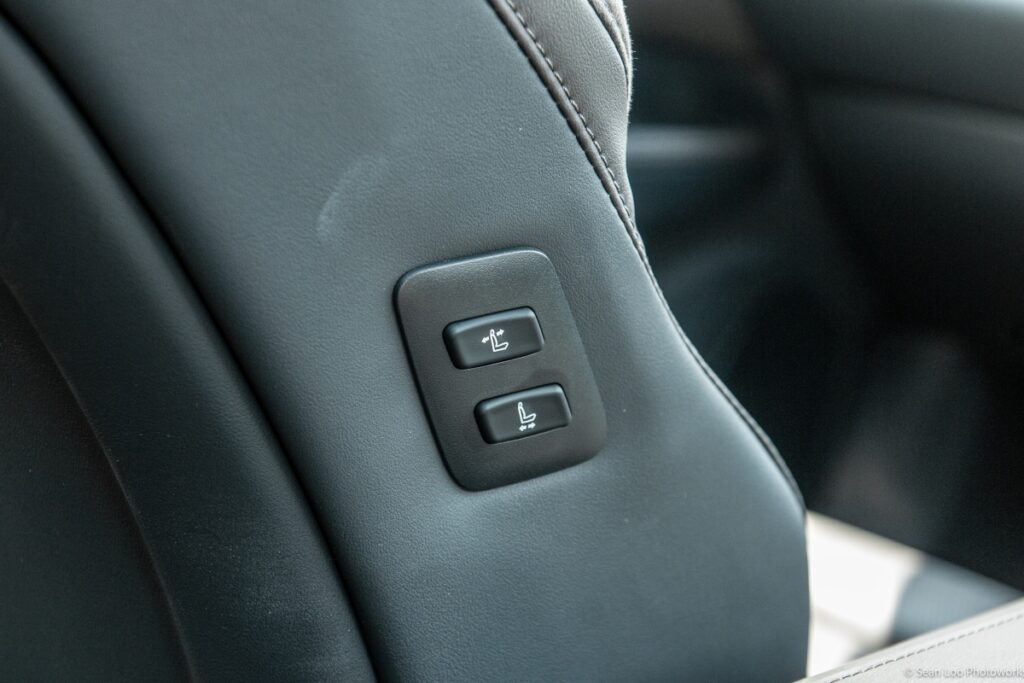 The buttons on the steering wheel can serve multiple functions and need to be selected via the 'page' button seen above in the HUD. Getting used to it is rather easy, although I don't like the delay that's imposed. One needs to touch one of the function toggles above the 'page' button and wait for it to show up in the HUD before it works. Why not just allow the function toggles to work right off the bat based on whichever 'page' was previously selected?
Another annoyance comes courtesy of the over-enthusiastic driver alerts, with bings and bongs everywhere. The SUV thought I was about to crash into the car in front multiple times when there was sufficient braking distance and the brakes were already being applied, and yet still insisted on throwing up a collision warning on the instrument cluster. Luckily, the volume of said bings and bongs can be reduced considerably, and things were bearable. Lexus really needs to stop being so overly conservative and nagging with their warning systems.
The infotainment system is simple and relatively easy to use once one familiarizes themselves with where various settings are. Most of the time, one would simply integrate their smartphone via wireless Apple CarPlay or wired Android Auto. The 12-speaker Lexus Premium Audio System plays quite clearly and loud, but left me feeling that it would have been nice to see the Mark Levinson sound system make an appearance here. After all, this is the 'Luxury' variant of the RX 350h.
Driving
Easy. Smooth. Quiet. Serene. Cossetting. These are some of the adjectives that come to mind when helming the RX 350h. One is aware of its size for sure, but placing it on the road and parking is pretty easy. Speaking of parking, the RX 350h comes with an automated parking system that works for both entering and exiting serial and parallel parking spots. The only feature that's missed here is rear-wheel steering, which would make manoeuvring around tight corners and parking lots that much easier.
Headlights are LED items and shine nice and bright. Driving down an unlit gravel track on a moonless night was a cinch, aided by LED foglights. The headlights themselves have an auto-beam function which, when activated, selectively illuminates certain areas down the road and off to the side for better visibility of potential hazards. Outward visibility is good, and shoulder checks are relatively easy to do.
Adaptive cruise control is included as standard and works well in rush hour traffic, bringing this large SUV down to a complete halt in traffic jams, with just a prod on the accelerator needed to get going again.
Along with daily-drive duties, the RX 350h can also handle a bit of enthusiastic driving too, with its rear end rotating nicely in tighter corners and aiding the nose to point in the intended direction of travel. Remember that this SUV is all-wheel drive, and when called upon, power can be suitably apportioned to the rear wheels for such enthusiastic antics. Hardly anyone will drive it like that, but it is comforting to know that this large SUV can dance when called upon to do so, such as during emergency avoidance manoeuvres.
Hybrid Theory
Powering the RX 350h is a 2.5-litre inline four-cylinder naturally aspirated engine mated to a hybrid drivetrain. The system is self-charging, and the idea here is that the electric motor solely drives the SUV at lower cruising speeds or comes in to assist the internal combustion engine at higher speeds and during acceleration. When the hybrid battery runs low, the engine is used to charge it back up, along with regenerative braking.
Lexus claims that the hybrid system allows this large SUV to attain a combined-cycle 17.8km/litre or 5.6-litres/100km fuel economy.
Nope. It did even better than that.
The RX 350h averaged a calculated 19.9km/litre or 5.03-litres/100km over a test-driven 538.4km – impressive considering it weighs over two tons. This included a purely street-driven segment, mostly highway route, being stuck in morning rush hour traffic on the highway while taking a long way around to the office, the photoshoot during which the economy gauge plummeted like a rock, and a round-island mixed drive on both streets and highways covering all speed limit zones in Singapore. Adaptive cruise control was set to triple digits on the highway, and the exact speed limit during the one average speed-limit zone. All drives were done in Normal drive mode. Have a look.
It bears saying that if one drives the RX 350h smoothly, then good economy figures are indeed possible. Based on the reported 65-litre petrol tank capacity, well over 1000km of range before refuelling is not unrealistic. It also bears saying that when the SUV was collected at the beginning of the test drive, the economy gauge shows 9.5km/litre, so the obligatory "your mileage may vary" disclaimer needs to be tacked on.
Aforementioned annoyances aside, I truly enjoyed my time with the RX 350h. Lexus has definitely moved the game on from the RX 300 from the good ol' days, but have done so in the traditional, restrained Japanese style. I maintain that to truly enjoy the best of both internal combustion and electric vehicle (EV) worlds, one needs to have a serious look at full-on hybrids. The ability to splash and dash at a petrol station alone, as opposed to sitting at a charger for upwards of half an hour makes hybrid vehicles like the RX 350h that much more versatile, and dare I say it, more luxury-oriented.
Take a test drive and suss the sumptuously sensible Lexus RX 350h Luxury out. I promise that you won't be disappointed.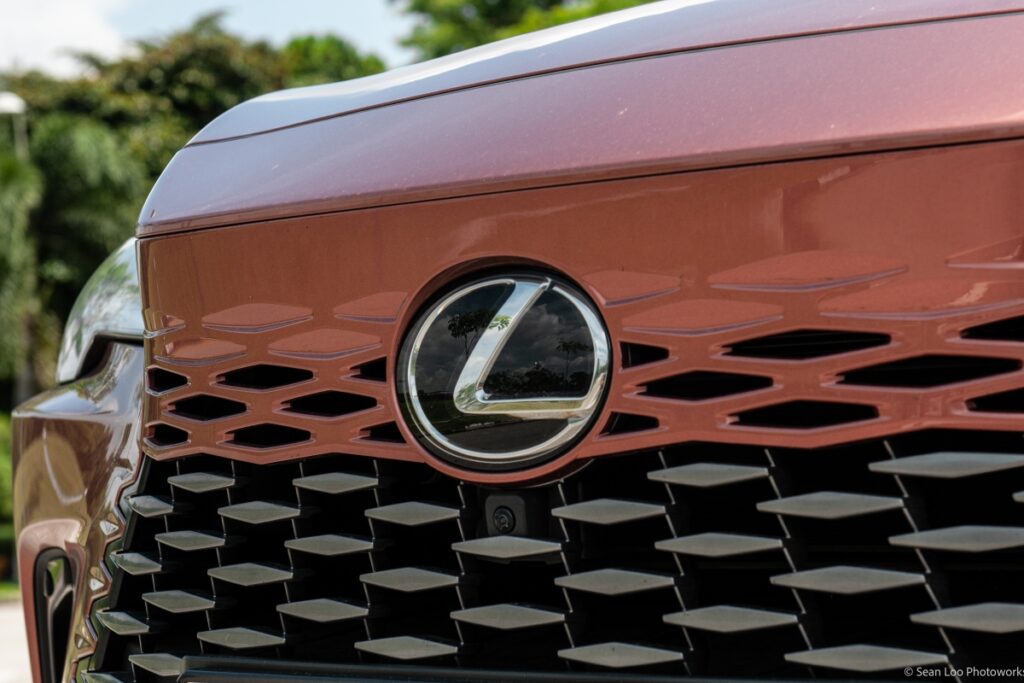 Photography credit: Sean Loo (@auto.driven)
Technical Specifications
Lexus RX 350h Luxury
Engine: 2,487cc in-line 4, hybrid
Power: 247hp
Torque: 239Nm @ 4,300 – 4,500rpm
Gearbox: e-CVT
0-100km/h: 7.9 seconds (claimed)
Top Speed: 180km/h (claimed)
Fuel Economy: 5.6-litres/100km (17.8km/litre) (claimed)
Price: S$435,800 with COE (accurate at the time of this article)
Contact: Lexus Singapore
---
Enjoyed that review? Check out the Lexus NX 350h Luxury, and other reviews here!