Throw an eye-catching splash of colour onto your Yaris Cross Hybrid.
---
In case you hadn't noticed by now, this Toyota Yaris Cross Hybrid is pink. BRIGHT pink. I don't care that the colour is actually called Cherry Blossom. To my eyes, it's Steven Tyler-satiating PINK.
A number of female friends in a Telegram group chat decided to tease heavily when a picture of this compact crossover was sent over, with one of them telling me to wear a matching pink shirt while driving it, earning a swift retort that I was already wearing a matching pair of pink thongs instead.
Joke's on them. I don't wear thongs, only tangas. 😳
Not only is it pink but green as well. More on that later.
This is the 'Active' variant of the Yaris Cross Hybrid, with the higher 'Excite' trim costing an extra $6,000. The Urban Palette offers a choice between one of eight vibrant coloured wraps, which usually costs $3,200 but is available at the point of purchase for a top-up of $2,388. Looking at the Active's final Urban Palette'd cost of $163,276 inclusive COE (accurate at the time of this article), we find the Kia Niro Hybrid 1.6 EX, Nissan Kicks e-POWER Hybrid Premium Adventure Series, and interestingly enough, Toyota's own Sienta Hybrid 1.5 Elegance sitting in a similar price bracket. The Yaris Cross Hybrid is definitely up against some good competition in this segment.
Outusaido
The Yaris Cross Hybrid has been with us for some time and can be seen quite regularly on our roads. Looks are subjective, so readers are asked to decide for themselves, but nothing here is offensive. The front end features halogen headlights, which is a tad disappointing in 2023, but hey, this is the entry-level model so something's gotta give.
205/65R16 Dunlop Enasave EC300+ tyres help with the green credentials of this compact crossover hybrid, but tend to eschew grip rather quickly when chucked into corners enthusiastically, leading to a rather frenzied flash-fest of the traction control light on the instrument cluster. However, this point is rather moot since very few will actually drive like that.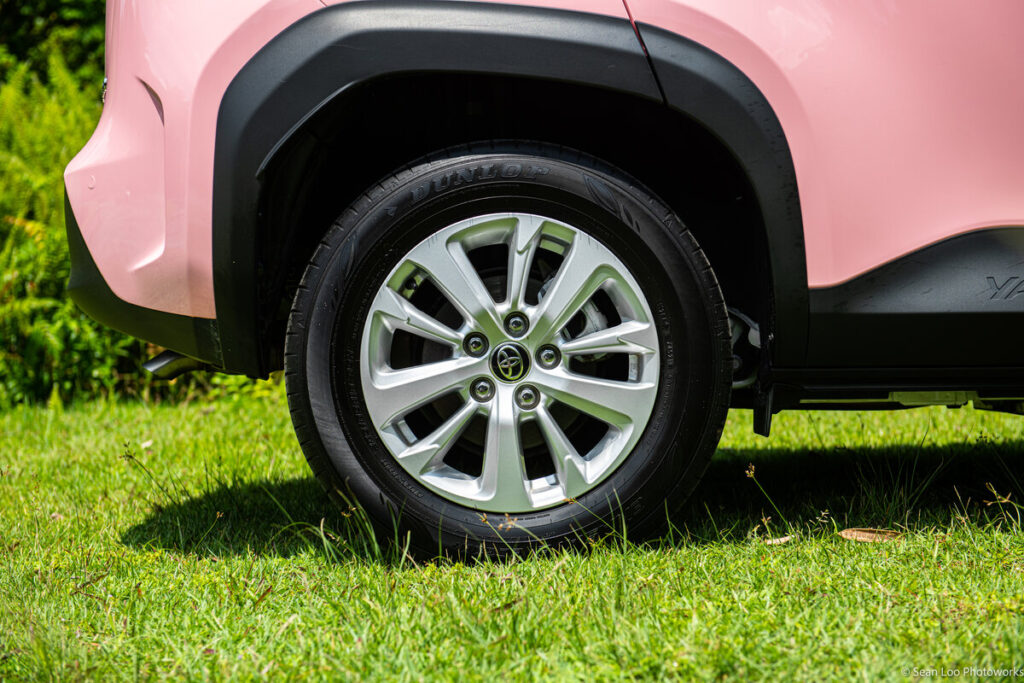 Black plastic trims clad the fenders, sides and rear of the car and juxtapose nicely against the bright pink wrap. Just remember to detail these trims after a car wash to keep things looking sharp and crisp. A shark-fin antenna on the roof is a nice touch, although it might have been better to wrap it in black instead to keep with the juxtaposition.
Innusaido
For a compact crossover, the boot is surprisingly capacious at 390 litres. If more carrying capacity is needed, simply drop the 40:20:40 split-folding rear seatbacks. Curiously, Toyota doesn't actually quote a figure for this expanded space. Rear-seat cupholders are built into the 20% folding seatback, so although the middle seat will be lost, that's not of great consequence when stowing drinks on the move takes priority.
Speaking of the rear seat, regular readers would have noticed something amiss from the picture below – the lack of this (allegedly) pink tanga-wearing 1.82-metre tall longer-of-limbs and shorter-of-torso writer sitting in the back seat to demonstrate legroom behind his driving position. No prizes for guessing why that is.
The front seats are basic and functional, featuring manual fore and aft adjustments for the seat and recline angle. They're fine for shorter trips up to an hour and are easy to get in and out of.
Buttons and rocker switches on the steering wheel are easy to use and logically arranged. Rather surprisingly, even this entry-level Active variant of the Yaris Cross Hybrid is standard-fitted with adaptive cruise control with lane-keeping and lane-centring assist, which is very welcome for highway driving.
The instrument cluster is all digital and cleanly laid out. All necessary information from fuel economy to adaptive cruise control data can be easily gleaned from the centre screen. The only little niggle here happens during toggling through the various information screens, where the icons for each screen partially obscure information at the beginning until they go away a couple of seconds later.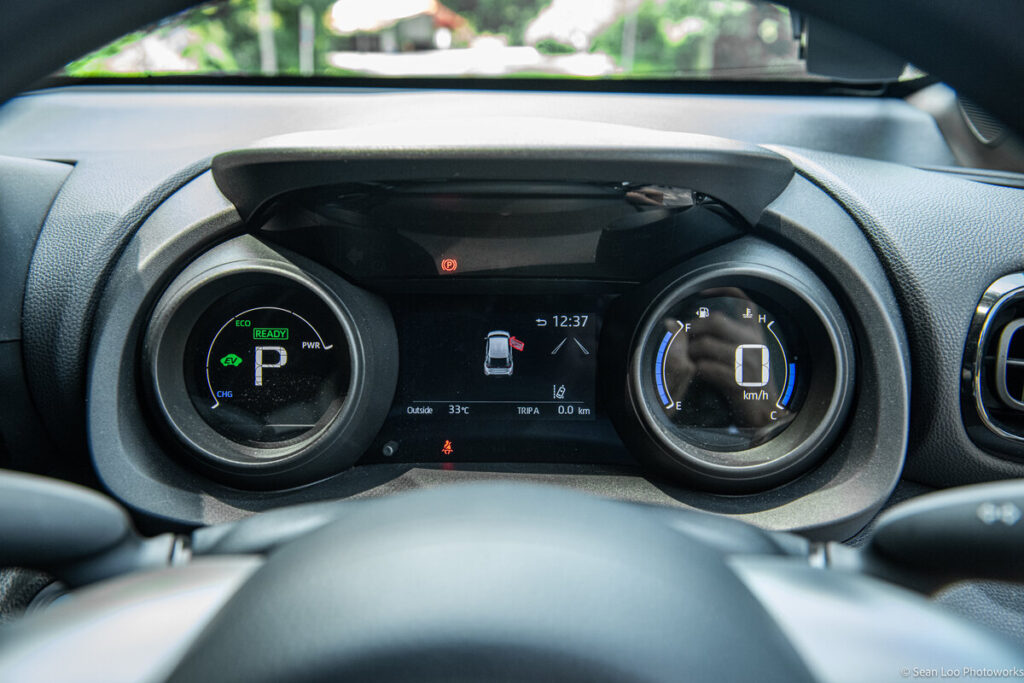 There are very few buttons and switches, which are all clearly and logically laid out. The eight-inch infotainment screen features Apple CarPlay and Android Auto as standard, and a solitary USB Type-A port provides connectivity and charging up front. Another nice touch is auto-hold brakes, which offer some reprieve while waiting at traffic lights. This function needs to be activated each time when starting the car and is perplexing why in this day and age, the last setting cannot be saved.
The dashboard and door cards are mostly plastic, which is to be expected in an entry-level model, but the lack of a central armrest was sorely missed during the test drive. Also, in a curious decision, the trim just behind the door lever is painted silver while the lever itself is black, which leads to a couple of "eh? OH!" moments when trying to open the door.
Doraibingu
Driving the Yaris Cross Hybrid is easy. Given the compact dimensions of this, ermmm, compact crossover, reverse-parking it old-school using only the rear-view mirrors is also easy. A reverse camera and parking sensors come standard-fitted and can aid in trickier and tighter parking situations.
The suspension is nice and comfy most of the time, with only sharper jolts intruding into the cabin. Road noise is relatively well contained, although the same can't be said for engine and transmission noise when accelerating more rapidly. However, this compact crossover has more than enough grunt to get up to speed, merge onto highways and smartly overtake, which is a pleasant surprise.
Pinku is Guriin
Said grunt comes courtesy of a 1.5-litre three-cylinder naturally-aspirated engine mated to a hybrid system and a continuously-variable transmission (CVT) which puts out 110hp and 120Nm of torque. Given its less-than-1.2-ton kerb weight, it's no wonder that the Yaris Cross Hybrid can be spritely when called upon to do so. But the real party piece of this powerplant is how frugal it can be.
Toyota claims a combined-cycle fuel economy figure of 3.8 litres/100km or 26.3km/litre. Once again, I happily find myself saying that that figure is a tad conservative.
During my 469.5km test-drive of the Yaris Cross Hybrid, it managed an astonishing 3.57-litres/100km or 28.0km/litre average fuel economy, putting it firmly at the top of our fuel economy chart for hybrid engines, muscling past its aforementioned Sienta Hybrid sibling with the same powerplant, and dethroning the previous bigger-brother champion Corolla Cross Hybrid. All drives were done in Normal drive mode, and the "EV Mode" function was never used.
Even at its worst, i.e. during the photoshoot which involved a lot of manoeuvring, being stationary and driving around in circles during a boiling-hot afternoon, the Yaris Cross Hybrid clocked in a respectable 5.71-litres/100km or 17.5km/litre. Given its 36-litre fuel tank capacity, right around 1,000km of range in between fill-ups is not out of the question. As usual, the obligatory "your mileage may vary" disclaimer needs to be tacked on.
That said, readers are encouraged to drive hybrid vehicles the way they like to be driven to get the most out of them.
Although basic, and minor niggles aside, there is much to like about the Yaris Cross Hybrid. Let's keep in mind that its raison d'être is that of an economical and easy-to-live-with town car. While it can certainly do long journeys such as drives to and from KL, creature comfort needs to be considered if that is one's primary goal, for its bigger sibling Corolla Cross Hybrid is better suited to the job.
However, if one is single and driving around alone or with one passenger most of the time, the Toyota Yaris Cross Hybrid makes a compelling case for itself as a car for local use. It's honest to goodness, down to earth, simple to use and has exceptional fuel economy. Throw in the Urban Palette if you'd like to turn some heads in the process.
No pink thongs or tangas were harmed in the making of this review.
(Photography Credit: Sean Loo | @auto.driven)
Technical Specifications
Toyota Yaris Cross Hybrid Active
Engine: 1,490cc in-line 3, hybrid
Power: 110hp
Torque: 120Nm (engine), 141Nm (motor-generator)
Gearbox: CVT
0-100km/h: 11.4 seconds
Top Speed: 170km/h
Fuel Economy: 3.8-litres/100km or 26.3km/litre (claimed)
Price: S$160,888 (Active) with Urban Palette top-up $2,388, with COE (accurate at the time of this article)
Contact: Toyota Singapore
---
Read more automotive news at AutoApp, or check out our latest videos on Ignition Labs TV!