The perennial MPV gets a timely facelift to keep it fresh and relevant as the 8-seater market heats up.
---
If you've been in the market for an eight-seat people mover, there haven't been really many choices. There's the Toyota Previa, and er, that was more or less it, really. At least, until Hyundai and Kia unveiled the Palisade and Carnival respectively within a day of each other. Incredibly, within the same week, I was invited to test the Honda Odyssey you see here.
Strictly speaking, the latest model is a facelift albeit a rather extensive one. The biggest changes are found at the front end — the bonnet has a higher profile that seems to be more faithful to the traditional American 'minivan' look. In either case, there's also a clearer alignment with the upcoming HR-V. It gets exterior light clusters that feature cool directional indicators.
Refinement over revolution
It is impossible to talk about the new Odyssey without bringing up its new competitors. The Hyundai Palisade and Kia Carnival are more flamboyant in the terms of style, features, and tech. However, don't count out this Japanese offering yet. Like the Kia, this Honda is also available as a seven-seater which includes a pair of reclining middle-row seats.
It may not be powered by a 3.5-litre V6 petrol engine like the Hyundai Palisade, or a 2.2-litre turbodiesel of the Kia Carnival, or even a trick hybrid or downsized turbocharged engine. However, the Honda Odyssey sticks with a tried and true 2.4-litre normally aspirated four-cylinder engine that makes 175hp.
This output might sound rather conservative, considering that my 13-year old eight-seater Toyota Estima makes only 5hp less. However, as with many things in life, numbers alone don't tell the whole story.
At any rate, this power unit compliments the Odyssey beautifully with its smooth and quiet power delivery. The 225Nm of torque is ample enough to make this Multi-Purpose Vehicle (MPV) feel effortless to drive around town. It won't be scaring any sports cars, but the name of the game here is all about comfort.
Inside, the Honda Odyssey imparts a sense of quality that could easily pass for a premium Continental model. The slightly crinkled leather seats are as inviting as lounge chairs in a tasteful living room. They look and feel like you could spend a whole day in them, curling up with a good book, or binge-watching a Netflix series.
It's easy to feel at home inside the Honda Odyssey. The plethora of storage spaces, charging points, and beverage holders are right where you expect them to be. One of the party tricks is a storage bin below the dashboard that slides out like a drawer. This is big enough to accommodate a handbag or even a small pair of shoes.
A large multi-function touchscreen is pretty much par for the course these days. The Odyssey obliges with an 8-inch unit with Apple CarPlay and Android Auto smartphone connectivity. Connecting wirelessly or a charging tray would have been a nice cherry on top.
Mixing old and new
This brings me to a curious mix of features that the Honda Odyssey has and has not. Functions like Walk Away Auto Lock, Adaptive Cruise Control, and 8-way power seats bring this car up to date. However, there's also a strange omission of items one might expect to be standard in a car at this segment. Auto windows for all four doors that can be raised or lowered with just one touch — something that can be found on my 13-year old Estima is noticeably absent. Also, automatic folding wing mirrors when the car is locked would be handy in a car this wide.
These however, are really nuanced features that shouldn't get in the way of how likable the Odyssey is as a daily driven proposition.
On the whole, it feels like a well-honed car that does what it does with fluency and dependability. The driving position, the way the controls fall readily to hand and most of all, that vault-like silence and absence of vibration or anything that might disrupt the ride makes you look forward to getting into the Odyssey to escape from the stress and chaos of the streets.
More than enough room
The Honda Odyssey certainly earns the 'Multi-Purpose' part of its MPV moniker with ample space for luggage or cargo even with all three rows of seats in place. If the third row is not needed, it can be made to disappear into a recess beneath the floor to liberate a truly cavernous load space where even the biggest canines would be happy back there.
When Honda launched the RB 1 Odyssey in 2003, the third row in that model could be folded away at a touch of a switch, into two halves. This 2021 model however, relies on elbow grease and a rudimentary hook and nylon strap to hold the seat down where it is an all-or-nothing third row arrangement.
Once again, my long-serving MPV has a third row that folds in a 60/40 split that clicks and stays in place. So I'm not sure why a 2021 Honda Odyssey couldn't incorporate a more elegant and practical solution for its third row.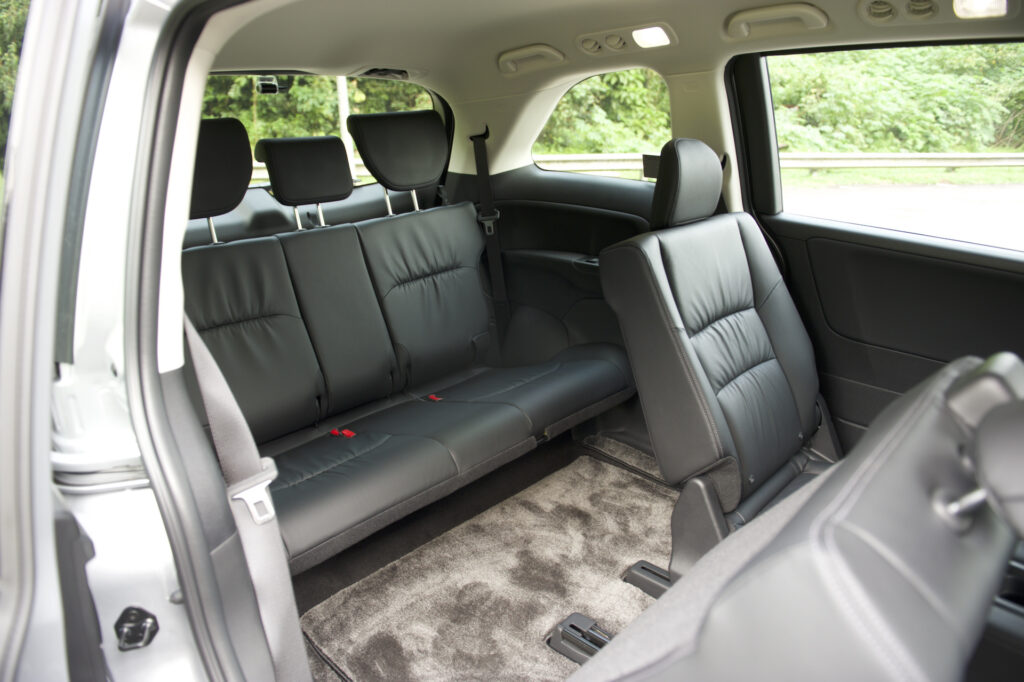 That minor gripe aside, the Honda Odyssey remains a deeply desirable car to a family man on the account of how well it drives, as well as how well made and comfortable it is. Crucially, it is also right-sized for life in Singapore. Inside, it is spacious enough for a large family's needs, but on the outside, it is actually shorter than a Honda Accord by 56mm. So this means it is fairly easy to maneuver in tight car parks and at 1,798mm high, can also fit into an old garage with a height limit of 1.8-metres.
There would be a part of me however, that wishes it had some kind of hybrid drivetrain or electrification such as the Nissan Serena e-Power (but that's a seven-seater and I really do need eight seats) to take the edge off the fuel consumption and road tax bills.
Perhaps, the perfect MPV is still yet to be found, but for now, the Honda Odyssey comes closest to it.
Technical Specifications
Honda Odyssey EX 8-seater
Engine: 2,356cc, in-line 4-cylinder
Power: 175hp @ 6,200rpm
Torque: 225Nm @ 4,000rpm
Gearbox: Continuously Variable Transmission, FWD
0-100km/h: est. 11.5 seconds
Top speed: est. 209km/h
VES Band: C1
Base price: $175,999 with COE
Arrange for test drive here.
---
Interested in 8-seat cars? Read all our reviews on the Hyundai Palisade here and the Kia Carnival here.